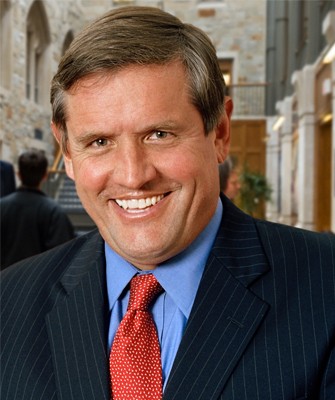 A reporter from Poets & Quants asked me recently what business schools could do to thrive in our competitive environment. My quick answer was that there's a whole menu of options, but.... And my qualification had to do with the nature of strategy, summed up in a little formula I learned many years ago: Strategy = Choice + Execution.
Let me back up:
Among other questions, the reporter was interested in a dean's take on B-school trends, and how our schools could make the most of the opportunities. We talked about how the market for M.B.A. programs is (best-case scenario) maturing, if not declining; and how quality undergraduate business programs have continued their surge in many places. I also pointed to some exogenous factors, like online learning, which is almost like a tsunami.
For the sake of argument, I told her that a school can take on almost any reasonable initiative, trendy or un-trendy, and make it work. Why did I say that? In no small part, because of my experiences as an academic with four very different schools of management, each highly successful in its own way.
Creating a Moat
Those four schools are UNC Kenan-Flagler, UVA Darden, IMD in Switzerland, and of course Boston College. Kenan-Flagler had a broad mission, with a diverse (but not overreaching) set of graduate and undergraduate programs, first-rate teaching, and a rigorous research agenda. Darden had less focus on research when I was there, but the place was chock full of master teachers (it's where I learned the craft, after graduate school), and it featured an elite M.B.A. program. IMD, for its part, staked out what I believe is the world's best executive education program, along with a small, one-year M.B.A. and an elite global M.B.A. Last but not least, our Carroll School at Boston College has put the accent on both great teaching and great research, while making the undergraduate experience its top (though not exclusive) priority.
As I said, different priorities and directions—which these schools have stuck with, through thick and thin. And they've made a success of it. Why?
I think it boils down to knowing who you are, who you aren't, and what you're really good at. In carrying out a strategy, you choose a new direction that aligns with this self-understanding, and then comes the (relentless) execution. Excellence, in your chosen areas of focus (however narrow or broad), is key. To borrow a phrase from Warren Buffett, strategic excellence makes it possible to "create a moat" around your business and fend off competitors (who find it harder to chip away at your products and services). The focus makes it possible to achieve that excellence, which in turn helps you weather the storms and leverage the upturns better.
Needless to say, the flip side of knowing what you're really good at is also knowing what you're not so good at, or at least what you're less ready to do that'll make a difference in the market. That's why, some years ago at the Carroll School, we decided to draw up a list of things not to do (in light of our emphasis on academic research and undergraduate studies). We already knew what we were good at, and we knew our limitations as to the amount of new things we could tackle at any one time. In other words, we didn't need to spend much time on a grand To-Do list, but because of all the ideas and possibilities floating around, I decided there would be greater value in a Don't Do list.
Saying "No" More Times Than Saying "Yes"
One item on our Don't-Do list was executive education, particularly non-credit programs running as little as a day or two. Many schools have found success with those kinds of programs, and for a while the idea was on the table for consideration at our school. In the end, we decided that executive education was a don't.
The executive education market was lagging, but our real reason for passing it up was that it's not a favorable fit for our school. We're best known for undergraduate studies and scholarly research conducted by our faculty, along with some highly regarded graduate degree programs. For some schools, executive education might be a solid opportunity for growth. For us, and with our resources, it would probably be an "opportunity" to spread ourselves too thin—and to not be great at something. It would be a choice unaligned with our strengths and our strategy.
And don't worry. There's always going to be more than enough to do, even if you're focusing on just a few basic areas in which you excel. You might be very selective about launching new programs (that is, product innovation), but you'll be busy figuring out new ways of doing what you're good at (process innovation). At our school, we've devoted vast amounts of time and effort to improving processes in areas ranging from advising and faculty mentoring to ways of measuring teaching performance as well as research productivity (which I wrote about in a previous Carroll Capital edition).
As I see it, the process improvements are also part of how you execute. Relentlessly.