Most people have never turned a page of the Journal of Finance, or even heard about this premier academic publication. But for scholars, getting published in the journal can signal a turn of fortune, delivering them into the upper strata of researchers in the field. And what about the select few whose articles earn the most citations in scholarly literature? They're like a caste within the caste.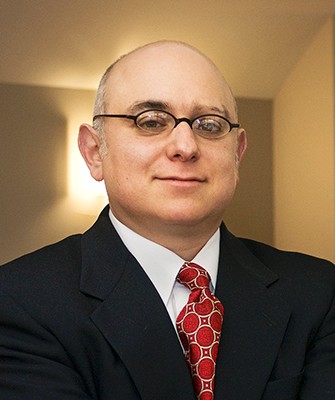 Such distinction now belongs to Jeffrey Pontiff, holder of the James F. Cleary Chair in Finance at the Carroll School of Management. His January 2016 article in the Journal of Finance has been hovering at the top of the journal's prominent list of its 25 articles most cited over the past five years.
Co-authored with Georgetown's David McLean, who earned his Ph.D. at the Carroll School in 2006, the article is titled "Does Academic Research Destroy Stock Return Predictability?" It's a study of how the stock market responds to investment strategies highlighted by academic researchers—in a way, about whether anyone is listening to the professors. It won the 2016 Amundi Smith Breeden Prize for research in that journal.
Aside from these citations tracked by the Journal of Finance, the article has also scaled the heights of the Altmetric Attention Score for scholarly research, which covers a far broader swath of online sources including mentions in popular news outlets and even social media.
When asked about his most-cited status, Pontiff stepped lightly around the question. "At BC, we have some incredible scholars," he underscored. "And that goes for the Carroll School, including our finance department." He pointed to a couple of professors in that department with more lifetime citations than he has—Phil Strahan (who holds the John L. Collins, S.J. Chair in Finance) and Cliff Holderness.
Then, when asked if he often comes across discussions of his article when perusing finance journals, he noted, "It's a small field. We all read the same papers." His guesstimate was that there are, in all, a thousand or maybe two thousand finance professors in the United States who do original research in peer-reviewed journals, as he does.
"Does Academic Research Destroy Stock Return Predictability?" has found echoes in not only scholarly journals but also the foremost news media. For example, a June 2017 commentary in the New York Times referred to this "much-talked-about paper," which points out that after researchers publish their articles about stock market investing strategies, the effectiveness of these strategies "seem to diminish," though not disappear.
"Why? It appears to be because the market consistently makes mistaken valuations of corporate earnings, which tend to be corrected in stock prices only when the final earnings evidence is staring traders in the face," the Times article said, in part citing follow-up research by Pontiff and colleagues. That article was written by none other than Yale's Robert J. Shiller, the 2013 Nobel laureate for economics. 
Less technically, what Pontiff and McLean have shown is that investors do "care about academic research. They're even willing to bet their money on it," independent finance writer Tim Gray has written. For that reason, Pontiff told Gray in March 2017: "With this paper, I felt like I was able, for the first time in my life, to give people an answer to a fundamental question that we academics never really knew the answer to." That is, the market is listening.
And stock analysts aren't the only ones paying notice. The Altmetric score for Pontiff-McLean puts their article at #9 on the all-time list for that broad metric. As for the Journal of Finance's Top 25, the paper stood at #1 during this past summer; more recently another article crept ahead by just a few citations. Both articles are distantly in front of the third most cited paper.
William Bole is the Carroll School's director of content development.