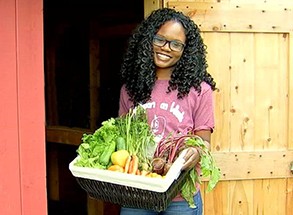 It started as a part-time job during high school. Then it became a community. And Shavel'le Olivier '14 has never left the Mattapan Food and Fitness Coalition (MFFC) since. Even while she was studying for her bachelor's degree from the Boston College Carroll School of Management, Olivier returned to MFFC every weekend, wielding her newfound leadership and marketing skills as she organized farmers' markets, cooking classes, and bicycle outings.
This past fall, Olivier earned a Cox Conserves Heroes Award. Presented by Boston 25 News in partnership with Cox Enterprises and the Trust for Public Land, the award recognizes a local environmental volunteer for work improving outdoor spaces. Along with the honor, she received $10,000 to donate to MFFC.
Olivier's goal, she says, is to make her Boston neighborhood one of the healthiest communities in Massachusetts.
Like many marginalized urban neighborhoods, Mattapan has high rates of hypertension, heart disease, and diabetes, owing to a dearth of options for nutritious meals and exercise. People juggling multiple jobs are hard pressed to join gyms or shop at natural food stores, and those businesses tend not to locate in struggling commercial districts anyway.
But Mattapan does have active community groups dedicated to realizing the neighborhood's potential. Olivier found her way to one such group as a teenager. The MFFC is a grassroots, volunteer-based organization focused on bringing healthful food and exercise programming to its community in order to combat those chronic diseases associated with obesity and hypertension.
"Initially, I just wanted a job," Olivier recalls. "I wanted to pay for my own things." The coalition employs a unique model in which young people perform some paid work and some volunteer work. As a member of MFFC's Vigorous Youth wing, Olivier's duties took her far outside her comfort zone.
"I didn't talk much in high school," says Olivier, who graduated from Boston Latin Academy. "I didn't socialize. Honestly, this organization gave me my first group of friends." And as she met with business owners, government officials, and other local nonprofit groups; recruited other teens to the cause; sold fresh vegetables on crowded sidewalks; and signed up neighbors for Zumba classes, Olivier broke out of her shell altogether.
"I gained a lot of confidence as the years went by," she says.
Moreover, she gained mentors, such as Vivien Morris, the founder and co-chair of MFFC and also community engagement manager for the Carroll School's Joseph E. Corcoran Center for Real Estate and Urban Action, as well as Linda Dorcena Forry '96, a former state rep who has supported MFFC's efforts.
"These women in different leadership positions were inspirational to me," Olivier says. "They encouraged me and made me more comfortable taking on more leadership roles."
Olivier is now co-chair of MFFC's Vigorous Youth program. She coordinates volunteers, researches and writes grants, plans events, and is generally in the thick of MFFC's programming and administration. (All this while working a full-time job at the Harvard Street Neighborhood Health Center and studying for a master's degree in nonprofit management at Northeastern University.)
One of Olivier's signal achievements (and what garnered her the Cox award) is Mattapan on Wheels, a bike ride that she spearheaded in 2011 and continues to coordinate annually. The ride now showcases the local link in the Neponset River Greenway Trail and other neighborhood improvements. The 1.3-mile stretch of the greenway opened to the public in the spring of 2017, connecting cyclists and walkers from Mattapan Square to Dorchester and Milton. (The MFFC was instrumental in completing the trail.)
"When I see people [riding] the trail, it makes me happy, because I've been involved in the background pieces of trying to make that green asset come to life," Olivier told Boston 25 News. "And now seeing them use it, it warms my heart."
Olivier credits her Boston College experience, in part, with boosting her leadership skills in unexpected ways. She points especially to the impact of Carroll School classes such as Leadership, Managing Diversity, and Leading High Performance Teams.
"Those classes gave me a foundation that helped me explore how I am a leader—and that leaders are not [shaped by] cookie cutters, with shared characteristics, like being outgoing or able to talk a lot," says Olivier, whose co-curricular involvements included the Haitian Association of Boston College. "You can be a leader by focusing on your strengths."
Morris says that among Olivier's strengths is her ability "to connect with young people, because she fully understands their lives."
And just as Olivier once gained confidence and ambition under the tutelage of leaders like Morris and Forry, she is now inspiring the teens in her hometown.
"We want young people in this community to go on to colleges and universities," says Morris. "So to have an alumna from BC interact with our young people and provide support—it gives an opening for them to envision themselves where she is. And where she's going."
---
Patrick L. Kennedy, Morrissey College '99, is a writer in Boston and the co-author of Bricklayer Bill: The Untold Story of the Workingman's Boston Marathon.