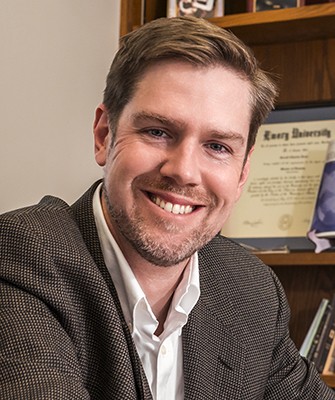 For the first time in four years, established companies are making advances in digital maturity. That's the conclusion of a study led by Gerald Kane, professor of information systems. But challenges remain, Kane and his co-authors found. To stay current, organizations need to make experimentation part of their employees' daily jobs, and employees need to step up and become digital leaders.
In his role as guest editor of the MIT Sloan Management Review's Digital Business Initiative, Kane conducts an annual survey in collaboration with Deloitte Consulting. This year's research report, Coming of Age Digitally: Learning, Leadership, and Legacy, was released in June and quickly garnered coverage in Forbes and the Wall Street Journal.
Kane and his fellow researchers surveyed 4,300 executives from more than 120 countries, in companies of varying sizes across 28 industries, from manufacturing to finance to health care. They also interviewed high-level executives and experts in order to place the data in context.
Of that survey sample, the portion of respondents who consider their firms to be in the "early stage" of digital transformation dropped nearly nine percentage points since the previous year, the first sign of progress since Kane's survey began. Thirty percent of respondents now fall within the "digitally maturing" category. If you were waiting to see how your competitors would respond to the shifting technological landscape, the authors write, then "the time to act is now."
That doesn't mean "throwing money at the problem," the study notes, by buying every new digital tool that comes down the pike. If anything, "it helps if you're underfunded," the chief information officer of a medical center told the researchers. "It forces you to be scrappy. That's a big part of the culture."
That culture—the mindset of a digitally maturing company—puts a premium on experimentation, Kane and co-authors write: "Experimentation is at the heart of digital maturity." Nimble businesses create the conditions for employees to take risks and try new things.
Transformation of this sort is hardest at legacy companies, where there is a built-in fear of failure. Besides which, executives and employees might naturally feel that the old ways have brought success. Management scholars call this the "competency trap."
The key to overcoming the competency trap and preparing for more digital disruption is to not simply hire but develop digital leaders. More than 6 in 10 (64 percent) respondents at maturing companies reported developing leaders from within, compared to just 14 percent at companies still in their early stage digitally.
Part of developing leaders means giving employees the time and space to acquire new skills, an area where many companies need to improve. Ninety percent of survey respondents said they need to update their digital skills at least yearly—and 44 percent said they need to do so "continually." Yet at "early-stage" companies (which are paradoxically often the older companies), nearly 30 percent indicated that their employers offered little to no support to do so.
Developing leaders also means giving middle managers the leeway to make more decisions on digital matters. Kane and co-authors found an interesting disconnect there: 59 percent of CEOs think they delegate decision-making on digital transformation, but only 33 percent of vice presidents and directors agree that that is happening. Are CEOs reluctant to relinquish decisions? That's a tempting conclusion, the authors write, but some of their evidence suggests that employees are reluctant to "step up" and embrace their roles as digital leaders.
Kane's co-authors were David Kiron, of MIT Sloan Management Review; and Doug Palmer, Anh Nguyen Phillips, and Natasha Buckley, all of Deloitte Consulting. The full report is available on the MIT Sloan Management Review website.
---
Patrick L. Kennedy, Morrissey College '99, is a writer in Boston and the co-author of Bricklayer Bill: The Untold Story of the Workingman's Boston Marathon.