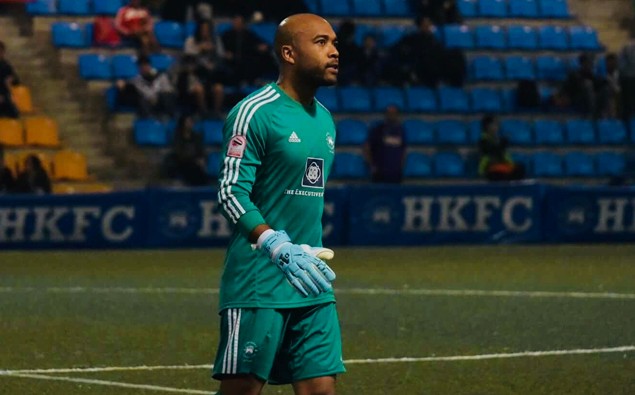 Issey Maholo '07 was ready to hang up his cleats upon graduating from Boston College. But one Carroll School of Management professor encouraged the varsity soccer goalkeeper to keep playing the sport for as long as he could.
A decade later, Maholo was stopping balls at pro soccer's top level in Hong Kong—while holding down a demanding day job as a vice president of prime brokerage for J.P. Morgan. How did it happen?
Born in Tokyo to a Japanese mother and a Congolese father, Maholo was a leading teenage goalie in Japan. He came to the Heights on a soccer scholarship in 2003. As a sophomore, he scored ten shutouts and notched All–Big East second-team honors. The following year, he topped the conference in saves per game and received the team's Thomas McElroy Award as the junior who demonstrated excellence in soccer.
Turning his thoughts to life beyond Chestnut Hill, Maholo—who earned his bachelor's degree in general management and human resources—didn't see a future in soccer. But forging a career in business doesn't have to mean dropping your passion, insisted his accounting prof Amy LaCombe '90, professor of the practice and once a student athlete herself. The former basketball captain scored 1,147 points for Boston College and has been inducted into the Varsity Club Hall of Fame.
"It is a blessing to keep playing," LaCombe told Maholo. "Keep playing as much as you can."
Maholo played soccer for a fifth year as an Eagle while earning a master's degree in administrative studies and feeding a growing interest in finance. "I spent time using the Bloomberg terminal in O'Neill [Library] every chance I got," he recalls. But then he did stop playing for a few years, while he worked in prime services for Barclays in Tokyo.
In 2011, Barclays transferred Maholo to Hong Kong, where he learned about the Hong Kong Football Club. (Remember, soccer is called "football" in the rest of the world, more or less.) Founded in 1886, the Hong Kong FC is a private social and athletic club that fields teams in a variety of sports but is best known for soccer and rugby.
At the time Maholo came to town, the club's soccer team was keen on promotion to the Hong Kong Premier League. In a region of more than seven million people across several islands and peninsulas, there are dozens of soccer teams, with the best ten or eleven in any one season occupying the top tier, or Premier League. Teams can advance and fall among tiers.
Maholo tried out and became the starting keeper. By the 2015/2016 season, about when he was hired at J.P. Morgan, Maholo led a Hong Kong FC defense that allowed just 21 goals in 26 matches. With a 17-3-6 record, they finished second in the second-tier league (confusingly called the first division) and earned promotion to the big show for the 2016/2017 season.
"There will be plenty of excuses you can make in life as to why you should stop doing what you love to do."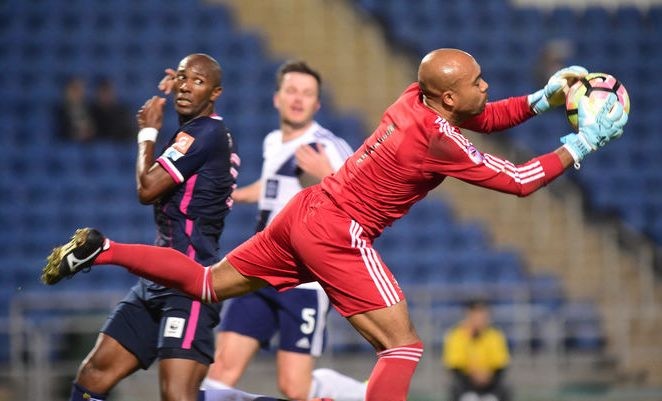 The old club had a hard time of it in the Premier League. Their rivals were full-time professional footballers, whereas "HKFC prides itself on being an amateur club," says Maholo. "This is also in the club bylaws." That meant Maholo and his teammates worked by day and trained at night, on top of playing games on weekends. (He credits his understanding wife and two children for indulging his avocation.) And given the long hours of a global banking executive, the goalie sometimes had to duck out of practice for a conference call with the New York office, or skip practice altogether for a client dinner.
Under such conditions, it's understandable that the club finished last, getting itself demoted. But Maholo hasn't been discouraged. This season, he's guarding the net for Kwun Tong Football Association in the first division (second-tier league), still playing the game he loves.
Maholo's sport and his career do have some things in common. For example, teamwork is vital in both, he told efinancialcareers.com: "One person can shape a game, but usually not a whole season. It's the same in finance—someone can bring in a big mandate, but you all have to pull together to become the top bank in Asia."
Still the Eagles' single-season record holder for goals against average and shutouts (0.49 and 10, both in 2004), Maholo hasn't forgotten his days in maroon and gold, and he has a few words for those coming up behind him.
"It was a privilege being a student-athlete at BC," he writes by e-mail. "If I were to give any advice to current BC students, I would say this: There will be plenty of excuses you can make in life as to why you should stop doing what you love to do. Scarily, some would even sound very legitimate. But those who manage to stay true to what they love will—undoubtedly be busier!—but will enjoy the life they live."
---
Patrick L. Kennedy, Morrissey College '99, is a writer in Boston and the co-author of Bricklayer Bill: The Untold Story of the Workingman's Boston Marathon.
Photography provided by Issey Maholo.