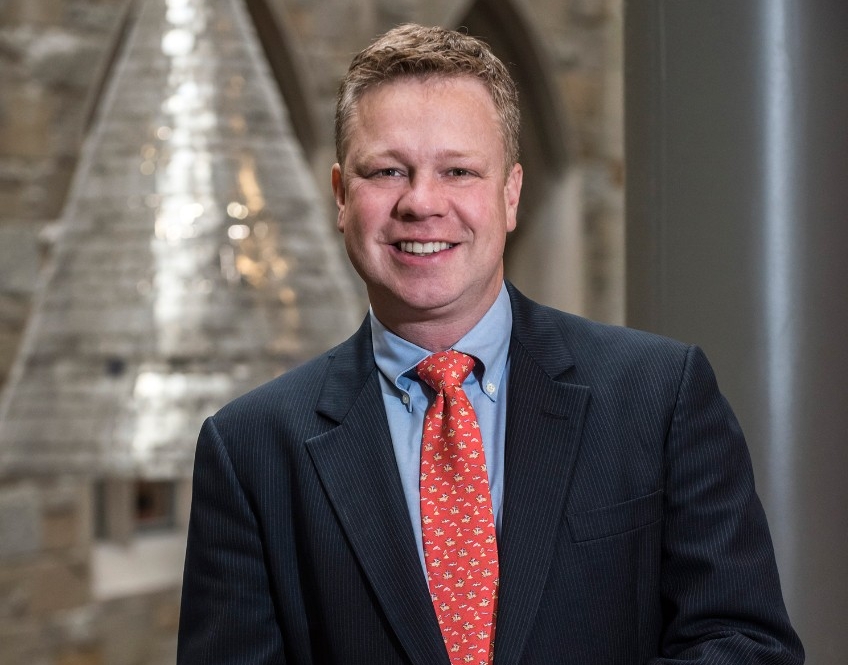 For a decade, Ethan Sullivan has helped to helm and hone the Carroll School's unique Portico course, an introduction to business ethics that is rooted in Boston College's Jesuit values of reflection. In that capacity, he's been not only an instructor but also an advisor to hundreds of students—"he's like all our dad," one senior quipped last year. Sullivan is a double Eagle—he holds a bachelor's degree in English and philosophy from Morrissey College as well as a Ph.D. in higher education administration from the Lynch School. He is also a youth sports coach—and a former professional craft brewer.
And now, Sullivan is the senior associate dean for undergraduate programs. He was promoted after Richard Keeley '72 retired in May. (Portico mainstay Amy LaCombe '90 has taken over Sullivan's former role as associate dean.)
We caught up with Sullivan this fall to learn more about his path from BC to brewing and back again.
---
So how did you get into brewing after graduating from BC?
Like many brewers, I started it as a hobby. It was 1994, and I was living in Bend, Oregon. I was there as a Jesuit Volunteer, working for the St. Vincent De Paul Society and living off an $80 monthly stipend. On the first of each month, I would get my meager paycheck. On my bike ride home, I would make two stops. First, at a used CD store to spend 12.75 percent of my pay on music. Then I would go next door to the Deschutes Brewery to buy a growler of something on tap. Black Butte Porter was my go-to, and Mirror Pond Pale Ale was a fine back-up plan. It was such a difference from the watered-down light lagers I'd tried in college. But I couldn't afford much more than a growler here and there, so I started making my own, five gallons at a time. I loved it, it became my favorite hobby, and, eventually, my first "career."
What was the work like?
I had a great experience. I brewed at the Edgefield Brewery in Troutdale, Oregon, which was a beautiful setting. I'd get to work at 4 a.m. or 6 a.m., depending on the brew of the day. Lots of manual labor—lifting kegs, connecting hoses, shoveling out mash tuns—which offered much time to ponder the yonder. And the company allowed us (we had three brewers at the time) to be very entrepreneurial. We were able to design our own recipes, name the beers, even draw the artwork that went onto the tap handles (we didn't have a canning or bottling line, it was draft only).
I was also in charge of our environmental efforts: I worked with local pig farmers who would collect our spent grains to feed their pigs; and I managed our wastewater system—an elaborate outdoor system of vessels, tubes, and enzymes which would treat our outflow before it went into the sewer system. I even learned how to cultivate yeast in our lab. (Though I'd never trade my undergraduate degrees in English and philosophy, it did make me wish I had studied more chemistry.)
In between the "work" of brewing and cleaning—Charlie Papazian, a legendary home brewer, once said that brewing is half magic, half science, and 90 percent sanitation—I gave lots of tours and tastings. We didn't have a visitor program, but people would often wander into the brewery and I'd show them around. (I was the only brewer there who liked people, so the team volunteered me to greet all guests.) I learned so much about myself, running a business, and, of course, craft beer!
How did you transition out of that and into higher education administration?
Well, my first career ended three years after it started. I loved almost everything about brewing, but a few things did not resonate with the long term. The hours were long, the pay was short, the work was grueling, and the lifestyle was precarious. When my girlfriend (at the time, now my wife) was admitted to grad school in New York City, she decided to head back east, and we decided that I would join her.
So I convinced one of my college roommates to take a road trip across the country. After a particularly long day of travel and time spent talking about what a couple of twenty-somethings should do with their lives, we pulled off the highway and found the nearest hotel. Then I suggested that we check out the campus of the local university. Without realizing it, I'd been suggesting the same thing at just about every town we stopped in. My friend, being tired and hungry, barked, "Why don't you just find a job at a [expletive] college!?"
I'd never considered this, but now the idea went off like a light bulb. At that very moment, it became my plan. Eventually, I settled into New York, and spent a year temping at the Museum of Modern Art and researching graduate programs. The next year, I enrolled in a master's program in higher education administration at New York University (where I was an academic advising graduate assistant in the dean's office—and the dean was a BC grad, which is just another example that Eagles are everywhere). Here I am 20 years later, still in the field, and loving it. Being around such great minds and ideas—from faculty and students alike—is truly inspiring and keeps every day exciting. 
Your stated mission as senior associate dean is to "provide leadership and strategic direction for a dynamic undergraduate program that supports the intellectual, professional, and personal development of all students in the Carroll School." Can you elaborate on that?
I hope to provide leadership to the great team of people who work in undergraduate programs. And by leadership, I mean to give them the support and encouragement they need to do their jobs well (which is already the case). 
In terms of strategy, there are two parts: vision and implementation. Vision requires us to know who we are, and who we want to be. Well, we are grounded in a great tradition of Ignatian values. We are called to put students at the center of our work, and to acknowledge our students as whole people. I hope a student never walks into my office and feels like they are not known and cared for. I've been at other schools where students have flat-out told me: "I'm just a number here." I hope Carroll School students know that they are so much more than the number on their student ID card.
Will you continue teaching?
Yes, though I will focus on the administrative role. [Sullivan will teach honors thesis this year.] I do greatly enjoy teaching. I think that it creates an understanding of and empathy with the student experience. It keeps the role of dean a bit more grounded.
What are the biggest challenges you see ahead as an administrator?
Phil Jackson, when he was coaching Jordan and the Bulls, said it was easy to win the first championship. Repeating is the harder part. I feel like I've inherited a championship team. Continuing to stay on top requires us to do more, and to do it better. For example, thanks to [Assistant Dean for Undergraduate Career Advising] Amy Donegan and her team, we have a strong track record of placing students into good jobs. But the [recruiting] landscape and timelines are changing. That requires us to offer more services to more students, and earlier in their process. And, importantly, we can't lose sight of the great stress and anxiety this can cause young students. So we need to stay attuned to all of their needs. It is a delicate balance.
Speaking of coaching, what's your favorite youth sport to coach?
Typically, the sports I played growing up—baseball, soccer, and basketball. I've always enjoyed the psychology and strategy of sports. That, I think, is why I like coaching so much. But playing sports has also been great for my kids. They're learning teamwork, sacrifice, hard work, resilience—lessons that will help them be great pros in life.
And speaking of sacrifice, you delivered a message on that subject in your talk at Agape Latte, which was quite honest and thought-provoking. Are your classes like that?
Each year, in my senior Capstone course, I tell the students to "interview" me at the first class. Any and all questions are on the table. I've found that this creates an environment where we can freely discuss the big questions of life. It is very relational. And isn't that really what life is about? Being a part of something bigger than ourselves? I'd like to think so.
---
Patrick L. Kennedy, Morrissey College '99, is a writer in Boston and the co-author of Bricklayer Bill: The Untold Story of the Workingman's Boston Marathon.