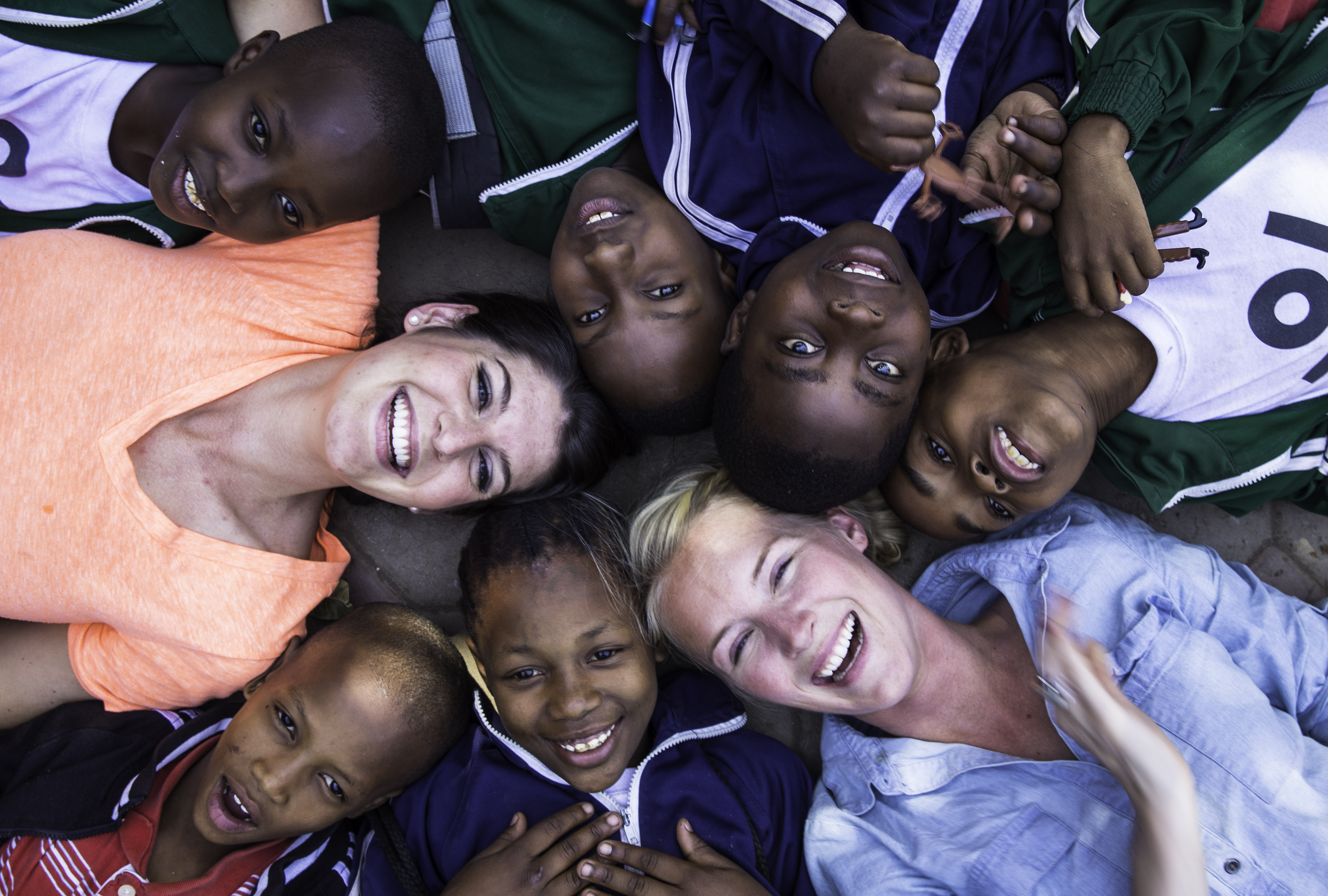 One of Hannah Ames Beavers's first impressions of Alice Mathew has endured: Mathew was serving a porridge lunch to some 30 children at her Tanzanian school, including two of her own, while carrying her third, a baby boy, on her back.
"I asked Alice, 'What do you need?'" Beavers recalled about that moment in 2009, a few months after graduating from the Carroll School. Mathew replied that she would need more maize flour for next week's lunch. Beavers's solution was to get on the phone with her father, an American working in Moscow. He eagerly agreed to supply $35 per week to feed the children.
During her three months of volunteer work in Tanzania, Beavers (who studied finance and operations at the Carroll School) asked that same question over and over. Each time Mathew answered, "God willing, we will have...."  Since then, Beavers—and another Boston College graduate, Katie Carey Nivard, Morrissey College '09—have raised money for an endless supply of lunches for the school, then a water tank, then plumbing to carry the water, a new classroom for the children and then more classrooms, and a home for orphans. Today, some 300 students attend the school set, amid the urban sprawl of Sokoni, a village in the Tanzanian city of Arusha. They include orphans and many vulnerable children from homes racked by disease or other traumas.
Beavers and Nivard have largely financed these feats by developing a Boston College network to support Glorious Orphan Care, the Tanzanian nongovernmental organization created by Alice Mathew and husband Julius Shuma. Beavers set up a separate U.S. nonprofit in 2010 to raise money, and in 2015, the pair increased their fund-raising heft when Nivard forged a partnership with Mama Hope, a larger San Francisco nonprofit. Mama Hope has supported them financially and through mentoring. It now employs them full time to establish a network of "Alices" in impoverished but aspiring communities in India, Africa, Central America, and the United States.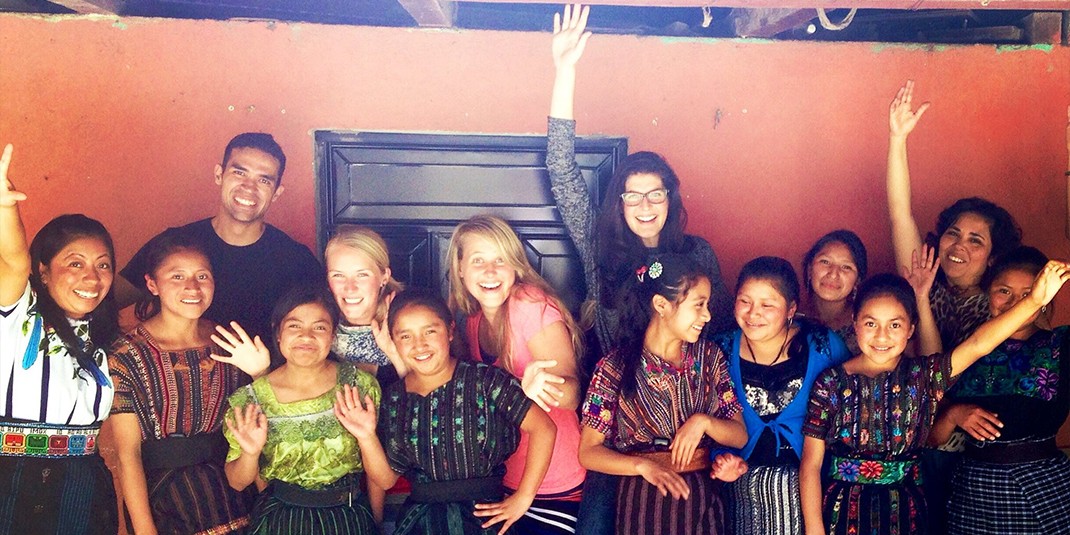 Altogether, the two alums have raised $1 million for the school in Tanzania and more recently have brought in another $50,000 for a newer school-centered development in Guatemala that is getting off the ground.
Fund-raising for such projects is a fairly traditional role for a global development organization. What is cutting edge about their work and qualifies them as social innovators, said Boston College School of Social Work professor Tiziana Dearing, is "this idea that communities are the best arbiters" of what they need. "Coming in and asking, 'What do you need and we will support you,' is a social justice innovation," said Dearing, who codirects the Center for Social Innovation.
One way Beavers and Nivard have reached out to the Boston College community is through Mama Hope's five-year-old Global Advocates program, which sponsors a boot camp and dispatches emissaries to overseas developments around the world. A requirement for the Advocates is that each commits to raising money for their assigned projects. At least five Boston College students have taken the challenge (see sidebar).
Beavers and Nivard have also set up a U.S. nonprofit, Glorious, named after Glorious Orphan Care in Tanzania. Its largest single source of financial support is the Irish Famine Memorial Fund at Boston College, which granted $75,000 in 2015 and again in 2016 to support Glorious, whose mission meshes seamlessly with the fund's goal of eliminating poverty, disease, famine, and illiteracy in poor communities around the world. 
Thanks to Irish fund backing, the U.S. Glorious can "invest funds in other individuals and build partnerships to keep expanding our reach," Beavers said.
A fateful meeting in a Cambridge coffee shop
Both she and Nivard were inspired by their undergraduate experiences to undertake the global ventures. However, Beavers's interest in social justice began as a child. Her peripatetic father, an oil-company executive, moved the family around the world—she was living in Russia when she applied to Boston College. Volunteering at a Moscow orphanage, Beavers saw girls her age destined to grow up as prostitutes. "The question in my heart was, Why am I so blessed when so many other people in this world who, by nature of where they were born, have completely different circumstances? I grappled a lot with that question," she said.
The questions continued in philosophy and religion courses at Boston College—faith is central to her life. A few months after graduation, Beavers's searching spurred her to act when a college roommate's sister told her about internships with the International Volunteer Headquarters organization. Soon, she was on a plane to Tanzania where she would meet Mathew. "Her courage, strength, conviction, and perseverance inspired me to find my own," Beavers said.
At Boston College, Beavers and Nivard had traveled in overlapping social circles. But they didn't formally meet until after graduation, in 2010, when a mutual friend from Boston College introduced them. Beavers was working for GE Energy in the Boston area—and supporting Alice's work from afar. Nivard was freelancing as a model and actress with a Boston-based agency (work she had done all through college). She was also looking for a way to get involved in orphan care and education, because two of her brothers were adopted from orphanages in Kazakhstan. A Facebook connection led to their first meeting, at a Cambridge coffee shop.
"We spent hours talking about all we wanted to do in the world, about Alice, about the kids [Beavers] had met," said Nivard, who had studied communications and marketing at Boston College. Soon, she headed to Tanzania to pick up where Beavers had left off. She spent several months there: "I got to see Alice bring her vision to life," Nivard said.
Post-Tanzania, the two faced pressing career obligations. Beavers had been in a financial training program at GE, and Nivard went to work for the Cola-Cola Foundation and then to the company's social responsibility department. Perhaps by divine intervention, however, their employers relocated both women to Atlanta. It was there, in Beavers's apartment, that they began mapping out their shared future. That's also when Nivard first reached out to Mama Hope's founder, whom she greatly admired. Nivard and Beavers eventually left their corporate jobs, but it was difficult to give them up for a nebulous future at a shoestring nonprofit.
"It was a constant battle between what my parents and society defined as success and what I wanted to define it as," said Beavers. She is now Mama Hope's director of strategy and development, based in Charlotte, North Carolina, and Nivard is its director of global partnerships, based in Montreal. Beavers and Nivard have various responsibilities at Mama Hope, and they continue to manage Glorious, which remains a separate tax-exempt entity in Mama Hope's global network.
Another Carroll School grad goes off to Tanzania
Some of their Global Advocates are helping to make the overseas projects self-sustainable through local revenue—another mark of a socially innovative project. For example, Glorious Orphan Care is covering 60 percent of its daily expenses, thanks in part to Katie Remy, a 2011 Carroll School graduate. The first Boston College graduate to become an Advocate, Remy was working at an international asset management firm when she stumbled on the program while browsing Boston College's website. She quit her job to go to Tanzania in 2015, raised just over $20,000 as an Advocate, and has now joined Mama Hope as a development associate based in Boston.
Remy helped to establish a store at the school to fund construction of a second campus for Mathew's growing school. The store, which sells things like school supplies and locally made jewelry and fabric animals, isn't the only enterprise supporting Glorious Orphan Care. Remy also worked on a computer lab that will double as a classroom for children and for adults who pay a small fee to take computer classes at night.
"You're surrounded every day by hundreds of kids who want to play games with you and read and sing and dance," Remy said. "It's just such a magical place."
The innovation continues: For their next project in Tanzania, Beavers is talking about constructing and selling houses to further the school's goal of becoming self-sustaining.
---
Kimberly Blanton, who covered the economy and financial industry as a Boston Globe reporter for many years, now writes a blog, Squared Away, for the Center for Retirement Research at Boston College.
Photos provided by Hannah Ames Beavers and Katie Nivard Carey.