Megan Greeley, Christina Stellingwerf, and Colleen White—the creators of Purple Parachute, a seller of science-and-crafts kits for kids—had practiced their pitch for days. The seven-minute Q&A session, in particular, became an obsession. They knew the judges of the Venture Competition would pick apart their business plan; all five judges had extensive experience in entrepreneurship and social venturing.
So in the hours just before the finals of the competition, the three students commandeered a classroom in Stokes Hall and peppered each other with practice questions, says Stellingwerf, a graduating senior. They'd assembled a list of dozens that they thought the judges might ask.
"I'd read out a question, and whoever could take it fastest would take it," Stellingwerf recalls. "But we all wanted to be sure we knew the answers—we didn't want to freeze up in front of the judges."  
Their practice paid off. Purple Parachute won the Social Enterprise category of this year's Venture Competition, a business plan competition sponsored by the Carroll School's Edmund H. Shea Jr. Center for Entrepreneurship. The proposed company, which the three founders are working to turn into a reality, will sell science-and-craft kits by subscription to parents in the U.S. and use part of the proceeds to fund educational play for children in refugee camps.
The winners of this year's competition were announced in May. The awards culminated months of preparation by student teams and winnowing by Shea Center judges. Several dozen teams from across the University submitted abbreviated business plans last fall in two categories—Social Enterprise and Traditional Business. Those were narrowed down to 20 semifinalists—10 in each category—and then eight finalists. At a closed session that brought together the finalists in April, each team was given five minutes to present their plans to the judges and then fielded questions.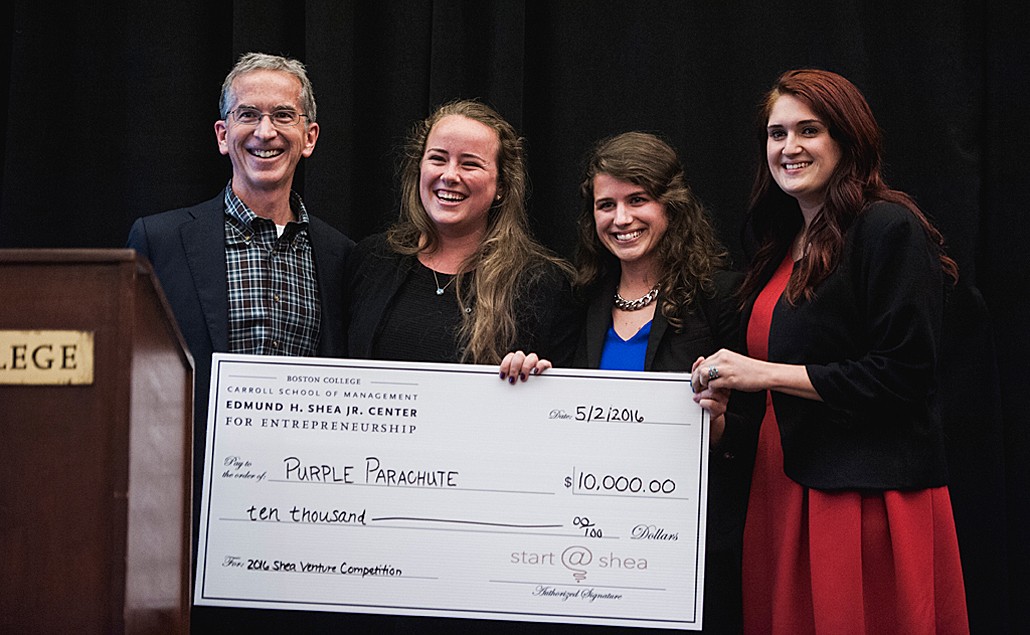 A NEW KIND OF RADIO
Winning the Traditional Business category this year was Emocean, a new sort of music-streaming service. Behind the startup is a four-member team including two 2015 graduates—the Carroll School's Christian Nicholson and Michael Gordon of MCAS—along with two MCAS juniors, Anders Bill and Jeff Sabo. Nicholson and Gordon have worked full-time on the business since graduation day in May of last year, and the team members have also presented their plan at competitions sponsored by Harvard University and the Atlantic Coast Conference InVenture Prize Competition.
Bill calls the company "a radio station you create yourself." It enables users to stream their music over whatever device they want and share their stream, simultaneously, with other listeners. Users curate their own streams, pulling music from whichever other music services they use. "You could go running with a friend, and both listen to your stream. We have huge hopes—we see it as the future of radio," Bill said.
Emocean is currently beta-testing its service with several hundred users. It will soon launch a second, larger test for 1,000 to 2,000 people and hopes to go to market at the beginning of the 2016–2017 school year.
As winners, both Purple Parachute and Emocean received $10,000 awards from the Shea Center and $300 worth of credit toward new business cards. Finishing second in the Social Enterprise category was TradeRoutes, a website providing teachers with better online tools to build, share, and present their lessons. Second in the Traditional Business category was Xperii, a software platform matching researchers with human subjects. They both received $5,000 awards from the Shea Center.
Among the past winners of the competition are such well-established companies as WePay, Jebbit, and NBD Nano. Several past entrants that didn't end up triumphing have also gone on to success, including Wymsee and Drizly. The competition began in 2010.
This past spring's edition of the contest was "the first time we've combined both the social innovation and traditional business tracks into one competition, and the first time we evened out the prize money," said Jere Doyle '87, the Shea Center's executive director. "What was most impressive to me was the high level of the ideas and business plans that the students developed and the enthusiasm and passion they all showed. That entrepreneurial spirit is exactly what we are trying to cultivate on campus." 
The awards were announced at the Shea Center's year-end celebration, held May 2 in the Fulton Hall Honors Library. The ceremony drew a standing-room-only crowd of students, professors, staff, families, and friends who cheered and applauded enthusiastically as each team of finalists delivered one-minute "elevator pitches." Afterward, Doyle noted, "The energy and excitement in the room were at a level I've never seen before."
The other four finalists included two in Social Enterprise: Grocer M.D., a startup aimed at empowering people to live healthy lifestyles by distributing fresh foods to patients; and Acumen Lending, a peer-to-peer lending platform focused on helping small businesses. In the Traditional Business category were two other finalists: Mentis, a program that helps athletes mentally prepare to return after injuries; and ExoWear, a system that helps motivate, monitor, and coach people through physical therapy and rehabilitation.
The five judges were Tom Coburn '13, Co-Founder and CEO of Jebbit; Tiziana Dearing, a Boston College professor of social work; Jason Krantz '95, CEO of Definitive Healthcare; Mark Moeremans '11, a board member at SAHA Global, a social enterprise focusing on clean water in Ghana; and, Miguel Vega '90, a partner at Cooley LLP.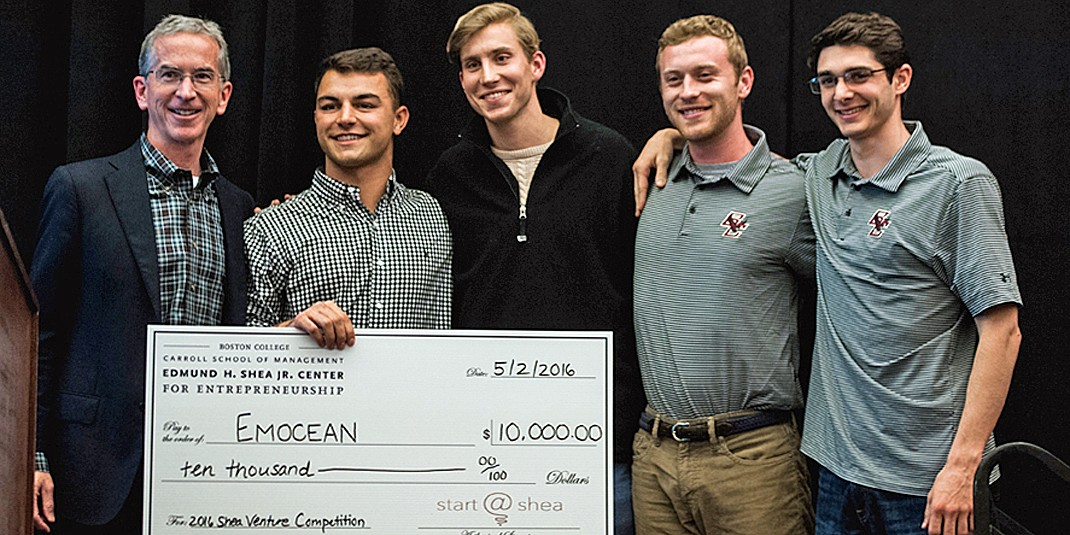 TARGETING TWEENS
Like all of the eight teams in the finals, the women behind Purple Parachute had spent months preparing. Last fall, Stellingwerf had met Greeley, a fellow MCAS senior, in a Carroll School class called Social Innovation and Entrepreneurship, taught by Professor Laura Foote. Their capstone assignment in the class was to devise a business plan for a social venture.
"We wanted to look at solutions for the refugee crisis," Greeley says. "Our initial idea was a pop-up recreation center—a rec center in a box" for kids in refugee camps.
As the class was winding down, they decided they wanted to keep developing their idea and try to turn it into a business. They thus applied to and were accepted by Accelerate@Shea, the Shea Center's incubator for student firms. "We had group workspace there and mentors to guide us through the early stages of developing a startup," Greeley says.
One thing she and Stellingwerf lacked, though, was deep business knowledge; Greeley majored in political science, and Stellingwerf in psychology. So for greater commercial acumen, they turned to White, MCAS '11 and MBA '17. White and Greeley were colleagues at Boston College's Global Leadership Institute (GLI), which provides professional development for leaders and managers from outside of the U.S. White is GLI's coordinator for marketing, communications, and program development, while Greeley was an undergraduate intern there.
"We'd set up the idea as a nonprofit initially," Greeley says. "But we knew we wanted to pivot to being a for-profit—we didn't want to be reliant on the yearly grant cycle. Until we brought in Colleen, we hadn't identified a good way to do that."
White suggested the idea of subscription boxes containing kits providing the kind of hands-on educational play that parents love. The boxes will offer, say, a science experiment, like growing geodes, along with a related craft project, like making picture frames out of the geodes. Though other companies offer subscription play boxes, none target "tweens"—late elementary and middle-school students—the market Purple Parachute is pursuing.
Early on, the three women had also planned to send play boxes to refugee camps in what they call a "buy-one-give-one" model—if a parent in the U.S. bought a box, he or she would also be paying to send one abroad. But as they did their research, talking to experts at humanitarian organizations, they realized that would be impractical, Greeley says. Camps' needs are too various, and a child at a camp might not have, say, easy access to the boiling water needed to grow geodes.
"We're continuing to work to figure out what the best stuff to send for the refugee kids would be," she says. "It might be recreational, like soccer balls. Or maybe a camp is more developed, and it can use art supplies. We're trying to partner with groups, like UNICEF and the Women's Refugee Commission, that are already in the camps."
All three founders will be working at other full-time jobs this fall. But they're planning on continuing to try, during their nights and weekends, to turn Purple Parachute into a reality.
 If past winners are any indication, they have a good chance of success.
---
Tim Gray is a freelance writer and a writing instructor at the Carroll School
Photos by Mike Perry '18