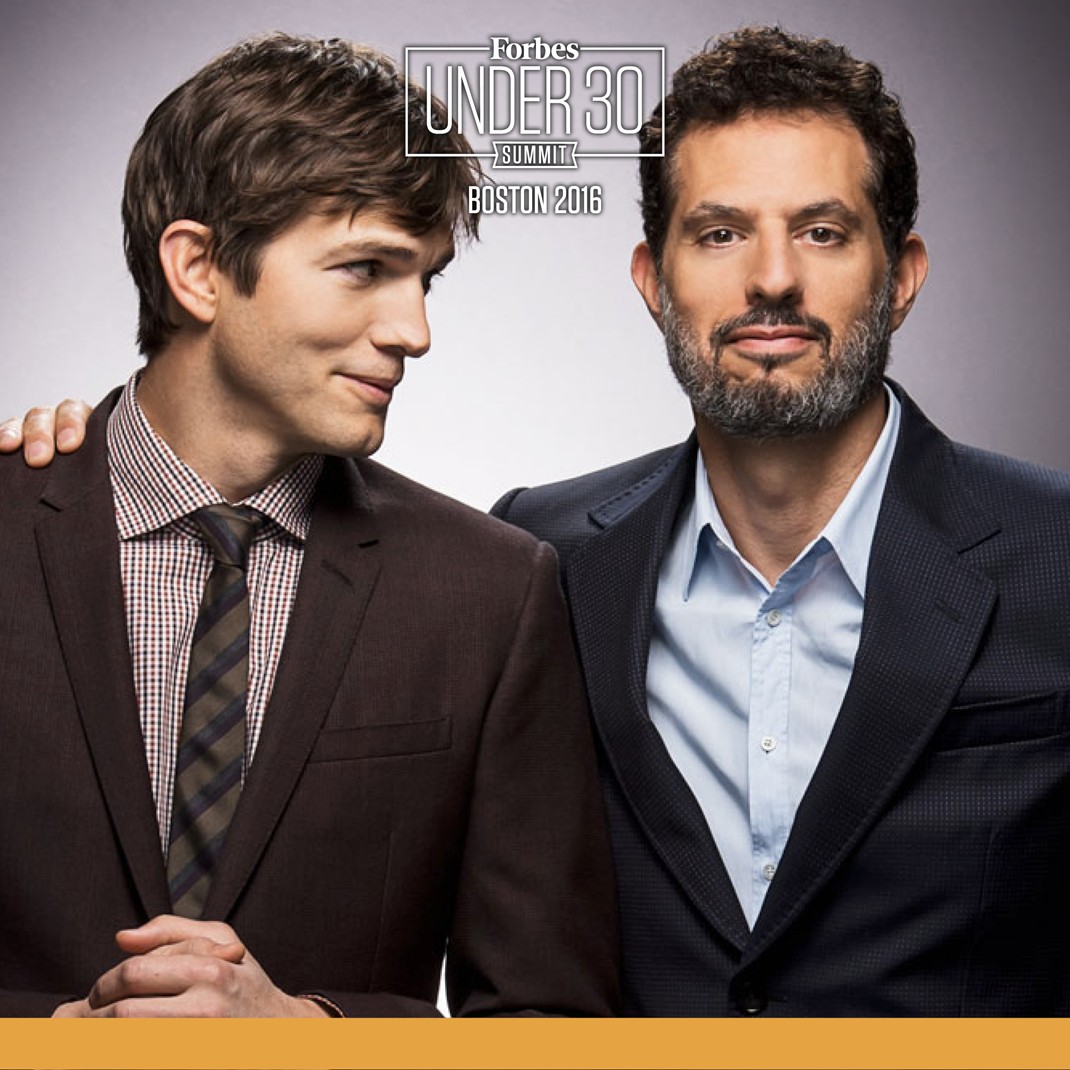 Boston College's Edmund H. Shea Jr. Center for Entrepreneurship and its Center for Social Innovation are teaming up with Forbes to help host the Forbes Under 30 Summit in Boston, Oct. 16–19. The conference is expected to bring about 5,000 aspiring entrepreneurs and business-minded folk to the city for events ranging from speeches and seminars to a mini-music festival and a bar crawl on the streets around Fenway Park.
The University, through those two centers, will be the official academic partner of this third annual summit. The first two conferences were held in Philadelphia with the University of Pennsylvania's Wharton School serving as academic partner.
The summit takes its name from the Forbes 30 Under 30 lists, which recognize young entrepreneurs and leaders in a variety of fields. Conference speakers will include actor Ashton Kutcher—whose venture-capital firm, Sound Ventures, is contributing prize money toward one of the summit's two business-plan pitch competitions—as well as Bobby Flay, a restaurateur, author, and TV personality, and Maria Sharapova, a tennis star-turned-candy maker.
"We see this as another step in the journey of the Shea Center and entrepreneurship at BC," said Jere Doyle '87, the center's executive director. "One of our big pushes this year was for Shea to do more with social entrepreneurship, and one of the two pitch competitions at the summit is only for social ventures."
In its role as academic partner, the University is recruiting students, alumni, faculty, staff, and parents, to help screen applications for the two pitch competitions. One competition seeks early-stage business ideas that can change the world, while the other wants not-for-profit solutions for improving Pre-K to 12th-grade education in the United States. Final decisions on winners will be made by the Forbes Under 30 judging team.
"We're expecting 2,000-plus entries for the pitch competitions," said Kelsey Kinton '12, the Shea Center's assistant director. More than 100 students and 100 alumni have already volunteered to help with screening, which can be done remotely. Thanks to Boston College's web-based platform for receiving and reviewing applications, it's easy for students to be screeners. "You can do it from your dorm room," Doyle said. (Alumni and others in the Boston College community interested in volunteering should contact the Shea Center.)
"We see this as an educational opportunity," Kinton added. "Our students will get to see how venture capitalists review business plans." The Boston College volunteers will winnow the applications down to 40 finalists, 20 from each category.
Each competition will award a total of $500,000 in money and in-kind prizes. The prizes for the for-profit plans are being funded partly by Sound Ventures and Boston-based Rough Draft Ventures. And those for the nonprofit plans are being funded partly by the Charles and Lynn Schusterman Family Foundation.
Kinton says Forbes's decision to hold this year's summit in Boston underscores the vitality of the region's startup culture and the efforts of the many local universities to foster entrepreneurship. "Everything in tech and entrepreneurship isn't just happening in Silicon Valley," she said. "This really puts Boston and BC on a worldwide stage in terms of entrepreneurship. The for-profit pitch competition is global, so we're receiving applicants from around the world." (The deadline for applications was September 9.)
The summit will be held at venues throughout the city. Unlike many other pitch competitions, those making the pitches are not presenting business plans. All of them are active entrepreneurs from young companies and social ventures that already have, for example, executive teams and operations. All are under 30 at the time of the summit.
The Shea Center, housed in the Carroll School of Management, aims to integrate entrepreneurial thinking into the educations of undergraduate and graduate students across Boston College. It offers academic coursework, co-curricular activities, and experiential opportunities. The Center for Social Innovation, housed in the School of Social Work, promotes sustainable social innovations that enhance social justice.
"Our involvement with the Forbes Summit solidifies what we're trying to do at Shea with entrepreneurship," Doyle said. "We're trying to reach outside the Carroll School, and something that's great about this is that it can touch students across campus. We're trying to connect everybody in the BC community to entrepreneurship." 
---
Tim Gray is a freelance writer and a writing instructor at the Carroll School.