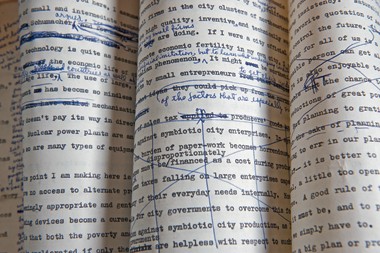 Last month in Devlin Hall, Senior Associate Dean for Undergraduate Programs Richard Keeley was introducing the author of a new book about Jane Jacobs when he held up two original manuscript pages typed out by the legendary urbanist. They offer a portrait of the world-class writer as self-critic—with an "X" penned across most of one page and furious edits throughout. Keeley explained that he has exhibited those pages in class when assigning research papers to undergraduates.
He tells the students, "Look, if Jane Jacobs can go back and edit a fourth or fifth time, surely I could ask you to edit a second time." Keeley made his remarks at a November 17 event sponsored by the Winston Center for Leadership and Ethics, featuring Peter L. Laurence, author of Becoming Jane Jacobs (University of Pennsylvania Press).
There's a story about how Keeley came to be in possession of the manuscript pages. It's part of the larger story of Dick Keeley, his relationship to Jacobs, and how this woman who distrusted experts and academics came to love Boston College. She died in 2006, leaving behind a plenitude of papers now stored in the University's Burns Library for Rare Books and Special Collections.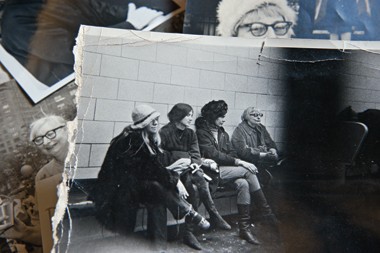 FIRST, JANE
This year marks the centenary of her birth, and it has been widely celebrated. Jane Jacobs is urban legend that is true: "She's got a folk hero status," Keeley points out.
An activist as well as a writer, Jacobs led epoch battles during the late 1950s and early 1960s against so-called urban renewal in New York City. There were three showdowns between her and Robert Moses, the city's master builder who presided over such titanic public projects as the Whitestone Bridge and the Brooklyn-Queens Expressway.
First, Moses planned to run a four-lane highway through Washington Square Park in Greenwich Village. He lost. After that, the hair-raising idea was "slum clearance"—of 14 blocks constituting the West Village. Moses lost again. Then, plans materialized for what Moses called the Lower Manhattan Expressway, a 10-lane superhighway that would have pierced through Little Italy, Chinatown, the Bowery, and the Lower East Side, and would have completely destroyed a district not yet called SoHo. He lost a third time, to a writer whom many had initially dismissed as a Greenwich Village "housewife."
As an author, Jacobs made her name in 1961 with the publication of her masterpiece, The Death and Life of Great American Cities. In that book, she laid unflinching siege to the then-reigning wisdom that cities needed to be rebuilt from scratch.
At the time, city planners abhorred density, associating it with congestion and unhealthy conditions; Jacobs believed it was essential, partly because more people meant more "eyes on the street," making all feel safer. The planners wanted a strict separation between commercial and residential spaces; Jacobs argued for a mingling of functions—shopping, living, working, and leisure. She believed diversity made cities come alive.
In Boston, officials were contemplating the "slum clearance" of a now-iconic district—the North End. In Death and Life, Jacobs pronounced the North End, with its cheek-by-jowl dwellings and shops, and sidewalks full of chatter, "the healthiest neighborhood in the city."
In response, experts and academics ridiculed her as an amateur who lacked a sophisticated understanding of urban disorders. In Chestnut Hill, however, she was gaining a lively following.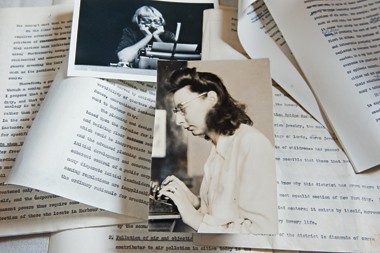 ENTER DICK
During those years, Keeley was director of Boston College's PULSE Program for Service Learning, which to this day combines undergraduate service in the city with connective coursework in philosophy and theology. Jacobs's writings began appearing on PULSE seminar reading lists in the early 1970s, as a way of introducing students to the challenges facing the neighborhoods where they were placed.
In 1977, Keeley began what he refers to as "the courtship." He started sending letters to Jacobs inviting her to speak at Boston College, and receiving polite rejections. Jacobs was wary of the academy in general, suspicious of credentialed expertise (which, after all, had manufactured the prevailing urban orthodoxies), and rankled by frequent criticism from those quarters that she lacked the credentials to speak about urban policy (she had no college degree).
"She was no great friend of universities," Keeley says understatedly. But he persisted, with more letters from Chestnut Hill scattered across a decade. Finally, in 1986, he asked if he could see her in Toronto (where the Jacobs family had moved), and she agreed. There they spoke for hours about urban issues and Boston neighborhoods as well as Boston College.
"She began to get a sense that if she were to come here, she would get a very enthusiastic hearing, and not the academic snobbery that she often got elsewhere," Keeley recalls of the July 4 visit. Less than a year later she was at Boston College for a symposium on ethics and economics—an event that, she later said, ushered in a new phase of her thinking and writing that centered on ecology and economics. Jacobs acknowledged Keeley's role and that of others at Boston College in a couple of her books published afterward.
The University's relationship with Jacobs continued, with more trips to campus for at least four more programs. And so, when asked by Burns librarian Robert O'Neill during a 1993 visit to the Heights if she'd consider making Boston College the repository of her papers, Jacobs replied, by every account, "I can't think of a place I'd rather have them." After the collection arrived, Keeley had the privilege of pulling out some items for his own use, including a few original manuscript pages for her 1984 book Cities and the Wealth of Nations.
Today the trove is the most visited research collection at Burns and has been tapped as a prime source for several books about Jacobs and her ideas.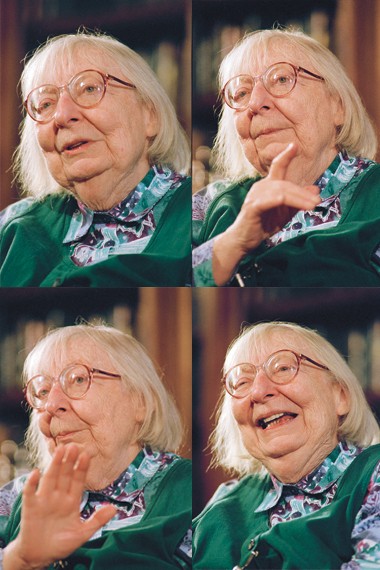 JACOBS NOW 
Today, Jacobs would be gratified by the vitality of urban centers such as Boston and New York. But Keeley says she would also be distressed by a new kind of urban flight—among families that can no longer afford to live in thriving city neighborhoods.
"Jane believed that cities, at their best, are always creating and building a middle class. But now, there's a hyperdevelopment of cities. In many places, they're becoming more and more polarized between rich and poor, and Jane would see this as a tremendous loss to the city," Keeley says. "She'd be thinking hard about that—not spinning grand theories, but looking around and finding the cities that have this polarization.
"And she'd be asking, 'Why?'"
---
William Bole is a senior writer and editor at the Carroll School. Still life photography by Gary Wayne Gilbert, originally in Boston College Magazine. Reporting on Jacobs and Moses originally by William Bole for Boston College Magazine.