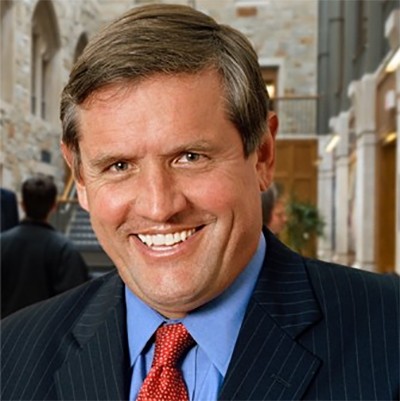 A few weeks ago, on a picture-perfect spring day, we said warm good-byes to the Carroll School Class of '16. It was, as always, a portrait of success—our black-capped graduates, beaming as they clutched their diplomas in Conte Forum, celebrating achievements well earned. So, on that uplifting occasion, why did I call on the graduates to go looking for opportunities to fail?
Let me back up for a moment.
Our '16 grads are bound for great things. By commencement, nearly 90 percent of them had lined up jobs in their chosen fields. Just about all the rest are either setting their sights on graduate school or pursuing volunteer service as "men and women for others." They will find themselves in successful firms, ventures, and projects of various kinds, holding out the promise of highly successful careers.
But are they managing to do something that's critically important along the way? Are they finding good places to fail?
I put these questions to our graduates in my remarks at the Presentation of Degrees on May 23 in Conte. I said they undoubtedly have many high ambitions, but that one of their aspirations should be to make failure an option. In that connection, I offered to them one final reading assignment: Amazon CEO Jeff Bezos's recent annual letter to shareholders.
In that letter, Bezos declared:
One area where I think we are especially distinctive is failure. I believe we are the best place in the world to fail (we have plenty of practice!), and failure and invention are inseparable twins. To invent you have to experiment, and if you know in advance that it's going to work, it's not an experiment. Most large organizations embrace the idea of invention, but are not willing to suffer the string of failed experiments necessary to get there. Outsized returns often come from betting against conventional wisdom, and conventional wisdom is usually right. Given a ten percent chance of a 100 times payoff, you should take that bet every time. But you're still going to be wrong nine times out of ten.
I don't know many CEOs who would be inclined to boast that his or her organization is "the best place in the world to fail." But I think Bezos nailed it.
Whether we're new graduates or others well into careers, we probably aren't going to achieve our best ambitions if we don't try out new things. That often means reaching beyond what we could, well, reach. And to do that, you have to be willing to fail.
In Conte, I shared with the brand new Boston College alums a couple of my own post-graduation failures. I was fired about eight or nine months into my first job at a startup on Rte. 128, and I would have been fired from my second job if I hadn't quit first. I learned from those bumps along the way. I gained insight and perspective, and was able to try out some crazy new ideas. I found my way to a terrific job at an insurance firm before settling finally on a career in academics.
During the ceremony, I expressed my hope that our graduates would be unafraid to take risks. They could accept that job at a startup or leave that job if it's not fully engaging their talent and curiosities. They could take on a project that stretches them or venture out of their comfort zones in some other ways (which might include speaking up when something doesn't sound right). "If it doesn't work out, fine," I told them. "Everything you do before you're 30 is forgiven."
Failure is, in no small part, about experimentation. I think of the Carroll School as a place that encourages students to experiment with different ideas, approaches, and disciplines. As Bezos makes clear in his letter, it's not much of an experiment if you go in thinking that it can't fail. We want our students to fail early so they can succeed sooner.
In the wake of commencement season, I wish the Class of '16—and all of those in the extended Boston College family—profound success in their lives and careers. And I wish that all of us find or continue to find something even rarer: the best places in the world to fail.
Andy Boynton '78, P'13
John and Linda Powers Family Dean
Carroll School of Management