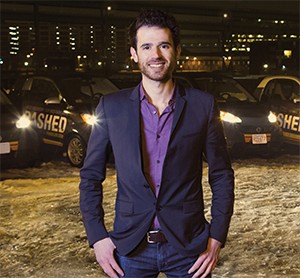 Six years ago, the restaurant industry wasn't exactly teeming with ideas about how to get takeout food delivered more quickly to customers. But Phil Dumontet '09—fresh from commencement at the Carroll School of Management—was putting his head to the question.
That year, he launched a delivery service, Dashed, with freelance drivers and a nimble fleet of bikes, scooters, and eventually Smart Cars. Since then, Dashed has mushroomed into the largest restaurant delivery business in the Northeast.
Now, Dashed and its founder are winning applause and recognition beyond that region or the food delivery sector. Forbes magazine recently unveiled its annual "30 under 30" list of America's most important young entrepreneurs, and making the cut was 28-year-old Phil Dumontet.
In its citation, Forbes said: "Dumontet's Dashed provides rapid delivery—under 40 minutes via Smart Car, bike, or scooter—for more than 800 restaurants that don't have their own services, including Bertucci's, PF Chang's, and Pinkberry. In 2014 the company brought in $7.5 million in revenue."
Dumontet was not the only Boston College alum to make the list. Also spotted were two graduates of the Morrissey College of Arts and Sciences: Staff Sheehan '11, who "discovered a new kind of industrial material called a heterogenized homogenous catalyst" (according to Forbes), and who founded Catalytic Innovations; and Akash Chougule '12, deputy director of policy at Americans for Prosperity. Chougule was cited in the category of Law & Policy entrepreneurship.
Last year, included in "30 under 30" was a pair of Carroll School alums: Nicholas Rellas '13 and Justin Robinson '11. They are cofounders of Drizly, an app for local liquor-store deliveries. More recently, in December, Drizly was named by BostInno as one of the "50 on Fire," people and organizations driving Boston's innovation economy.