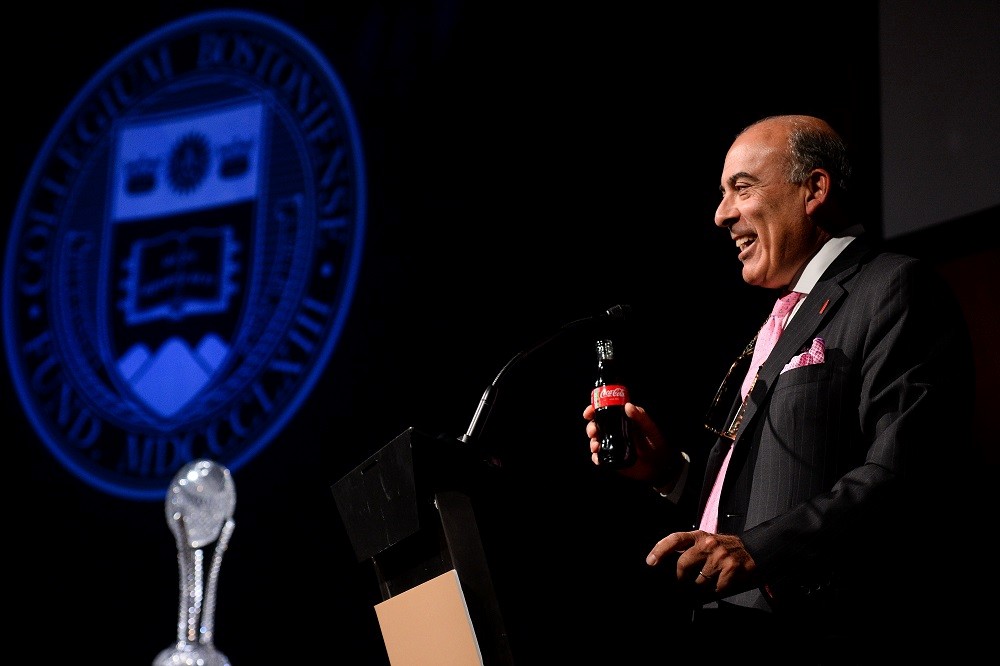 A sports reporter would say the Eagles' three-point gridiron loss to Georgia Tech in Dublin on September 3 is now old news. But a business analyst might think differently about the insights generated there one day earlier at the inaugural Global Forum presented by Boston College's Chief Executives Club.
Approximately 450 people turned out for the September 2 forum at Mansion House in Dublin—marking the first time the Chief Executives Club has taken its popular business forum overseas. For 24 years the organization, housed in the Carroll School, has brought together business leaders in downtown Boston for talks by top CEOs.
"Our members know the world is flat, they think beyond borders, and they've experienced success as a result of this global perspective," said Warren Zola, executive director of the Club, regarded as one of the premier business forums in the United States. He said the program in Dublin "provided our members with an experience to mirror the international scale" on which they already conduct business. The organization has nearly 300 member companies.
One illustration of the global partnership is Ireland and Coca-Cola, whose chairman and chief executive officer, Muhtar Kent, gave the keynote address. Kent said Ireland's economic revival demonstrates the power of a "golden triangle" drawing on the different strengths of business, government, and civil society. As one fruit of this collaboration, he cited Coca-Cola's decision to invest for the long term in a County Mayo facility that produces innovative dispensers including touch-screen soda fountains.
The Coca-Cola chief also indicated that corporations must forge a different kind of capitalism as they embark on global ventures.
"In today's world, business must create shared value for countries and communities. Some call this inclusive capitalism. Some call this connected capitalism," said Kent. He noted that his company has pursued what it terms the 3 W's—that is, no net drawdown of the world's water supplies, continued growth in the number of women entrepreneurs, and investment in consumer well-being and healthier populations.
In addition, the partnership with Ireland has highlighted five business advantages: dynamism, innovation, cultural pride with enduring values, collaboration, and resilience, according to Kent. "Resilience actually flourishes when people respect history and traditions while remaining also open to change," he told the invitation-only luncheon audience.
Serving as Global Forum co-chairs were Neil Naughton, deputy chairman of Glen Dimplex, and Joseph L. Hooley III '79, chairman and CEO of State Street Corporation and Boston College Trustee, in addition to Zola.
University President William P. Leahy, S.J., joined the attendees along with Georgia Tech President Bud Peterson. During the Q&A, Kent noted that universities must be part of global cooperation addressing such challenges as youth unemployment. Zola added in an interview that the event "strengthened the Carroll School's reputation as a leader in connecting people and ideas globally."
Others attending the Global Forum included numerous Boston-based executives, among them Boston Scientific CEO Mike Mahoney and Suffolk Construction Chairman John Fish, who chairs Boston College's Board of Trustees. Irish CEOs included Stephen Kavanagh of Aer Lingus and Martin Shanahan of financial experts IDA Ireland. The Irish ambassador to the United States Anne Anderson and U.S. ambassador to Ireland Kevin O'Malley represented the countries along with Irish government ministers, Lord Mayor of Dublin Brendan Carr, Georgia Governor Nathan Deal, and Atlanta Mayor Kasim Reed.
As University Trustee Hooley remarked at the September 2 luncheon, Kent's address made it clear that "every moment of every day is an opportunity to start or strengthen a relationship." The whole event made it equally clear that Boston College's weekend in Dublin was, as promoted, "more than a game."
---
William Schmitt is a freelance writer and editor, and a published author in the fields of education, business, and government policy. He lives in South Bend, Indiana.