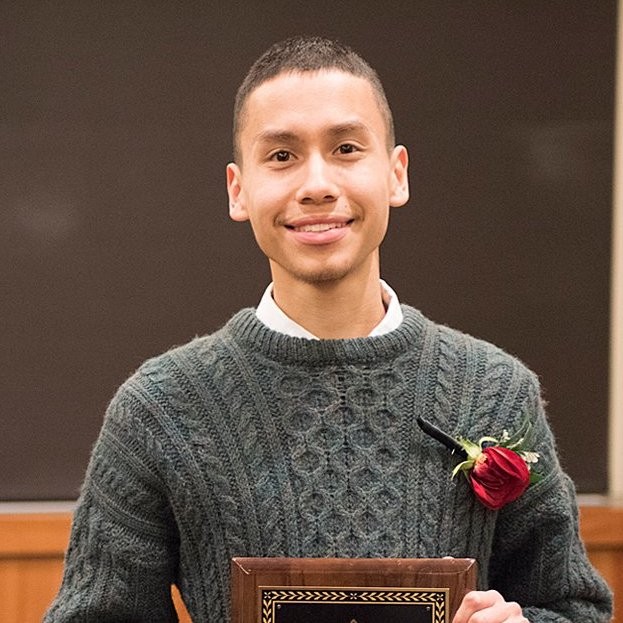 Jorge Mejia
1. What motivated you to apply for the Romero Scholarship?
Much of it has to do with my discovery of the scholarship. My biggest role models on campus between my freshman and junior year were Romero Scholars. This taught me that the Romero Scholarship is not so much received as it is embodied. The past three recipients I met (Ricky Alberto, Maura Lester, Steven Guerrero) all exemplified the characteristics of Romerian leadership, critical thinking, and social impact. The fact that there was a scholarship that recognized these tenets, in addition to other relevant qualities––such as extracurricular involvement, academic achievement, and service in the Latino community––pushed me to pursue the scholarship. 
2. What was the most memorable question from the interview and how did you respond?
The most memorable question concerned the ways in which my life differed from that of Saint Romero: "How are you different from Romero?" I thought the interview would be an attempt to establish as many parallels as possible between Romero's upbringing, ideology and efforts to my own upbringing, ideology and efforts. I was under the false impression that the Scholarship Committee was searching for a Romero surrogate. Recognizing this fault, I answered this question by highlighting my unique connection to Christian faith. Because I do not identify as religious, I used this as an opportunity to speak about how I secularly or spiritually employ the tenets of liberation theology in my professional involvements and academic ventures. Some of these values include the preferential option for the poor, self-reflection, Catholic social teaching, and social impact.      
3. How did you feel when you heard your name called as the award winner?
Surreal. Disbelief. Ecstatic. Ironically, I did not feel honored at that moment. Rather, I felt loved more than I ever have before. What is most remarkable about the application process is the Award Ceremony in the Yawkey Center. Students, faculty, and staff takes two to three hours of their evening to cheer on the finalists. It is the highest and purest exhibition of love and support. I only remember looking at my parents because as an only child, they are my lifeline. 
4. What do you feel is your biggest responsibility as the Romero Scholarship recipient of 2018?
My biggest responsibility is leveraging my success at Boston College to leave a legacy that measurably empowers other students to catalyze their collegiate growth. This is another way of saying knowledge transference and mentorship, which I have especially done through OLAA. I continue to organize panels, but I do so through an emphasis on team-building, ensuring that everyone on OLAA possesses the logistical expertise, event-planning insights, and professional competencies to host even better events after I graduate. Moreover, I am committed to being a strategic resource––someone who can connect students to financial opportunities on campus, inform student decisions on study abroad opportunities, etc.
5. What would you say to students who are thinking of applying next year?
Go for it. Regardless of the outcome, you will have so much clarity in terms of profession, career choice, and academic goals.