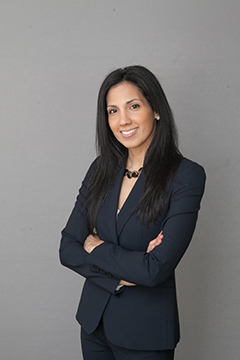 Arivee Vargas Rozier-Byrd A&S'05, JD'08
The 2014 John A. Dinneen, S.J. Hispanic Alumni Community Service Award Recipient
Chestnut Hill, MA – March 21, 2014 – The Archbishop Oscar A. Romero Scholarship Committee of Boston College names Mrs. Arivee N. Vargas Rozier-Byrd (A&S '05, LAW '08) of Boston, MA, as the 2014 recipient of the John A. Dinneen, S.J. Hispanic Alumni Community Service Award.
The Archbishop Oscar A. Romero Scholarship Committee of Boston College is proud to name Mrs. Arivee N. Vargas Rozier-Byrd (A&S '05, JD '08) the recipient of the 2014 John A. Dinneen, S.J. Hispanic Alumni Community Service Award for her relentless advocacy of young Latino men and women through sustained mentoring relationships that empower them to pursue higher education and career advancement.
The Archbishop Oscar A. Romero Scholarship Committee has been recognizing a Boston College alumni annually since 1999 in honor of the late Reverend John A. Dinneen, S.J., who was a chartered member of the Romero Scholarship Committee of Boston College and was responsible for the acquisition of the initial funding from the Society of Jesus to inaugurate the undergraduate scholarship in 1993. Father Dinneen was a mentor, an active benefactor, a committed worker and a valuable friend to the members of the Romero Scholarship Committee and the AHANA community. The Archbishop Oscar A. Romero Scholarship Committee created the John A. Dinneen, S.J. Hispanic Alumni Community Service Award to honor Father Dinneen and an alumna/us whose work best reflects Archbishop Romero's ideal and Father Dinneen's commitment, leadership, and service to the Latino community.
Mrs. Arivee N. Vargas Rozier-Byrd graduated magna cum laude and Phi Beta Kappa from Boston College in 2005 and cum laude from Boston College Law School in 2008.  At Boston College, she was the 2004 recipient of the Archbishop Oscar A. Romero Scholarship.  She served as President of the Organization of Latin American Affairs the year the first Latino Family weekend was created.  Arivee also served as Director of School and Community Issues on the AHANA Leadership Council, and was a preceptor and preceptor coordinator for the Options Through Education program.  She served as a student representative on the Academic Affairs Committee and the Minority Faculty Search Committee.  Off campus, she was a tutor at MATCH Charter High School and at the Maurice Tobin School in Roxbury through BELL (Building Educated Leaders for Life). 
In law school, she served as Co-Chair of Professional Development on the executive board of the Latin American Student Association and interned at the Center for Law and Education in Boston, where she focused almost exclusively on school improvement and parent involvement policies in schools with large Latino student populations.  Arivee was a recipient of the Goodwin Procter Diversity Fellowship in 2007.  Upon graduation from law school, Arivee joined a large law firm in Boston and practiced there for two and half years.  While there, she served on the firm's Boston office Committee for Racial and Ethnic Diversity. 
Arivee served as an inaugural law clerk to Judge Denise J. Casper of the United States District Court for the District of Massachusetts, the first African-American female federal judge in Massachusetts.  She then clerked for Judge O. Rogeriee Thompson of the United States Court of Appeals for the First Circuit, the first African-American female First Circuit judge. While serving as a law clerk for Judge Thompson, Arivee was selected as a 2013 Massachusetts Lawyers Weekly Excellence in the Law honoree.  After her clerkship with Judge Thompson concluded, she joined the law firm of Jones Day in Boston, where she focuses on civil litigation in state and federal courts, and serves on the firm's Boston office Diversity Committee. 
Within and outside of her role as an attorney, Arivee has served the community in a variety of ways.  As a younger attorney, she maintained a pro bono practice which primarily consisted of criminal and education law.  For the past 3 years, Arivee has been a part-time faculty member in the Business Law Department, teaching Introduction to Law and Legal Process each Spring semester.  The impetus for her decision to teach stemmed from her disappointment in not having more than one professor of color while she was a student at Boston College years ago.  Her goal in teaching has always been to become a source of support and mentorship for younger college students struggling to find their way or who need to be reminded of how amazing they are.    Arivee spends much of her time mentoring students of color, Latinas in particular, at Boston College as well as BC Law and BU Law.  One of her mentees was in fact a recent Romero scholarship recipient.  Her hope is to support and encourage Latinas to achieve their potential, to strive for greatness, and to be champions for causes they believe in.   
Arivee frequently serves as a panelist and presenter at career development events aimed at exposing college and high school students of color to the legal field.  She has served on alumni panels for Boston College's career center for Latinos and other students of color.  She has also served as a presenter at KIPP Through College Career Day 2013 in Lynn, Massachusetts to encourage students to begin contemplating college and their professional futures. 
Beyond her personal speaking engagements and mentoring relationships, Arivee is a citizen teacher for Citizen Schools leading the mock appellate program at her law firm, a ten-week program which teaches young low-income middle-school students of color how to deliver an appellate argument in federal court before real judges.   She is a member of the United Way, Women's Leadership Council and a member of the Young Professional Board for the Big Sister Association of Greater Boston.  She is co-chair of the Law Section of the Association of Latino Professionals in Finance and Accounting, an organization dedicated to building Latino leaders and giving back to the community.  She also serves as co-chair of the Attorney Advisory Committee for the Boston Lawyers Group, a group dedicated to hiring, retaining, and developing attorneys of color in Boston.  Arivee's involvement in these organizations has given her the platform to become a role-model for others, to be proactive in increasing diversity in Boston's legal community and to contribute to the advancement of attorneys of color in Boston.