UPDATED: March 24, 2021
An estimated 110,000 U.S. restaurants closed in 2020—most of which were well-established, local businesses that have no plans to reopen. The National Restaurant Association put this stark reality before Congress in December, demanding government assistance for their industry. The Boston Globe, meanwhile, has called on its city's residents to order takeout once a week in an individual act of civic duty they compare to planting victory gardens during World War II.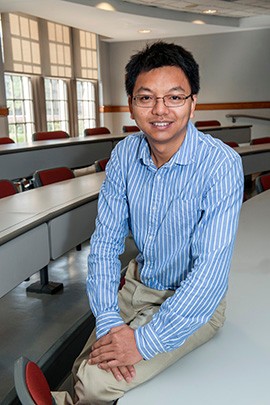 But who—politicians or patrons—are more likely to rescue your favorite neighborhood haunt? Patriotic takeout may be the best approach, according to Zhuoxin (Allen) Li, an assistant professor of Information Systems at the Carroll School of Management who has been tracking the plight of restaurants through the pandemic. 
"I actually think it's a very smart idea," Li says of the Globe's "Project Takeout"—so long as those orders go to independently owned restaurants, and (ideally) are not placed on a third-party app. 
Li has been studying the role of on-demand food delivery services like DoorDash, Grubhub, and Uber Eats in keeping restaurants afloat during the economic shutdowns of last spring—and the many months of indoor dining restrictions that followed. When the pandemic hit, "these platforms started to play a really important role," Li says. "For some restaurants, they seemed to be the only way to reach customers and generate some revenue." 
But when he dug further into the data, Li found that the benefits of using on-demand delivery platforms don't outweigh the costs for many small, local establishments—those hardest hit by the pandemic. He also found that legislation aimed at fixing the problem will often have unintended consequences.
The Delivery Dilemma
The popularity of the three leading food delivery apps was growing well before COVID. As Li explained, DoorDash, Grubhub, and Uber Eats don't just make ordering easier for their users; they also connect restaurants to new customers. So Li was unsurprised to find that, as customers turned to contactless delivery platforms in the pandemic, restaurants using the apps saw about ten percent higher customer demand than those who didn't.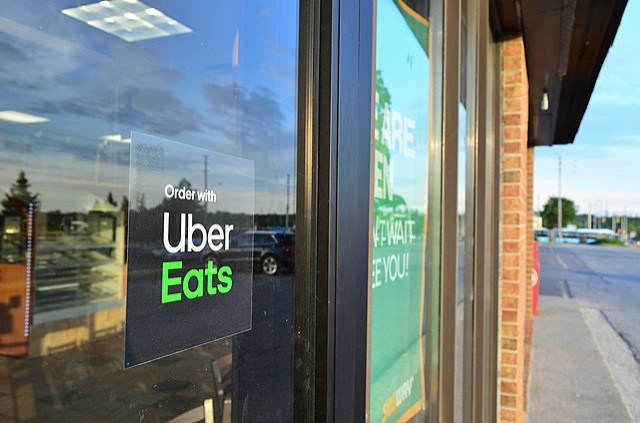 But those payoffs aren't doled out equally. The biggest winners on delivery platforms, it turns out, are fast-food chains. "Smaller, local restaurants, who are actually struggling more during the pandemic, benefit less," Li says.
Li looked at the mobile location data of restaurant visitors in the Chicago area, information he sourced from data provider SafeGraph. The granularity of the dataset enabled Li to determine types of visitors (dine-in, takeout, or employees) based upon the duration of their stay. According to Li's analysis, in the early months of COVID, large chains saw four times as much customer demand as independent restaurants on the same platforms. And higher-end dining options have suffered most. 
One reason for the disparity is simply increased competition, Li explains. People discover more delivery options when scrolling on their phones, where they can also compare prices more easily. And it's harder to justify a higher bill when dishes are delivered, notes Li. "Consumers become more price sensitive because they don't get to enjoy the environment and service that some independent restaurants offer. So everything's down to price competition," he says.
The Unavoidable "Last Mile"
With many people still wary of eating out indoors, and the process of immunizing the population extending through the spring and summer, restaurants will be leaning on takeout revenue for several months yet. 
In one of his working papers on the research, Li warns that "the widened performance gap between national chains and independent restaurants, caused by on-demand delivery platforms, may force more independent restaurants to struggle further or even close." In response to this concern, a number of American cities and states have passed new regulations to cap the commission rates that on-demand food delivery services can charge independently owned restaurants. (Among them are New York City, San Francisco, Chicago—where Li conducted his study—and yes, the state of Massachusetts.) 
But when Li expanded his research to evaluate the efficacy of these new policies, he found that they often backfire. The apps adapt quickly to such changes, either passing costs onto customers, or tweaking their filters to promote chains and restaurants just outside a city's limits, where they can collect their rates in full.
---
The upshot: order directly, and pick up if you can.
---

Regulations that merely pass the buck, like these do, are "solving a zero-sum game in the industry," and are best used as a "last resort," Li says. "If we think about why delivery platforms take 30 percent of the restaurants' revenue: it's because the cost of running their [on-demand delivery] business is also high," he points out. What he calls the "last mile cost" of food delivery—the overhead of paying a person to pick up orders from the restaurant and transport them to customers' homes—is an unavoidable expense that one party will always have to take on.
"The best thing we can do is encourage people to contribute more," says Li, whether by ordering a meal (outside of an app) or purchasing gift cards and coupons to use later on. 
The upshot for those looking to help a local restaurant by taking out: Order directly and pick up if you can (or use in-house delivery if offered). And don't let the apps lure you away to another option. 
Li is working on three different papers related to these findings, all of which are under review in top management journals. And he will continue to collect data on delivery app usage and its effects on restaurants in 2021, because he agrees with those who predict that contactless services like on-demand delivery are here to stay: "It's become the new normal." 
---
Leslie Ganson is a content development specialist at the Carroll School of Management.
Hero image courtesy of apple_pathways under CC BY 2.0.