Pete Wilson had a ready response whenever people asked him about his widely acclaimed success as a teacher. He would say that he's a "very good" teacher but that he has a "great" class, just as he's a "very good" husband with a "great" family. It was his way of making the point that nobody succeeds on their own—and when you begin to realize this, you're on what he called "the journey from me to we."
The accounting professor did not hide the fact that he sometimes struggled to live up to his own words. "You have to say it for years before you believe it," Wilson told a reporter in 2016. "And then you wake up one morning and say, 'I can't do this without them.'"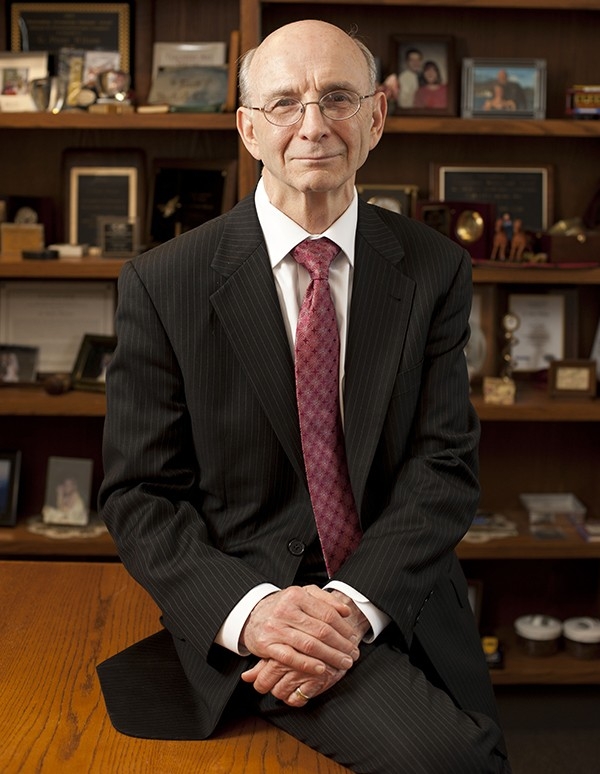 G. Peter Wilson—one of the most beloved professors in the history of the Carroll School and Boston College—died on September 12 at his home in Tampa, Florida. He was 73; the cause of death was complications from Parkinson's disease, said Mary Ellen Carter, a Carroll School accounting professor and close friend of the Wilson family.
Wilson was the holder of the Joseph L. Sweeney Chair in Accounting at the Carroll School, before retiring in December 2018 and becoming an emeritus professor. He made his name as an academic researcher well before arriving at Boston College in 1997, having taught at Stanford, Harvard, and MIT At a certain point, though, Wilson decided that he had made his most noteworthy contributions to accounting scholarship. He turned his prodigious energy and passion to the art and craft of teaching.
"Pete was the very definition of a master teacher," said John and Linda Powers Family Dean Andy Boynton, pointing to the plethora of awards and honors that Wilson received for excellence in teaching from major organizations within and beyond the accounting world. "He was also a great and generous mentor of teachers at our school and in the accounting discipline." There was little to deliberate on, when it came time to formally name the Carroll School's flagship series of seminars on excellence in teaching: In 2014, it became the Wilson Faculty Teaching Seminar.
"Teaching was Pete's signature craft," Boynton added, "but he also was a superb scholar. He exemplified careful thought and assessment of a wide variety of theoretical and empirical research."
"There's a fine line between challenging them and killing them ... You have to know when you're wrong. That's part of the journey from me to we."
He had a chirpy voice and a penchant for audacious neckties. (As to the ties, he would explain that he was "short, bald, and skinny," thus eager to focus attention elsewhere.) In the halls of Fulton, he was perhaps most legendary for the sheer amounts of work he piled on students—who would give him rave reviews on teacher evaluations nonetheless (a familiar refrain being that they never thought accounting could be so interesting). At times, he would push too hard, and Wilson would do something unusual for a professor of his stature: He would apologize to the students.
"There's a fine line between challenging them and killing them," he acknowledged a few years ago. "You have to know when you're wrong. That's part of the journey from me to we."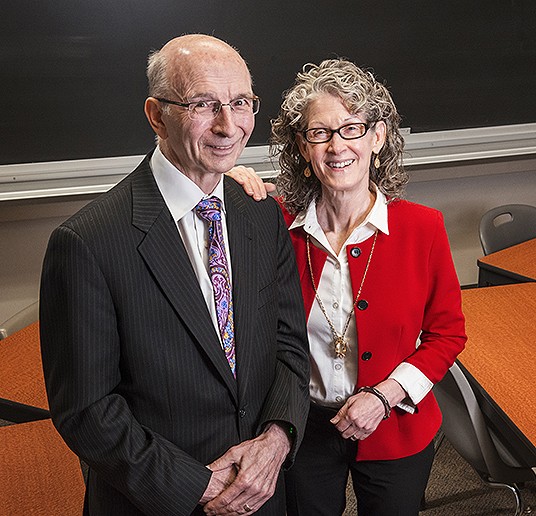 Among his peers in the accounting discipline, he was known for his many innovations in teaching, which is why he earned awards too numerous to list in full, among them the American Accounting Association Lifetime Service Award and the first Innovation in Financial Accounting Education Award (along with a raft of honors bestowed upon excellent teachers across all disciplines at institutions where he taught). Some of those new strategies were tech-oriented. He was an early adopter of interactive clickers in class, for example. On this and other teaching initiatives, his indispensable collaborator was his wife, Carolyn, a Carroll School lecturer who had served in senior positions at top accounting firms. Carolyn Wilson's role in his classes became even more pivotal some years ago as her husband began struggling with Parkinson's.
Wilson was an advocate as well as an innovator of the flipping-the-classroom model of teaching. "With the flipped class, students learn lower-level thinking skills on their own prior to class, which frees up class time to cover higher-level critical thinking," he explained in a March 2015 lecture on teaching to the full Carroll School faculty.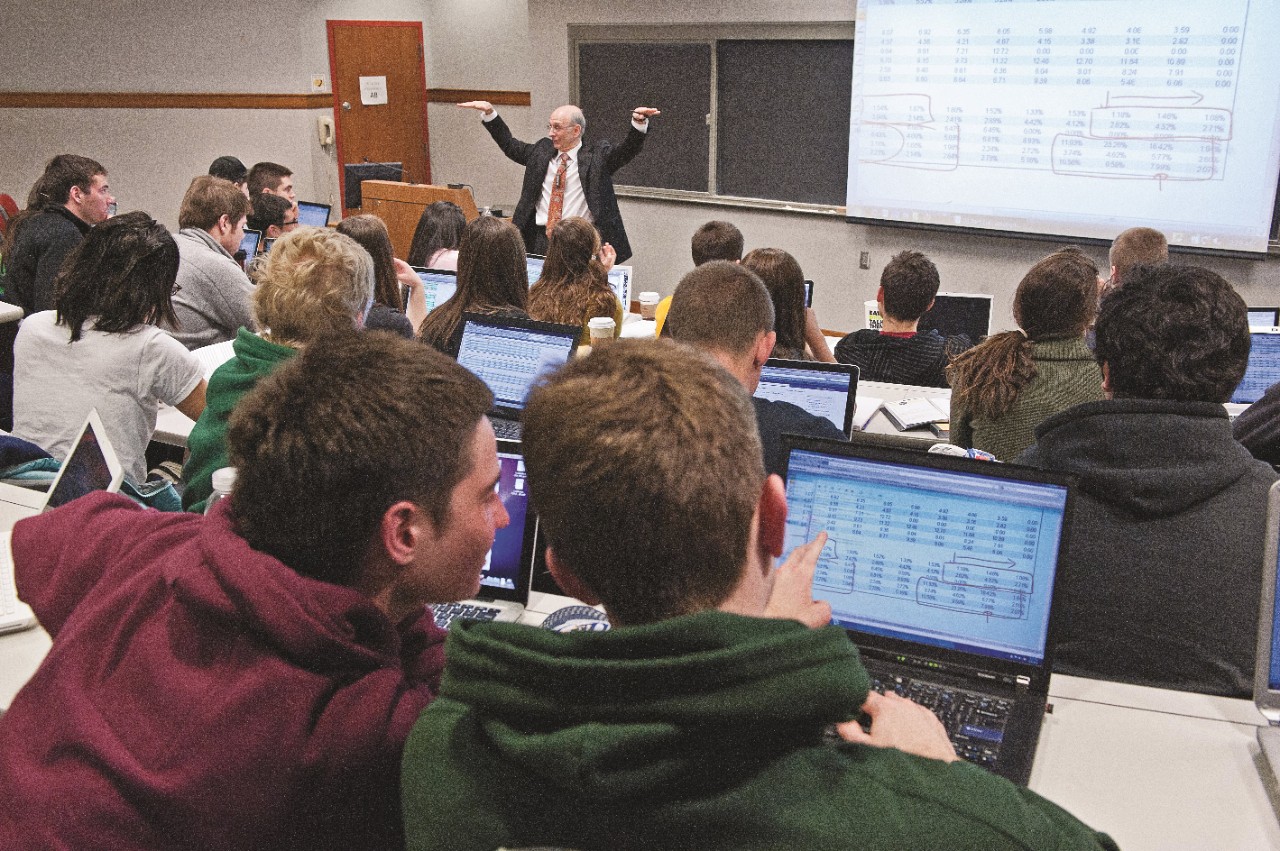 His class was no place for anyone lukewarm on teamwork and collaboration. He would assign students to teams at the start of the semester: "I want them to teach each other before they come back to class," he said in a fall 2011 profile published in Boston College Magazine. Entering his classroom was like taking your mark for a road race. In rapid and repeated sequences, Wilson would often lecture for a few minutes, and then abruptly call the students into their groups for quick huddles to continue tackling the subject matter.
The magazine article quoted Michelle Mittelsteadt, M.B.A. '01, who began her studies at the Carroll School not expecting to actually like accounting. She was a Ph.D. chemist, intent on becoming a research-and-development manager. Then, in her first semester, in the fall of 1999, she enrolled in Wilson's required class. "He made it exciting," she recalled. "It totally changed what I wanted to do." She became a financial analyst at Ernst & Young in Boston.
"

Pete would have been a good Jesuit.

"
A popular tradition in Wilson courses was to devote the last class of the semester to reflections. Students would step up to reflect on their priorities in life, along with their experiences of personal, social, and intellectual growth in connection with his courses like Financial Accounting (taken mostly by freshmen and sophomores). Then, the professor would share advice such as "don't judge yourself too quickly" and "don't be afraid to fail."
"Pete would have been a good Jesuit. He figured out discernment," said Carter, alluding to those reflections.
She had known the Wilsons since the mid-1990s when she was a Ph.D. student at MIT and he was still teaching there, just before coming to Boston College. "As a friend, he would be the loudest reveler when good things happened to you and empathetic and consoling when bad things happened," she said.
Carter relates that she last spoke with him on September 4, just about a week before he died. He and Carolyn had called her to get the scoop on the first week of hybrid teaching (lecturing simultaneously to students in class and online). On speakerphone, she shared with them some of the initial glitches and snafus with the technology and other aspects of hybrid teaching. "I could hear Pete laughing out loud," she said. "Maybe he was finally happy he retired?"
When he died of pneumonia related to his Parkinson's, he was at home with Carolyn as well as with their two children, Jim and Jennifer, who have given the Wilsons seven grandchildren.
Delivering the sad news in an email, Boynton informed Carroll School faculty and staff that plans were underway for a virtual memorial service hosted by the American Accounting Association; and beyond that, a celebration of his life would take place at Boston College sometime next year. In lieu of flowers, the family is requesting contributions to the Ann Romney Center for Neurologic Diseases at Brigham and Women's Hospital, where Wilson was diagnosed with Parkinson's.
Cards and condolences can be shared with Carolyn Wilson, c/o Carroll School of Management Accounting Department, Fulton Hall 520, Boston College, 140 Commonwealth Avenue, Chestnut Hill, MA 02467-3809.
---
William Bole is director of content development at the Carroll School.