In a podcast appearance, Dean Boynton discusses what innovation looks like, in companies and on campus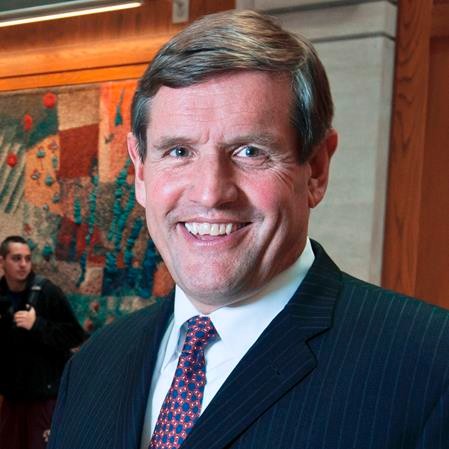 Where does innovation fit in a management curriculum? How has the Carroll School of Management and its faculty used innovation and design principles to raise their game and get ready to teach amid COVID? And what's next for higher education as a whole? John and Linda Powers Family Dean Andy Boynton covered these questions and more as a guest on The Resonance Test, a podcast produced by the Boston-based innovation design firm EPAM Continuum.
Boynton spoke (virtually, of course) with EPAM Continuum's Head of Client Engagement, Toby Bottorf. As the conversation reveals, the two know each other well. Bottorf was at Continuum in 2015, when the firm helped Boston College choreograph conversations that led to the redesign of its undergraduate core curriculum, and Boynton has been a friend of the firm for some time. But that doesn't stop the dean from giving Bottorf his candid take on what successful innovation looks like, in corporations and colleges alike. (Hint: it's a bit like baseball.)
You can listen to the full podcast here, or click through to catch some of Dean Boynton's most quotable moments in the episode, linked below:
Design Thinking in the Boardroom and in the Classroom
[2:26] "It may not be new, and the latest, but it's still fundamental," said Dean Boynton, explaining why design thinking is still "alive and well" in many arenas of innovation as well as in management education at the Carroll School.
Investing Time at the Outset
[7:55] The design thinking process demands time at the front end for customer-centered research. While "failing fast" has its place in the early stages of innovation, Boynton cautions against rushing through the process: "At some point, you're going to have to slow down and think things through. And you need to spend time with customers . . . . You've got to immerse yourself in that context to understand what the product or service should really do."
Learning, Redesigned
[17:28] The Carroll School applied a design approach when planning for fall reopening, including prototyping new hybrid teaching models. Through this, "we found things we needed to improve, we designed new solutions, we prototyped it over and over," Boynton said. 
Creating a Culture of Innovation
[19:01] The Carroll School was able to use these tools of innovation because prior experience with design thinking had established a shared mindset and readiness to collaborate across offices and departments. "You don't flip a switch and say, 'OK, let's innovate together, let's be collaborative,'" said Boynton. "You gotta have the right culture in place."
The Health of Higher Ed
[23:47] "This is not new to COVID." Boynton tackles the question of the survivability of colleges amid the coronavirus pandemic head-on, saying some institutions of higher ed were already facing "a demographic cliff."