Alum's book and blog offer tips on navigating the MBA experience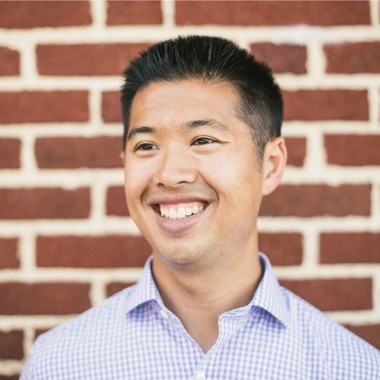 Al Dea '10 decided to get an MBA at age five. In the introduction to his new book, MBA Insider: How to Make the Most of Your MBA Experience, the Carroll School graduate recounts dinner table discussions with his father, who is the son of immigrants, and his mother, who came to the US to attend college. Both earned MBAs, and they talked about how education opens doors. "Like many young kids," Dea writes, "I was influenced by my parents' words, even if I didn't understand them."
Dea thrived on the Heights, serving as the first Asian-American president of the Undergraduate Government of Boston College. Even still, he remembers arriving at Kenan-Flagler Business School in Chapel Hill, North Carolina, without a handle on "the nitty-gritty details of the [MBA] program, the classes, the highs and the lows, and what students were like outside of brochures, campus tours, and admissions panels." 
To light the way for students who would walk on that path after him, Dea launched the popular blog MBASchooled.com. Having earned the MBA and climbed higher up the corporate ladder (he is a senior manager for Salesforce) Dea made it his mission as a blogger to provide insights, rooted in real-world experiences, into what business school was really like. Out of that blog, his book was born. Both offer tips on searching for, applying to, and succeeding in graduate business programs, internships, and subsequent professional roles.
The blog and even the book manage to weather the COVID-19 crisis, which hasn't diminished the value of an MBA. If anything, a downturn often provides an opportunity for business professionals to burnish their credentials with continued education. Many MBA programs—including the Carroll School's—have pushed back admissions deadlines to adapt to changing conditions.
"While we don't know what the next six to 18 months are going to look like, we do know that over the course of a career an MBA is a worthwhile investment," Dea said in an interview. "First, if you are going full-time, by the time you graduate there is a chance the labor market and general economy will be better . . . . Second, MBA programs are supportive and collaborative communities, and given the uncertainty and challenge that exists in the world, that's not a bad thing to have right now."
Moreover, Dea pointed out that, as companies have adapted to working remotely, workers may require a new set of skills to keep pace and continue to be effective. "The existing trends in the workplace and in society are still credible and important, in terms of the role of digitization, the impact of technology, and the importance of up-skilling or re-skilling," Dea said. For students already in the middle of their MBA programs, he added, "This actually is an opportunity to focus on building the skills and experiences they need to be employable."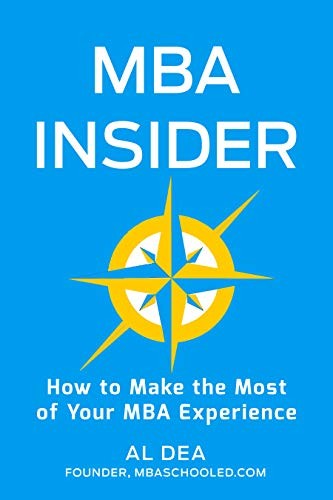 Dea designed MBA Insider as a field guide that students can turn to throughout their MBA program. The book covers the entire life cycle of the MBA experience, from application to post-graduation, providing advice grounded in real-life anecdotes from current and former MBA students at nationally ranked programs. Each chapter concludes with high-level takeaways as well as "key questions to answer." These questions prompt the reader to step back and reflect throughout the MBA journey—something Dea says he found valuable in his own MBA studies and in his career. 
"At the core of lifelong career development are skills of self-reflection and self-awareness," explained Dea. "Self-reflection to help you pause, take a deep breath, and assess the experiences you've gone through, what you've learned, and where you want to go next; and self-awareness to truly understand who you are as a human being, what strengths you have, and how you can make a positive impact." 
The following are tips from Dea and some of the more than 60 students—many of them Carroll School grads—who shared their advice for navigating the various stages of the MBA experience.
Make time to reflect from the outset.

Test prep, essay writing, and interviews (whether in person or, more likely at present, online) can be draining, but try to reframe the MBA admissions experience. Shannon Griesser '13 used the application process as an opportunity for reflection on her past and future goals. Once she was accepted to Duke University's Fuqua School of Business, Griesser again made time to reflect on how she planned to achieve her future career aspirations.

Take steps to prepare before your first day.

Even before your first fall semester, consider a pre-MBA internship or program. An internship can help refine your career goals before you embark on your advanced degree, in addition to providing valuable experience and exposure. For those who've been out of the classroom for a while, virtual learning programs can help you to brush up on math or analytical skills and get you back into the rhythm of schooling before classes begin. Additionally, there are organizations that offer pre-MBA programs to support students from traditionally underrepresented groups. Julio Santil '08 was a consortium fellow at one such program, the Consortium for Graduate Study in Management (CGSM). Attending their week-long Orientation Program (colloquially called "the OP") before beginning his MBA at the Haas School of Business at UC-Berkeley connected Santil with consortium fellows from a number of participating MBA programs. "The chance to build relationships with other consortium fellows was priceless," he says. "I've relied on these relationships for advice and guidance for various personal and professional endeavors, and the support and camaraderie are so strong."  

 

Balance life outside of class.

When Katie Blach Ellington and her husband, Jeff, both 2010 graduates of Morrissey College, moved from the Bay Area to Philadelphia to attend Wharton together, the newlyweds knew they had to proactively plan their shared time so as not to get swept up in the FOMO (fear of missing out) of the business school social scene. "We had to really prioritize the things that were important to us, which meant that we were very clear on what we wanted to say yes to," says Katie. Jeff adds, "While it wasn't always easy, we both felt that our choices reflected our priorities of each other, our family, and our interests."

Don't panic if internships don't go as planned.

Nick Johnson '10 thought he had it all mapped out. His goal was to work for a strategy or management firm, so when he received a summer internship offer from one of the "Big Three" firms while at NYU-Stern, he felt his plan coming together. In the end, the internship wasn't the right fit, and it didn't lead to a full-time position. While disappointed, Johnson reflected on the experience and pinpointed which aspects of the role didn't jibe with his interests and goals. He began to network again with those interests in mind, including reaching out to professors for guidance. "They've seen so many folks go through job challenges that they are a great resource for thoughts," says Johnson, who ultimately landed at another firm where he still works today. "They also get called on less than you might think for job advice, so they are super excited to spend time really thinking through your individual situation."  

 

See the MBA as just one step on your journey.

It's normal to feel anxious at the conclusion of your MBA program, but Dea reminds his readers that the MBA experience is just one part of your overall career development. "As rich and transformative as the experience is, remember that it is only a step on the long and even more adventurous journey of your career," he writes. After graduating from Kenan-Flagler, Dea set off to San Francisco to work in management consulting. While the transition back to the working world in a new city was an adjustment, Dea found he was well prepared, and believes his readers will be too.

"There will be unexpected things that happen throughout the rest of your life," Dea points out, "but the skills and experiences you learn can help you navigate those, personally and professionally."