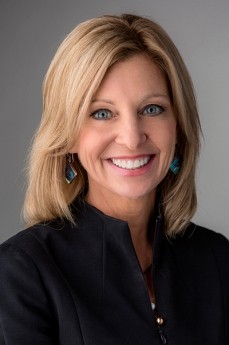 In September, Fortune named Karen Lynch '84 to its list of the 50 Most Powerful Women for 2017. When she was promoted in 2015, Lynch became the first female president of Aetna in the 160-year history of the health insurance company.
This is not her first time on the Fortune list. Lynch ranked #26 in 2016, and has moved up to #21 this year. Nor is that the only honor roll she appears in. Lynch was also named one of this year's Top 25 Women in Healthcare by Modern Healthcare.
But as proud as she is of her trailblazing role, "I didn't get here by myself," Lynch said in an interview with the Furst Group. She had inspiration from the aunt who raised her and her three siblings after their mother committed suicide when Lynch was 12.
"My aunt grew up in the Depression," she told Furst. "Her parents came over from Poland. They were ailing, and she took care of them. She worked in a factory her entire life. Her husband passed away early on. She took care of her only son, and then she took on the responsibility of all four of us."
Her aunt's example gave Lynch the resilience and strength she's drawn upon to climb the healthcare ladder. She now oversees Aetna's commercial, government, and specialty businesses, which together make up 95 percent of the company's revenues. She also learned from her aunt "the importance of giving back," said Lynch, who is active in charitable causes such as the Quell Foundation, which works to educate the public on mental health issues.
Incidentally, Lynch is not the only Eagle on the Fortune list. Campbell Soup Company president and CEO Denise Morrison is #31. And while she graduated from what is now the Morrissey College of Arts and Sciences in 1975, Morrison has been active lately with the Carroll School of Management's Center for Corporate Citizenship. She has spoken at center events, and she wrote the foreword to 21st Century Corporate Citizenship: How Your Company Can Win the Battle for Reputation and Impact, coauthored by Center director Katherine Valvoda Smith and David Stangis, Campbell's vice president who oversees corporate social responsibility and sustainability. Boston College is one of the very few institutions to graduate more than one woman on Fortune's Most Powerful Women list.