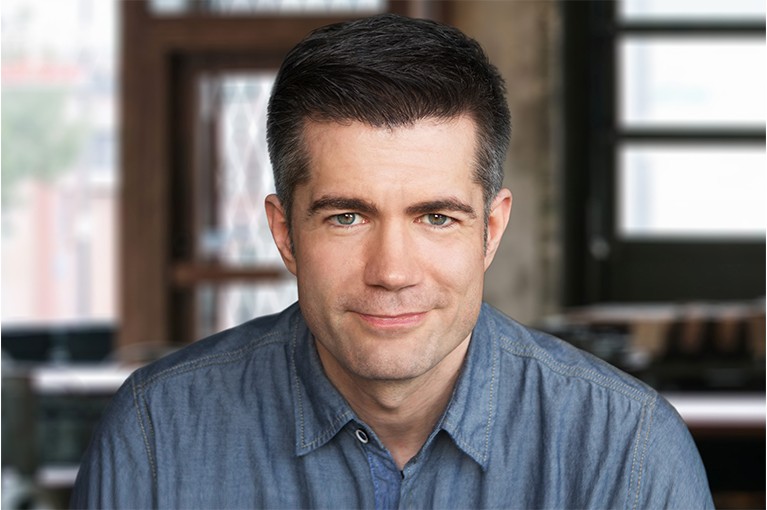 Extroverts are always more successful than introverts. Nice guys do finish last. And high school valedictorians go on to change the world. Eric Barker, M.B.A. '09, takes on these widely held beliefs in his first book Barking Up the Wrong Tree: The Surprising Science Behind Why Everything You Know About Success Is (Mostly) Wrong. At the end of May, it was sitting at #12 on the Publishers Weekly list of hardcover nonfiction bestsellers.
A one-time Hollywood screenwriter who became interested in human behavior after taking a negotiations class at the Carroll School, Barker uses research to back his insights into how success happens. "We think these are mysteries but some of these things have been answered, and it's in dusty academic journals or ivory towers," he said in an interview.
To make the point that good students are the types of people "who consistently do what they're told" but aren't going to be the breakout successes, he turns to Karen Arnold, associate professor at Boston College's Lynch School of Education. Her research followed 81 high school valedictorians and salutatorians after graduation and found that 90 percent wound up in professional careers, with 40 percent in the highest tier jobs.
"But how many of these high school performers go on to change the world, run the world, or impress the world?" Barker writes. "The answer seems to be clear: zero." He quotes Arnold as saying that while valedictorians are "strong occupational achievers," few become the visionaries of the future.
"There's not simply one path for everybody, but we kind of make it sound like there is," said Barker, whose book was released last month by HarperOne. "You have to realize who you are."
So who is Eric Barker?
He is a 44-year-old single man living in West Hollywood who once freelanced for the Walt Disney Co.—he helped develop the Aladdin sequels. Growing up in Clementon, New Jersey, Barker's father was a truck driver and his mother worked in medical billing. Neither parent went to college but they wanted their son to go. Barker earned a bachelor's degree from the University of Pennsylvania in 1995 and then a master's in fine arts from UCLA's film program in 2002.
After freelancing for Disney, 21st Century Fox, and other outlets for about a decade, he decided to attend the Carroll School. Being in the M.B.A. program, though, just confirmed for him that he was more suited to other kinds of work. The Carroll School inspired him nonetheless. The research he read about human behavior, personality styles, and judgment in connection with negotiating (the class was taught by former lecturer John Richardson) led him down the path to his book.
During the summer after his 2009 graduation, Barker started a blog about behavior, also named "Barking Up the Wrong Tree." The blog is syndicated by Time magazine and distributed to nearly 300,000 subscribers through a weekly newsletter, which he launched in 2012. He is now also a sought-after speaker.
In the book, Barker sheds light on the introvert-extrovert controversy. It is now often said that extroverts with strong social networks have the advantage in their careers, and Barker doesn't entirely disagree.
Consider an extrovert you've never heard of, Paul Erdos. This brilliant mathematician's schmoozing was unfettered by the fact that he was very strange. Erdos would show up uninvited at the door of another mathematician, and they would spend days and nights working through theorems together. Erdos received neither the Fields Medal in mathematics nor the Nobel Prize, but many in his orbit did—arguably a higher form of success.
Hold on though. What about Isaac Newton? His theory of gravity accomplished the feat of explaining "how the world works." But Newton was an extreme introvert; he had few friends, Barker tells us. Solitude, combined with obsessiveness (also an important trait) about why things drop, was key to his success.
On that question of the introverts and extroverts, Barker takes a characteristically nuanced view. Each has to find a unique path—and make sure they're not on the wrong path. "Natural schmoozers shouldn't pursue laboratory research and bookworms might wanna dodge that sales job," he notes.
And what about formal education?
Matt Polly's life story, as told in the book, nicely counters an assumption that education is the one true and shining path to success. Polly threw caution—and an Ivy League education—to the wind at age 19 when he dropped out of Princeton University to travel to China and master kung fu. He infuriated his parents while failing to win the kung fu championship he'd trained for. But Polly did parlay his unorthodox quest into a contract to write a book about his experience, which led to the sale of the movie rights.
The advice to those looking for the secret to success might be summed up in the quote Barker chose to open his book: "Nothing important comes with instructions."