In the mid-to-late 1970s, Boston College's social scene was buzzing not only on the Heights but also nearly 1,500 miles away, in Palm Beach, Florida. There, a flock of snowbird Eagles and other friends of the University were giving birth to the modern age of Boston College fundraising. And at the center of the party throwing was Wallace E. Carroll '28, who sold everything from shoes to shrimp, and who would eventually make the largest-ever gift (until that time) in Boston College's history. One of his closest Boston College friends was James P. McIntyre '57, known as "Mr. BC." McIntyre helped navigate Boston College through the tumult of student activism during the late 1960s and early '70s (as vice president for student affairs), and he ushered in the era of major giving to Boston College (as vice president for advancement, beginning in the mid-1970s). McIntyre died in September 2015, just as he was putting final touches on his book My Journey to the Heights: A Memoir of Boston College (1951–2015). In a chapter titled "Raising Friends," McIntyre writes about the Palm Beach Eagle's nest that included the likes of William F. Connell, M.B.A. '63 (namesake of the Connell School of Nursing), and Sydney Rab, chairman of Stop & Shop.
In the book, McIntyre offers a close-up view of the Carrolls and their hosting in Palm Beach, where he and then University President Fr. J. Donald Monan, S.J., spent many weeks as guests.
Available at the Boston College Bookstore
---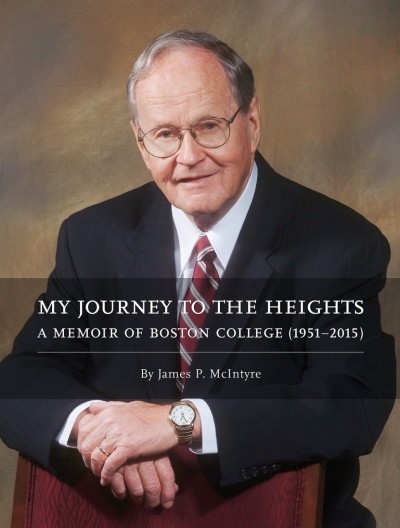 As it turns out, I was beginning my fundraising career more or less at the same time I was beginning my friendship with Wallace Carroll and his family, particularly his wife, Le. Wallace was not only our prime mover and shaker in Florida. He was the biggest name among our alumni, primary owner of a publicly held conglomerate including some 40 or so companies that sold everything from shoes to shrimp. For the next 15 years, Wallace invited us to be his guests both at his winter residence in Palm Beach, Florida, which was a wonderful experience and opportunity for us, and his year-round home in Lake Forest, Illinois.       
These Florida trips, usually in February and March, were very, very important for our fundraising efforts. Over the next several years in Florida, we received a number of the biggest commitments ever in the history of fundraising at Boston College. It should be noted that we were getting these gifts not from native Floridians but rather from Boston College people who were Florida vacationers, so-called snowbirds. I had the impression that our donors were far more relaxed and less distracted during these visits, more inclined to think seriously about philanthropic interests. Multimillion-dollar commitments followed.
Wallace was kind enough to host us (usually me, Fr. Monan, and occasionally one other person) for 15 years until he had a stroke at his home in Palm Beach while we were staying there [in 1990; he died shortly afterward, at age 82].
The Carrolls could not have been more hospitable, and I always felt privileged to be their houseguest. Their home, which they purchased in the 1950s, was right on South Ocean Boulevard overlooking the Atlantic Ocean. They would normally fly down to Palm Beach in season, from Chicago on Friday afternoons. Many times we arrived at the same time they did, in the early afternoon, and we would sit on the veranda drinking freshly squeezed orange juice while getting an update on our respective endeavors. They usually stayed until Sunday afternoon, when they would fly back to Chicago. After they left, we would normally stay at their house a week or so longer, with the housekeepers and other staff. We were always treated like royalty there. 
"The reading at liturgy began with something like, 'Woe unto you who are rich.' I told Fr. Monan, 'I'm not going to read that,' and he just laughed and gave me a different passage."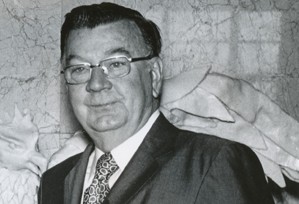 We had long leisurely breakfasts, especially with Le, who tended to stay after Wallace stepped away, sitting at the head of the table and conversing with anybody who came by. I spent a lot of time with her. She was a registered nurse from Maine who ended up living to be over 100. A chair has been established in her name in our Nursing School.
The Carrolls would almost always gather for cocktails in the late afternoon in the lower playroom (their four kids were grown by then). These were very interesting sessions because the conversation would be wide-ranging and one would get some insight into Wallace's thinking on current events in the world. In the evening, on Friday, we would oftentimes go out to a favorite restaurant of his, or perhaps a private club such as the Everglades, which was probably the most exclusive venue in the city.
The next morning, Saturday, after breakfast, the president and I would sometimes have fundraising calls to make. Sometimes, if I were free, I would go off to the beach, or perhaps Fr. Monan might play golf. Wallace, totally relaxed, would go from the dining room after breakfast or from the porch in the afternoon back to his room, where he did some of his work. Several times, when I had occasion to go into the Carrolls' bedroom, I would find a pile of papers several feet tall that he would be going through.
On Saturday evenings, we often stayed in and had dinner in the Carroll dining room. Sometimes the managers or presidents of Wallace's companies would join us for the meal. More often than not, we would have the house to ourselves, or perhaps there might be a visiting Jesuit or two from Rome, or one of the fundraising priests of the Jesuit order. Oftentimes the menu would consist of hamburgers and franks, and of course, baked beans and brown bread—traditional fare of a Bostonian (in his case, a Taunton native) on a Saturday.
On many occasions, on those Saturdays, Fr. Monan would say Mass before cocktails in the family room on the first floor. I remember one time when Father said he would like me to do the reading. He showed me what it was, and it began with something like, "Woe unto you who are rich." I told Fr. Monan, "I'm not going to read that," and he just laughed and gave me a different passage to read.
Sunday brunch was often at the elegant Bath and Tennis Club. Then, on most Sunday afternoons, Wallace would go off to the airport and fly back to Chicago. On occasion, Le might stay down in Palm Beach and he might ask me to drive him to the airport on a Monday morning.
I think Wallace thoroughly enjoyed having us as his guests. I remember on one occasion, when we had talked about going down to visit with him, he called me to find out what flight we were taking. When I told him we were having trouble getting a reservation (this was school vacation week in Massachusetts), he said, "Don't bother, I'll go up and get you and fly you down myself," which he did, with his pilots. They flew into Bedford and brought us directly to Palm Beach on his private plane.
...
In the wake of the quasquicentennial [of Boston College in 1988], Fr. Monan announced that we had an eight-figure gift from Wallace E. Carroll, our outstanding, loyal, and generous alumnus from the class of 1928. Soon after, in March of that academic year, the president marked the business school's fiftieth anniversary by announcing that it would from this point on be called the Wallace E. Carroll School of Management. Wallace's gift was the largest the University had ever received. It gave a tremendous boost to providing the resources that would be necessary to strengthen the new Carroll School and eventually make it one of the nation's premier undergraduate institutions of management learning.
---
Photograph Collection, University Archives, John J. Burns Library, Boston College.
Reprinted with permission by The Trustees of Boston College.