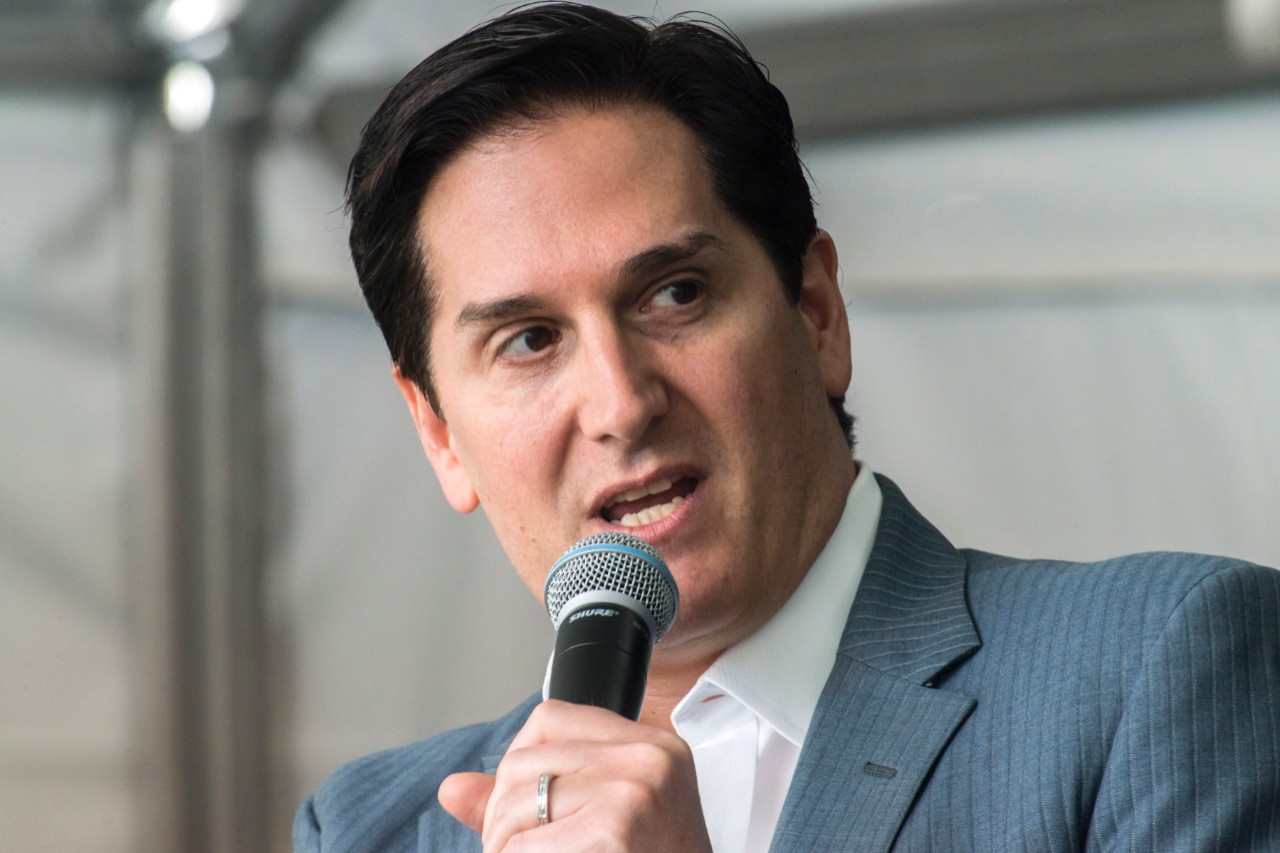 Students attending the annual Boston College Arts Festival this spring were treated to the warmth and wit of an illustrious Carroll School alumnus—Nick Scandalios '87, an influential theater executive who has helped bring to the stage such blockbusters as Hamilton, The Lion King, Wicked, and Rent.
Scandalios is executive vice president of the Nederlander Organization, one of the nation's largest operators of live entertainment venues including many of Broadway's best-known theaters. During the April 28–30 festival, he met with small groups of students active in the campus theater scene. He sat in a tall director's chair, in front of an audience, for a one-on-one interview conducted by Paul Daigneault '87, founder and producing artistic director of SpeakEasy Stage Company, a renowned Boston theater. He was featured in a panel discussion on the business of theater. And, at the end of his two-day visit, he accepted the 2016 Arts Council Alumni Award for Artistic Achievement.
Interviewed by Daigneault inside the festival tent on Stokes Lawn, Scandalios urged an audience including about 50 students to realize there are "multiple pathways into the theater" beyond acting. His own pathway was a management education and finance degree, although he had leading stage roles in campus productions.
"If you have a business degree and love the theater, you could combine those passions," said Scandalios, who wore a gray pinstriped suit and a tieless white shirt with the top two buttons unfastened. The Nederlander VP cited a need for talent in several aspects of the theater business including ticket operations, marketing, and data analytics.
Perhaps the most poignant moment of that conversation came during the Q&A, when a young man wearing a purple flannel shirt stood up and asked simply, "Why do you think art is important?"
"I have one answer to that—9/11," was the reply.
Scandalios explained that during the months and years leading up to the attacks in Lower Manhattan, he had begun to voice a bit of cynicism about the purpose of theater. He would tell people, half-jokingly, "We're not saving children from starvation. We're just making Broadway shows."
Then the planes crashed into the World Trade Center on September 11, 2001, and much of Manhattan came to a standstill. At the time, then-Mayor Rudy Giuliani made calls to Scandalios and other theater executives, saying, "You have to open up your doors. How fast can you get open?"
Scandalios opened the doors on the night of September 13. He recalled standing in the back, emotional, watching the audience in a half-filled theater and realizing that the people needed to be there, needed to have a shared experience of the arts in the wake of unspeakable atrocities.
"We need art. Our souls need art," Scandalios said, vowing—"I will never again make that joke about why art matters."