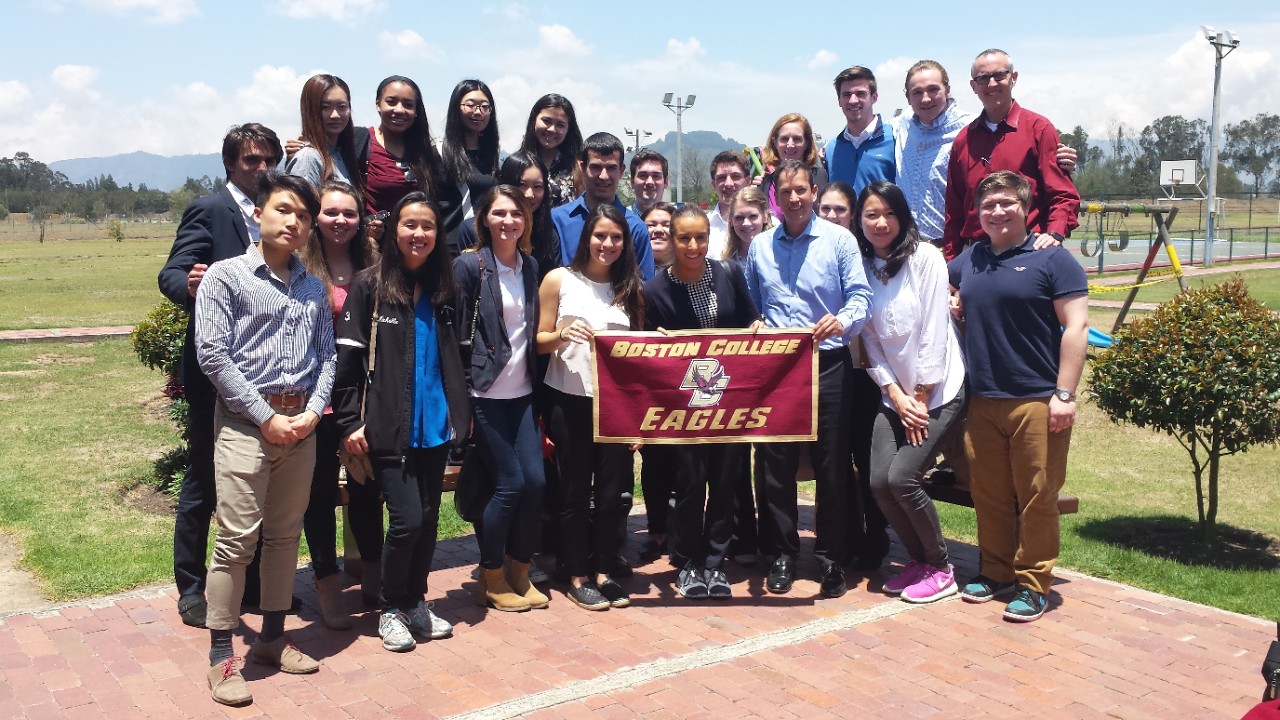 The maroon-and-gold BC flag covering the front door suggested this wasn't going to be a typical business meeting. The location, too, was an unusual place for a group of Carroll School students traveling abroad to find themselves: it wasn't a boardroom or a factory but rather the home of Luly Castellanos de Samper and Mauricio Samper in Bogotá, Colombia.
The Sampers are business executives and Boston College alums—Luly, regional vice president for Ethicon, Johnson & Johnson Medical Devices, Latin America, graduated from the Carroll School in 1991. Mauricio, managing director of the SEAF Colombia Agribusiness Fund, graduated from the Morrissey College of Arts and Sciences (MCAS) the same year. Their daughter, Cristina, is a rising MCAS junior.
In March, the Sampers hosted 21 students who were visiting Bogotá as part of a class called International Accounting Experience—Latin America (IAE). The class is co-led by Mary Ellen Carter, a professor of accounting, and Tim Gray, a business-writing instructor (the two also happen to be married). It introduces students to such global business issues as international financial reporting standards and the Foreign Corrupt Practices Act, culminating with a spring break trip to South America. This year, the group also visited Santiago, Chile.
When the Sampers learned the class was coming to Colombia, they volunteered not only to introduce the group to other local Eagles but also to offer advice on the in-country schedule. They helped set up meetings with top executives at two local companies.
"Mauricio and I have been co-leading the BC alumni chapter here for several years, and this is the first time we've had a class of BC students come to Colombia that we know of," Luly says. "It was a great opportunity to show them the beautiful face of Colombia." Colombia is one of the largest and most geographically diverse countries in South America—it's the only one with coasts on both the Pacific Ocean and Caribbean Sea, and Bogotá, its capital, sits on an Andean plateau at nearly 8,700 feet. It's well known for its coffee, but it's also the leading exporter of cut flowers to the United States.
Carter says she was introduced to the Sampers by Ellen Sullivan, Boston College's executive director for international advancement. The professor says their involvement enriched her class's experience in Bogotá. "Besides hosting us at their home, Luly and Mauricio also shared their contacts with us," she says. "They put us in touch with local business leaders who we might not otherwise have met."
Those included another Carroll School alum—Carlos Mejia, MBA '00, chief financial officer of Alpina, a multinational seller of dairy products. Alpina's plant, outside of Bogotá, was one of the class's company visits. Four more alumni attended the gathering at the Sampers' home: Cristina de la Torre '89; Claudia Gaitan '89; Angela Royo '90; and Nick Kolentse '07.
The International Accounting Experience (IAE) course teaches students, both through its on-campus curriculum and trip abroad, how globalization is changing international business, Carter says. Increasingly, business people, especially accountants in the so-called Big Four firms, are expected to have skills and knowledge that enable them to operate as efficiently abroad as they do at home, she says.
Often, a study-abroad semester helps students acquire that kind of know-how, but it can be logistically tough for accounting majors, who comprise most of the class, to pull off. "Accounting students have to satisfy a lot of course requirements to sit for the CPA exam," Carter says. "The idea of this class is to give them a taste of what it's like to live and work abroad."
The class, supported by Ernst & Young, is in its fourth year. In years past, it has also visited Buenos Aires, Argentina, and Lima, Peru.
Kevin Reardon, a rising Carroll School junior, says IAE enabled him to combine his main academic interests—accounting and history. "Colombia has a fascinating recent history—with the civil war and the FARC guerillas," he says, using the acronym of the rebel movement that has been battling the Colombian government, mostly in rural provinces, for decades, and is now negotiating a peaceful settlement. "Our learning about the country and its economy in the classroom was really supplemented by experiencing the culture first-hand."