Last month, 540 Carroll School seniors walked across the commencement stage. In doing so, a distinct group of these graduates were also walking in the footsteps of parents, siblings, and other relatives—adding one more Eagle to the family.
Some other Carroll School graduates were building a new legacy—with younger siblings currently studying at Boston College. What follows here is a slide show of seven families that brought more than one Eagle to commencement.
---
David Roos
Photographed with: Wendy F. Roos '85 (mom) & J. Kenneth Roos iii '85 (dad)
Hometown: San Diego, California
Concentration: Finance and Accounting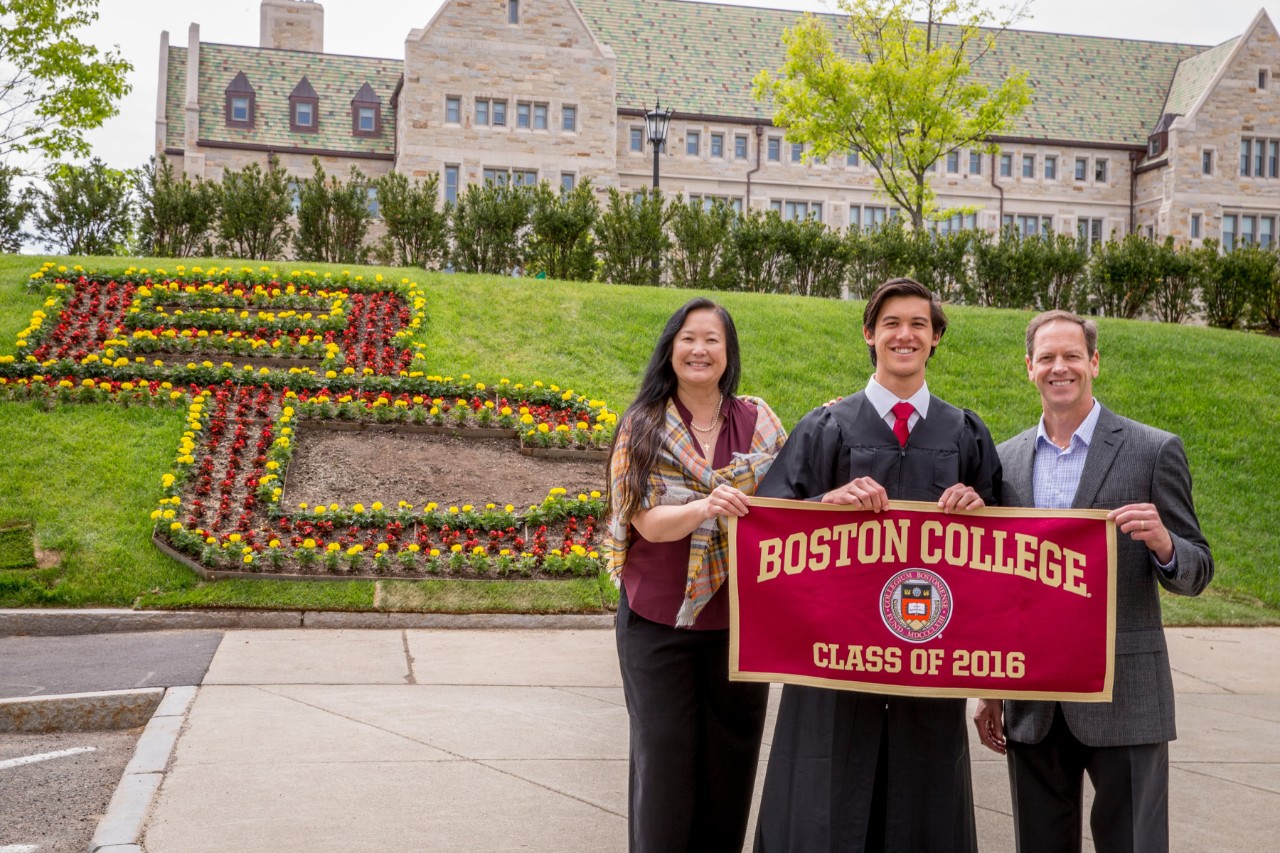 "I was kind of a rebel and didn't put BC on my list of schools. Since it's where both of my parents went, I didn't consider it very much. I was trying new and different things, but when I came here I just fell in love with the campus.
"On orientation day, you could choose two departments to go to and Professor Michael Barry was teaching the Finance Department section. And I realized, wow, these guys are so smart and funny, and they can somehow tie in enthusiasm to things that seem arcane.
"I'll want my kids to come to BC some day. But I'm probably going to try to have the same approach as my parents: don't say anything, wait until they're interested, and keep introducing them—not pushing them but introducing them—to BC. And BC will make them fall in love with it."
---
Christine Zaccaro
Photographed with: Thomas Zaccaro, Law '84 (dad) & Joanne Caruso '82, Law '86 (mom)
Hometown: Los Angeles
Concentration: Marketing (African Studies minor)

"My dad went to Georgetown undergrad and both my parents have a lot of school pride, so growing up I actually always wanted to go to Georgetown and my sister always wanted to go to BC. I had all the Georgetown stuff and she had all the BC stuff. And when we were going on college tours, Georgetown was the school I wanted to see, but then I saw BC and fell in love with it. And it switched.
"And it's funny because now my sister is at Georgetown.
"My mom did so much here, but I wanted to build my own path. I wanted to make my own life here at BC and I think I was able to do that, which I love.
"I was walking in Fulton the other day and realized that it was one of the last times I'd be walking in there as a student. It really goes by so fast."
---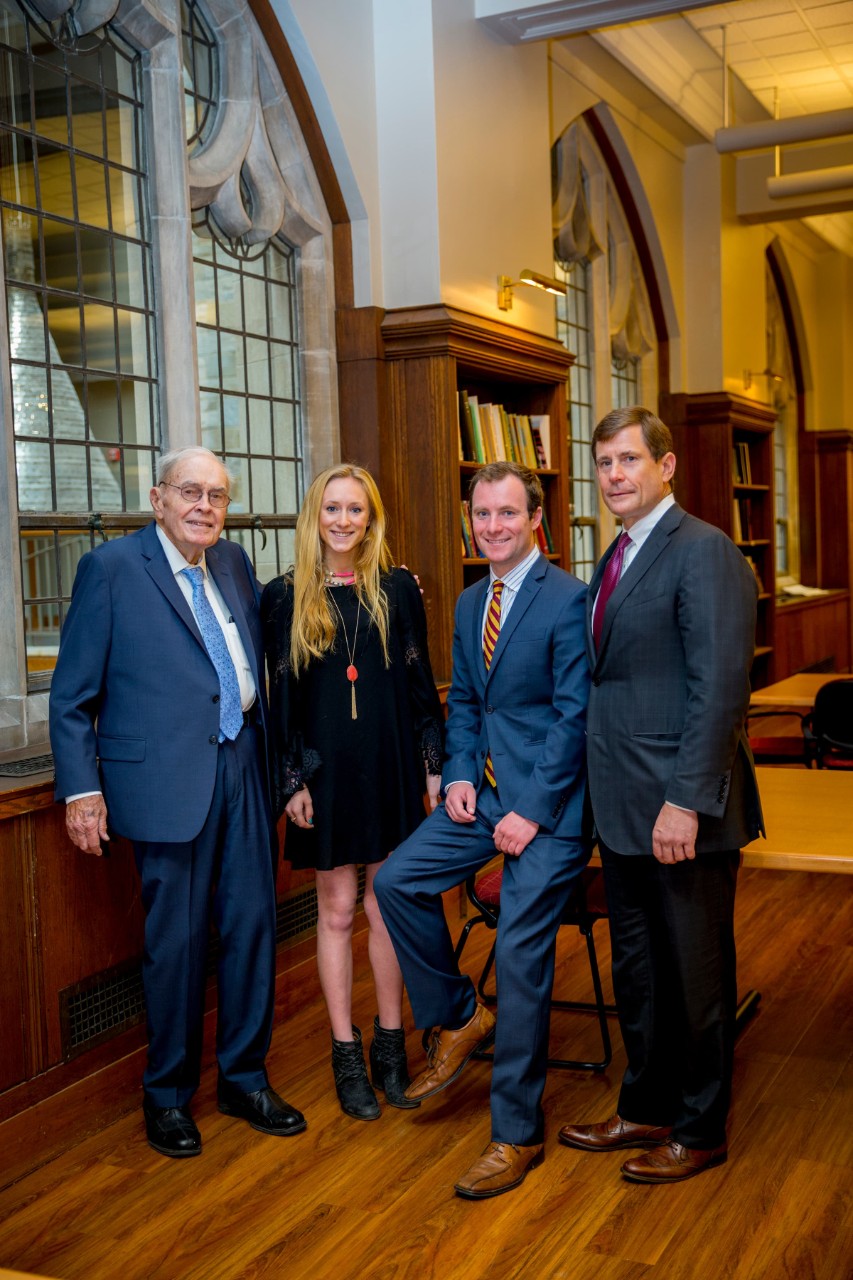 Christopher McAvinn
Photographed with: David F. McAvinn '51 (grandfather), Paige McAvinn '18 (sister) & Peter J. McAvinn '84 (dad)
Hometown: Wellesley, Massachusetts
Concentration: Finance
"I'd say my grandfather and father influenced me indirectly. They never said 'you should go to BC' or ever tried to influence me to go to BC. They let me find my own path, but throughout my life I've been coming here to the football games and basketball games and I really loved the culture.
"I think my sister's thought process was pretty much the same as mine. She liked the school and I think she made the right decision.
"It's been great having her here. We even help each other with our homework sometimes."
McAvinn's grandfather offered some recollections via email, including these:

"In September 1947, I arrived at BC from Melrose by trolley. Like the majority, I would be a commuter for four years. My first classes were in wooden barracks-style classrooms from WWII on the Beacon Street side. A large percentage of the students were returned vets from WWII. The only coeds were in the School of Nursing.
"I graduated in 1951, just in time to be swept into the army for the Korean conflict.
"I take great pride in my large BC family."
---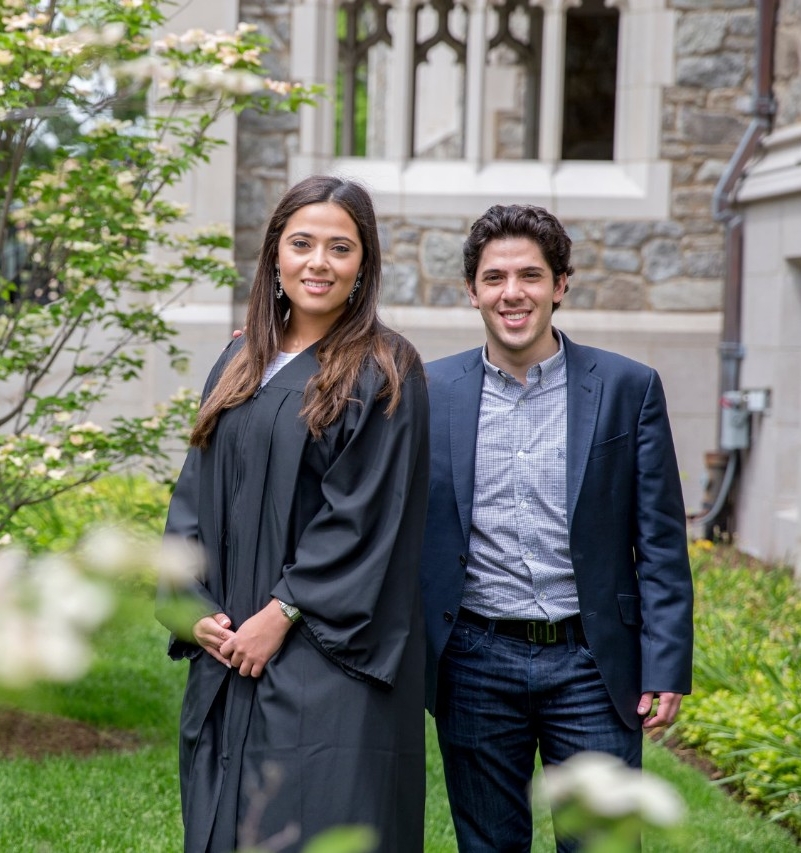 Diana Larach
Photographed with: Roger Larach '13 (brother)
Hometown: San Pedro Sula, Honduras
Concentrations: Marketing and Finance
"I had one year with my brother here. He was a senior and I was a freshman.
"He was really helpful showing me around and it was easier for me to get used to BC. He gave me advice. I never ate alone. He introduced me to his friends and we were able to make a nice big group. My friends were friends with his friends. It was really nice having him here.
"I liked that BC is Catholic. I come from a very strong Catholic background.
"And I loved that I have everything here—I have both a Jesuit education and a business education. I really wanted to be well-rounded and I found that here.
"I'll miss eating with my friends every day. We always go to Mac and get a big table all together. I studied a lot in McGuinn and I'll miss that library. Dean's Coffee. I love Dean's Coffee. I go to all of them, every Wednesday. Having someone to always help me or give me advice. BC has been so helpful with that."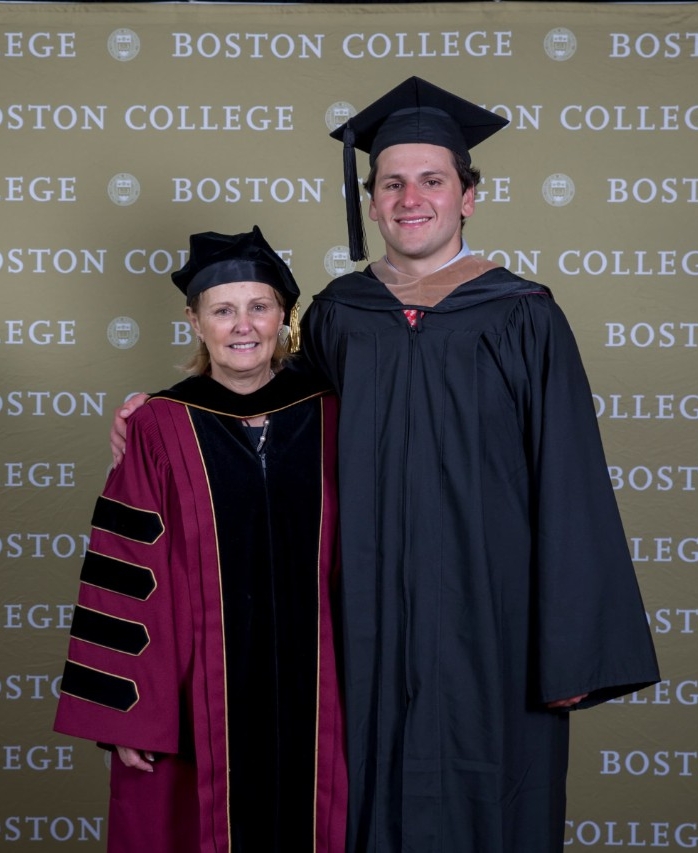 Christopher Haley
Photographed with: Kathleen Powers Haley '76 (mom; University Trustee)
Hometown: Dover, Massachusetts
Concentration: Finance (Chinese Language minor)
"We've always been a 'BC Family.' Ever since I can remember, we've always gone to football games and basketball games. That was always a highlight of my childhood. Watching the D-1 sports programs compete. When I was younger, it was always my dream to play BC football. I know that's everyone's dream.
"When I was applying to colleges I originally only applied to the smaller, NESCAC (New England Small College Athletic Conference) schools. And then about halfway through the recruiting process, I decided I didn't want to play college football anymore. I wanted to expand into a bigger school and meet a bunch of different people. I realized I wanted that 'big school atmosphere.'
"My parents really let me have free reign on my application process, which was nice. It was actually pretty liberating. They didn't have a tremendous influence, they really wanted me to make the decision for myself."
Haley also has a BC brother—Matthew J. Haley '10.
---
Katelyn Chunias
Photographed with: George Chunias '18 (brother), Bill Cohane '86 (uncle–top center), Ryan Chunias '15 (brother), Kathleen Chunias (mom) & Stephen Chunias '86 (dad–bottom right)
Hometown: Topsfield, Massachusetts
Concentrations: Accounting and Management & Leadership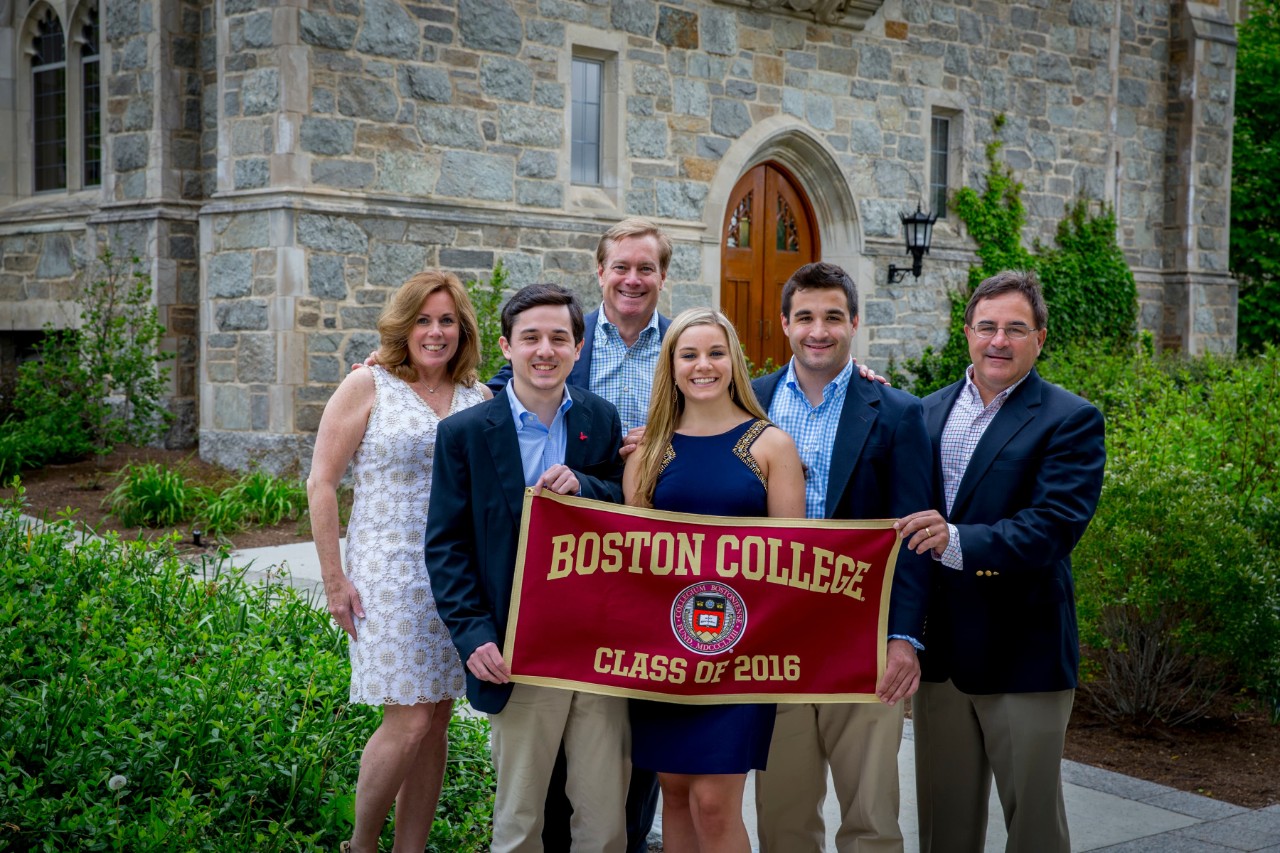 "I loved going to the same school as my brothers. I felt comfortable knowing, especially starting at BC, that I had my older brother here and could ask him any questions I had. It was also nice to act in that role for my younger brother when he started at BC.
"Last year was the first and only year that we all attended the same school at the same time, so it was a really unique experience for my family and me.
"I've had so many different experiences here. My advice would be to make the most of this time. You never know what you'll like or what you'll find."
---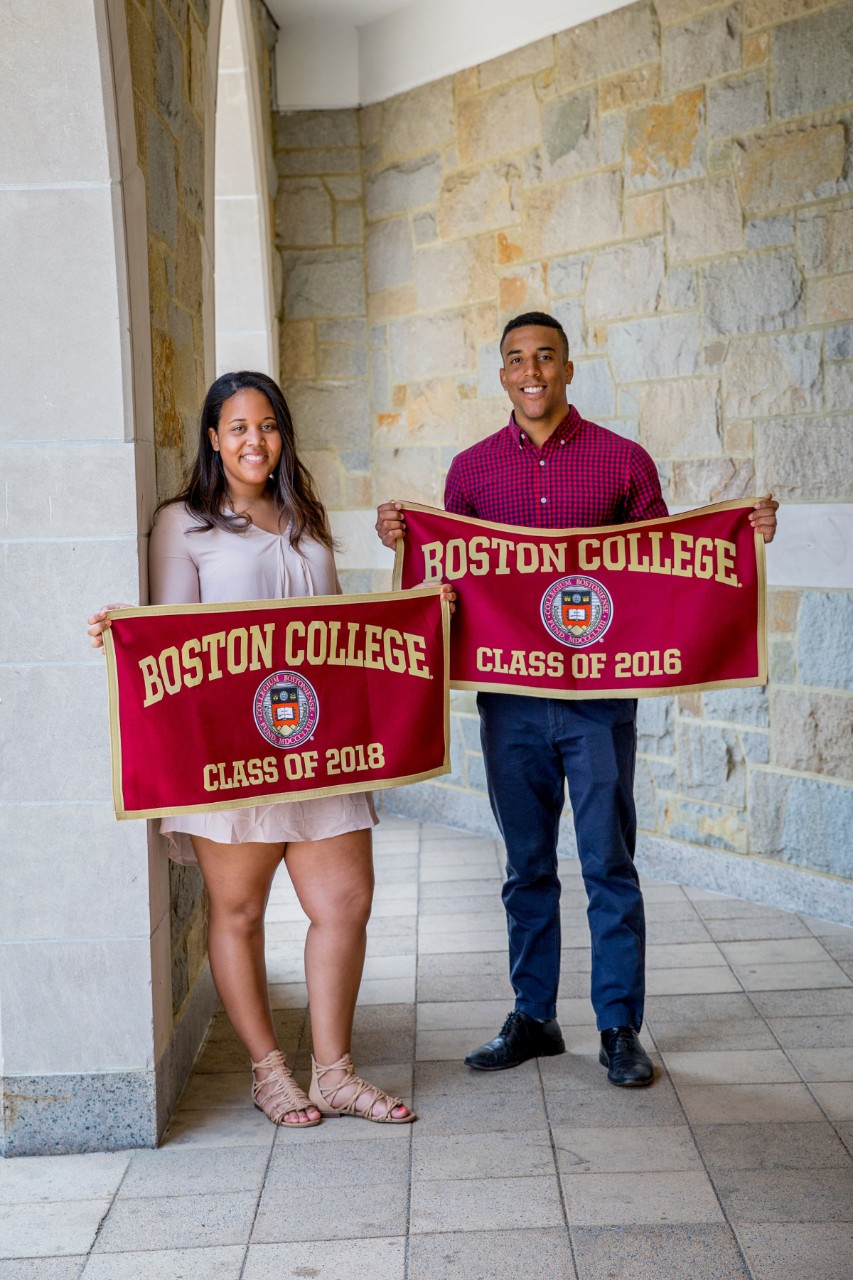 Cameron Granger
Photographed with: Alyssa Granger '18
Hometown: Wilmington, Delaware
Concentrations: Finance and Philosophy
"We've done a lot together [Cameron and his sister]. In terms of academics, I think I've been able to be there for her by making sure that my friends who are pre-med were able to mentor her. I know we were on different tracks, but having extra outlets for her to use was helpful. My girlfriend is actually pre-med psych, so the two of them are probably closer than my girlfriend and I are. So she's had a bunch of older mentors. And I think she's really appreciated that. She glided through freshman year and sophomore year and now she's about to be a junior.
"There's never been a time at BC where I've just sat back and said 'I don't know what to do with myself right now.' There's always something that can be done and that's something I've learned throughout my time at BC.
"I think that the most valuable lesson I could tell freshmen coming in is to come in humble because your time at BC will change you as a person and a leader. And you just need that leap of faith to do something new and test yourself in a different area of life to really find out who you could possibly become."
---