Against a somber backdrop of gray skies and threatening clouds, Jesuits at Boston College came together on June 5, on the St. Ignatius Church lawn, in prayerful solidarity with the black community.
The gathering was organized by members of Saint Peter Faber Jesuit community at BC, in response to the horrific death of George Floyd at the hands of police.
"These are trying days, and our witness of Gospel love is a tool for raising awareness and showing support," wrote School of Theology and Ministry students Eric Immel, S.J., and Brian Strassburger, S.J., in their invitation to join the gathering, which was extended to members of other Boston-area Jesuit communities. "This public prayer is a simple but important thing to do," they noted.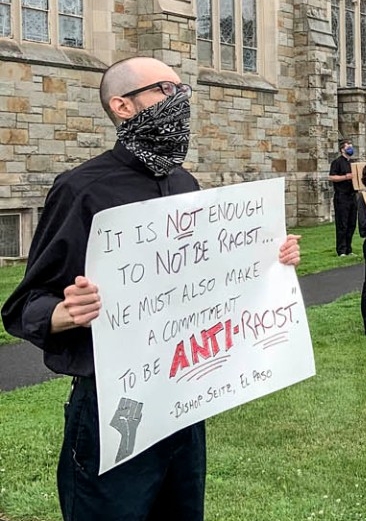 After walking together to the church, wearing masks and keeping appropriate social distance, the Jesuits began with a period of silent prayer, kneeling for eight minutes and 46 seconds, the length of time that George Floyd was pinned to the ground by Minneapolis police officers.

The group then stood in silent prayer before praying the Rosary, and then ending in song.
"We wanted to keep the focus on the issue of racism," according to Jesuits Immel and Strassburger, a trustee associate on BC's Board of Trustees. They had encouraged attendees—among them Haub Vice President for Mission and Ministry Jack Butler, S.J., Morrissey College of Arts and Sciences Dean Gregory Kalscheur, S.J., and School of Social Work Assistant Professor Alejandro Olayo-Mendez, S.J.--"to bring signs bearing the words 'Black Lives Matter,' 'Racism is a sin,' or other papal or scriptural reference to anti-racism."
Said Fr. Kalscheur: "It was a genuine consolation to be able to pray in this way with brother Jesuits in the midst of this time in the life of our country."
University Communications | June 2020