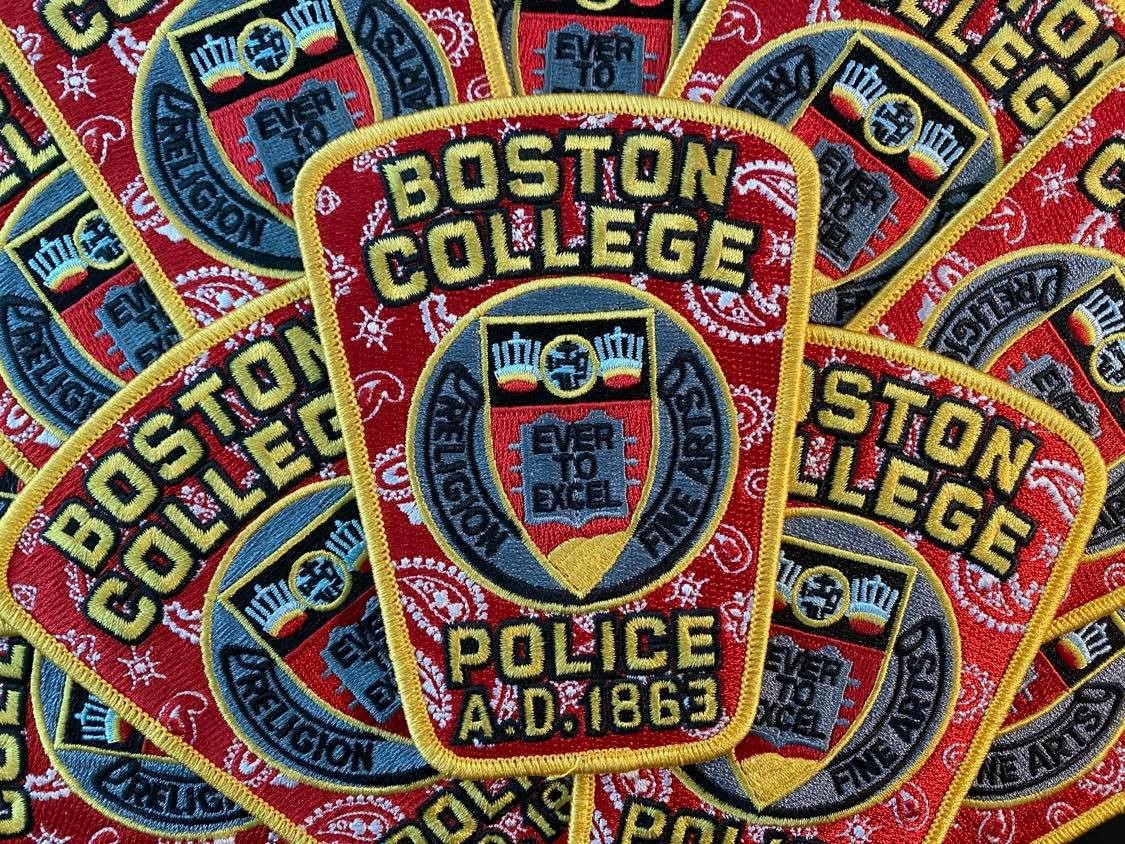 **PATCHES ON SALE NOW, WHILE SUPPLIES LAST**
The Boston College Police Department is proud to introduce our new Red Bandana Police Patch Project. This patch is a one of a kind, commemorative patch that was designed ahead of the 21st Anniversary of the 9/11 attacks, and specifically pay tribute and honor to 9/11 Hero, and Boston College Alumni, Welles Remy Crowther. 
Crowther lost his life on 9/11 while rescuing people stuck in the south tower of the World Trade Center. Though he lost his life, he was remembered as the man in the "red bandana," which Crowther used to help him breathe in the smoke. In the end he saved 18 people from the tower before losing his life as the towers collapsed.
During the entire month of October, including the annual Red Bandana Football game against Clemson, Boston College Police Officers have been authorized to display the Red Bandana Police Patch on their unfiorms as a way to remember the heroism and sacrifice in which Welles made to save others on 9/11. In addition to the patches, a speically designed police cruiser was introduced to the campus community on October 3rd, featured with red bandana patterned graphics. The cruiser can be found around campus during the entire month of October. 
Patch sales contiune for $10.00 per patch, with a maxium of 2 patches per person. Patches are available at the Boston College Police Department headquarters, located at Maloney Hall, 21 Campanella Way Chestnut Hill MA. Simply stop by in person and speak with a staff member at the front window who will accept cash, a check or a money order to purchase patches.Additionally, patches can be purchased online at Boston College Bookstore and at upcoming football games. 
Proceeds from the sales will go directly to the Welles Remy Crowther Charitable Trust, which was established in September 2001 by the Crowther Family to honor and keep their beloved son's memory alive through good works benefitting young people. The mission of the Welles Remy Crowther Trust recognizes and awards academic and athletic excellence in young men and women who serve their communities through education, health, recreation and character development. The Trust supports other not-for-profit organizations that benefit young people through annual gifts and special awards.
Watch the Full Documentary: Man In The Red Bandana (Narrated by Gwyneth Paltrow)

---