Stay tuned for more information about Reunion 2020 which will be held on November 6-7, 2020 at Boston College Law School and The Newbury Boston
Reunion 2019: What a Party!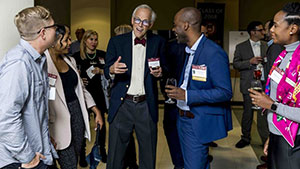 The BC Law Reunion took place on November 1–2, 2019. For those who attended, we hope you enjoyed yourself! We had an overwhelming number of alumni and friends join us, bringing together over 600 guests.
A full reunion recap is available on the BC Law Magazine website.
Together We Can Make a Difference!
In honor of your reunion, we hope you will consider making a gift to the Law School Fund today to support the pressing needs of your alma mater. Your gift provides crucial support for student scholarships, summer public interest stipends, faculty research, and much more.
We Love Your Feedback
We appreciate your taking a minute to complete our post-reunion survey . We are always eager to improve and grow our programming, and your opinion is valuable in doing so.

Contact Us
To learn how you can participate in a future reunion committee, please contact:
Maria Tringale
Director, School Development
(617) 552-4751
maria.tringale@bc.edu