Boston College Law School Law Virtual Reunion 2020 Schedule
Join fellow alumni for a series of virtual events during the weeks of November 9 and November 16 to get together with classmates at your Bar Review, catch up with your favorite professors, and hear an update about BC Law from Dean Rougeau.
Tuesday, November 10, 12:00–1:00 p.m., via Zoom
American Legal Education Today with Professor Dan Coquillette
Open to the Class of 2015 only
Join Professor Coquillette as he discusses the American legal education today. Covered in this program will be:
1. Current Situation: Asynchronous, Synchronous, and Hybrid Strategies
2. State of the Market: "T14," Top Tier, the Remaining 150. The future of state law
schools. Foreign student enrollment.
3. "The Intellectual Sword": Different Economic and Pedagogical Strategies
4. The Likely Effect of COVID-19
5. How BCLS Fits In
Wednesday, November 11, 12:00–1:00 p.m.,  via Zoom
Harnessing the Power of Mindfulness, with Professor Filippa Anzalone
Open to all Law Reunion alumni
You may have read an article or two about mindfulness and are curious to learn more. Perhaps you would like to try meditation but don't know where to start. Or maybe you've meditated in the past and need a refresher? Whatever your experience or interest level, we invite you to join this special Reunion program on harnessing the power of mindfulness. The hour-long session will include presentations on the science and benefits of meditation, the importance of well-being and self-care for the legal profession, and a guided meditation and discussion. All are welcome!

Thursday, November 12, 1:00–1:45 p.m. and 3:00–3:45 p.m., via Zoom
How BC Law Has Changed over the Years, with Professor Bob Bloom
Open to the Classes of 1985 and 1990 only
Reconnect with Professor Bloom as he discusses the change in landscape at BC Law. Learn how technology, cost, admission, and so much more has transformed since your time at the Law School.

Friday, November 13, 10:00–10:45 a.m., 11:00–11:45 a.m., 1:00–1:45 p.m., and 2:00–2:45 p.m., via Zoom
High Tea with Professor Ingrid Hillinger
Open to the Classes of 1995 and 2010 only
Enjoy a High Tea with Professor Hillinger and a 1L student as they catch you up on the happenings at BC Law School and hear about what you have been up to since graduation.
Monday, November 16, 6 p.m.
Class of 1975 Bar Review, 6–7 p.m., Zoom

Class of 1980 Bar Review, 6–7 p.m., Zoom

Class of 1985 Bar Review, 6–7 p.m., Zoom


Tuesday, November 17, 6 p.m. 
Class of 1990 Bar Review, 6–7 p.m., Zoom

Class of 1995 Bar Review, 6–7 p.m., Zoom

Class of 2000 Bar Review, 6–7 p.m., Zoom

Wednesday, November 18
Class of 1970 Sherry Hour Reception (Bar Review), 6–7 p.m., Zoom 
Class of 2005 Bar Review, 7–8 p.m., Zoom  

Class of 2010 Bar Review, 7–8 p.m., Zoom  

Class of 2015 Bar Review, 7–8 p.m., Zoom
Thursday, November 19, 12–2 p.m., Zoom
State of the School and Keynote Address
Open to all Law School alumni
Hear from Dean Vincent Rougeau as he provides updates about BC Law, followed by our keynote speaker, David Simas '95, CEO of the Obama Foundation and former White House assistant to the president and director of the Office of Political Strategy and Outreach. Simas will discuss how we unify as a country and come together to make a better future. Our discussions will be facilitated by Dean Renee Jones, associate dean for academic affairs.
Register for The Boston College Law School Virtual Reunion 2020
Reunion 2019: What a Party!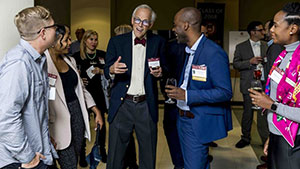 The BC Law Reunion took place on November 1–2, 2019. For those who attended, we hope you enjoyed yourself! We had an overwhelming number of alumni and friends join us, bringing together over 600 guests.
A full reunion recap is available on the BC Law Magazine website.
Together We Can Make a Difference!
In honor of your reunion, we hope you will consider making a gift to the Law School Fund today to support the pressing needs of your alma mater. Your gift provides crucial support for student scholarships, summer public interest stipends, faculty research, and much more.
We Love Your Feedback
We appreciate your taking a minute to complete our post-reunion survey . We are always eager to improve and grow our programming, and your opinion is valuable in doing so.

Contact Us
To learn how you can participate in a future reunion committee, please contact:
Kelsey Brogna
Associate Director, Alumni Class and School Engagement
Office of University Advancement
Cadigan Alumni Center
Boston College
(617) 552-8524
Kelsey.Brogna@bc.edu