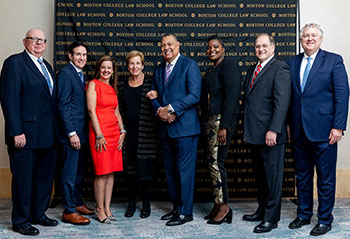 Established by proclamation in 1958, Law Day is a long-standing national tradition. At BC Law, we mark Law Day with a signature event held near to the national Law Day on May 1. This gathering celebrates the most important goals of the legal profession: to advance equality and justice, encourage observation and enforcement of the law, and to foster respect for law and an understanding of its essential place in the life of every citizen.
Serving on the Boston College Law Day Committee is an important and prestigious volunteer opportunity for alumni. Gathering with an esteemed and diverse group of peers, the committee reviews the nominations submitted by alumni, faculty, staff and friends. After rigorous review and discussion, the committee submits their selections for our community's highest annual awards.
Participation on the Law Day Committee is one of our most rewarding alumni experiences. With clear impact and time expectations, the Committee provides a wonderful opportunity to connect with fellow BC Law alumni, expanding your professional and personal network. In addition, it offers alumni an opportunity to provide their ideas and insights to the School for one of its largest annual events.
Law Day Committee Co-Chairs
Elizabeth Pendergast, JD'11
Law Day Committee Members
Brandon L. Bigelow, JD'01
Prof. Robert M. Bloom, JD'71
Thomas R. Burton III, '93, JD'96
Kristen S. Cassetta, JD'04
David Cerveny, JD'97
Jason E. Dunn, JD'97
Peter A. Egan, JD'98
Michael K. Fee, '81, JD'84
Joshua S. Goodman, JD'95
Anne R. Gordon, JD'11
Chris J. Kelley, '87, JD'92
James E. McDermott, JD'80
Matthew C. McDonough, '11, JD'14
Christopher M. Morrison, '95, JD/MEd'01
Brian A. O'Connell, '84, JD'87
Allison M. O'Neil, JD'98
Stephen D. Riden, '95, JD'99
Aliki Sofis, JD'09
Jason P. Triplett, JD'14
Rosaline Valcimond, JD'05
Mark Joseph Warner, '85, JD'89

Contact Us
For more information on these and other ways that you can support our students, please contact:
Lauren McCauslin
Director, Alumni Class and School Engagement
617-552-2696
lauren.mccauslin@bc.edu