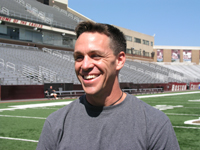 David P. Healey, Ph.D.
Marching Band Director
Dr. Healey has been serving as Director of the Boston College Marching Band since 1999 and Director of the Boston College Symphonic Band since 2003. As a sophomore chemistry major at Boston College, he founded the jazz ensemble "BC bOp!" and served as its president for two years before being honored with the Creativity Award from the Office of the Dean for Student Development for "outstanding innovation and leadership." Dr. Healey later served as president of the BC Marching Band, where he played a key role in securing a full-time Director of Bands position at Boston College.
Upon graduation from BC in 1990, Dr. Healey worked as an applications chemist at Orion Research for three years before pursuing a masters degree in Music Education from the New England Conservatory and serving as a brass instructor with the Boston Crusaders Drum & Bugle Corps. While at NEC, Dr. Healey studied with Dr. Richard Colwell and Frank Battisti. Following his graduation from NEC in 1995, Dr. Healey designed and coordinated the Boston College Marching Band performance at the Macy's Thanksgiving Day Parade and later served as Director of Bands and Assistant Professor of Music at Saint Xavier University in Chicago, IL. He also served as a music education consultant for the Midori Foundation and the New York City Ballet.
Under Dr. Healey's leadership, the Boston College Marching Band has revitalized the college game day experience and been invited to perform for the Boston Red Sox, the Boston Celtics, ESPN College GameDay, and the Heisman Trophy Dinner in New York City. The Marching Band has also performed Stars & Stripes Forever with the Boston Pops Orchestra under the direction of Keith Lockhart and joined the Dropkick Murphys onstage for multiple concert performances of Shipping Up to Boston. In 2013, Dr. Healey guided the Boston College Marching Band through its first appearance in the Presidential Inaugural Parade in Washington DC. In addition to his work with the Eagles Marching Band, Dr. Healey conducts an annual concert of the Boston College Symphonic Band at the Hatch Shell on the Charles River Esplanade.
Dr. Healey received his doctor of philosophy degree from Boston College in 2016, and he remains active as an adjudicator, clinician, and guest conductor. He is an avid cyclist and runner and has bicycled across the United States from Seattle to Boston, run to the top of Mount Washington, and completed the Boston, Chicago, and New York Marathons. Dr. Healey and his wife, Joy (BC '92), reside in Hull, MA with their five children: Daria, Max, Alyssa, Troy & Victor.