PULSE 50th Anniversary
Institute for the Liberal Arts
Due to concerns regarding the coronavirus (COVID-19) and in keeping our campus community safe, all ILA events will be cancelled for the remainder of the academic year.
Program Description
Since its first course was offered in spring 1970, Boston College's PULSE Program for Service Learning has been educating students for social justice. Having its home in the Philosophy and Theology Departments, PULSE courses challenge students through the interplay of classic and contemporary texts and a significant commitment to community service to reflect upon the meaning of their lives and the society in which they live and to which, as human persons, they and their communities have a responsibility to participate in creating a just world.
 
PULSE is celebrating its 50th anniversary in academic year 2019-2020. Since its founding, it's estimated that over 17,500 BC PULSE students have served over 3.2 million hours in Boston-area community organizations. To mark this significant anniversary and the formative role that PULSE has played for PULSE students, Boston College, and the greater Boston community, PULSE is sponsoring a series of events that will be of interest for PULSE's various constituents and friends, including current and former students, community partners, the larger BC community, BC alums, and faculty and staff.
 
The PULSE Program hopes you will attend as many of these events as possible. If you have any questions or would like more information, please go to bc.edu/pulse or please contact the PULSE office at pulse@bc.edu or 617-552-3495.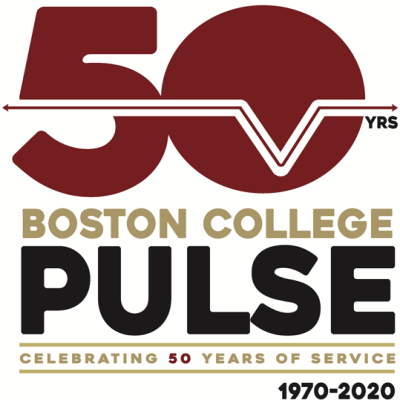 Program Schedule
Wednesday, September 4, 2019 at 5:30pm
Community Partner Celebration Dinner and Town Meeting: Each year the PULSE Program welcomes our community partner supervisors to campus for dinner prior to PULSE students meeting with them for the first time. This year will be a special dinner to thank our supervisors, to celebrate fifty years of partnership, and to debut the new PULSE 50th anniversary film produced by the Boston College Office of University Communication.
Please note: Due to space limitations, this event is by invitation only.
---
Wednesday, October 9, 2019 at 7pm, Conte Forum
Mr. Bryan Stevenson Lecture
Just Mercy
Bryan Stevenson is the founder and Executive Director of the Equal Justice Initiative in Montgomery, Alabama. Mr. Stevenson is a widely acclaimed public interest lawyer who has dedicated his career to helping the poor, the incarcerated, and the condemned. Under his leadership, EJI has won major legal challenges eliminating excessive and unfair sentencing, exonerating innocent death row prisoners, confronting abuse of the incarcerated and mentally ill, and aiding children prosecuted as adults. His numerous awards and honors include the MacArthur Foundation "Genius" Prize and the National Medal of Liberty from the American Civil Liberties Union. He is the author of the critically acclaimed New York Times bestseller, Just Mercy, which was named by Time Magazine as one of the 10 Best Books of Nonfiction for 2014 and has been awarded several honors including the Carnegie Medal by the American Library Association for the best nonfiction book of 2014 and a 2015 NAACP Image Award. Mr. Stevenson is also a Professor of Law at the New York University School of Law.
Presented by the Lowell Humanities Series and cosponsored by the Winston Center for Leadership and Ethics and Boston College PULSE: Celebrating 50 Years of Service. Click here for more information.
Open to all who are interested in attending.
---
Wednesday, December 4, 2019, at 5pm, Gasson 100
Prof. Christiana Zenner Lecture
'The Convenience Just Tastes So Good!'
Profit, Public Health, and Ethics in Our Ongoing Desire for Bottled Waters
Christiana Zenner is Associate Professor of Theology, Science and Ethics in the Department of Theology at Fordham University, where she is affiliated faculty in Environmental Studies and American Studies. Her research into emerging and established fresh water ethics intersects with ecological theory, religious ecologies, developments in the earth sciences, and the ecological turn in Catholic social teaching. She lectures nationally and internationally on these topics and has provided analysis of contemporary topics in ecological ethics and religion and science in venues such as Public Radio International, the Bulleton of Atomic Scientists, The New Republic, the Washington Post, TED-Ed, MSNBC, and others. Before earning her PhD from Yale in Religious Studies, she earned a BA from Stanford in Human Biology. Click here for more information.
As part of PULSE's 50th anniversary, Prof. Zenner will serve as scholar-in-residence during the week of December 2 and guest lecture on Laudato Si' in each of the 16 PULSE core courses. In addition, she will be offering a public lecture, co-sponsored by the MCAS dean, on Wednesday, December 4th at 5pm in Gasson 100.
Co-sponsors:
The Dean of the Morrissey College of Arts and Sciences
Earth and Environmental Sciences Department
Environmental Studies Program
Theology Department
Open to all who are interested in attending.
---
Thursday, January 30, 2020, at 7pm, McGuinn 121
Dr. Thea James Lecture
Title: Medicine for Mission: Shifting the Paradigm
Dr. Thea L. James is an Associate Professor of Emergency Medicine at Boston Medical Center/Boston University School of Medicine. She also serves as the Associate Chief Medical Officer, Vice President of Mission, and Director of the Violence Intervention Advocacy Program (VIAP) at Boston Medical Center.
Dr. James has chaired and served on national committees within the Society for Academic Emergency Medicine (SAEM), served as a moderator, and has given public lectures and talks. She was appointed to the SAEM Women in Academic Emergency Medicine Task Force, is a member of the Boston University School of Medicine Admissions Committee, and in 2009, Dr. James was appointed to the Massachusetts Board of Registration in Medicine, where she presently serves as Chair of the Licensing Committee. Dr. James is the 2008 awardee of the David H. Mulligan Award for public service.
Dr. James' passion is in Public Health both domestically and globally. She is a Supervising Medical Officer on the Boston Disaster Medical Assistance Team, under the Department of Health and Human Services, which has responded to several disasters in the United States and across the globe. She has deployed to post 9/11 in NYC, Hurricane Katrina in New Orleans in 2005, Bam, Iran after the earthquake in 2003, and Port-Au-Prince Haiti after the earthquake of 2010.
For twelve years Dr. James has traveled to Haiti, with colleagues and emergency medicine residents. A graduate of Georgetown University School of Medicine, James completed an emergency medicine residency at Boston City Hospital, where she was a chief resident.
This event is co-sponsored by the Park Street Corporation Series.
Open to all who are interested in attending.
---
Wednesday, April 1, 2020, at 7pm, Yawkey Center, Murray Function Room
Ms. Claudia Rankine Lecture
Citizen: An American Lyric
Claudia Rankine is the author of five collections of poetry, including Citizen: An American Lyric (2014) and Don't Let Me Be Lonely (2004); two plays including The White Card, which premiered in February 2018 (ArtsEmerson/American Repertory Theater) and will be published with Graywolf Press in 2019, and Provenance of Beauty: A South Bronx Travelogue (2009); as well as numerous video collaborations. She is also the editor of several anthologies including The Racial Imaginary: Writers on Race in the Life of the Mind. In 2016, she co-founded The Racial Imaginary Institute (TRII). Among her numerous awards and honors, Rankine is the recipient of the Bobbitt National Prize for Poetry, the Poets & Writers' Jackson Poetry Prize, and fellowships from the Guggenheim Foundation, the Lannan Foundation, the MacArthur Foundation, United States Artist, and the National Endowment of the Arts. She is a Chancellor of the Academy of American Poets and teaches at Yale University as the Frederick Iseman Professor of Poetry.
Presented by the Lowell Humanities Series and cosponsored by the American Studies Program, the African and African Diaspora Studies Program, the English Department, the History Department, the Sociology Department, Boston College PULSE: Celebrating 50 Years of Service, and with the support of an Institute for the Liberal Arts Major Grant Award. Click here for more information.
---
Friday, March 27 and Saturday, March 28, 2020
PULSE Conference and Celebration
This will be a two-day conference to celebrate PULSE. Panels and workshops will include a retrospective history of PULSE, insights from PULSE faculty and staff, and reflections from PULSE alums and supervisors. The culminating event will be a festive dinner and celebration Saturday evening. The final conference schedule will be posted soon.
All events will be open to all who are interested in attending but some events will require advance registration.
Open to all who are interested in attending.
---
Monday, April 27 at 6:00 pm in Heights Room
Mayor Walsh 
PULSE 50th Anniversary Celebration Weekend Schedule
March 26 - 28, 2020
SAVE THE DATE!
GATHER YOUR FRIENDS AND FORMER CLASSMATES and RETURN TO CAMPUS TO CELEBRATE PULSE!
Please complete this form so that we can contact you when registration opens!

Schedule of Events

(This schedule is tentative and will be finalized in the coming weeks.)

Thursday, March 26 through Saturday, March 28, 2020

Thursday - Friday

Attend a PULSE class! Sign up in advance through the registration site. Space will be limited!

Friday

The PULSE faculty are working together on a book project about PULSE. Most of the Friday sessions will be their reflections on and about PULSE from the perspectives of philosophy, theology, and student formation. Ongoing lunch through dinner.

Saturday

PULSE alums, community partner supervisors, faculty, staff, and current students will reflect on their experiences with PULSE. There will be many opportunities for conference attendees to share their own PULSE stories and to connect with conference attendees. A special event on Saturday will be Prof. Patrick Byrne, founder of PULSE, giving the history of PULSE followed by a conversation with past and current PULSE directors. Celebratory dinner: On Saturday evening there will be a celebratory dinner in The Heights Room (please note: while attendance at the celebration weekend is free of charge, there will be a fee for the dinner).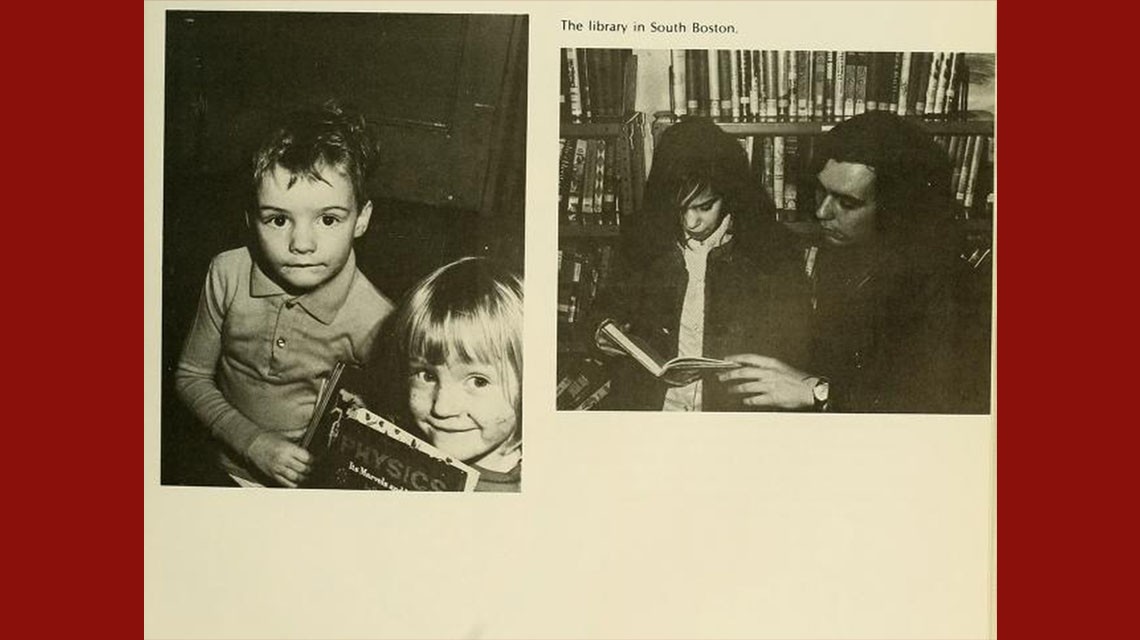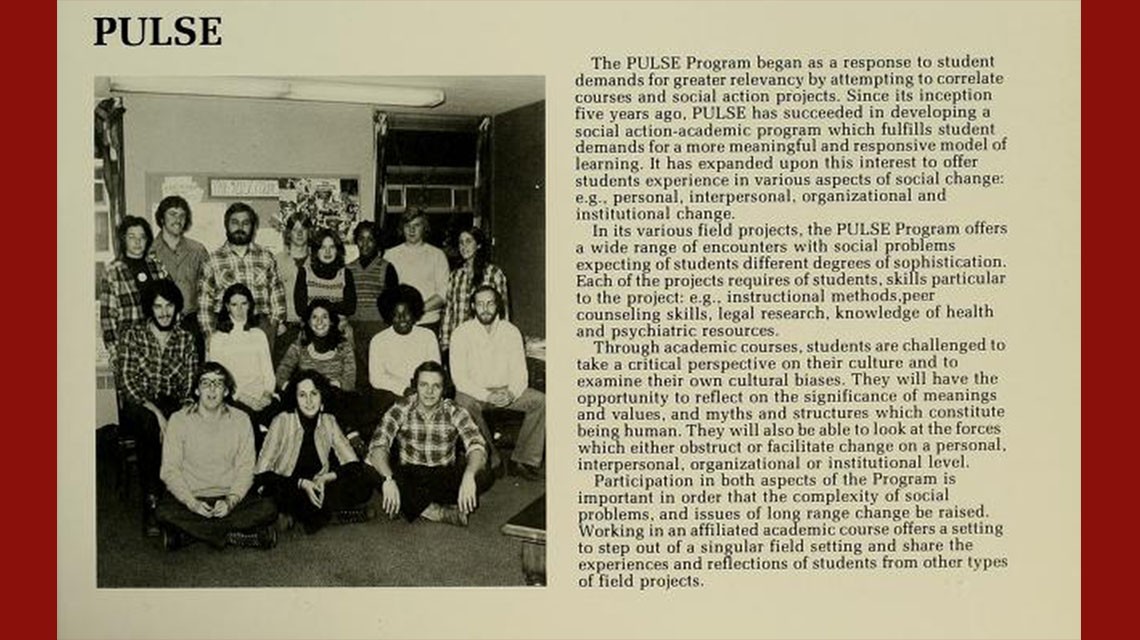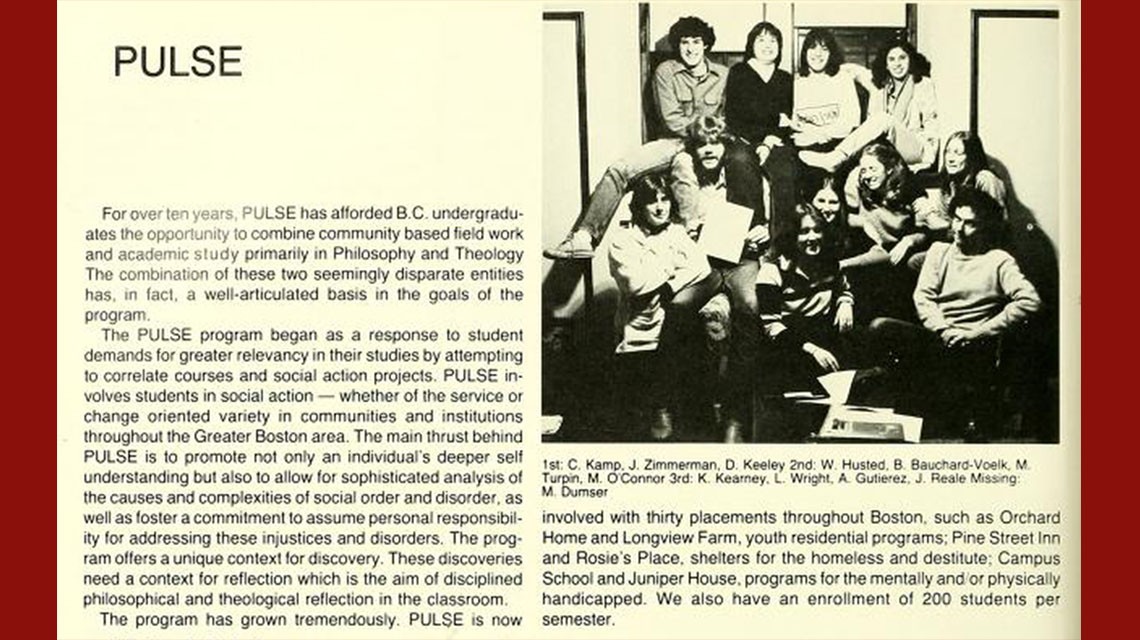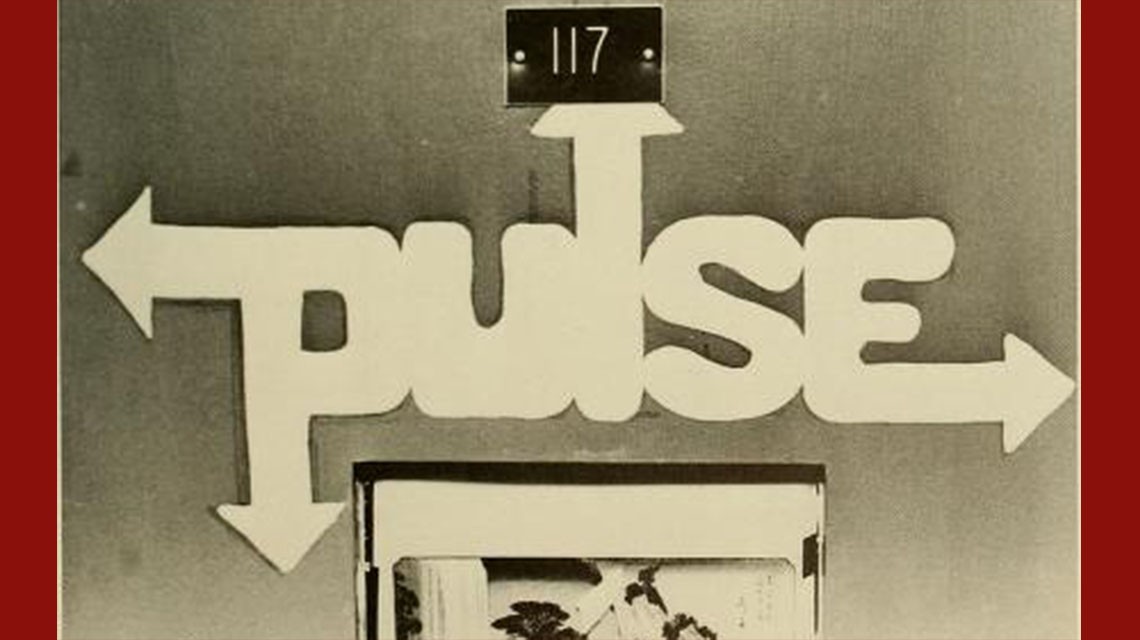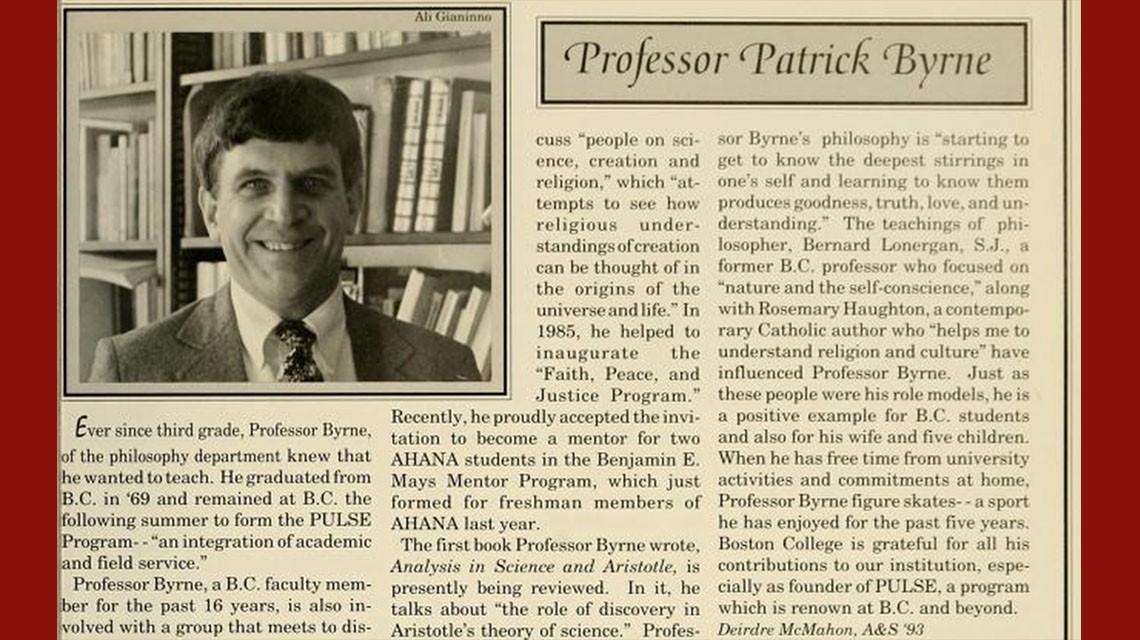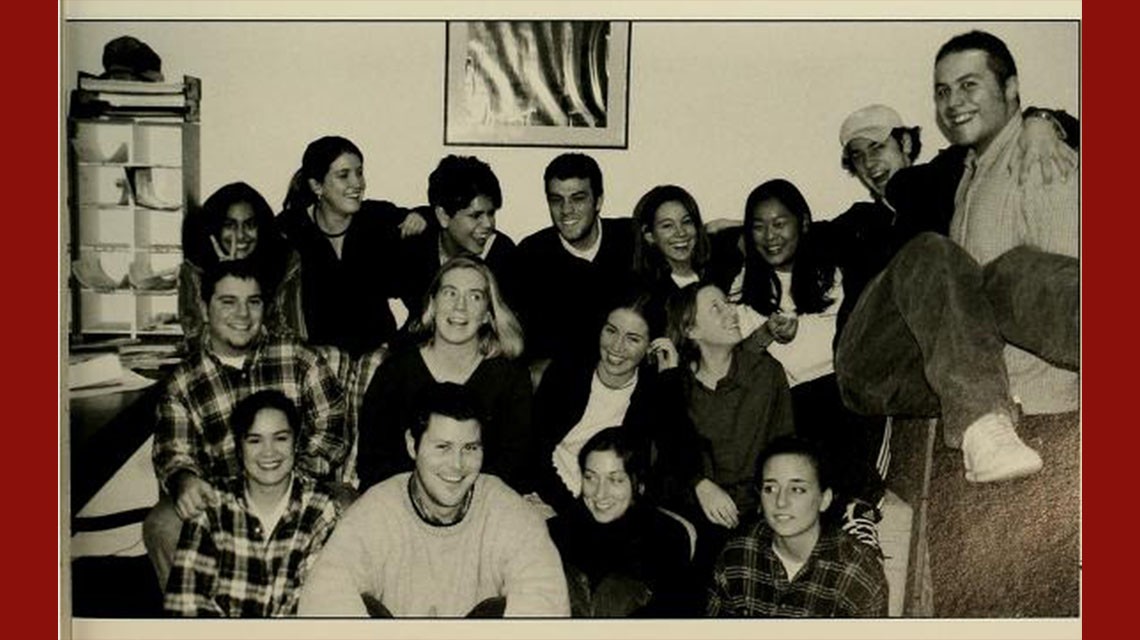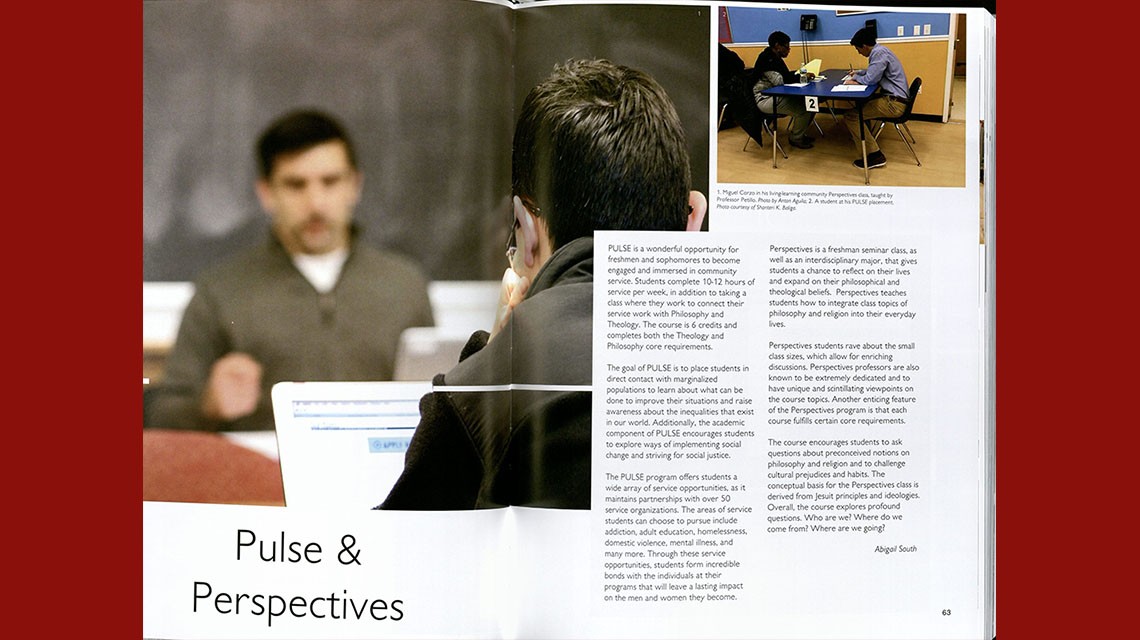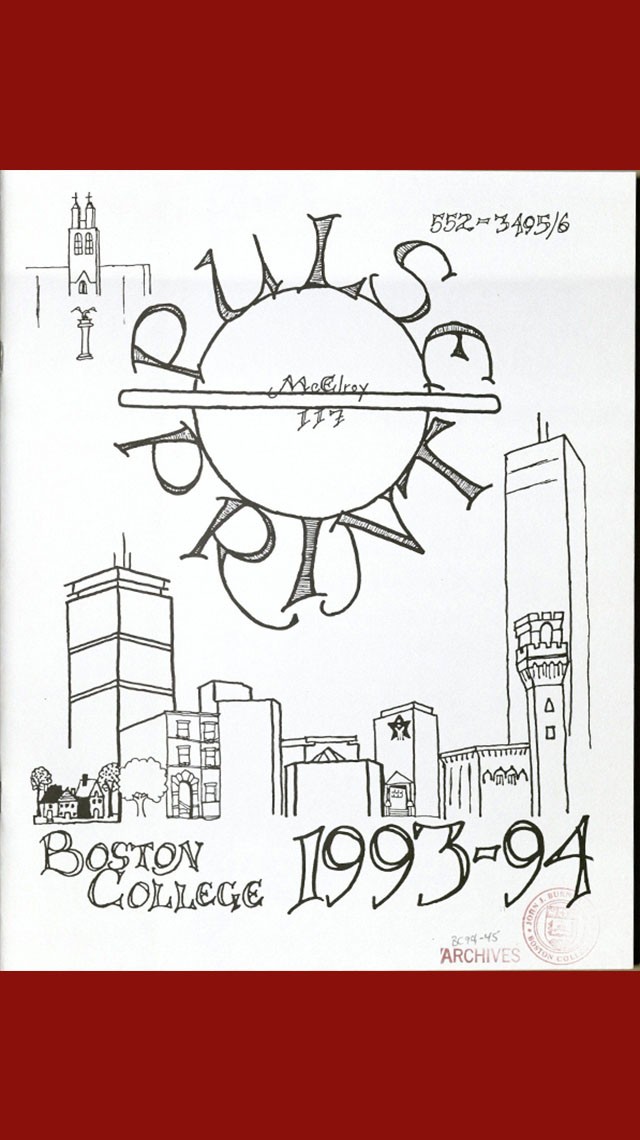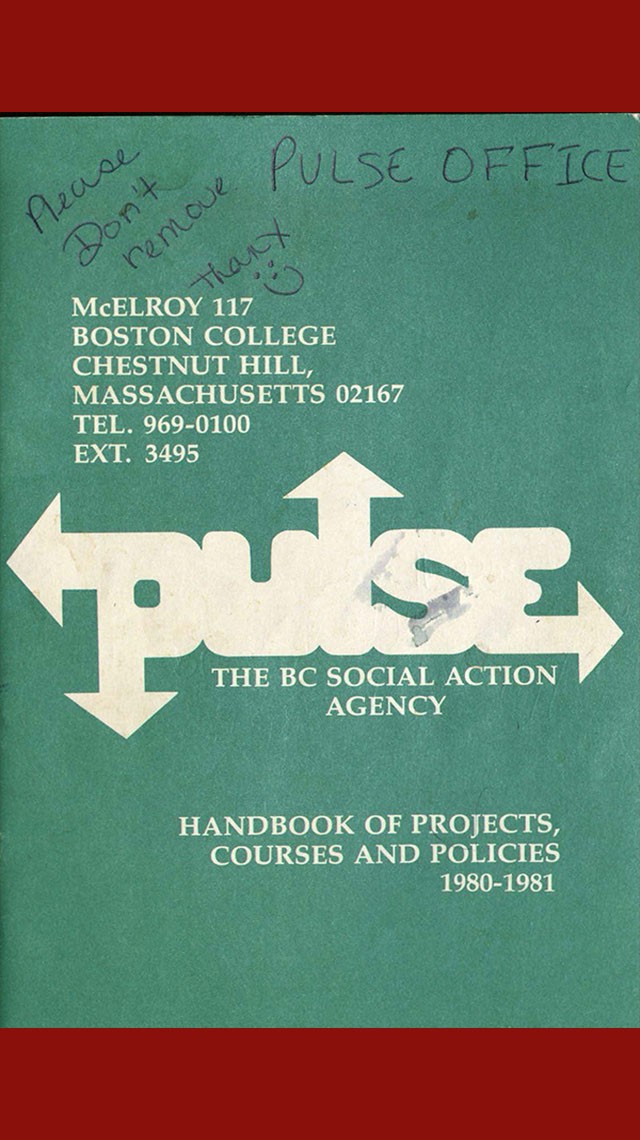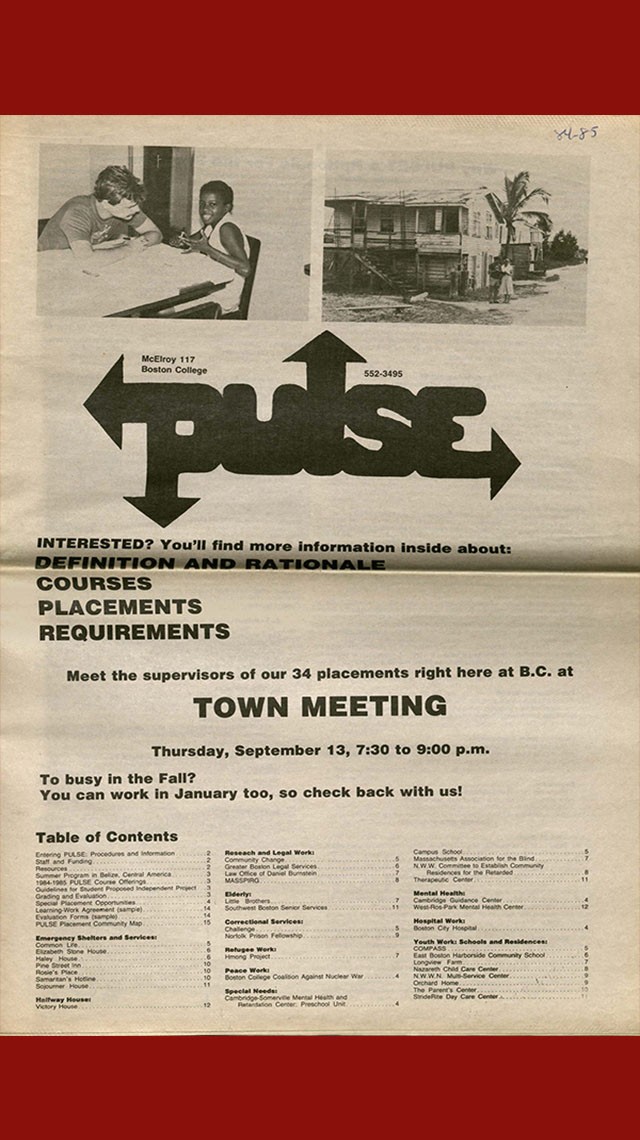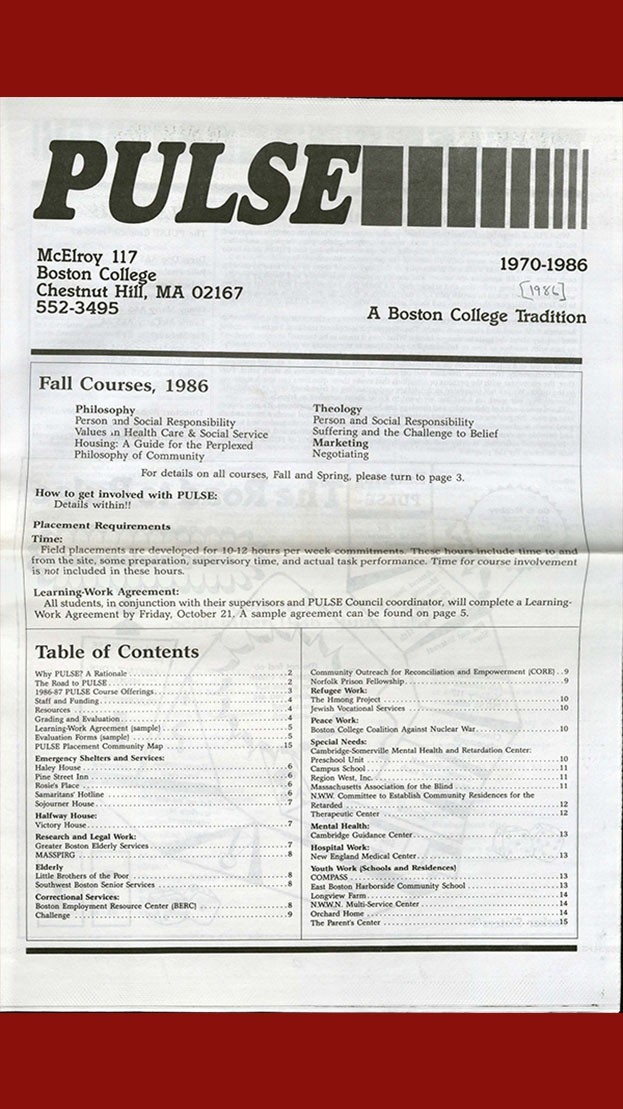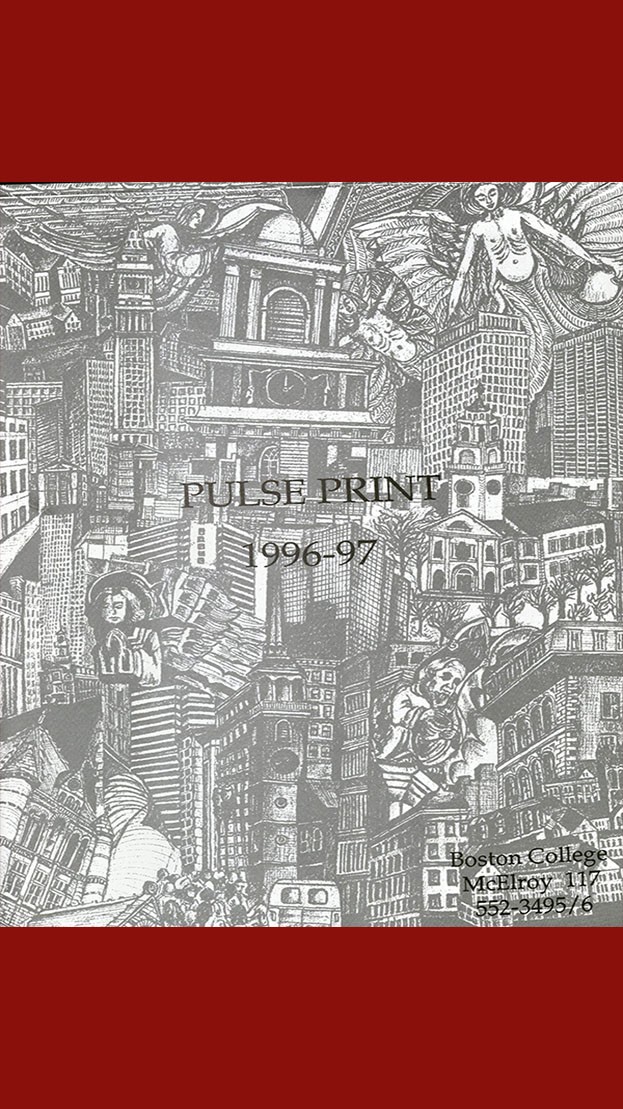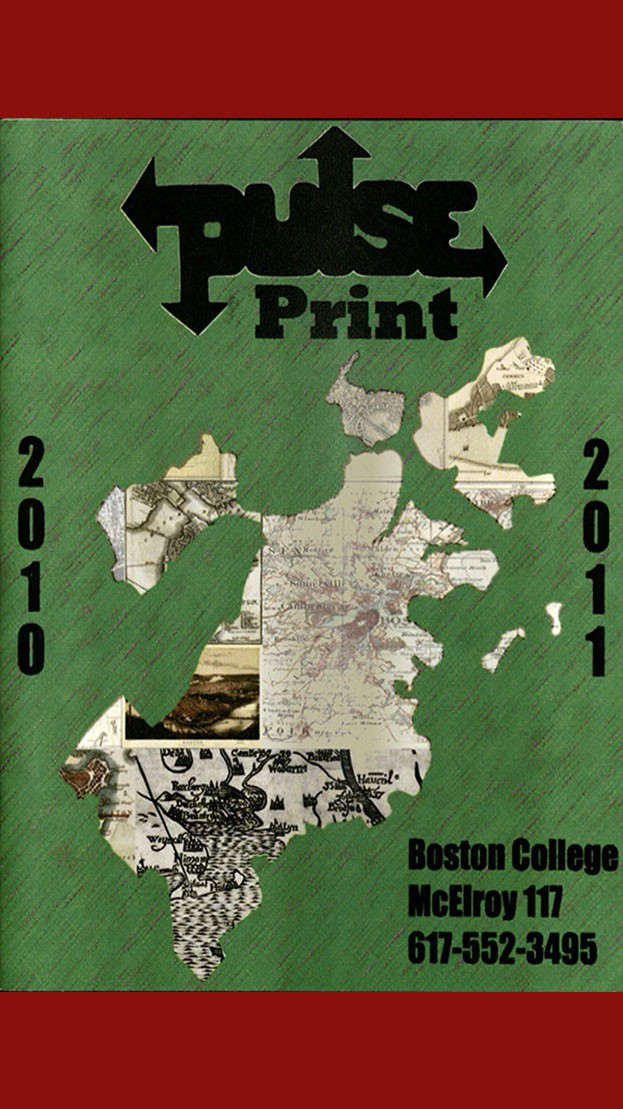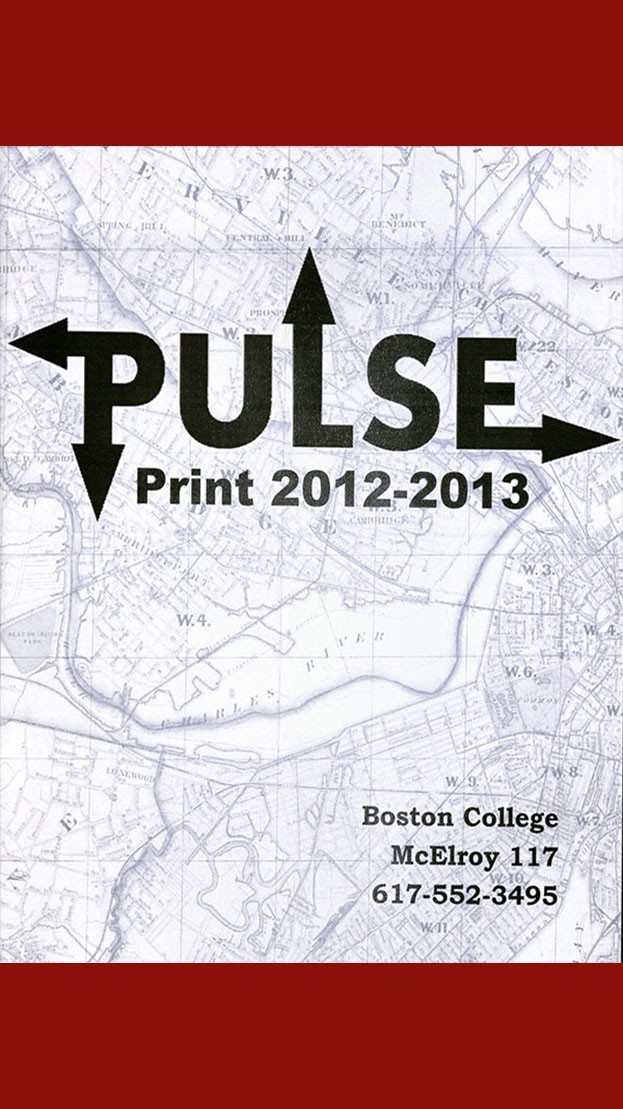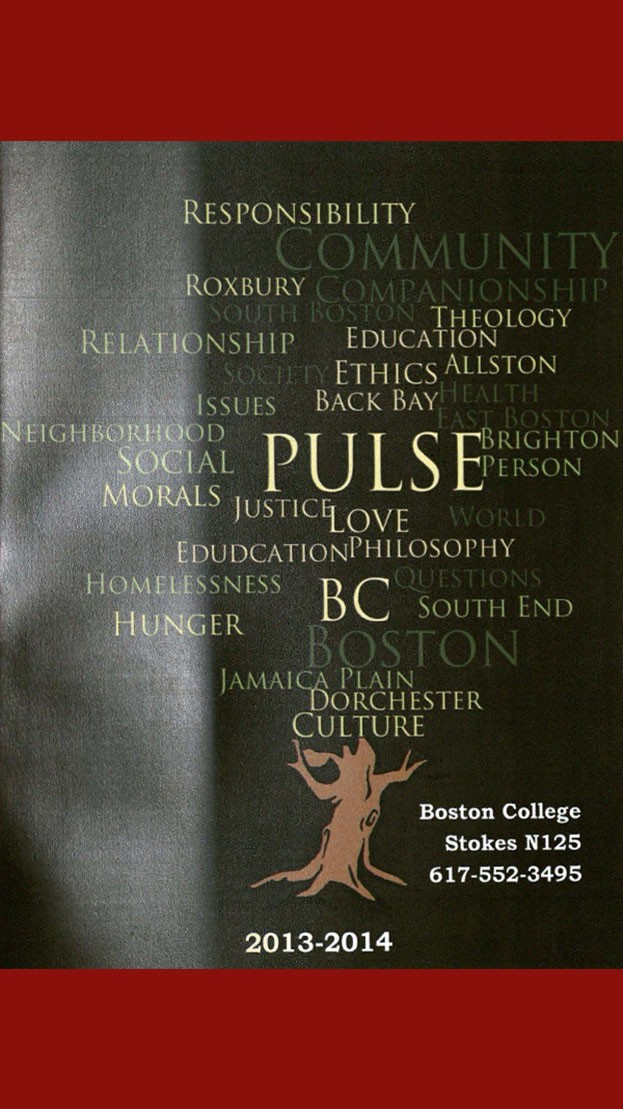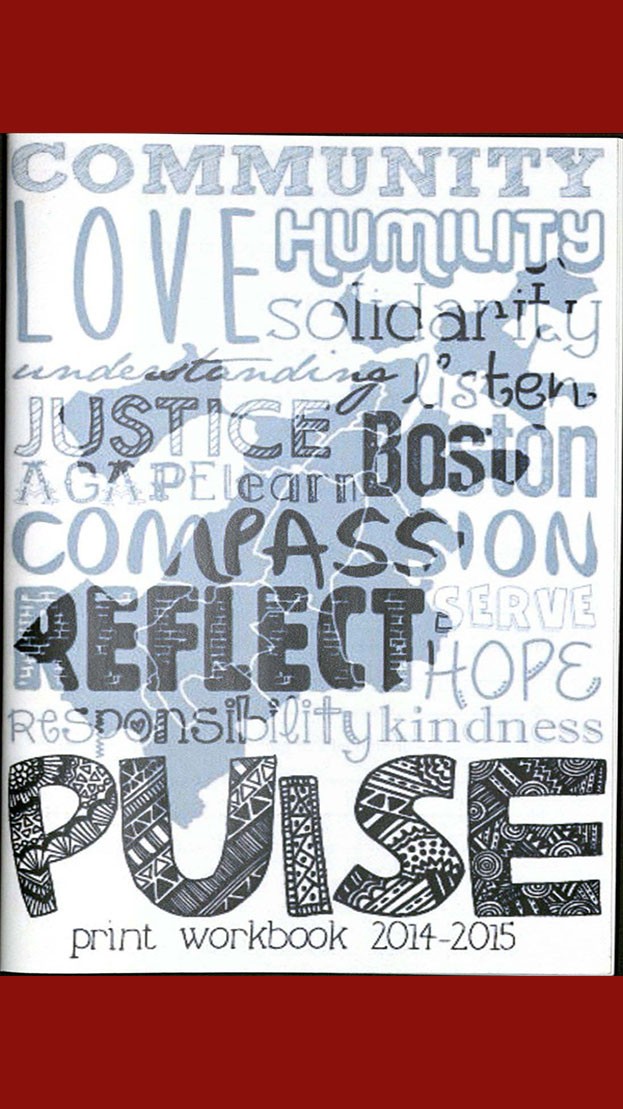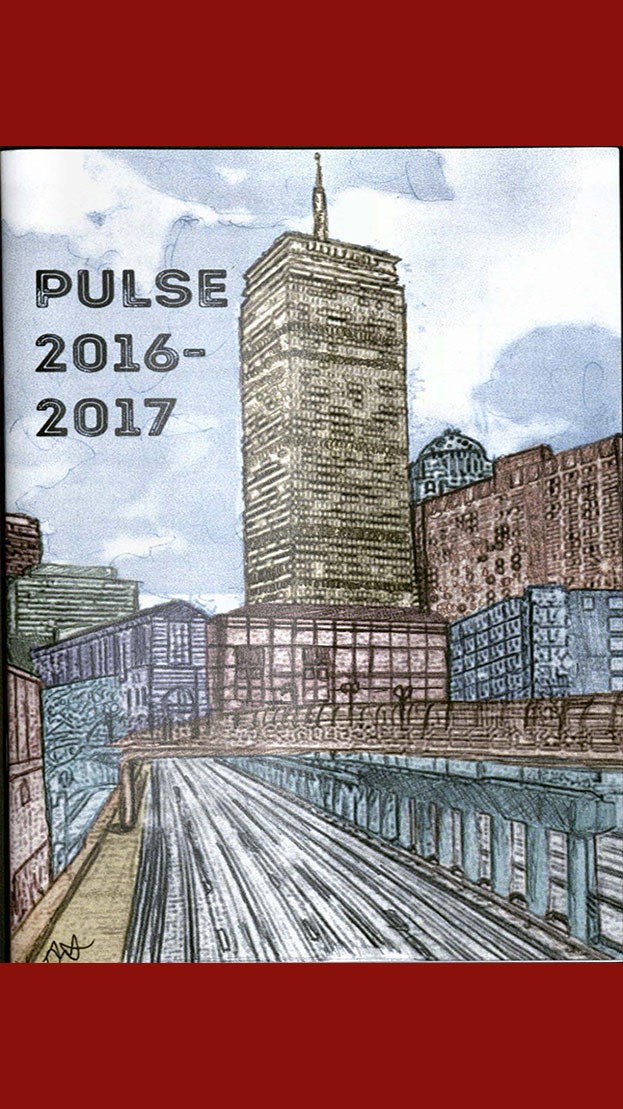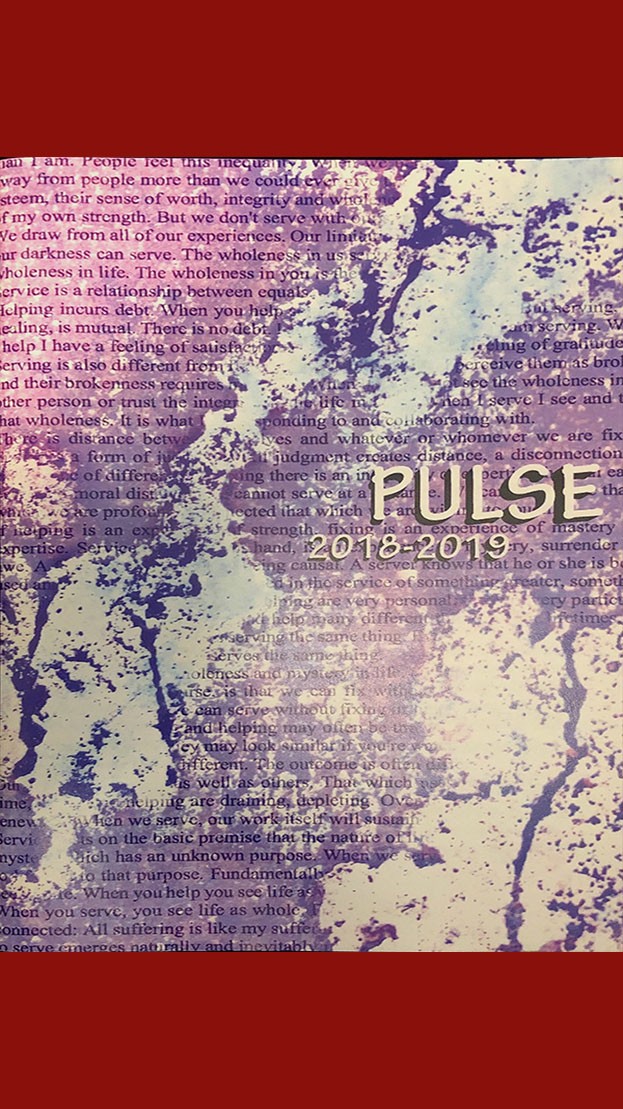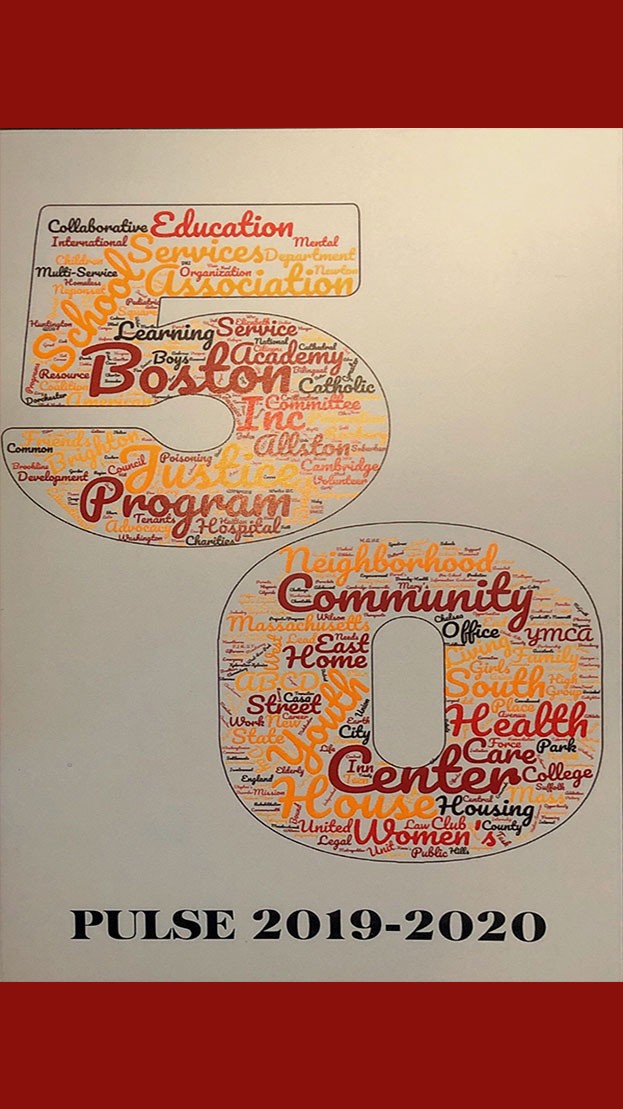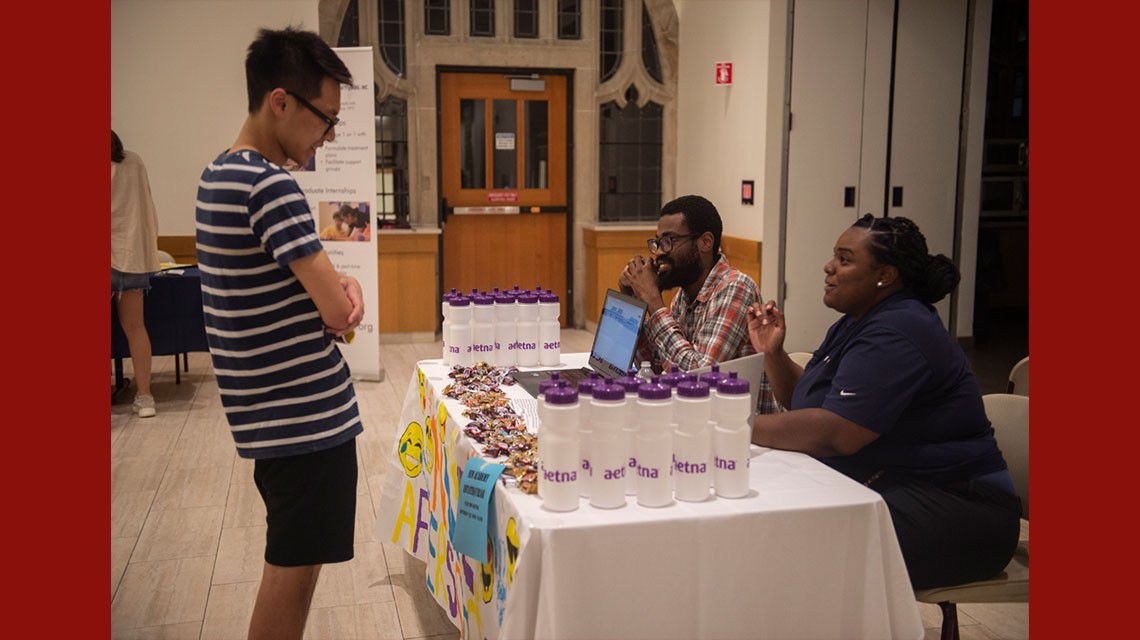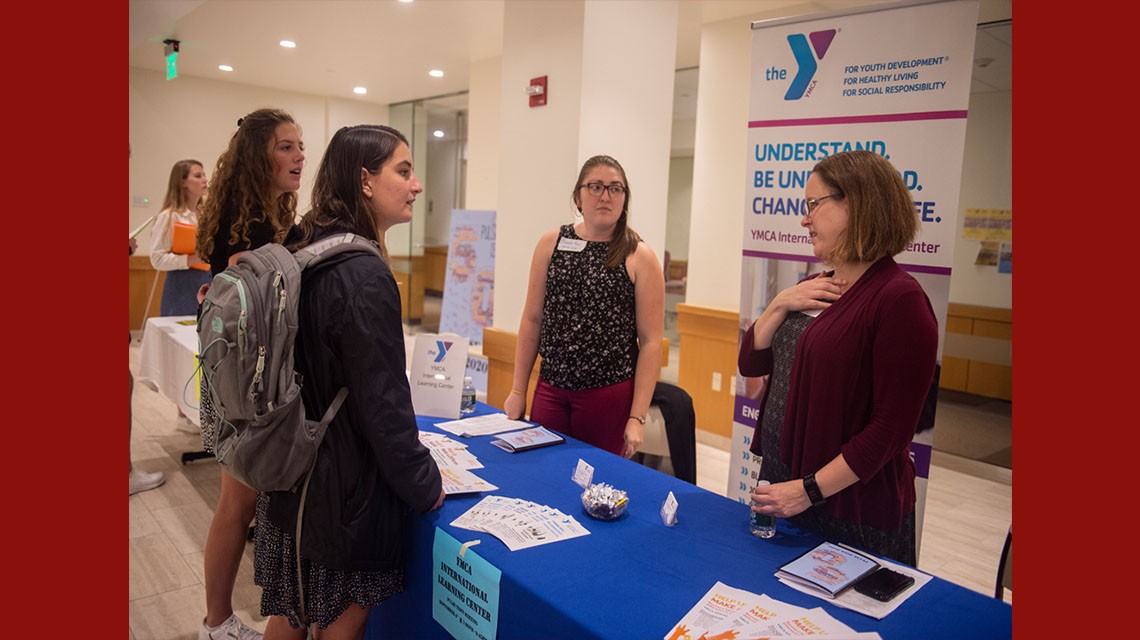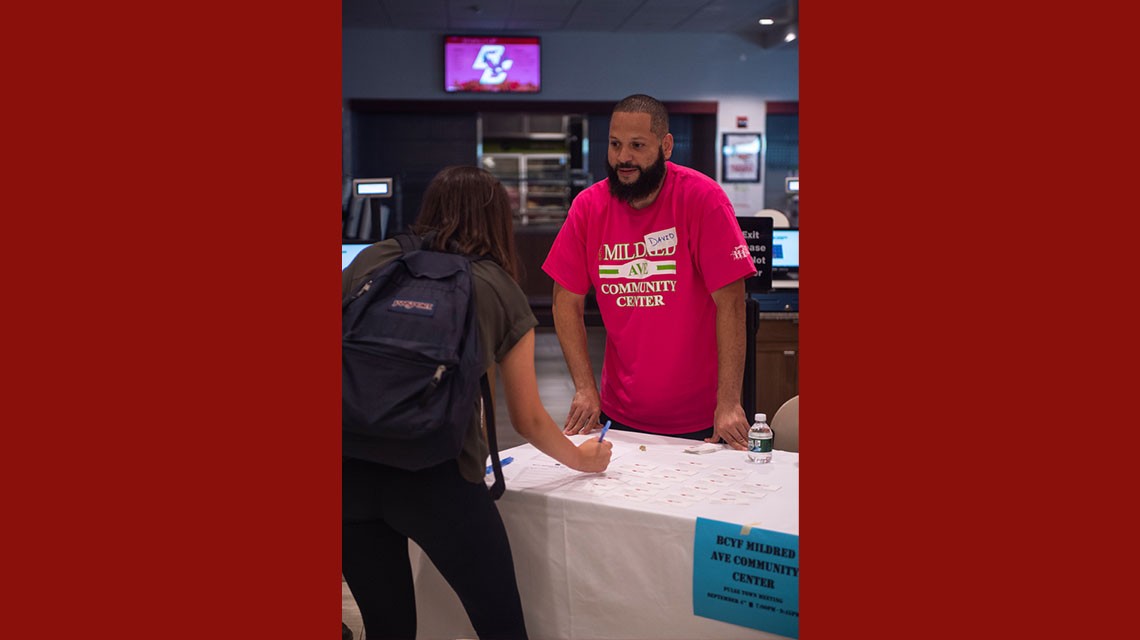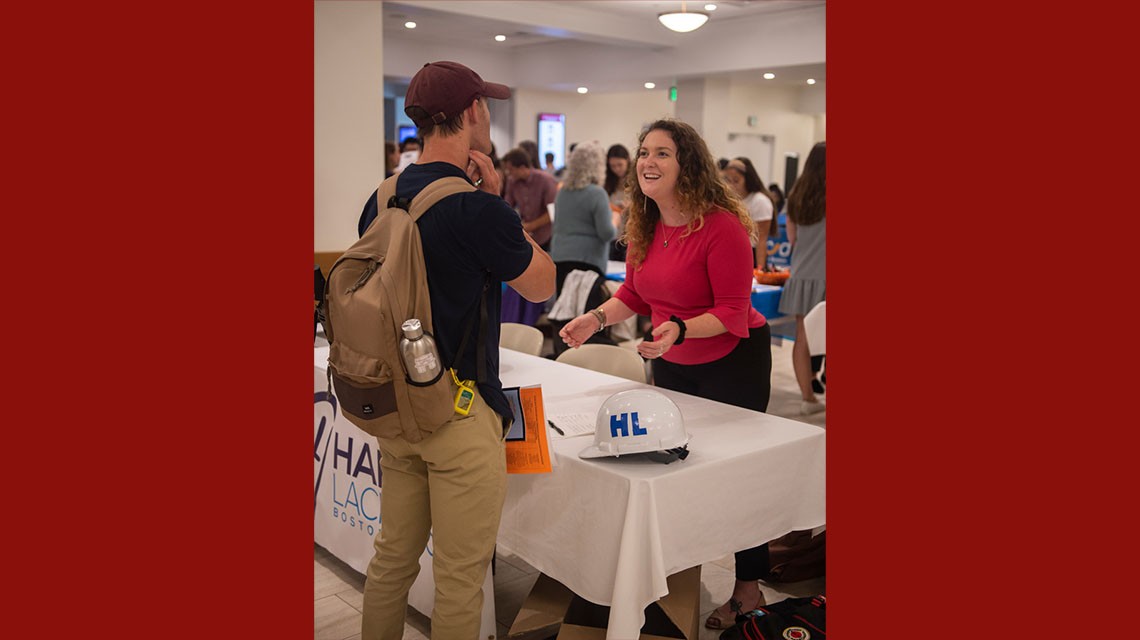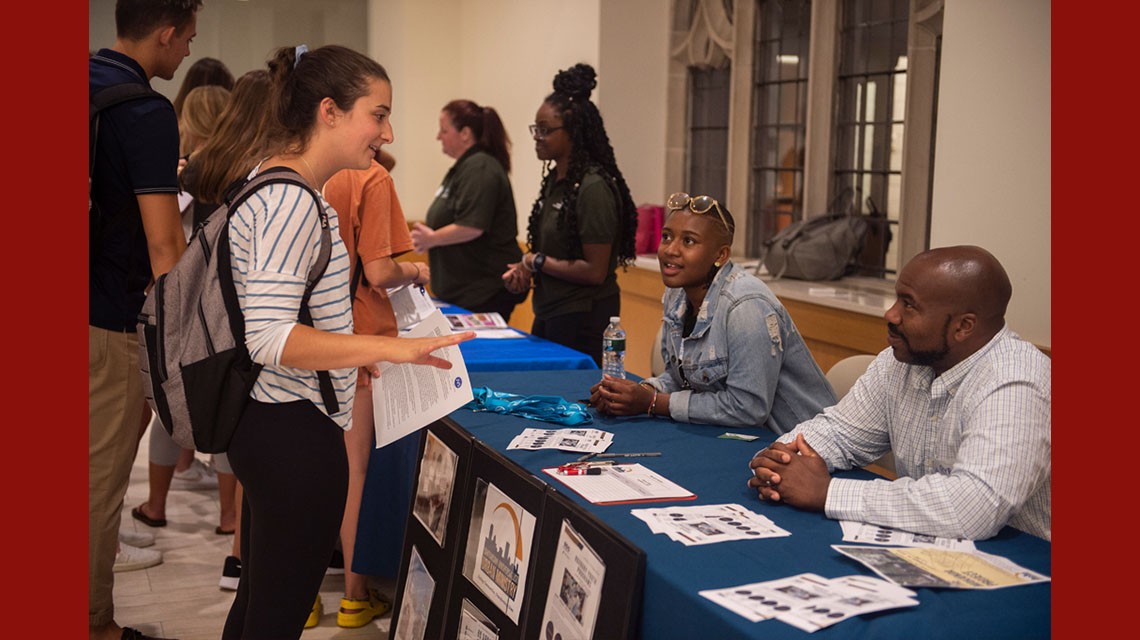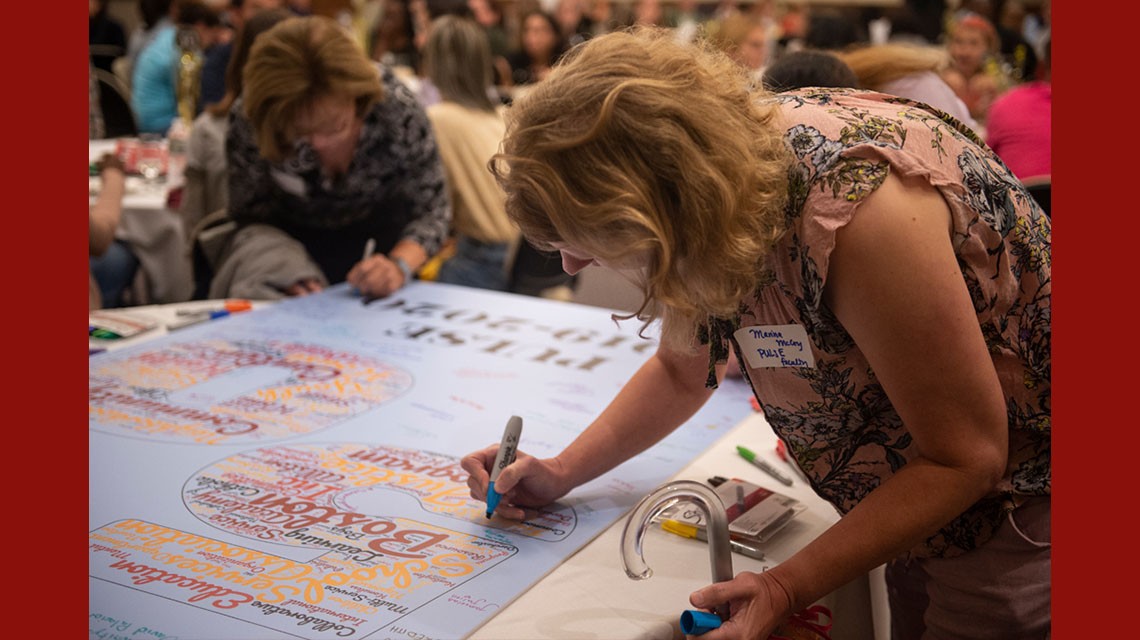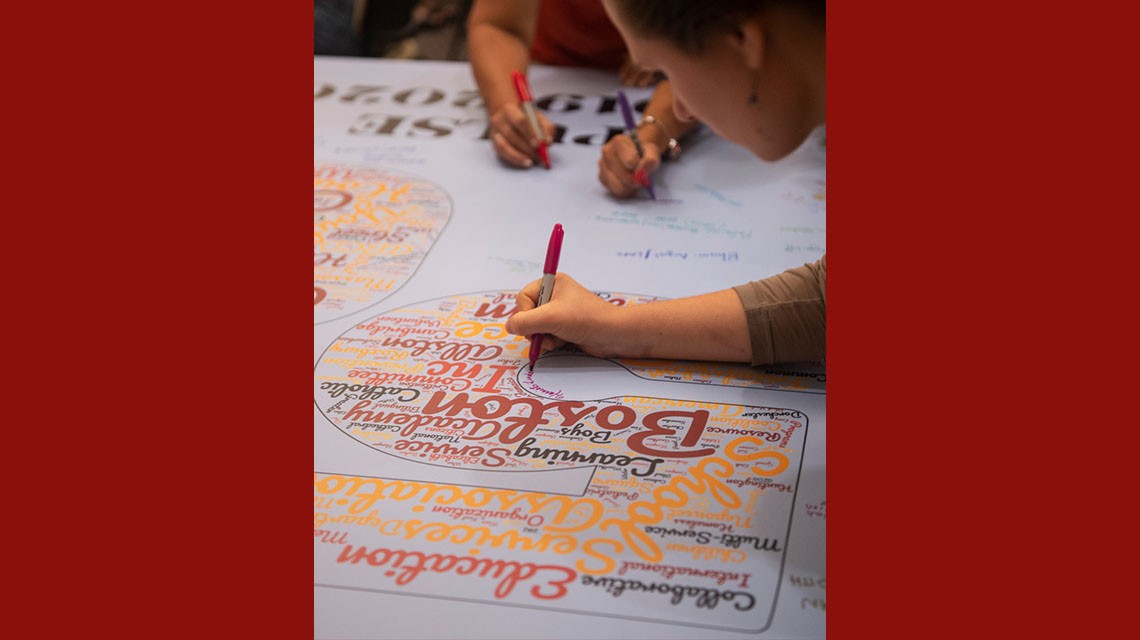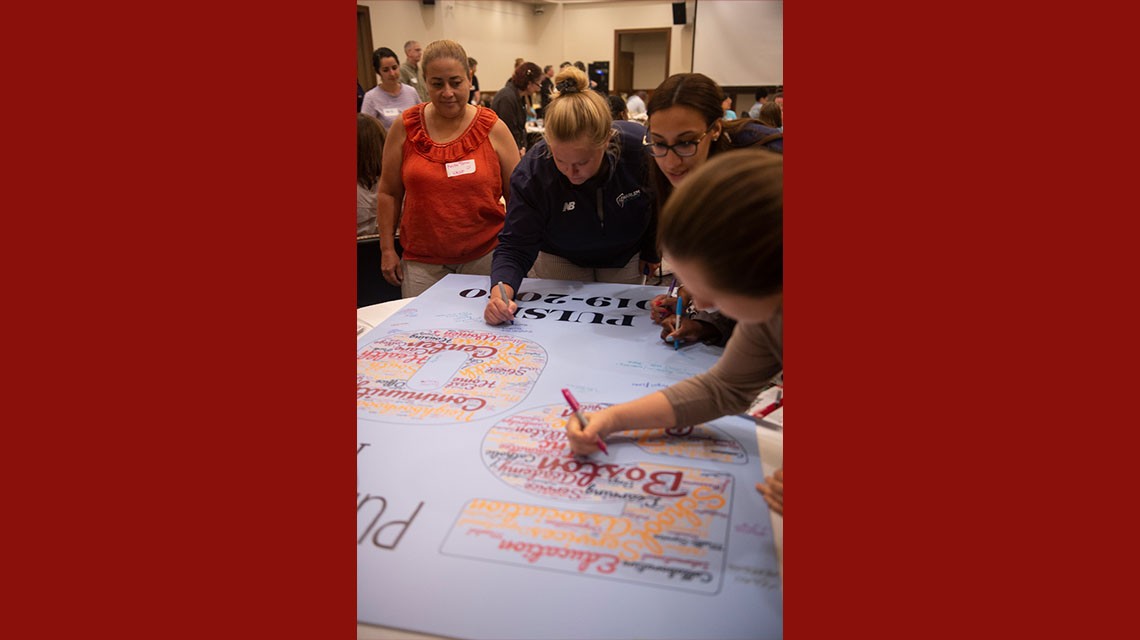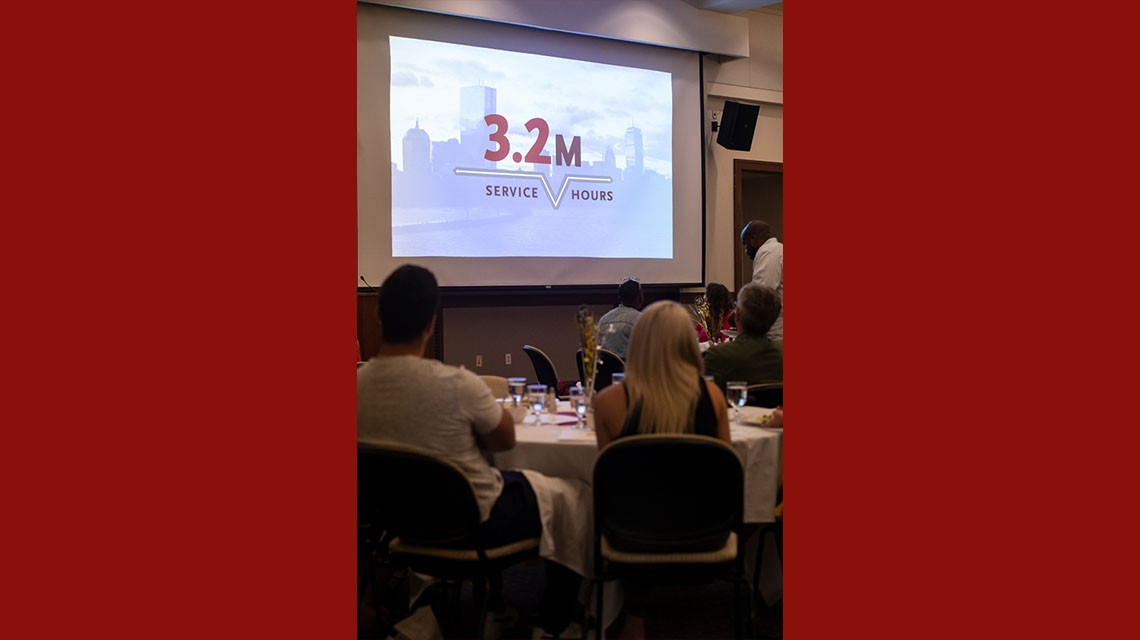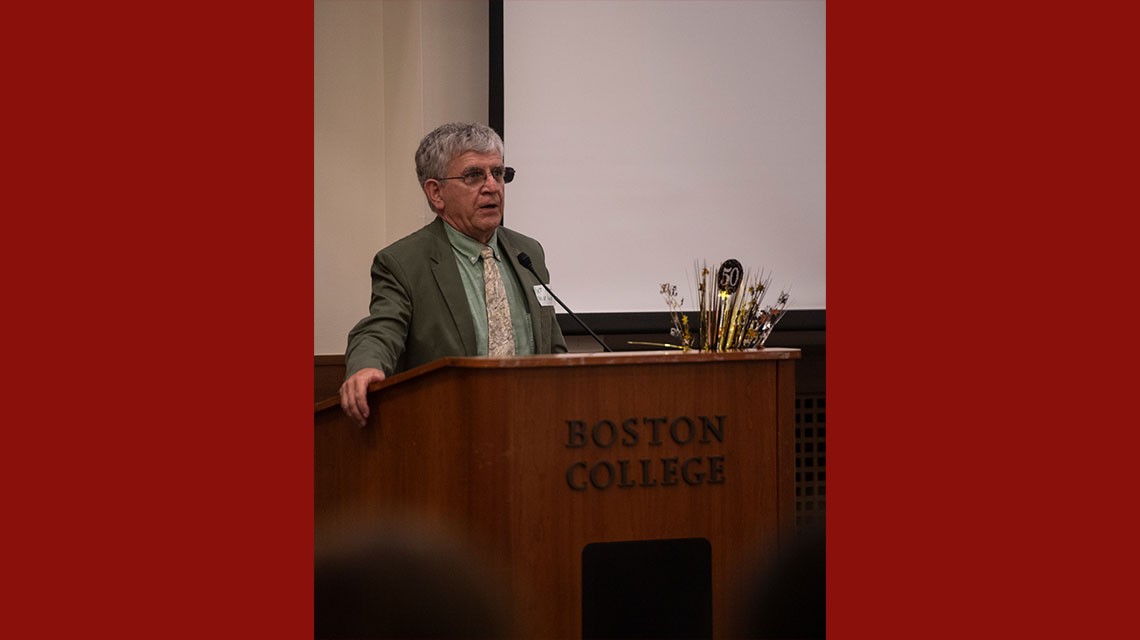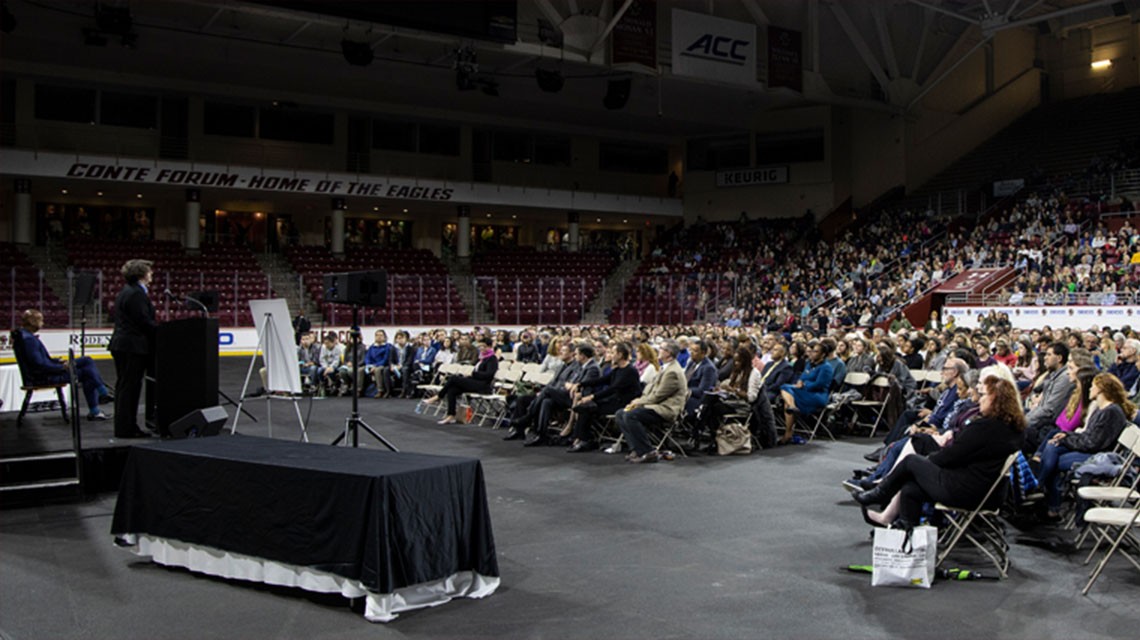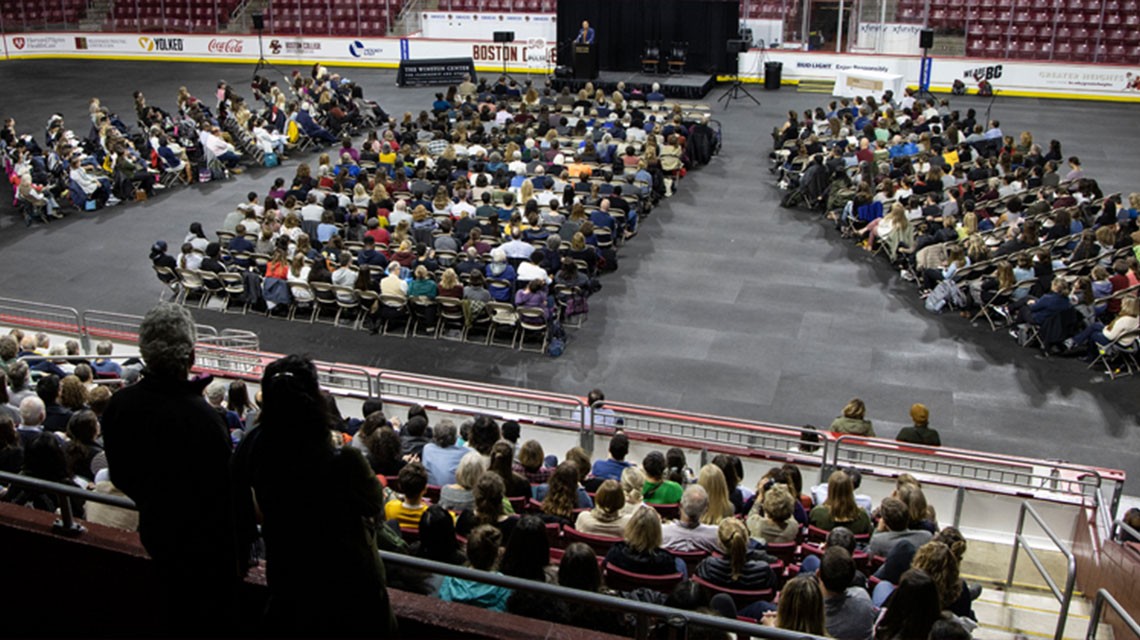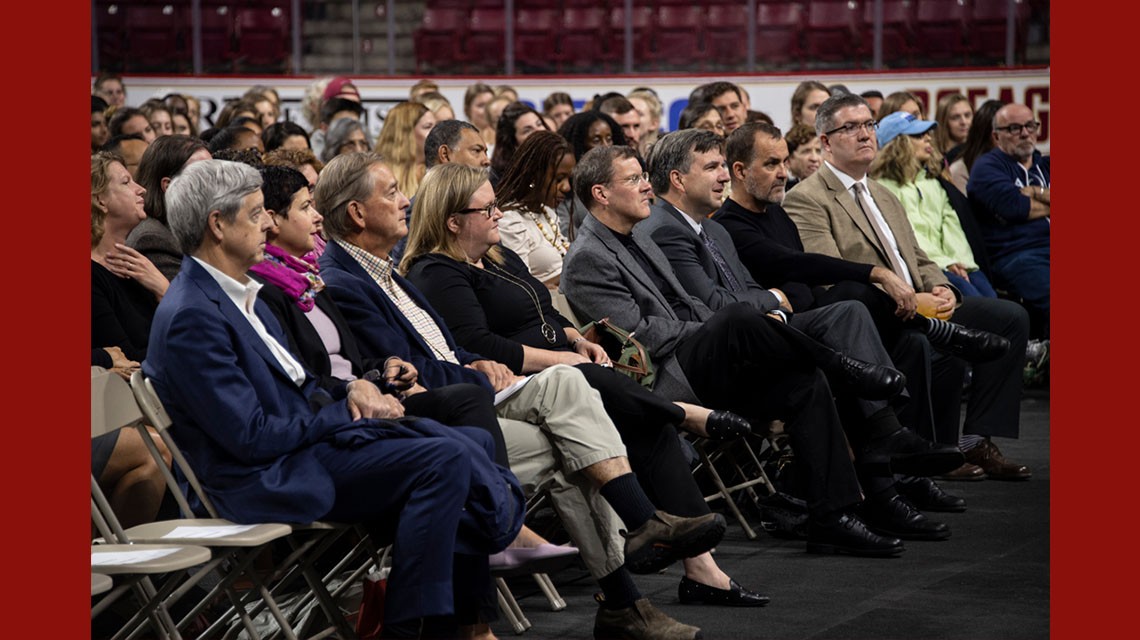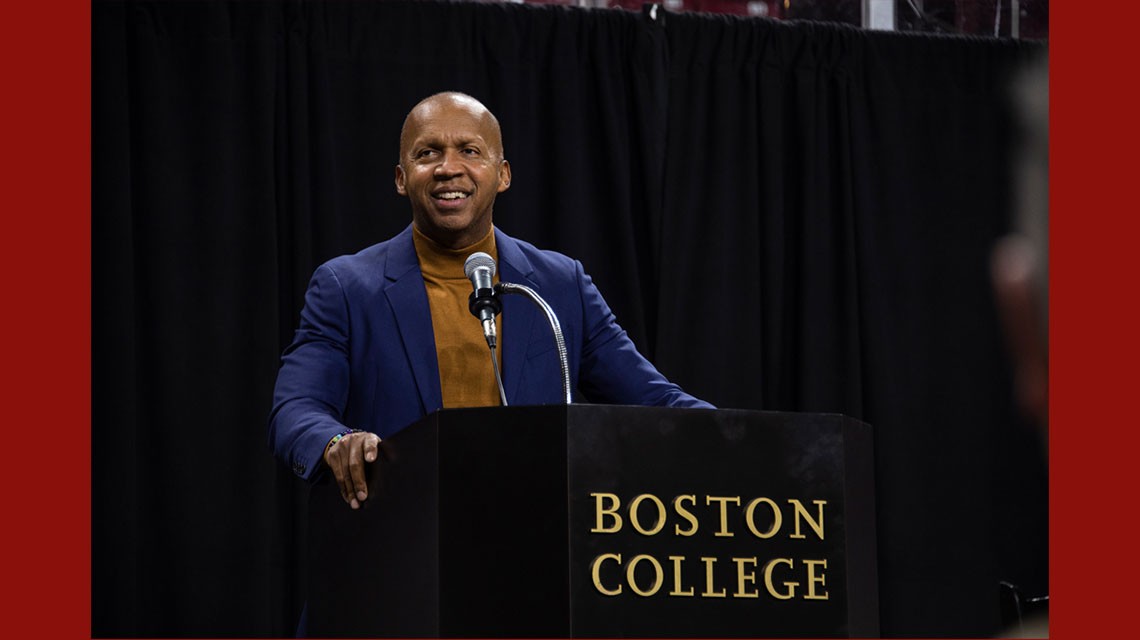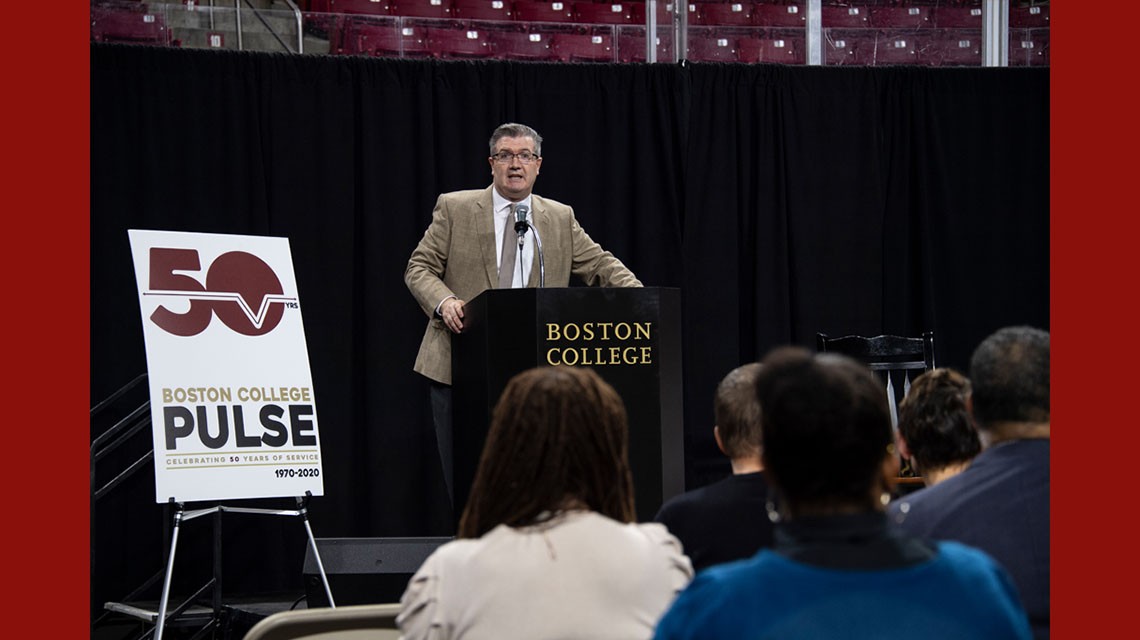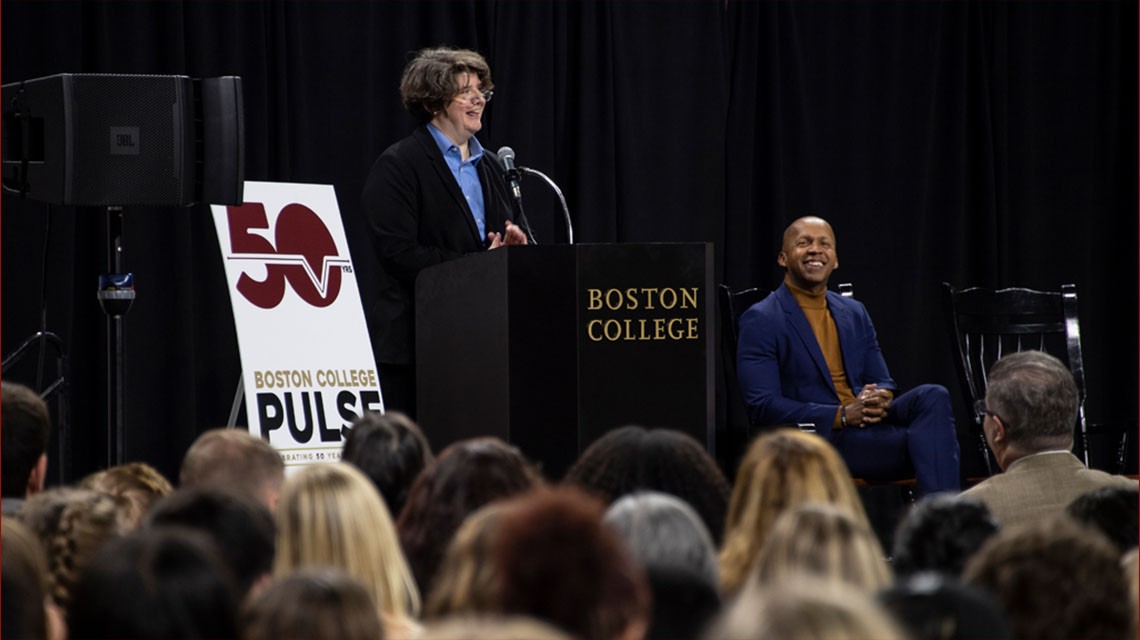 Photo Credit: Christopher Soldt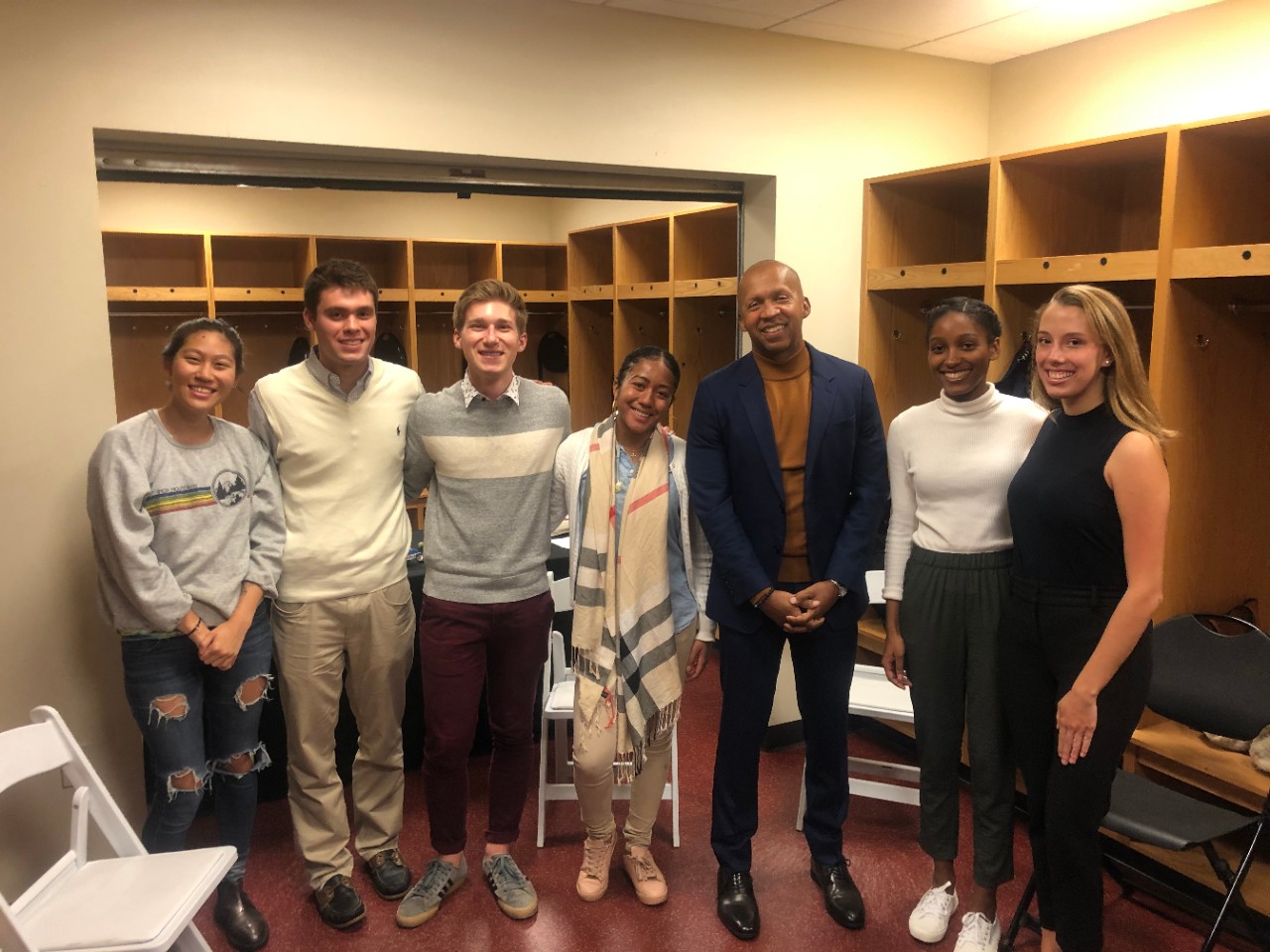 Photo Credit: Meghan T. Sweeney