Alumnus Profile: Brian Lauducci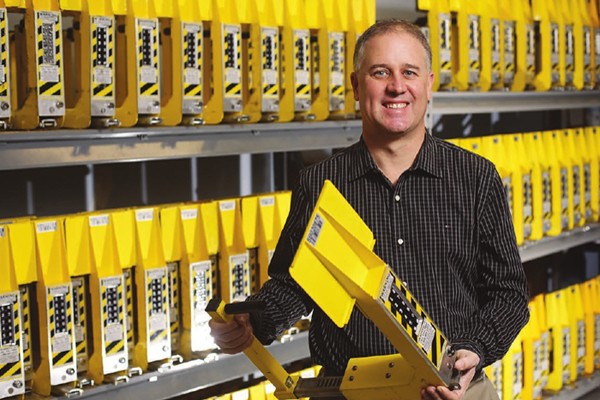 Basic Info
I was born in Omaha, NE in 1971 as the son of an Air Force father. I grew up in Alexandria, VA when my father was transferred to Washington DC. I currently live in Branchburg, NJ about 20 minutes from Rutgers. I've been married for 21 years to my college sweetheart from BC. We have 2 boys ages 16 and 13. I enjoy baseball, golf, skiing and I've been a men's NCAA basketball official at the Division 3 level where I've twice officiated in the D3 NCAA tournament.
What attracted you to BC? Ditto, Computer Science?
I was attracted to BC initially because of its athletic reputation and its location in Boston. I started as a Math major at BC, but quickly found the 2 majors closely linked. I chose to double major in Comp Sci and math by Sophomore year. Both of these departments were small at the time, but that allowed for very close relationships to build between faculty and students. By senior year, as President of the Math Society, I was organizing both educational and social events for students and faculty.
Did you have a special interest inside of CS? (e.g., database, data mining, compilers, programming, etc.)
I've written software for most of my career, but my particular interests have not been exclusively technical. I obtained an MBA from Rutgers in 2001 and have specialized in combining the 2 disciplines. Though this trend is currently changing, folks with excellent technical skills as well as business leadership skills are generally in short supply.
Where are you working now?
I currently work as an Executive Vice President of PayLock IPT in Somerville, NJ. We help city governments and other, related agencies with parking issues. I've worked at Paylock since 2006 when it was a startup. I started as a software developer and grew into the Department Director by 2009. In 2015, after successfully installing our solution in New York City, I moved on to my current role. I'm responsible for Engineering, Product Development and Client Services. This combination is not typical in most companies, but it reflects out company's willingness to be different and make the right matches for our people.
Do you feel your training at BC is directly applicable to your current work?
There is no doubt that BC prepared me well. Most young people with technical interests discount the value of a Liberal Arts education. That combination was critical for my growth. I was fortunate enough to participate in the University Honors Program as well. So in addition to the Math and Computer Science education I received, I also spent significant class time on the humanities reading about the great thinkers of Western Civilization. Not many people I've met in my career have that kind of background.
Do you have any special memories of your time at BC and/or the CS department?
My future wife and I took a robotics class our Senior year in which we had to program a robot to go down the hallway and purchase a soda from the soda machine. The computer lab consisted of about 10 machines at the time. We would not have met without the CS department. This sounds completely normal now, but in 1990 we met via E-mail. Look that up online and you won't see that being common for 1990. We both had a Computer class with Rob Gross and he provided us E-mail addresses as a part of the class. My wife was trying it out and sent me a message as we were just acquaintances at the time. That communication developed directly as a result of her E-mail which I still have a copy of.
What was the least-favorite part of your time at BC and/or the CS department? (Be gentle, now.)
It would have been great if the program was further along in its development at the time. The skills I learned were helpful from a thinking standpoint, but we were programming in Pascal. When I hit the job force, I had to pick up a whole new set of tools as soon as I started. This is certainly no longer the case anymore.
Any regrets? Would you have done anything differently?
There are so many different places you can go with a Computer Science degree. Be open to explore every single one of them if it's the right fit for you. I found a non-traditional path in my career and those kinds of opportunities are out there if you seek them out. Enjoy the time you have in college at BC as it will definitely be some of the best times of your life.