About the Park Street Corporation Speaker Series
The Park Street Corporation Speaker Series began at Boston College in Spring, 2016 with the goal of convening distinguished professionals, scholars, and activists from medicine, health care, and other related fields around timely subjects related to the intersections of health, humanities, and ethics. Past speakers include Dr. Paul Farmer, Nicholas Kristof and Sheryl WuDunn, and Rosemarie Garland-Thomson. For a complete list of past speakers, see our Event Archive.
All events are free and open to the public.
Sponsors
The Park Street Corporation Speaker Series in Health, Humanities, and Ethics is sponsored by the Park Street Corporation and by Boston College's Institute for the Liberal Arts.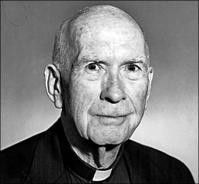 The Park Street Corporation and Fr. Robert Quinn
Father Robert F. Quinn, C.S.P. founded and directed the Park Street Corporation, which brought Boston business leaders together with the goal of improving local public education, health care, housing, courts and law enforcement. Father Quinn served as Chaplain of The Massachusetts House of Representatives for thirty years. A graduate of Boston College High School and St. Paul's College in Washington DC, he was ordained a Paulist Priest in 1953. He worked on numerous municipal committees, including the Governor's Advisory Committee for Housing and Community Development and The Advisory Committee for the Boston Housing Authority. He was also a member of The Archdiocesan Commission on Human Rights and a member of The Institutional Review Board at The Massachusetts General Hospital. Prior to his death in October 2015, Father Quinn was pleased that a portion of the corporation's assets would establish the Park Street Speaker Series in Health, Humanity and Ethics.