Reunion Committee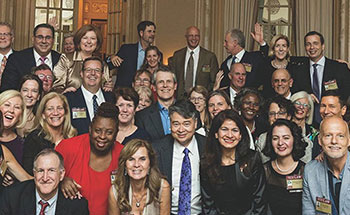 Committee members play a key role in contributing to each reunion's success by generating interest in the reunion weekend, planning events, promoting attendance, and encouraging classmates to participate in their Class Gift. Committees are formed the year before your reunion, and each member contributes on average two hours per month. By serving on your reunion committee, you help ensure that your entire class will enjoy a memorable gathering while building stronger ties to the school.
Roles and Responsibilities
Attend one conference call in April, May, June, September, and October.
Provide feedback on potential reunion events.
Make a contribution to the reunion class gift.
Recruit classmates to attend the reunion, and make every effort to do so yourself.
Encourage those same classmates to make a gift to BC Law.
Help recruit other classmates to join the Committee.
Collect updated contact information for classmates.

Contact Us
To join your Reunion committee, please contact:
Maggie Mansfield
Assistant Director, Annual Giving Programs, Law School
617-552-6263
margaret.mansfield.2@bc.edu