Lunch with a Leader
The Winston Center offers opportunities for students to meet with leaders in close quarters for lunch and informal conversation several times each year. An effort is made to invite student participants who have a demonstrated interest that is related to the leader's area of expertise. 
Are you alumni or a friend of Boston College and would like to share your career journey with current undergraduates? Email us at winston.center@bc.edu to learn how to get involved.
 NEXT LUNCH WITH A LEADER  WILL BE HELD IN SPRING 2024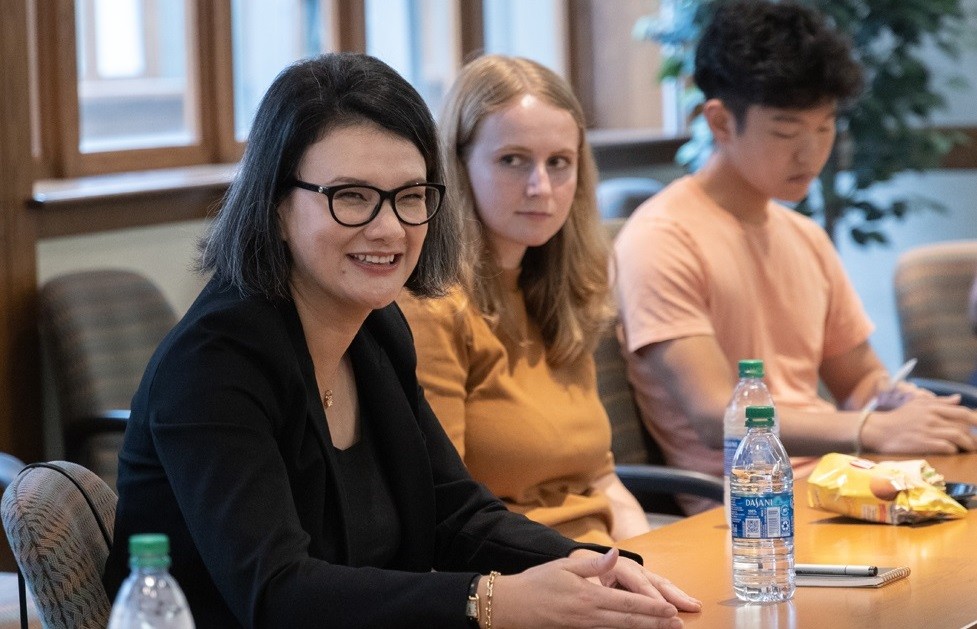 Donna Tiner, MSF'97, Vice President, Liberty Mutual Insurance
Robert Amen '71, President and CEO, International Flavors & Fragrances Inc.
Robert Bach, President of the Entertainment Devices Division, Microsoft, Chairman Emeritus, Boys and Girls Clubs of America 
Brad Bates, Director of Athletics, Boston College
Peter Bell '86, General Partner, Highland Capital Partners
John Benda, CDR, USN, 76th Commanding Officer, USS Constitution
Farah Bernier '02, Head of Diversity & Inclusion, Global Business and Portfolio Organizations, Google
D. Scott Brown, President and COO, Sage Products, Inc.
Greg Brown, President and CEO, Motorola
Sean Burke '94, Chief Marketing Officer of Solutions, GE Healthcare
Kevin Campbell, CSOM '82, Group Chief Executive for Outsourcing, Accenture
Jacqui Canney '89, Executive Vice President, Walmart, Inc.
Irene Chini, Research Fellow, Universita Ca' Foscari Venezia
Kate Clifford-Toomey '95, Chief Operating Officer for Corporate Risk , Wells Fargo 
Richard A.C. Coles '90, Managing Principal, Vanbarton Group
Peter Cronan '77, Regional Vice President, Merrill Corporation
Bob Davis, General Partner, Highland Capital Partners
Sean Donohue '83, Chief Executive Officer, Dallas/Fort Worth Airport
Linda Dorcena Forry '96, Massachusetts State Senator
Jere Doyle '87, Entrepreneur
Michael Dupee '90, Vice President for Corporate Social Responsibility, Green Mountain Coffee Roasters
Michael K. Durkin '77, President and CEO, United Way of Massachusetts Bay and Merrimack Valley
Nancy Erba, P'19, Vice President of Finance, Seagate Technology
Joe Essa, President, Wolfgang Puck Worldwide, Inc.
John F. Fish, Chairman and Chief Executive Officer, Suffolk Construction, Chair, Boston College Board of Trustees
Dan Fitzpatrick, President and CEO for Pennsylvania, New Jersey and Delaware, Citizens Bank
Jim Gibbons, President and CEO, Goodwill Industries International, Inc.
Kenneth Giuriceo '95, Partner, Clayton, Dubilier & Rice and Won Young Giuriceo '95, Treasurer, One Love Foundation
Andrew Glincher '80, CEO & Managing Partner, Nixon Peabody LLP
Brendan Hickey '95, Application Sales Representative, Oracle
Patricia Hillman, Executive Vice President, Fidelity Strategic Investments
Joseph L. "Jay" Hooley '79, Chairman, President, and Chief Executive Officer, State Street Corporation
Karen Kaplan, President, Hill Holliday
Al Kelly, President and Head of Global Consumer Group, American Express Company
Sam Kennedy, President, Fenway Sports Group
Daniel Koh, Chief of Staff, City of Boston
Jeff Larson '93, President, Mediassociates
Fr. William P. Leahy, S.J., University President, Boston College
Phil LeBeau, P'18, Emmy Award-winning reporter, CNBC
Andrea Lisher '96, Managing Director, J.P. Morgan
Jack Littman-Quinn '77, President and CEO, MarketBurst, LLC
Lindsay LoBue '96, Advisory Director, Goldman Sachs
James Loftus '00, Managing Partner, PayPal Ventures
Carolyn HON '90, and Peter Lynch '65, HON '95, Founders, Lynch Foundation
Dannel P. Malloy '77, Law'80, P'15, Governor of Connecticut (2011-2019)
Bill McKiernan '78, Founder, CyberSource Corporation
Chris Menard '00, Chief Financial Officer, Brightcove
Michael Millette, CGSOM '94, Managing Director and Head of Financial Institutions-Structured Finance Goldman Sachs, New York
Sergio Monsalve, P'26, Founding Partner, Roble Ventures
Robert J. Morrissey, Esq. '60, Senior Partner, Morrissey, Hawkins and Lynch
Beth Mowins, Announcer and Reporter, ESPN
Rupal Patel Poltack '94, President, Walton Enterprises, LLC
Joe Petrowski, CEO, Gulf-Cumberland Group
Rev. Edward J. Phillips, MM '68 (inaugural series speaker)
Bill Priemer '89, President and Chief Executive Officer, Hyland Software, Inc.
Christine M. Reynolds '80, President and COO, Fidelity Pricing and Cash Management Services Group
Phil Schiller '82, Senior Vice President, Worldwide Marketing, Apple
Tom Sebok, President and CEO, Young & Rubicam North America
Randy Seidl '85, Senior Vice President and General Manager, Enterprise Servers, Storage and Networking – Americas, Hewlett-Packard Company
Marc P. Seidner, CFA, '88, CIO of Non-Traditional Strategies, Managing Director, and Head of New York Portfolio Management, PIMCO
Donna Tiner, MSF'97, Vice President, Liberty Mutual Insurance
Steve Tumolo '84, Co-Founder & Executive Director, Heart to Heart
David Wajsgras, Senior Vice President and CFO, Raytheon
Janet Wang '99, Managing Director, Oaktree Management Capital     
Keith Wargo '90, Managing Director, Mizuho Bank and Anne Wargo, Consultant
Michael Welch, STM'87, LGSOE'93, CEO, UniBank
Mike White '74, Vice Chairman, PepsiCo, CEO, PepsiCo International
Benaree Wiley, Principal, The Wiley Group, Former President and CEO, The Partnership, Inc.
Norby Williamson, Executive Vice President, Programming & Acquisitions, ESPN
Grace Zuncic '05, Chief People Officer, Chobani