Benefactors
Through the generosity of our donors, the Winston Center meets its mission to prepare students for leadership in a global society through development programs and impactful speakers.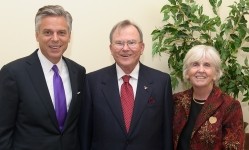 Robert '60 and Judy Winston
Bob Winston is a retired senior vice president and director of American Funds Distributors. Originally from Dedham, MA he attended Boston College graduating with a degree in Economics and joined the United States Army as a Distinguished Military Graduate and promoted to Captain. Bob received an MBA from the University of Pittsburgh in 1965 and moved with Judy to California to begin a successful career in the securities industry.
Bob has enjoyed a close association with Boston College for over 50 years. In addition to serving the University as a trustee, he served as class marshal for his class's 25th reunion and was a gift committee member for his class's 40th and 45th reunions.  He is also a member of the President's Circle Committee and was co-chair for Southern California during Boston College's Ever to Excel Campaign. Upon retirement, he spent three years on campus offering career guidance to over 500 students and alumni. He also received Boston College's most prestigious alumni honor, the William V. McKenney '15 Award and the James F. Cleary '50 Master Fund Raising Award.
Judy is a graduate of Merrimack College and has taught high school in Massachusetts and California. Bob and Judy now split their time between California and Massachusetts and attend many of the Center's programs each year.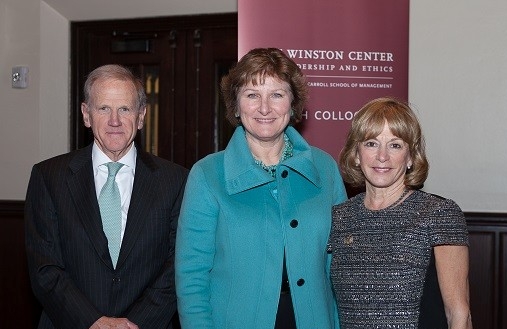 Charles '64 and Gloria Clough MDiv'90 MS'96
Chuck Clough serves as chairman, portfolio manager, and CEO of Clough Capital Partners, LP, an investment firm he founded in January 2000. Chuck graduated Magna Cum Laude in 1964 and went on to earn his MBA from the University of Chicago. Gloria Clough earned her MS from the Connell Graduate School of Nursing in 1996, and is retired from a career as a psychiatric nurse specialist in both a hospital setting and private practice. Three of their four children have attended and graduated from Boston College.
Chuck was elected to the Boston College Board of Trustees in 1994 and served as the board's chairman from 1999 until 2002. In 2010 Chuck received the James F. Cleary '50, H'93 Masters Award for his lifetime of service to Boston College, which includes 17 years as a trustee and as a co-chair of the Light the World campaign.
Chuck and Gloria continue to play an active part in the Winston Center as well as other areas on campus.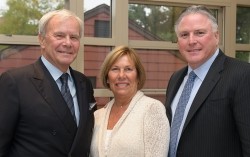 Norman MBA'82 and Monever Chambers
Norm Chambers retired in 2017 as chairman, CEO, and president of NCI Building Systems, Inc., which he joined in April 2004. Norm has held many senior-level positions over the years, including president and COO of Comfort Systems USA, Inc. and senior vice president and president at Halliburton Company.
Based on his 35 years of experience in engineering and construction management, Norm served on the Board of Trustees for Springfield College from 2005 to 2011. Also, in 2011, Norm was appointed director of the Business Executives for National Security and named chairman of the Let's Rebuild America Council of the US Chamber of Commerce.

Norm earned a BA from Springfield College and an MBA in 1982 from the Carroll Graduate School of Management. Norm and Monever have two children.
Support the Winston Center
If you would like to make a contribution in support of The Winston Center, please contact Renee DeCesare at renee.decesare@bc.edu or 617-552-2234.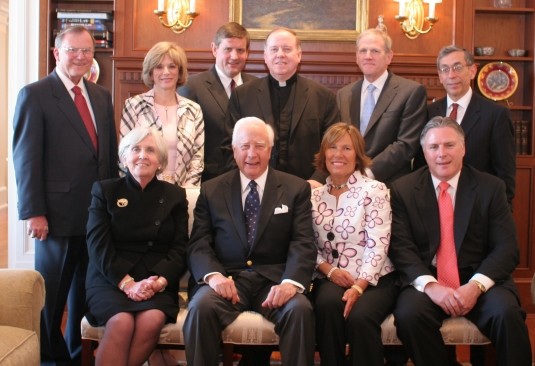 Back Row: Robert Winston, Gloria Clough, Dean Andy Boynton, University President William P. Leahy, S.J., Charles Clough, Former University Provost Bert Garza  Front Row: Judy Winston, Inaugural Clough Colloquium guest speaker David McCullough, Monever and Norman Chambers