Event Archive: 2012-2013
Did you miss a Clough Center event? Explore our archive below for past event information and visit our YouTube page for videos of recent conferences and lectures. 
FALL 2012 LECTURES & CONFERENCES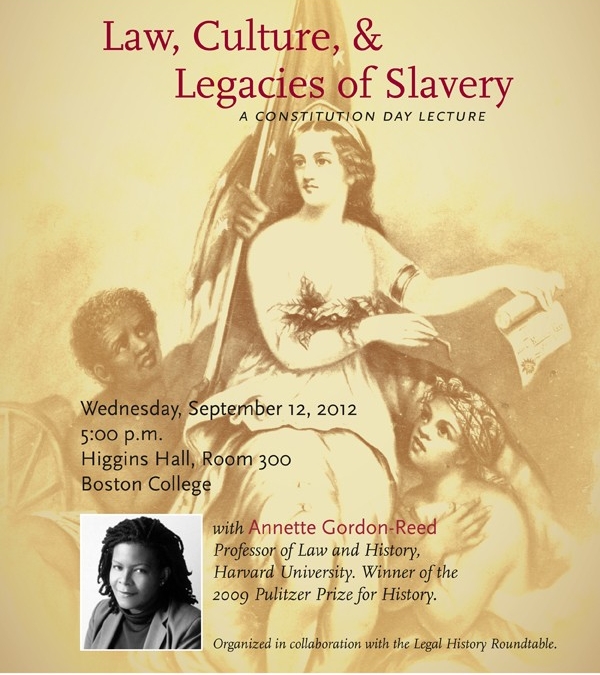 Law, Culture, & Legacies of Slavery  with Annette Gordon-Reed
Wednesday, September 12, 2012
5:00 p.m.
Higgins Hall, Room 300
Annette Gordon-Reed is the Carol K. Pforzheimer Professor at the Radcliffe Institute for Advanced Study, Professor of History, and Charles Warren Professor of American Legal History Law at Harvard University. A renowned and prestigious historian and legal scholar, she has taught at New York Law School as the Wallace Stevens Professor of Law and Rutgers, the State University of New Jersey where she was Board of Governors Professor of History. Her book, The Hemingses of Monticello: An American Family (2008) won numerous awards including the National Book Award and Pulitzer Prize for history. Gordon-Reed is the author of numerous other books and articles including Race on Trial: Law and Justice in American History (2002), Thomas Jefferson and Sally Hemings: An American Controversy (1997), which was a nonfiction finalist for the First Annual Library of Virginia Literary Awards, and most recently a biography of president Andrew Johnson (2011).
She has received numerous honors and prestigious fellowships including the National Humanities Medal in 2009, a Guggenheim Fellowship in the humanities (2009), a fellowship from the Dorothy and Lewis B. Cullman Center for Scholars and Writers at the New York Public Library (2010–2011), a MacArthur Fellowship (2010), and the National Organization for Women in New York City's Woman of Power and Influence Award (1999).
Professor Gordon-Reed received a JD from Harvard Law School and an AB from Dartmouth College. Prior to becoming an academic, she was counsel to the New York City Board of Correction and was an associate at Cahill, Gordon, and Reindel.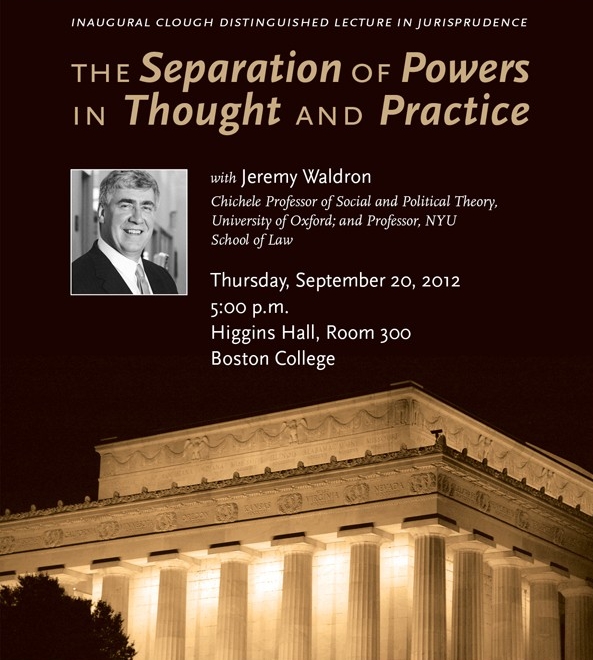 The Separation of Powers in Thought and Practice with Jeremy Waldron
Thursday, September 20, 2012
5:00 p.m.
Higgins Hall, Room 300
Jeremy Waldron is Chichele Professor of Social and Political Theory at All Souls College, University of Oxford and University Professor of Law, New York University School of Law. He earned his BA in Philosophy and LL.B. at the University of Otago, New Zealand and a D.Phil. in Law from Oxford University. Professor Waldron has published numerous books and articles, including The Right to Private Property (1988); God, Locke, and Equality: Christian Foundations of Locke's Political Thought (2003); and Torture, Terror, and Trade-offs: Philosophy for the White House (2010). Waldron's articles have appeared in the Harvard Law Review, Yale Law Review, and Law and Philosophy. His most recent book, The Harm in Hate Speech (2012), argues "powerfully that hate speech should be regulated as part of our commitment to human dignity and to inclusion and respect for members of vulnerable minorities." He is also the recipient of the Phillips Prize,for Lifetime Achievement in Jurisprudence, from the American Philosophical Society in 2011 and was a fellow at the British Academy in the same year.
Prior to teaching at Oxford and NYU Law, Professor Waldron taught at Lincoln College, Oxford, University of Edinburgh, and has been Professor of Law in the Jurisprudence and Social Policy Program, University of California at Berkeley School of Law, Laurence S. Rockefeller University Professor of Politics, Princeton University, and University Professor, Columbia University.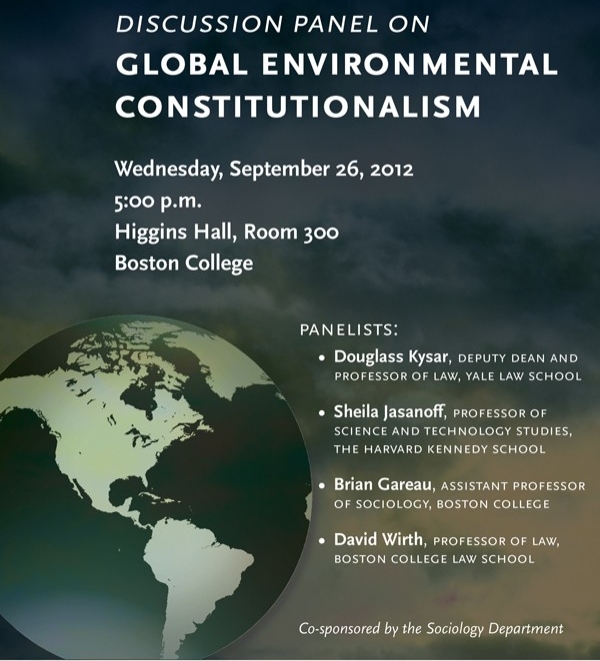 Global Environmental Constitutionalism Panel
Wednesday, September 26, 2012
5:00 p.m.
Higgins Hall, Room 300
Douglass Kysar is Deputy Dean and Joseph M. Field '55 Professor of Law at Yale Law School. His teaching and research areas include torts, environmental law, and risk regulation. He received his B.A. summa cum laude from Indiana University in 1995 and his J.D. magna cum laude from Harvard Law School in 1998 where he served on the student board of advisors. He has published articles on a wide array of environmental law and tort law topics, and is co-author of a leading casebook, The Torts Process, and Economics of Environmental Law (2009). He is sole author of Regulating from Nowhere: Environmental Law and the Search for Objectivity (2010), which "seeks to reinvigorate environmental law and policy by offering novel theoretical insights on cost-benefit analysis, the precautionary principle, and sustainable development." Before arriving at Yale, Professor Kysar was an associate at Foley, Hoag & Eliot LLP, aVisiting Scholar at Universitat Pompeu Fabra in Barcelona, Spain, a Visiting Professor at Harvard Law School, UCLA Law School, New York University School of Law, and a Professor at Cornell Law School.
Sheila Jasanoff is Pforzheimer Professor of Science and Technology Studies at the Harvard Kennedy School. A pioneer in her field, she has authored more than 100 articles and chapters and is author or editor of a dozen books, including Controlling Chemicals (1985), The Fifth Branch (1990), Science at the Bar (1995), and most recently Designs on Nature(2005). Jasanoff's articles have appeared in journals such as Science and Public Policy andSociety. Her work explores the role of science and technology in the law, politics, and policy of modern democracies, with particular attention to the nature of public reason. She has received numerous grants and awards from the National Science Foundation, the Ford Foundation, the Alfred P. Sloan Foundation, the National Endowment for the Humanities, and the Rockefeller Foundation. Professor Jasanoff is also the recipient of fellowships from the American Council of Learned Societies, Cornell University, and the German Marshall Fund. Before teaching at Harvard, Jasanoff was an associate at environmental law firm Bracken, Selig and Baram in Boston and a Senior Research Associate and later Professor in the Program on Science, Technology & Society at Cornell University.
Brian Gareau is an Assistant Professor of Sociology and International Studies at Boston College. He received his BA in Social Science from Providence College, a MS in Environmental Science and Regional Planning from Washington State University, and a Ph.D. in Sociology from University of California, Santa Cruz. His forthcoming book, From Precaution to Profit: Contemporary Challenges to Environmental Protection in the Montreal Protocol, "focuses on the linkages between globalization, science, and politics in global environmental governance by investigating the Montreal Protocol on Substances that Deplete the Ozone Layer." Professor Gareau has also published a number of book chapters and articles, the latter appearing in Capitalism, Nature, Socialism, Social Science Quarterly, Sustainability, and Environmental Politics. He is also the recipient of the Eric Wolf Prize from The Political Ecology Society (PESO) for the best article-length paper based on dissertation research and numerous teaching awards.
David Wirth is Professor of Law at Boston College Law School, where he serves as Director of International Programs. He received his AB from Princeton University, an AM from Harvard University, and a J.D. from Yale Law School. While at Yale, Professor Wirth was editor of the Yale Journal of World Public Order. He is the author of numerous articles concerning international legal issues, which have appeared in American Journal of International Law, University of Chicago Legal Forum, and Environmental Science and Technology. Wirth has a forthcoming chapter entitled "The President, the Environment, and Foreign Policy: The Globalization of Environmental Politics" which will appear in The Presidency and the Environment: The Twentieth Century and Beyond. Before arriving at Boston College Law School, Professor Wirth served as law clerk to Judge William H. Timbers, U.S. Court of Appeals for the Second Circuit, New York and was a faculty member at Washington and Lee University Law School. He has also taught at Harvard and Oxford Universities, the University of Virginia, and the Massachusetts Institute of Technology.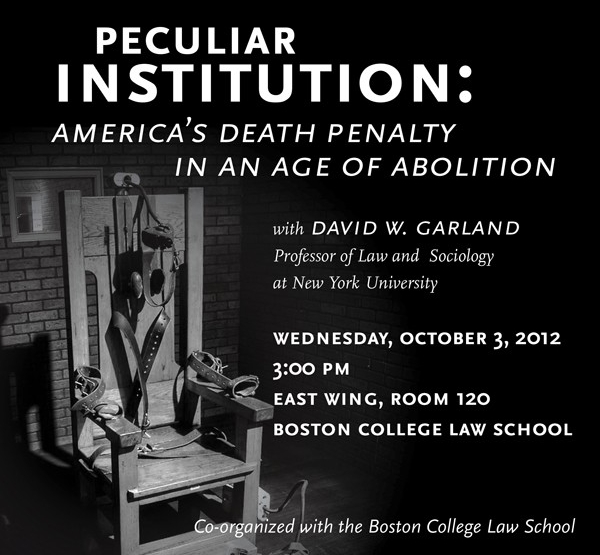 Peculiar Institution: America's Death Penalty in an Age of Abolition with David Garland
Wednesday, October 3, 2012
3:00 p.m.
East Wing, Room 120
Boston College Law School, Newton Campus
Professor David W. Garland, widely considered one of the world's leading sociologists of crime and punishment, joined the New York University School of Law faculty in 1997. He was previously on the faculty of Edinburgh University's Law School, where he had taught since 1979, being appointed to a personal chair in 1992. At New York University School of Law , he also holds a joint appointment as professor of sociology in the College of Arts and Sciences, where he teaches graduate classes in social theory and an undergraduate course in criminology. Read more about Professor Garland >>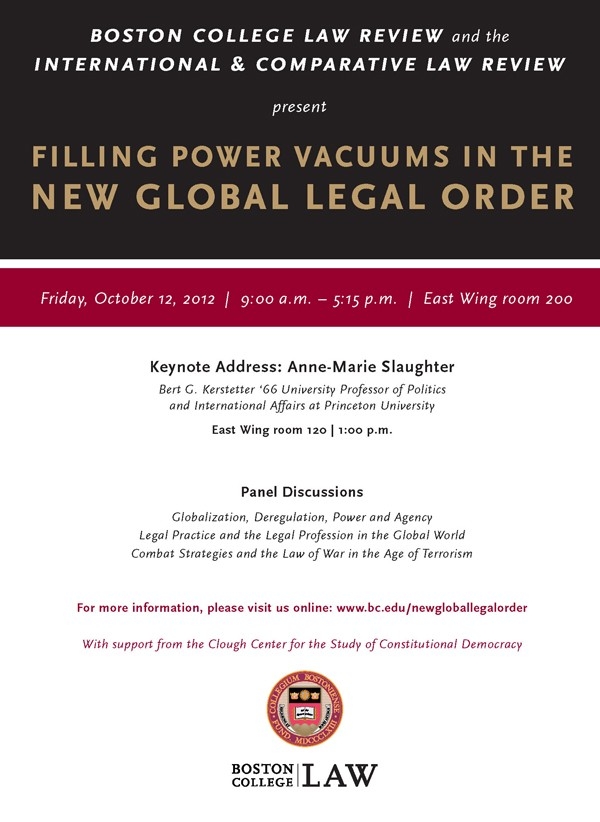 Anne-Marie Slaughter, Princeton University
Friday, October 12, 2012
1:00 p.m.
Boston College Law School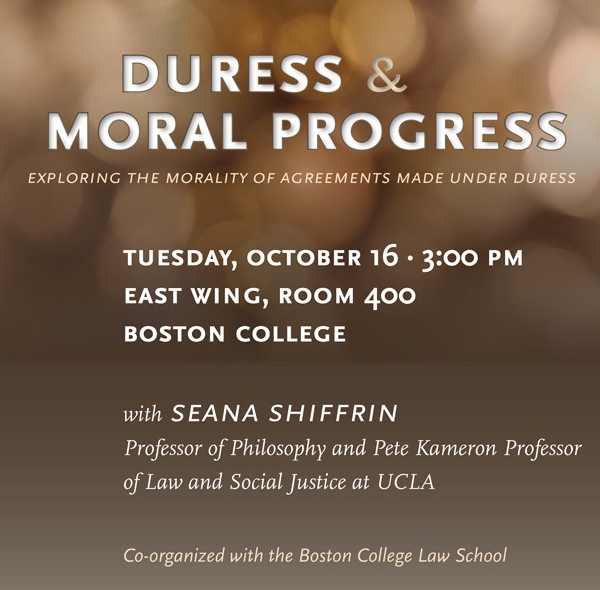 Duress & Moral Progress with Seana Shiffrin
Tuesday, October 16, 2012
3:00 p.m.
East Wing, Room 400
Boston College Law School, Newton Campus
Seana Valentine Shiffrin is Professor of Philosophy and Pete Kameron Professor of Law and Social Justice at UCLA, where she has taught since 1992. She holds degrees from UC Berkeley, Oxford University, and the Harvard Law School. She teaches courses on moral and political philosophy as well as contracts, freedom of speech, constitutional rights and individual autonomy, remedies and legal theory. She is an associate editor of Philosophy and Public Affairs and a member of the American Academy of Arts and Sciences. Her research addresses issues in moral, political and legal philosophy, as well as matters of legal doctrine, that concern equality, autonomy and the social conditions for their realization. Read more about Professor Shiffrin >>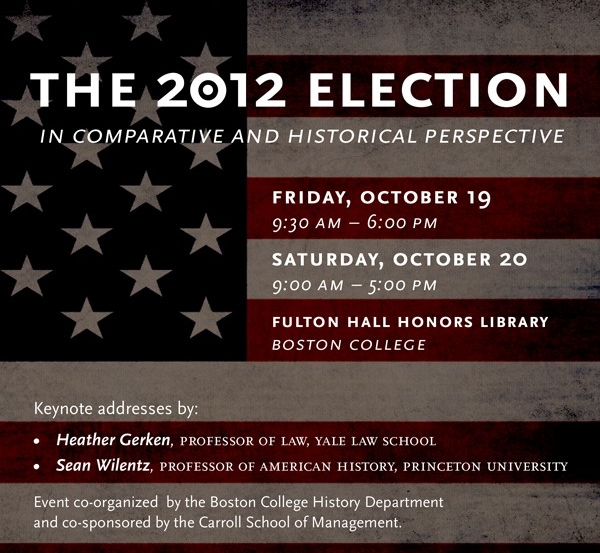 The 2012 Election in Comparative and Historical Perspective Conference
Friday, October 19 – Saturday, October 20, 2012
9:30 – 6:00pm (Friday) | 9:30 – 5:00pm (Saturday)
Fulton Hall Honors Library, Boston College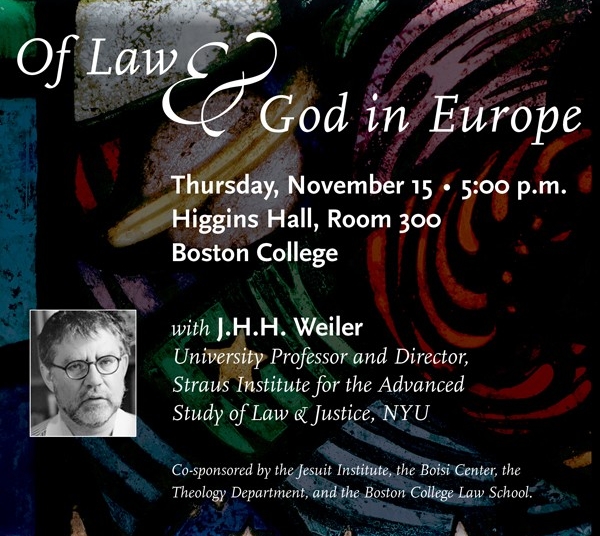 Of Law and God in Europe with J.H.H. Weiler
Thursday, November 15, 2012
5:00 p.m.
Higgins 300
J.H.H. Weiler is University Professor as well as holder of the European Union Jean Monnet Chair at New York University School of Law, Director of the Straus Institute for the Advanced Study of Law & Justice, and Co-Director of the Tikvah Center for Law & Jewish Civilization. Weiler is also Professor at the National University of Singapore; Honorary Professor at University College, London; Honorary Professor at the Department of Political Science, University of Copenhagen; and Co-Director of the Academy of International Trade Law in Macao, China.
Weiler is a Fellow of the American Academy of Arts. He holds degrees from Sussex (B.A.); Cambridge (LL.B. and LL.M.); and The Hague Academy of International Law (Diploma of International Law). He earned his Ph.D. in European Law at the EUI, Florence. He is recipient of Doctorates Honoris Causa from London University, from Sussex University, from the University of Macerata, Italy and from the University of Edinburgh and is Honorary Member of the Senate of the University of Ljubljana. Read more about Professor Weiler »
Defending Terrorism Charges: A Lawyer's Perspective on United States v. Mehanna
Monday, November 19, 2012
4:30 – 6:00 p.m.
Stuart House, Room 315
Panelists:
Janice Bassil, Carney & Bassil
Sejal Patel, Harvard Divinity School

Sabin Willett, Bingham McCutchen
George Brown, Boston College Law School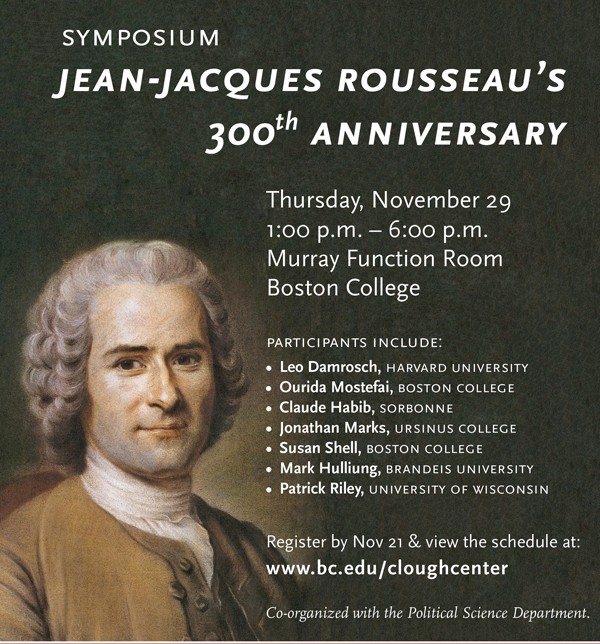 Symposium on Jean-Jacques Rousseau's 300th Anniversary 
Thursday, November 29, 2012
Luncheon at 12:00 p.m.
Symposium from 1:00 p.m. – 6:00 p.m.
Murray Function Room, Yawkey Center, Boston College
EVENT SCHEDULE
12:00 p.m.

 

Luncheon

 

1:00–2:30 p.m.


Panel I

 

Ourida Mostefai, Boston College
Claude Habib, Sorbonne
Jonathan Marks, Ursinus College

 

2:30–4:00 p.m.


Panel II

 

Susan Shell, Boston College
Mark Hulliung, Brandeis University
Patrick Riley, University of Wisconsin


 

4:00–4:30 p.m.

Break

 

4:30–6:00 p.m.

Keynote Address

 
Leo Damrosch, Harvard University
SPRING 2013 LECTURES & CONFERENCES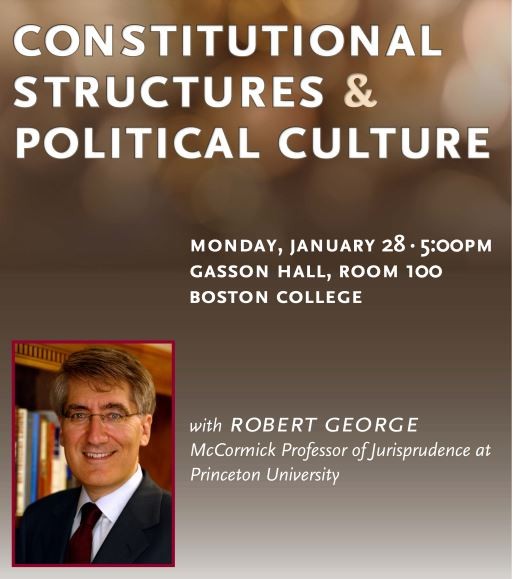 Constitutional Structures and Political Culture with Robert George
Monday, January 28, 2013
5:00 p.m.
Gasson 100
Robert George is McCormick Chair in Jurisprudence and is the founding director of the James Madison Program at Princeton University. He has served on the President's Council on Bioethics and as a presidential appointee to the United States Commission on Civil Rights. He has also served on UNESCO's World Commission on the Ethics of Science and Technology, of which he continues to be a corresponding member. He is a former Judicial Fellow at the Supreme Court of the United States, where he received the Justice Tom C. Clark Award. He is the author of In Defense of Natural Law, Making Men Moral: Civil Liberties and Public Morality, and The Clash of Orthodoxies: Law, Religion and Morality in Crisis, and co-author of Embryo: A Defense of Human Life and Body-Self Dualism in Contemporary Ethics and Politics. His scholarly articles and reviews have appeared in such journals as the Harvard Law Review, the Yale Law Journal, the Columbia Law Review, the American Journal of Jurisprudence, and the Review of Politics.
Professor George is a recipient of many honors and awards, including the Presidential Citizens Medal, the Honorific Medal for the Defense of Human Rights of the Republic of Poland, the Canterbury Medal of the Becket Fund for Religious Liberty, the Sidney Hook Memorial Award of the National Association of Scholars, the Philip Merrill Award of the American Council of Trustees and Alumni, the Bradley Prize for Intellectual and Civic Achievement and the Stanley Kelley, Jr. Teaching Award from Princeton's Department of Politics. He was the 2007 John Dewey Lecturer in the Philosophy of Law at Harvard, the 2008 Judge Guido Calabresi Lecturer in Law and Religion at Yale, the 2008 Sir Malcolm Knox Lecturer in Philosophy at the University of St. Andrews, and the 2010 Frank Irvine Lecturer in Law at Cornell University.
He is a member of the Council on Foreign Relations, and holds honorary doctorates of law, ethics, science, letters, civil law, humane letters, and juridical science. A graduate of Swarthmore College and Harvard Law School, he also received a master's degree in theology from Harvard and a doctorate in philosophy of law from Oxford University. This academic year, Professor George is visiting professor at the Harvard Law School.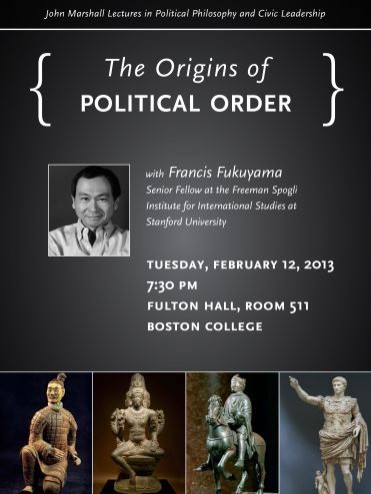 The Origins of Political Order with Francis Fukuyama
Tuesday, February 12, 2013
7:30 p.m.
Fulton 511
Francis Fukuyama is Olivier Nomellini Senior Fellow at the Freeman Spogli Institute for International Studies (FSI), resident in FSI's Center on Democracy, Development, and the Rule of Law at Stanford University. Dr. Fukuyama has written widely on issues relating to democratization and international political economy. His book, The End of History and the Last Man (1992) has appeared in over twenty foreign editions. His most recent book is The Origins of Political Order (2011). Other books include America at the Crossroads: Democracy, Power, and the Neoconservative Legacy(2006), and Falling Behind: Explaining the Development Gap between Latin America and the United States (2008).
Dr. Fukuyama is chairman of the editorial board of The American Interest, which he helped to found in 2005. He is a senior fellow at the Johns Hopkins SAIS Foreign Policy Institute, and a non-resident fellow at the Carnegie Endowment for International Peace and the Center for Global Development. He holds honorary doctorates from Connecticut College, Doane College, Doshisha University (Japan), Kansai University (Japan), Aarhus University (Denmark), and the Pardee Rand Graduate School. He is a member of the Board of Trustees of the Rand Corporation, the Board of Directors of the National Endowment for Democracy, and member of the advisory boards for the Journal of Democracy, the Inter-American Dialogue, and The New America Foundation. Fukuyama received his B.A. from Cornell University in classics, and his Ph.D. from Harvard in Political Science. Before arriving at Stanford, he was a member of the Political Science Department of the RAND Corporation from 1979-1980, then again from 1983-89, and from 1995-96.  In 1981-82 and in 1989 he was a member of the Policy Planning Staff of the US Department of State, the first time as a regular member specializing in Middle East affairs, and then as Deputy Director for European political-military affairs.  In 1981-82 he was also a member of the US delegation to the Egyptian-Israeli talks on Palestinian autonomy. From 1996-2000 he was Omer L. and Nancy Hirst Professor of Public Policy at the School of Public Policy at George Mason University. He served as a member of the President's Council on Bioethics from 2001-2004. He then taught at the Paul H. Nitze School of Advanced International Studies (SAIS) of Johns Hopkins University, where he was the Bernard L. Schwartz Professor of International Political Economy and director of SAIS' International Development program.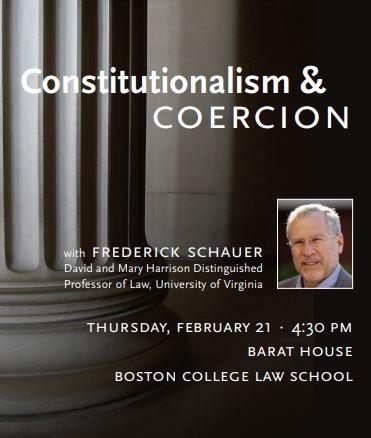 Constitutionalism and Coercion with Frederick Schauer
Thursday, February 21, 2013
Reception at 4:00 p.m., Program at 4:30 p.m.
Barat House, Boston College Law School
Frederick Schauer is a David and Mary Harrison Distinguished Professor of Law at the University of Virginia. He is the author of The Law of Obscenity (BNA, 1976), Free Speech: A Philosophical Enquiry (Cambridge, 1982), Playing By the Rules: A Philosophical Examination of Rule-Based Decision-Making in Law and in Life(Clarendon/Oxford, 1991), Profiles, Probabilities, and Stereotypes(Belknap/Harvard, 2003), and Thinking Like a Lawyer: A New Introduction to Legal Reasoning (Harvard, 2009) and of numerous articles on constitutional law and theory, freedom of speech and press, legal reasoning and the philosophy of law. Schauer is a fellow of the American Academy of Arts and Sciences, has held a Guggenheim Fellowship, has been vice-president of the American Society for Political and Legal Philosophy and chair of the Committee on Philosophy and Law of the American Philosophical Association, and was a founding co-editor of the journal Legal Theory. He has also been the Fischel-Neil Distinguished Visiting Professor of Law at the University of Chicago, Ewald Distinguished Visiting Professor of Law at the University of Virginia, Morton Distinguished Visiting Professor of the Humanities at Dartmouth College, Distinguished Visiting Professor of Law at the University of Toronto, and Distinguished Visitor at the New York University School of Law. In 2007-08 Schauer was the George Eastman Visiting Professor at Oxford University and a fellow of Balliol College.
A graduate of Dartmouth College, the Amos Tuck School of Business Administration, and Harvard Law School, Schauer was the recipient of a university-wide Distinguished Teacher Award from Harvard University in 2004. Before arriving at UVA, he served for 18 years as Frank Stanton Professor of the First Amendment at the John F. Kennedy School of Government, Harvard University, where he also served as academic dean and acting dean, and was a professor of law at the University of Michigan.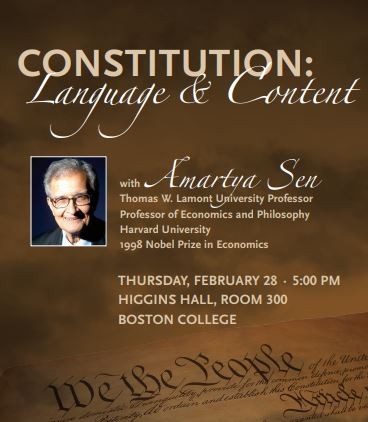 Constitution: Language and Content with Amartya Sen
Thursday, February 28, 2013
5:00 p.m.
Higgins 300
Amartya Sen is Thomas W. Lamont University Professor, and Professor of Economics and Philosophy, at Harvard University and until 2004, he was the Master of Trinity College, Cambridge. He is also Senior Fellow at the Harvard Society of Fellows. His research has ranged over social choice theory, economic theory, ethics and political philosophy, welfare economics, theory of measurement, decision theory, development economics, public health, and gender studies. Amartya Sen's books have been translated into more than thirty languages, and include Choice of Techniques (1960), Collective Choice and Social Welfare (1970), Choice, Welfare and Measurement (1982), Commodities and Capabilities(1987), The Standard of Living (1987), Development as Freedom (1999), Identity and Violence: The Illusion of Destiny (2006) and The Idea of Justice (2009).
Professor Sen has served as President of the Econometric Society, the American Economic Association, the Indian Economic Association, and the International Economic Association. He was formerly Honorary President of OXFAM and is now its Honorary Advisor. Among the awards he has received are the "Bharat Ratna" (the highest honour awarded by the President of India); the Agnelli International Prize in Ethics; the Edinburgh Medal; the Brazilian Ordem do Merito Cientifico; the Eisenhower Medal; Honorary Companion of Honour (UK); the George C. Marshall Award (US); the National Humanities Medal (US); and the Nobel Prize in Economics.
Before arriving at Harvard, Professor Sen received his BA at Presidency College, Calcutta and a BA and Ph.D. at Trinity College Cambridge, was Professor of Economics at Jadavpur University Calcutta, the Delhi School of Economics, and the London School of Economics, and Drummond Professor of Political Economy at Oxford University.
The Beheading of the Legislative Power: European Constitutionalization between Capitalism and Democracy with Hauke Brunkhorst
Wednesday, March 13, 2013
5:00 p.m.
Fulton Hall 513
Hauke Brunkhorst is Professor of Sociology and Head of the Institute of Sociology at the University of Flensburg, Germany. A political sociologist, he has authored many books, including Adorno and Critical Theory (1999) and Solidarity: From Civic Friendship to a Global Legal Community (2005). During the 2009-2010 academic year, Dr. Brunkhorst was the Theodor Heuss Professor at the New School for Social Research in New York City.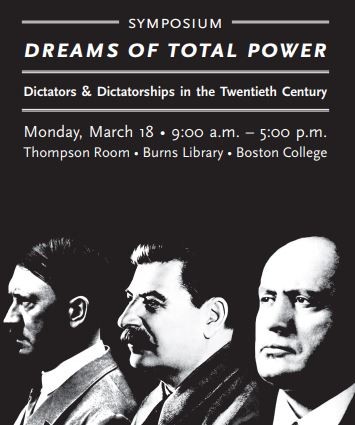 Symposium: Dreams of total power: Dictators and Dictatorships in the Twentieth Century
Monday, March 18, 2013
Thompson Room, Burns Library
EVENT SCHEDULE
9:00 a.m.

Welcome Remarks

 
 

9:15 a.m.


Session I 
Authoritarianism in the 20th Century

 
Paul Hollander, University of Massachusetts, Amherst
Holly Case, Cornell University
Mark Kramer, Harvard University
 
 

10:50 a.m.


Coffee


 
 

11:05 a.m.

Session II
Avatars of Communist Dictatorships


 



David Brandenberger, University of Richmond
Bogdan C. Iacob, Imre Kertész Kolleg, Jena
Jeffrey Herf, University of Maryland
 
 
12:40 p.m.

Lunch Break

 
 
2:00 p.m.
Keynote Address
Explaining Stalin: 60 Years since the Dictator's Death
Vladimir Tismaneanu, University of Maryland, College Park
 
 
3:00 p.m.

Coffee

 
 
3:15 p.m.
Session III
Fascism and the Politics of Charisma
Simonetta Falasca-Zamponi, University of California, Santa Barbara
Constantin Iordachi, Central European University
Dennis Deletant, Georgetown University

 
 
5:00 p.m.
Reception*
 
 
6:00 p.m.
Dinner and Keynote Address*
Reflections on Dictatorship and the Mindset of a Free Government
Horia-Roman Patapievici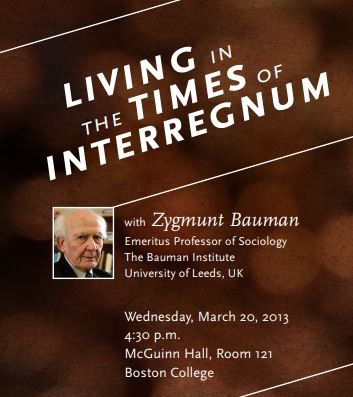 Living in the Times of Interregnum with Zygmunt Bauman
Wednesday, March 20, 2013
4:30 p.m.
McGuinn 121
Zygmunt Bauman is Emeritus Professor of Sociology at the University of Leeds, UK and considered one of the most significant global social thinkers of the modern era. The author of 57 books and hundreds of articles, most recently This is Not a Diary (2012) and Culture in a Liquid Modern World (2011), Bauman has extensively studied such themes as morality, modernity, postmodernity, globalization, and consumerism. His early work also includes important studies analyzing the links between the Holocaust and modernity. Originally born in Poland, Prof. Bauman studied sociology at the Academy of Social Sciences in Warsaw and then received postgraduate degrees in philosophy from the University of Warsaw. After completing his MA in 1954, he became a lecturer at the same university, where he remained until 1968. Bauman also spent time at the London School of Economics, where he completed a comprehensive study of the British socialist movement, which later became his first major book. In 1968, an anti-Semitic campaign in Communist Poland resulted in a purge, which forced Bauman to flee, first to Isreal where he taught at Tel Aviv University and then to the University of Leeds where he accepted a chair in 1971. He retired from teaching in 1990, but became a leading voice in the anti-globalization movement. Most recently, his work has focused on the metaphor of "liquidity, which has captured the fluid and constantly shifting character of our equally individualized and globalized lives and, over the course of a series of related books and articles, has offered one of the most significant interpretations of human societies in the twenty-first century. Today, at age 87, Professor Bauman is still an active lecturer at The Bauman Center, University of Leeds.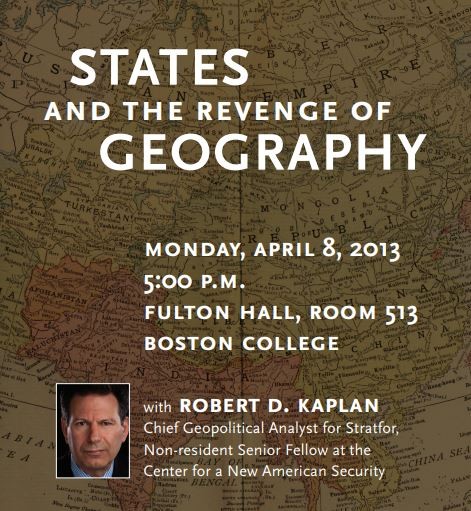 States and the Revenge of Geography with Robert D. Kaplan
Monday, April 8, 2013
5:00 p.m.
Fulton Hall, Room 513
Robert D. Kaplan is Chief Geopolitical Analyst for Stratfor, a private global intelligence firm. He is the author of 14 books on foreign affairs and travel translated into many languages, most recently The Revenge of Geography: What the Map Tells Us about Coming Conflicts and the Battle Against Fate, published by Random House in September, 2012. He has been a foreign correspondent for The Atlantic for over a quarter-century. In 2011, and again in 2012, Foreign Policy magazine named Kaplan among the world's "100 Top Global Thinkers."
Since 2008, he has been a non-resident senior fellow at the Center for a New American Security in Washington, D.C. From 2009 to 2011, he served under Secretary of Defense Robert Gates as a member of the Pentagon's Defense Policy Board. From 2006 to 2008, he was the Class of 1960 Distinguished Visiting Professor in National Security at the United States Naval Academy, Annapolis.
New York Times columnist Thomas Friedman calls Kaplan among the four "most widely read" authors defining the post-Cold War (along with Johns Hopkins Prof. Francis Fukuyama, the late Harvard Prof. Samuel Huntington, and Yale Prof. Paul Kennedy). In the 1980s, Kaplan was the first American writer to warn in print about a future war in the Balkans. Balkan Ghosts was chosen by The New York Times Book Review as one of the "best books" of 1993. The Arabists, The Ends of the Earth, An Empire Wilderness, Eastward to Tartary, and Warrior Politics were all chosen by The New York Times as "notable" books of the year. An Empire Wilderness was chosen by The Washington Post and The Los Angeles Times as one of the best books of 1998. The Wall Street Journal named The Arabists as one of the best five books written about America's historical involvement in the Middle East.
Kaplan is a provocative essayist. His article, "The Coming Anarchy," in the February, 1994 Atlantic Monthly, about how population rises, urbanization, and resource depletion is undermining governments, was hotly debated in foreign-language translations around the world. So was his December, 1997 Atlantic cover story, "Was Democracy Just A Moment?" That piece argued that the democracy now spreading around the world would not necessarily lead to more stability. According to U. S. News & World Report, "President Clinton was so impressed with Kaplan, he ordered an interagency study of these issues, and it agreed with Kaplan's conclusions."
Besides The Atlantic Monthly, Kaplan's essays have appeared on the editorial pages of The New York Times, The Washington Post, the Financial Times, The Wall Street Journal, and The Los Angeles Times, as well as in all the major foreign affairs journals. He has been a consultant to the U. S. Army's Special Forces Regiment, the U. S. Air Force, and the U. S. Marines. He has lectured at military war colleges, the FBI, the National Security Agency, the Pentagon's Joint Staff, the Defense Intelligence Agency, the CIA, major universities, and global business forums.  Kaplan has delivered the Secretary of State's Open Forum Lecture at the U. S. State Department. He has reported from over 100 countries. Two earlier books of his, Soldiers of God: With Islamic Warriors in Afghanistan and Pakistan, and Surrender or Starve: Travels in Ethiopia, Sudan, Somalia and Eritrea, have been re-issued, so that all this books are in print.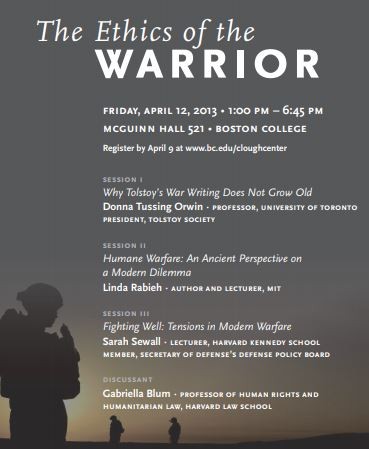 Colloquium: The Ethics of the Warrior
Friday, April 12, 2013
1:00 p.m. – 6:45 p.m.
McGuinn 521
How can the soldier fight humanely, honorably — and to win? That's the complicated topic explored by our three distinguished speakers. Sarah Sewall, lecturer at Harvard's Kennedy School and member of the Secretary of Defense's Defense Policy Board, explores "fighting well" in contemporary circumstances. Donna Tussing Orwin, Professor at the University of Toronto and President, Tolstoy Society, clarifies the great novelist's answers. Linda Rabieh, a lecturer at MIT and author of a book on Plato and courage, examines a classical outlook. A closing discussion is introduced by Gabriella Blum, Professor of Human Rights and Humanitarian Law at Harvard Law School.
EVENT SCHEDULE
1:00 p.m.

Session I             
Why Tolstoy's War Writing Does Not Grow Old
Donna Tussing Orwin, University of Toronto
 
 
2:15 p.m.

Session II
Humane Warfare: An Ancient Perspective on a Modern Dilemma
Linda Rabieh, MIT
 
 
3:30 p.m.

Coffee Break

 
 
4:00 p.m.
Session III
Fighting Well: Tensions in Modern Warfare
Sarah Sewall, Harvard Kennedy School
 
 
5:15 p.m.
Wrap Up
Convener: Gabriella Blum, Harvard Law School
 
 
6:00 p.m.
Reception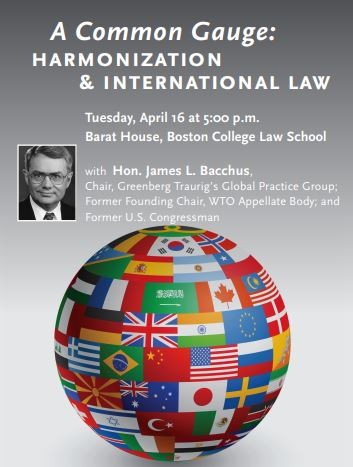 A Common Gauge: Harmonization & International Law with Hon. James L. Bacchus
Tuesday, April 16, 2013
5:00 p.m.
Barat House, Boston College Law School
James Bacchus Chairs Greenberg Traurig's Global Practice Group and is a leader in the firm's overall worldwide practice. His emphasis in his own practice is on international business, including trade, investment, finance and sustainable growth. In particular, Bacchus offers legal and strategic advice to worldwide clients based on his unique experience with the many issues relating to the global rules for trade and commerce of the World Trade Organization (WTO). He is a former chief judge on the highest international tribunal of world trade, a former Member of the Congress of the United States, and a former Special Assistant to the United States Trade Representative in the Executive Office of the President.
Bacchus works worldwide for the firm's clients on international business of all kinds, and is also engaged worldwide in numerous additional efforts to address shared global concerns. He is among the "B20" global business leaders selected to advise the "G20" heads of state on the international economy; he chairs the global Commission on Trade and Investment Policy of the Paris-based International Chamber of Commerce; and he chairs the Global Agenda Council on Governance for Sustainability of the Davos-based World Economic Forum.
Previously, he served as the Chairman of the Appellate Body of the World Trade Organization, the global court of final appeal in international trade in Geneva, Switzerland. The seven judges of the Appellate Body hear final appeals in international trade disputes involving the 95 percent of world commerce conducted by the more than five billion people in the more than 150 countries and other customs territories that are the Members of the WTO.
In addition to his service at the WTO, Bacchus has also served as a Member of the Congress of the United States, from 1991 to 1995, representing the 15th Congressional District of Florida as a Member of the United States House of Representatives. His district included much of Orlando, Walt Disney World, Cape Canaveral, and the "Space Coast" of Central Florida. He was elected to two terms in the Congress, and chose not to seek election to a third term. He was the first Democrat in the history of the South elected to an open seat in the Congress in a district where Republicans outnumbered Democrats. More »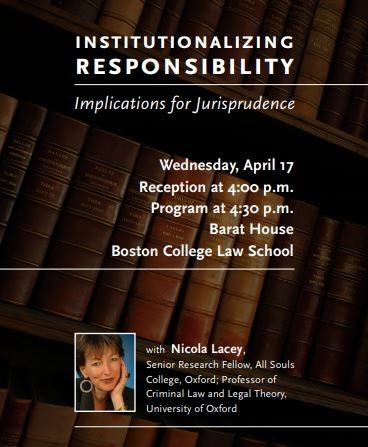 Nicola Lacey
Wednesday, April 17, 2013
4:00 p.m. Reception | 4:30 p.m. Program
Barat House, Boston College Law School
Nicola Lacey holds a Senior Research Fellowship at All Souls College. She moved to Oxford in October 2010, having held a chair in Criminal Law and Legal Theory at the London School of Economics since 1998. Professor Lacey's research is in criminal law and criminal justice, with a particular focus on comparative and historical scholarship. Over the last few years, she has been working on the development of ideas of criminal responsibility in England since the 18th Century, and on the comparative political economy of punishment. She also has research interests in legal and social theory, in feminist analysis of law, in law and literature, and in biography. Her many publications include multiple books, including The Prisoners' Dilemma: Political Economy and Punishment in Contemporary Democracies (2008) and Unspeakable Subjects: Feminist Essays in Legal and Social Theory (1998), and journal articles that have appeared in journals such as the New York University Law Review and Criminal Law and Philosophy. Beyond her publications, Prof. Lacey has held visiting appointments at the Humboldt University in Berlin, the Wissenschaftskolleg zu Berlin, the Research School of Social Sciences at the Australian National University, New York University, Yale and Harvard. She is an Honorary Fellow of New College and of University College, and a Fellow of the British Academy. In December 2011 she was awarded the Hans Sigrist Prize by the University of Bern. Before arriving at Oxford, she was also Professor of Law at Birkbeck College, University of London (1995 to 1997); Fellow and Tutor in Law at New College and CUF Lecturer at Oxford (1984 to 1995); and Lecturer in Laws at University College, London (1981 to 1984).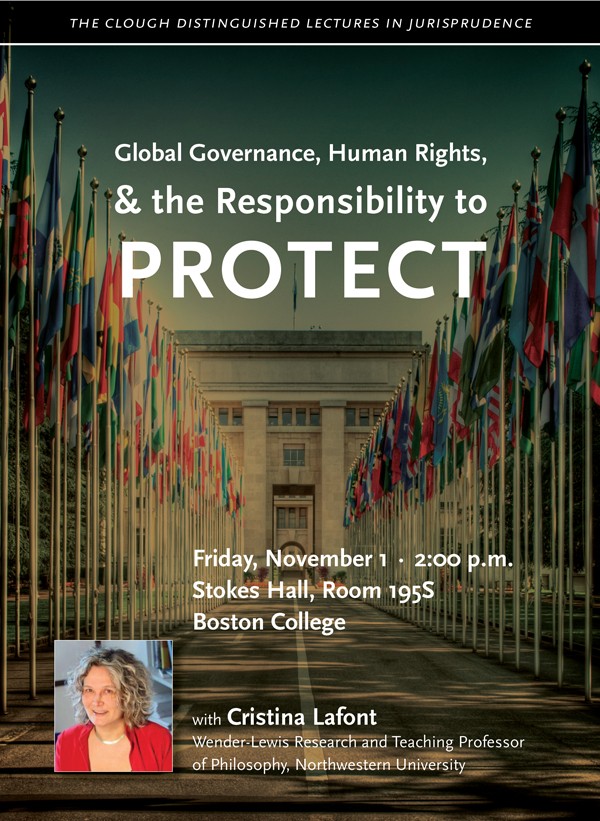 Symposium: Emancipation at 150
Tuesday, April 23, 2013
9:30 a.m. – 6:00 p.m.
Murray Function Room  
Boston College
The symposium brings together several of the nation's leading scholars to discuss the origins, aftermath, and legacy of the Emancipation Proclamation, as well as the broader themes of slavery, freedom, and politics. Panelists will share their perspectives on what emancipation meant to Americans during the Civil War; its significance in American society, law, economics, and politics; and its significance to the history and/or theories of constitutional democracy and racial oppression across the globe.
EVENT SCHEDULE
9:30 a.m.
Continental Breakfast
 
 

10:00 a.m.


Opening Remarks  

Vlad Perju, Boston College Law School and Director, Clough Center
David Quigley, Dean of the College of Arts and Sciences, Boston College        


 
 

10:15 a.m.


Panel I
The Origins and Process of Emancipation


Paul Finkelman, Albany Law School
Thavolia Glymph, Duke University
Michael Vorenberg, Brown University
Moderator: Cynthia Lyerly, Boston College, History

 
 
11:45 a.m.

Lunch

 
 

1:00 p.m.

Panel II
The Aftermath of Emancipation


Sven Beckert, Harvard University
Richard Blackett, Vanderbilt University
Matthew Pratt Guterl, Brown University  
Moderator: Heather Cox Richardson, Boston College, History

 
 
2:30 p.m.
Coffee Break

 
 

2:45 p.m.

Panel III
Contemporary Issues of Oppression


Jamal Greene, Columbia Law School
Charles Mills, Northwestern University
Kaia Stern, Harvard University
Moderator: Jonathan Trejo-Mathys, Boston College, Philosophy

 
 
4:30 p.m.

Keynote Address
Dylan Penningroth, Northwestern University
Introduction by Mary Sarah Bilder, Boston College Law
Reception to follow.
The Founders of Pragmatism on Philosophy and Life with Hilary Putnam
Tuesday, April 30, 2013
5:00 p.m.
Heights Room, Corcoran Commons
Hilary W. Putnam is Cogan University Professor Emeritus in the Department of Philosophy at Harvard University. Putnam has written extensively on issues in metaphysics and epistemology, philosophy of mathematics, philosophy of physics. philosophy of language, and philosophy of mind, and on the American Pragmatists and the later Wittgenstein. He has published over 20 books, his most recent works examining the relations between "facts" and "values," and dozens of articles in journals like Philosophical Review and the Journal of Philosophy. He is a past President of the American Philosophical Association (Eastern Division), the Philosophy of Science Association, and the Association for Symbolic Logic. He is a Fellow of the American Academy of Arts and Sciences, the American Philosophical Society, a Corresponding Fellow of the British Academy and the French Academie des Sciences Politiques et Morales, and holds a number of honorary degrees. He has received the Prometheus Prize of the American Philosophical Association and the Rolf Schock Prize in Philosophy. Before arriving at Harvard, Professor Putnam graduated from the University of Pennsylvania and received his Ph.D. in 1951 from UCLA, where he worked with Hans Reichenbach. Before joining the faculty of Harvard in 1965, he taught at Northwestern University (1951-2) Princeton University (1953-61), where he received tenure in both the Department of Philosophy and the Department of Mathematics in 1960 and after that at M.I.T. (1961-65). Professor Putnam retired from the Department at the end of June 2000.