Ambassador Program
Students who are interested in promoting and advancing the mission of the Winston Center for Leadership and Ethics will work in collaboration with the Director to publicize key events to the campus community. Ambassadors serve as stewards for the Winston Center. These roles are open to all undergraduate students.
Roles
Create promotional materials and distribute on campus
Greet guests at Winston Center events and help to facilitate an enjoyable experience
Network with friends, classmates, and other social groups to ensure significant attendance at events
Foster relationships with media outlets to encourage press coverage of key events to the greater Boston College community
Participate in Leadership workshops
Benefits
Access to exclusive Winston Center programming
Opportunity to meet with benefactors of the Winston Center
Aid in the planning and execution of signature Winston Center programs as well as collaborations
Access to pre-event Q&A sessions with world renowned speakers.
Excellent volunteer opportunity to extend on-campus network and connect with influential Boston College leaders and alumni

Community Service
Winston ambassadors are committed to serving our community, and every semester volunteer at local community programs.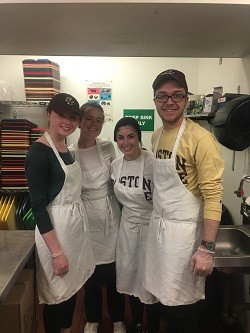 Ambassadors volunteering at the St. Francis House
Ambassadors with journalist Lara Logan
Thomas Ganim '25
Carroll School of Management
Tom Ganim is from Easton, CT. A graduate of Fairfield Prep, he is now in the Carroll School of Management, intending to concentrate in Finance and Entrepreneurship. On campus, Tom is currently a Volunteer for 4Boston and a member of the Real Estate Club. Back home, he has been running a Christmas tree business since he was 13 years old. Tom is an aspiring entrepreneur who wants to pursue a career in commercial real estate. In his free time, he is a sheep farmer as well as an avid fisherman, and also enjoys playing the guitar, traveling, and reading. Above all, Tom looks forward to serving and representing the Boston College community well.
Matthew Grella '24
Carroll School of Management
Matthew is from Methuen, Massachusetts. He is in the Carroll School of Management, with intentions of concentrating in Finance and Accounting. In addition to being a Winston Center Ambassador, he is a member of APPA, and the BC Investment Club. Outside of the classroom Matthew enjoys participating in intramural sports, exploring the stock market, and spending time with friends and family. During high school, Matthew was very involved in Student Government and community service organizations, and is looking forward to being an active member of the Boston College community.
Saurabh Khanna '25
Carroll School of Management
Saurabh Khanna is from Fairfax, Virginia. He is in the Carroll School of Management intending to concentrate in Finance and Business Analytics and intends to minor in Asian Studies in the Morrissey College of Arts and Sciences. In addition to being a Winston Center Ambassador, Saurabh is involved in the Emerging Leaders Program and Investment club and hopes to get a lot more involved on campus in his Freshman year. In his free time, he likes to read, play Chess and Poker, and watch Star Wars shows like the Bad Batch on Disney+. Saurabh's tentative plan is to go into investment banking or consulting after graduation.

Matthew Klein '25
Morrissey College of Arts and Sciences
Matthew Klein is originally from Long Island, New York. He is planning on studying Economics with a minor in finance. In his free time Matthew enjoys playing soccer, spikeball, going to the gym and Djing.  In high school Matthew was a part of the film program and created many of his own original films with his peers and was captain of his soccer team. During the summers Matthew spends his time lifeguarding in New York and making short films with friends. Matthew is very excited to be a Winston Ambassador and serve the larger Boston College community. 

Curt Allen, CSOM '20
Michaela Arguin, MCAS '20
Kayla Authelet, MCAS '16
Harrison Bacon, CSOM '16
Francis Barassi, CSOM '20
Erica Bolton, CSOM '16
Alison Breen, CSOM '22
Chris Castro, MCAS '15
Sarah Chamberlain, MCAS '20
Chris Chersi, MCAS '15
Esme Condon, CSOM '16
Catherine Cremens, MCAS '21
Danielle Dalton, CSOM '16
Jack Davis, CSOM '17
Matt Davis, MCAS '20
Molly Davis, MCAS '18
Ryan Duffy, MCAS '17
Morgan Dykman, MCAS '18
Kevin Fritz, CSOM '16
Brandon Gallagher, CSOM '17
Alexis Grimard, MCAS '18
Kristian Grimm, CSOM '19
Connor Hagan, CSOM '17
Urwa Hameed, MCAS '21
Gabrielle Hanlon, CSOM '17
Megan Healy, MCAS '17
Faye Hubregsen, MCAS '17
Melanie Johnson, MCAS '20
Karina Kavanagh, MCAS '22
Emilyn Kennedy, MCAS '16
Tate Krasner, MCAS '16
Hayley Kunkle, MCAS '20
Claire Larson, CSOM '17
Garrett Lau, MCAS '16
Addison LeBeau, CSOM '18
Vinern Leow, CSOM '16
Maureen Lewin, CSOM '23
Kathie Li, CSOM '15
Anna Lonnquist, MCAS '23
Colin Martin, MCAS '20
Caela McCann, MCAS '15
Ashlyn McKenna, CSOM '20
Timothy Morrissey, MCAS '20
Brian Murphy, CSOM '17
Chris Murphy, MCAS '20
Felipe Pardo, MCAS '22
Graysen Parish, MCAS '22
Nicola Pease, CSOM '19
Alvaro Rodriguez Calvet, CSOM '22
Matthew Romano, MCAS '18
Josh Reed, CSOM '16
Max Reik, MCAS '17
Caroline Ring, MCAS '20
Chase Robinett, CSOM '17
Rachel Rzeznik, CSOM '16
Elisabeth Schaeffer, MCAS '18
Abigail Schulte, MCAS '20
Paige Scozzaro, MCAS '21
Paul Sherban, MCAS '16
Czar Sepe, MCAS '21
Jillian Sherwood, MCAS '22
Jessica Stephens, MCAS '17
Jake St. Germain, CSOM '15
William Taber, MCAS '20
Roshan Taroll, MCAS '21 
Alberto Tirado, CSOM '21
Caroline Van Kimmenaede, MCAS '17
Julianna Vitolo, MCAS '16
Leo Wang, MCAS '23
Lauren Wedell, CSOM '17
Zach Westerlind, MCAS '15
Chris Whipple, CSOM '22
Claire Wilson, LSOE '20