October 21, 2023 Race Information
The annual Welles Crowther Red Bandanna 5k brings together Welles' family, friends, BC alumni, students, faculty, staff, and friends from all over the country to celebrate and honor the life of this incredible individual.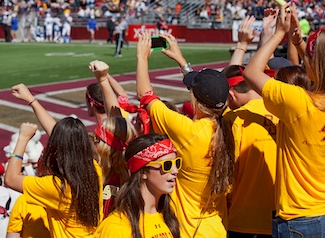 2023 Race Information
The 19th annual Welles Remy Crowther Red Bandanna 5k will be in-person and open to all**. For those of you who are unable to join us in person, you can still run with us virtually, at your convenience. (Please note, in-person and virtual runners will both need to register by Wednesday, October 18, 2023)
**COVID notice: If Covid concerns require it, the race will revert to virtual (or virtual for non-BC community). Please be advised of this possibility when making your travel plans. If we must make changes due to Covid, your registration status will be adjusted, but refunds cannot be offered. Thank you for understanding. Please share your run/walk pictures and videos: #BCredbandannarun
Race Day Check-in and Registration

Race day check-in and (limited) race-day registration begins at 7:15 am in Lyons Dining Hall on the Boston College campus. All participants must be checked in/registered by 8:15 am. The race begins at 9:00 am in front of the Gasson Hall Eagle.
Campus Map and Parking
A Chestnut Hill campus map (you'll need to Zoom in for building names), driving and parking directions can be found here.
The Chestnut Hill campus is T accessible.  Parking is available in the Commonwealth Ave Garage.  Please note there is a fee to park on campus.

Become an Event Sponsor
If you are interested in becoming a sponsor for the Welles Remy Crowther Red Bandanna 5k Run, please contact redbandannarun@bc.edu for more information about sponsorship opportunities. Please note,  there is limited space available so please be in touch as soon as possible.
With Gratitude
A special thank you to all those at Boston College who help make this event so successful. We could not make this happen without the support of BC Dining, BCPD, BC Athletics, BC Bookstore, the department of Transportation & Parking, the Office of Community & Govermental Affairs, and the University Mission and Ministry Service Center.
In addition, we are all extremely grateful for the annual support of the men's and women's lacrosse teams, the men's baseball team, Eagle EMS, women's field hockey, and the many students, faculty, and staff who participate as volunteers, runners, walkers, or well-wishers.