The annual Welles Crowther Red Bandanna 5k brings together Welles' family, friends, BC alumni, students, faculty, staff, and friends from all over the country to celebrate and honor the life of this incredible individual. 
Date(s) of Virtual Race
October 17 - 30, 2020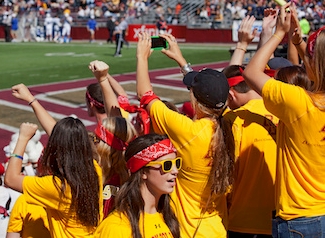 2020 Race Information
Due to Covid-19, the Welles Remy Crowther Red Bandanna will be run completely virtually this year. Wherever you are, we invite you to run with us between 10/17 - 10/30 to celebrate the life and legacy of Welles Crowther. We will be in touch with ways to share our running experiences via social media as we run together, apart.

(For health and safety reasons, we gratefully request that runners refrain from gathering at the typical race start on campus. Thank you.)  
Register
Register for the Virtual Welles Crowther Red Bandanna 5k
 
Volunteer
If you are not a runner but you are a BC student or staff member who would like to lend your volunteer talents to this great event, please contact us at volunteer@bc.edu (please include Welles5k in the subject line). This is a great opportunity for individuals or athletic teams to volunteer together.
Become an Event Sponsor
If you are interested in becoming a sponsor for the Welles Remy Crowther Red Bandanna 5k Run, please  contact redbandannaevents@gmail.com for more information about sponsorship opportunities. Please note,  there is limited space available so please be in touch as soon as possible.
Maps, directions, and parking
With Gratitude
A special thank you to all those at Boston College who help make this event so successful.  We could not make this happen without the support of BC Dining, BCPD, the department of Transportation & Parking, and the Office of Community & Govermental Affairs.
In addition, we are all extremely grateful for the annual support of the men's and women's lacrosse teams, the men's baseball team, Eagle EMS, women's field hockey, and the many students, faculty, and staff who participate as volunteers, runners, walkers, or well-wishers.