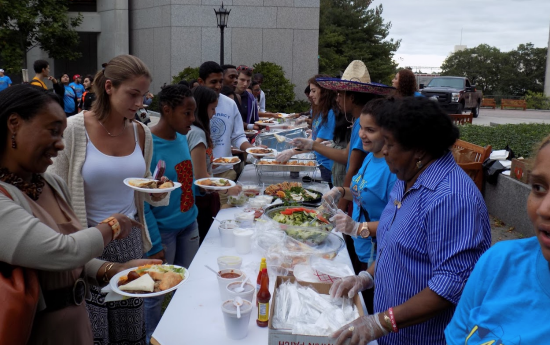 History
Beginning in the 1990s, efforts led by Latinos and allies on campus resulted in the emergence of organizing efforts that would lead to the recognition of Latino students, faculty and staff contributions to the Boston College community. In 1992, a committee of students, staff and faculty created the Archbishop Oscar Romero Scholarship. The goal of the scholarship was to award a junior that exemplified the spirit of Archbishop Romero. The Jesuit community, under the leadership of Rev. John A. Dineen, SJ, became the original funders of the scholarship, which now has become part of the University's scholarship program.
The scholarship committee served as catalyst for Latino faculty and staff to come together and analyze the current status of Latinos at Boston College. After the scholarship was enacted, members of the committee began to meet informally and begin to work on identifying ways to bring together Latino faculty and staff in order to address their concerns. Latino faculty and staff had always been active in supporting Latino students and alumni but there was no formal effort to support the needs of Latino faculty and staff on campus as an affinity group.
In 1999, the Office of Affirmative Action held the first ever Latino faculty and staff luncheon that began to identify some of the challenges and concerns Latino faculty and staff faced on campus. Two years later, in 2001, the second Latino faculty-staff luncheon was held; this time the number of Latinos on campus was growing and the need for a formal organization or affinity group was more imminent.
In 2005, a steering committee was formed that became known as Latino Employees of Boston College (LEBC). The role of this committee was to begin the process of launching a formal organization committed to meeting the needs of Latino faculty and staff. In February 2007, LEBC hosted its first annual retreat that resulted in the formal establishment of the Latino/as at Boston College affinity group (L@BC).