The Black Faculty, Staff and Administrators Association (BFSAA) is a resource for people of African descent at all levels of the Boston College community. As a professional organization at Boston College, we are committed to promoting the interests, welfare and advocating for the advancement of people of color on campus  We invite you to join us at our monthly meetings or sponsored events throughout the academic year, for fellowship, dialogue, debate, and to hear issues of concern related to black employees.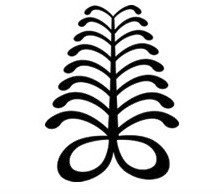 The AYA (fern) is a symbol of Endurance and Resourcefulness.  The fern is a hardy plant that can grow in difficult places.  "An individual who wears this symbol suggests that [she/he] has endured many adversities and outlasted much difficulty" (Willis, The Adinkra Dictionary).
2020 BFSAA Retreat

The 2020 BFSAA Virtual Retreat will be held on Thursday, June 25, 2020 from 10 a.m.–2 p.m. The retreat serves as a space for all Boston College black faculty, staff, and administrators to come together to reconnect and reenergize; network and build camaraderie; develop professionally; and strategize on organizational goals for the upcoming year.