(Photograph by Gary Wayne Gilbert| Watch a video of the making of the image above here.)
The first-floor elevator bank in Maloney Hall was several waves of students deep on a recent Wednesday morning, so Professor Ann Wolbert Burgess opted for the stairs. She had no time for lines. Burgess teaches a full course load in the Connell School of Nursing, and maintains several side commitments that are the result of her decades of work as one of the country's most prominent experts in forensics, or the application of scientific techniques to criminal investigations. Burgess is a pioneer in, well, lots of things, including the methods used to assess and treat the victims of trauma and abuse; the way that crimes and criminals are classified by the modern-day criminal justice system; and even what it means to be a nurse. Over the course of her career, she has offered courtroom testimony in dozens of high-profile cases, including the one involving Eric and Lyle Menendez, the brothers who shotgunned their parents to death in Beverly Hills in 1989. She's also helped to change the way that rape is understood by law enforcement, and played a leading role in transforming the FBI's approach to investigating serial killers.
It's that last one—her work with the FBI—that has resulted in a burst of mainstream attention for Burgess over the past year or so. To the long list of things that she has inspired in her career, you can now add the television character Dr. Wendy Carr of the hit Netflix series Mindhunter. In the show, Carr is an academic from Boston who joins a fledgling seventies-era unit at the FBI that is trying to solve serial killer cases by conducting jailhouse interviews with convicted murderers. The hope is that these glimpses into the killers' minds will illuminate patterns that can help the investigators crack open cases. The Carr character, which is based on Burgess's actual work with the FBI, helps the agents create an organized system for recording and interpreting their findings. She is presented as the voice of reason and order, and, arguably, as the real brains behind the operation.
After a quick climb of the Maloney Hall stairs, Burgess reached the third floor and led me down a hallway to her office. Wearing an elegant tweed skirt and matching turquoise cardigan, fastened at the collar with a brooch depicting the Boston skyline, she looked more like your very chic great-aunt than a hunter of what lurks inside the criminal mind. But Burgess's forensics skill and experience are the stuff of legend—literally. In 2016, the American Academy of Nursing honored her with its Living Legend award, the academy's highest honor, in recognition of her work in furthering the field of forensic nursing. The International Association of Forensic Nurses, meanwhile, even created an accolade that bears her name: the Ann Burgess Forensic Nursing Award. The walls of Burgess's office offer further testament to her accomplishments. There's a certificate of appreciation from the U.S. Department of Justice acknowledging her service on the Attorney General's Task Force on Family Violence in 1984, a 2003 letter from the Boston Archdiocese thanking her for her work on the Cardinal's Commission on Protection of Children, and a notice of her induction to the Sigma Theta Tau International Nurse Researcher Hall of Fame.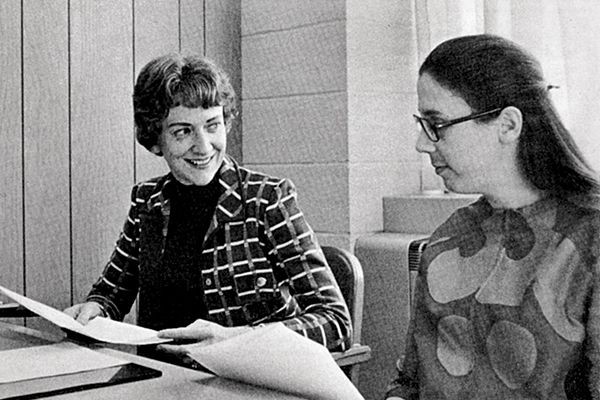 So, yes, in the fields of nursing, forensics, psychology, and law enforcement, Burgess is very highly regarded. Which has made her recent brush with minor celebrity a little amusing. She's watched Mindhunter, of course, but "it's interesting" is about as far as she'll go. (After a little pressing, I did get her to speculate about which of the serial killers from the first season she thinks might return for season two, which is scheduled for release this summer. She guessed Jerry Brudos, the "shoe fetish slayer," who was the subject of a 1983 study that Burgess published in the Journal of American Psychiatry.) "The 'Hollywood part' of the show is so far afield from the way we were as people," she told me as we talked in her office. "But the cases, how they portrayed them, that was pretty good."
Although some of the fictional murderers in season one came from a blend of different real-life cases, Burgess said, most of what viewers saw was true, or close to true—the way the team learned to talk to offenders, the challenges they faced in getting the rest of the agency to value the work they were doing, the inroads they were able to make once they managed to secure consistent funding. One thing that was decidedly not true, however, was the background of the character that was based on Burgess. The show's creators made Dr. Carr a psychologist, not a nurse. That change was a "missed opportunity," Burgess told me. "The general public doesn't really understand some of the advanced practices of nursing, such as academics or research," she said. "The good news is that the show gives me a chance, every time I'm asked about it, to explain what nursing and forensics can be."
* * *
Ann Wolbert grew up in Newton, Massachusetts, in the 1950s, back when girls who wanted a career after college had two choices: teaching or nursing. It was somewhat by default that she chose the latter, she told me, sitting back in her office chair. Three of her uncles had been doctors, and when she was just 10 or 11, one of them—Uncle Frank, a country doctor—began letting her help deliver babies. ("A couple of days later, he'd find a box of apples on his porch," Burgess said. "That's the way they did it in the country.")
For college, she enrolled at Boston University. On her first day in the school's nursing program, she recalled, "They're saying, 'Look to your right and look to your left. They probably won't be here when you graduate.'" It was the clinical work—physically and emotionally grueling—that led many prospective nurses to quit, Burgess said. But she loved all of it, especially once her clinical work landed her in the psychiatric unit at the Massachusetts Mental Health Center. It was a long way from delivering babies, or helping people recover from an illness. "I was fascinated by human behavior and the variations that you can have," she said. "I could not learn enough."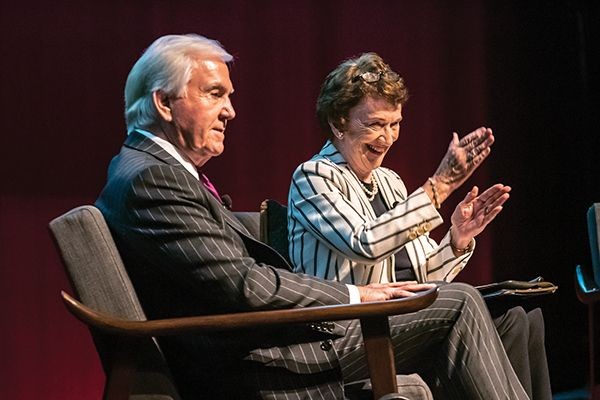 All those years of studying human behavior gave Burgess some quite particular insights into the choices a criminal makes. "Did you know," she said, leaning forward in her chair, "that there are many, many reasons a person might choose to dismember another person?" I did not know that, I told her. "They used to just say, 'Dismemberment happened,'" she continued. "Well, you've got to look into it more. You get into people's heads—what is their thinking, how do they put stuff together?" This is the sort of work that Burgess pioneered. Her interest in the perpetrators of crime began with her interest in the victims, because, as a nurse, that's who she saw. She and her colleagues were often the first medical professionals to see victims after a crime and therefore the best positioned to observe their behaviors and reactions. "I got really comfortable with interviewing," she said, "and with getting the right sort of information from victims."
In 1969, Burgess completed her dissertation research to become an assistant professor at Boston College. Soon after, she was introduced to Lynda Lytle Holmstrom, a sociologist at the University. Holmstrom was interested in publishing a study about the victims of rape and sexual abuse, a group that had largely been ignored by both psychologists and law enforcement. "The attitudes toward rape at the time were that it was not talked about, or, if it was, there was a blame-the-victim mentality," Holmstrom, professor emerita in the sociology department, told me. "We were interested in changing the perception." So she and Burgess set up a counseling program at Boston City Hospital that would allow them to interview rape victims. For a year, every time a victim was admitted—often in the middle of the night—Burgess and Holmstrom would drive to the hospital.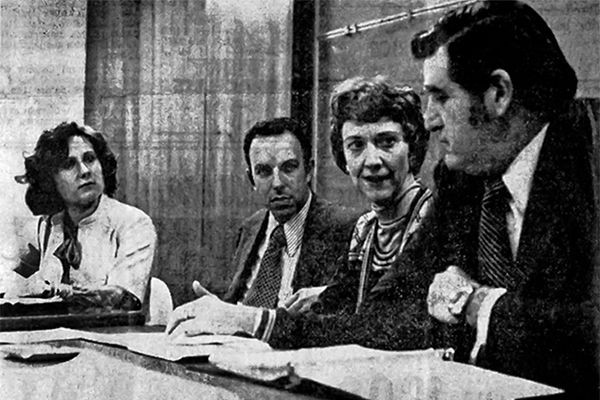 "We were able to go right in and see them right away," Burgess said. "It was very different from the way that research was typically done, but it's how we were able to describe the syndrome that we were seeing." In all, they interviewed 146 rape victims, ranging in age from 3 to 73. They published their findings in a 1973 American Journal of Nursing article titled "The Rape Victim in the Emergency Ward." The paper was among the first to suggest that rape was more about power and control than sex, and to call attention to the way that police, health institutions, and the criminal justice system treated victims. Burgess and Holmstrom called for the widespread implementation of crisis counseling for victims, and provided information to help clinicians recognize the signs of rape—important for instances when patients didn't mention an attack. Their paper also introduced into the scientific literature the term rape trauma syndrome, which is still used to describe the physical and psychological reactions of victims, such as anxiety, humiliation, muscle tension, and self-blame. The article had another major effect, as well, one that would change the trajectory of Burgess's career: Soon after its publication, the FBI came calling.
* * *
On a March afternoon in the basement of Cushing Hall, Professor Burgess was leading a roomful of students through a detailed PowerPoint presentation about the disturbing crimes of a man named Henry Wallace, who killed a number of women during the 1990s in Charlotte, North Carolina. Burgess laid out the facts of the case: Wallace had eleven victims, all single black women. One was a "date," and two had children. Projected on the screen, photos showed the crime scenes as they were found, including the bodies of victims. Other slides listed Wallace's confessed methods of murder and his motivations, which included "no reason" and "I got carried away." Still others explored Wallace's personal history, such as the facts that he was beaten daily as a child, was ridiculed by his mother, sisters, and neighborhood girls, and first had sex at age 4 or 5.
The presentation was part of a class Burgess teaches called Forensic Mental Health. The course, as it happens, is a lot like an episode of Mindhunter. Over the semester, students study the mindsets and personal histories of violent offenders through real crimes that Burgess worked on—and not always in the service of law enforcement. Burgess sometimes works for defense teams. In the case of Wallace, for instance, she acted as an expert witness on behalf of his lawyers as they argued that, given the facts of his past and the often-impulsive nature of his crimes, he should be sentenced to life in prison rather than death. "He did very well for a length of time, was a cheerleader in high school, was in the service," Burgess told the class. "Everybody liked Henry. He got married and was doing well until something happened and he just deteriorated." (Wallace received nine death sentences in 1997 and remains on death row in North Carolina. He sometimes sends polite notes and greeting cards to Burgess.)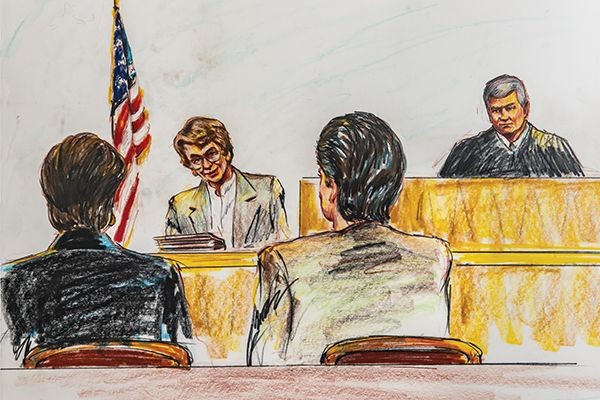 The point of the lessons in Forensic Mental Health is to help students understand the connection between criminals and their crimes. "Forensics helps bridge the gap between the patient and the law using observation, evidence, any kind of incident that interfaces with the law," Burgess told me later. "We teach students what is evidence, how to observe, how to assess. It's useful for any student, even those who don't go into nursing or medicine or law." It turns out to be useful for non-students, as well. Wallace's attorney, James Cooney, told me that he learned quite a bit from Burgess. "Ann taught me then and since to take a new approach to every case," he said. "There's what your client remembers, or says, happened and then there's what really happened. That's where the profiling comes in."
Of all of Burgess's accomplishments, though, the most profound and lasting just may be the way she has expanded the definition of what it means to be a nurse. By the time the term "forensic nursing" was created in the nineties, Burgess had been practicing in the field for decades. "As a nurse coming up, it was very much stay in your lane," said Annie Lewis-O'Connor, a former Burgess student who went on to found the C.A.R.E. Clinic at Brigham and Women's Hospital, which aids the victims of domestic and sexual violence and human trafficking. "Most people worked in clinics or hospitals. She really got me thinking about the work I wanted to do outside the discipline and helped give me the confidence to do so."
* * *
These days, forensic criminal investigation is such a bedrock component of law enforcement that it has spawned an entire subgenre of movies, books, and TV shows. But back in the seventies, when Burgess and Holmstrom conducted their study of rape victims, the work was so revolutionary that it caught the attention of the FBI. In fact, when Burgess was contacted by the agency, it was then-Director William Webster himself who called. In 1978, he invited her to the FBI academy to teach agents about what talking to victims had helped her learn about rapists. So Burgess began spending time in Quantico, Virginia, leading classes about how to talk to victims and how to catalog and interpret the information that came out of those interview sessions. In the afternoons, after teaching, she'd sit around with agents who were working unsolved cases, and they'd use evidence collected from crime scenes to try to glean information about the offender, such as his age, occupation, place of residence, and mindset.
At the time, the FBI agents John Douglas and Robert Ressler had already begun trying to understand the criminal mind by conducting interviews with imprisoned serial killers. Douglas became interested in a study that Burgess had recently conducted, this one about predicting heart attacks in men with certain variables. Douglas wanted to know whether Burgess's methods could be used to understand the variables that might contribute to the making not of a heart attack, but of a murderer. To Burgess, teaming up with Douglas and Ressler would mean the chance to expand on what she'd learned from her rape study about violent offenders and the victims they chose. The project would also allow her to contribute a much-needed female perspective to the world of investigating sexualized male-on-female crime. "There were victims that I wanted to speak for," she told me, "because they didn't survive."
But everything would have to be done properly. Like in the show, Burgess explained to Douglas and his team that they needed to formalize, record, and publish their research in order for it to be taken seriously enough to lead to changes in how law enforcement agencies investigate crimes. Burgess officially signed on in 1980 and the team was able to expand its work, thanks in large part to her successful efforts to secure funding from the Department of Justice.
Working together, they created a new system in which offenders and their crimes were placed on a spectrum between organized (premeditated, planned) and disorganized (careless, impulsive), which told investigators a lot about who they were looking for. They also examined the motives and methods of thirty-six serial killers in order to create a criminal profiling procedure. Their work resulted in a series of influential papers and books, including Sexual Homicide: Patterns and Motives, published in 1988, and 1992's Crime Classification Manual: A Standard System for Investigating and Classifying Violent Crime. The team was also the first to establish connections between a serial killer's past trauma and his crimes. "It was the first time anyone looked in a very systematic way at relatively serious crimes," the Denver-based forensic psychologist Susan J. Lewis told me. "It provided a menu of options still followed today, and their research was what validated it. Before that, trying to figure out motive was hit or miss, and very often just sort of blamed on mental illness, even when that might not necessarily have been the case."
* * *
In 1995, Douglas wrote Mind Hunter: Inside the FBI's Elite Serial Crime Unit, a book that detailed the team's work. Mindhunter is based on that book, and Douglas serves as a consultant on the show. (Burgess has had no involvement with the project.) Mindhunter is not the first time Burgess's work with the FBI has been depicted on screen. The long-running CBS crime drama Criminal Minds centers on a group of FBI profilers, while the movie The Silence of the Lambs (and the book it's based on) drew inspiration from cases Burgess worked on. But Mindhunter is, by far, the most true-to-life script.
Burgess said she's looking forward to season two of the show, but, of course, she's got more important things competing for her time. She's working on compiling her recent research on dismemberment, and in October she'll present some of the findings at a conference in collaboration with the authors of The New Evil: Understanding the Emergence of Modern Violent Crime, for which she wrote the afterword. There's also another project she keeps in the back of her mind, one she started thinking about while corresponding with Henry Wallace, the serial killer awaiting execution in North Carolina. He ended up marrying a nurse while on death row, Burgess said, "someone who was very interesting to talk to. She told me I didn't know the soft side of Henry." Ever the data collector, Burgess keeps a PowerPoint about the women who marry death-row inmates and, if work ever slows, she said, she may someday seek to determine what these women have in common. 
Alyssa Giacobbe is a Boston writer and editor whose work has appeared in publications such as Architectural Digest, Entrepreneur, Boston Magazine, and the Boston Globe.