The author in the Alumni Stadium seats he shared with Leo Morrissey.  (Photo: Lee Pellegrini)
I remember well the night I first met my friend Leo Morrissey. It was a beautiful Friday evening, October 27, 2017. Boston College was set to play the Florida State Seminoles at Alumni Stadium. The night air was fresh, crisp, and perfect for football. I was excited to be there despite being alone, but I did not have a good seat. So I wandered around trying to get a better view. I ended up on the other side of the stadium, standing in an area that turned out to be where the season-ticket holders sat. The crowd roared as BC scored and I roared, too. It was the start of an excellent night for Eagles fans.
While standing behind the last row of seats and enjoying a close view, I noticed a man motioning to me. I looked over and walked toward him. He invited me to sit next to him. I declined because the seat did not belong to me. "Don't worry," the elderly gentleman said, "I own both seats." I gladly hopped over and introduced myself, and together we enjoyed a wonderful night of Boston College football. The man's name was Leo and he'd graduated from BC in 1957. We high-fived each other and cheered all night as the Eagles ran away with the game. I thought to myself, "This guy has a lot of energy, and he loves football!" 
During the game, Leo talked about the BC games he had attended with his late wife, Peg, who'd died in 2016. I immediately realized that I was sitting with a man who was probably still grieving his loss. I offered my condolences, but he seemed to want to talk about Peg, so I listened as he shared about her. I have been involved in ministry for years, and I know when somebody needs to get something off their chest.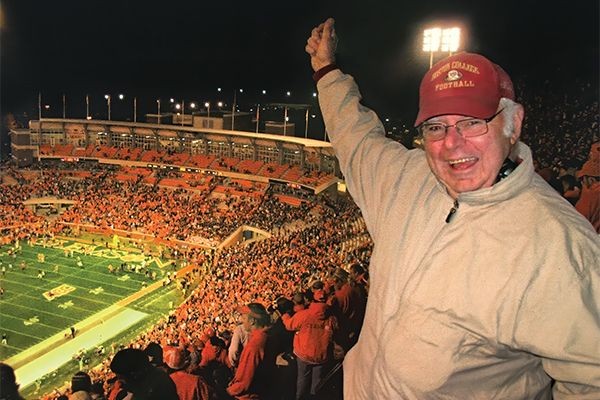 BC won the game and fans stormed the field in huge numbers. Leo and I stood at our seats basking in the win. The team gathered in the end zone to sing the school fight song. Leo removed his BC cap and sang along with them. I stood there for a few seconds and then removed my cap while reading the words from the screen. There we were, total strangers, standing together and singing the song with one thing uniting us—we were BC Eagles.
For the remainder of the season, I was Leo's guest at the games. We became friends. When Boston College had away games, he came to my house to watch on TV. Leo got to know my wife and my two teen daughters. Once he brought my wife some blue mugs that he'd purged while preparing to downsize and move from his home. Leo and I talked frequently, and he became a household name: "Dad's talking to Leo," my daughters would often say. For the 2018–2019 season, I purchased the seat next to Leo—the one that had once been Peg's—so we could watch all the games together. At Leo's urging, I became a member of the Gridiron Club. We often met for lunch before or after home games. 
Leo had a caring heart. In December, he invited my family to join him in wrapping presents for an organization called My Brother's Keeper that delivered gifts to the less fortunate. We were looking forward to it, but then Leo canceled that day because he was not feeling well. We thought he had a bad cold, but we later learned that he had stage four cancer and did not have long to live. We were stunned to receive this news. Soon Leo left the hospital and began receiving hospice care at his home. We talked a few times by phone.
One time, Leo called to thank me for my friendship and for attending the games with him. He told me that he hoped to be there for the 2019–2020 season. We reminisced about the good times over the past year and a half. I realized this was a farewell call from Leo and I fought back tears. I thanked him for befriending me and showing me what it was to be an Eagle. I asked him about his relationship with Jesus, and I prayed with him.
A few days later, he called again and kept mentioning football tickets, but he was incoherent and I felt helpless because I did not know what he was trying to say. A few days after that, my friend Leo was gone.
 
---
Share your thoughts: bcm@bc.edu