Jon Batiste at Pops on the Heights (Michael Manning)

Boston College Pops on the Heights: The Barbara and Jim Cleary Scholarship Gala hit a high note at its 30-year milestone event with a record $14.52 million raised for financial aid.

One of BC's most celebrated traditions, the sold-out gala brought a dynamic line-up of live performances, including award-winning artist Jon Batiste, to Conte Forum on September 30. Co-chaired for the second consecutive year by BC Board of Trustee member Patti and Jonathan Kraft P'24, the evening of music and merriment embodied the shared sense of purpose that defines scholarship support at the University, while shaping the future of hundreds of Eagles each year.

Since 1993, Pops on the Heights—the University's largest annual fundraiser—has raised nearly $130 million for financial aid and helped thousands of students pursue their dream of a BC education. This year alone, more than 340 students will receive a Pops Scholarship.

"Boston College's enduring commitment to financial aid is only possible thanks to the incredible generosity of our BC community. Pops on the Heights brings together our trustees, families, and alumni to both celebrate and support BC students and acknowledge that support," said Acting Senior Vice President for University Advancement Amy Yancey. "It's wonderful, but not surprising that Pops reached new fundraising heights under Patti and Jonathan's extraordinary leadership as chairs."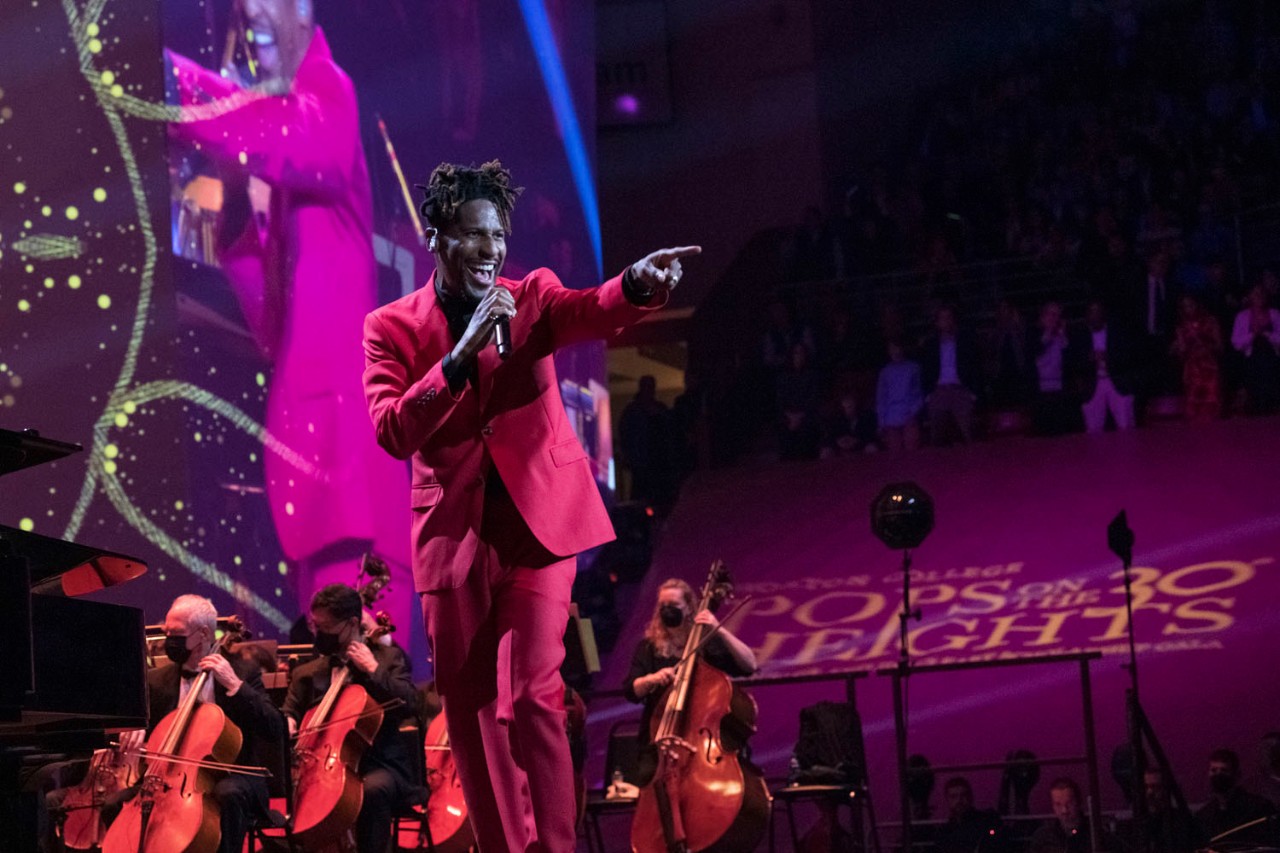 Jon Batiste (Michael Manning)


Batiste⁠, bandleader and musical director of "The Late Show with Stephen Colbert" on CBS from 2015-2022, is widely regarded as among the most brilliant, prolific, and accomplished musicians of his generation. ⁠After earning a Grammy nomination for Best American Roots Performance in 2018, two years later he received two Grammy nods for the albums "Chronology of a Dream: Live at the Village Vanguard" and "Meditations" (with Cory Wong). That same year, he won an Academy Award for Best Original Score for the Disney/Pixar film "Soul," an honor he shared with fellow composers Trent Reznor and Atticus Ross. He is the second Black composer in history to win an Academy Award for composition. Batiste's work on "Soul" also earned him Golden Globe, BAFTA, NAACP Image, and Critic's Choice awards.

His 2021 studio album, "WE ARE," was released to critical acclaim and nominated for 11 Grammys across seven different categories—a first in the award's history—and went on to win five, including Album of the Year.  
Batiste treated the audience to a variety of original songs as well as jazz and pop favorites.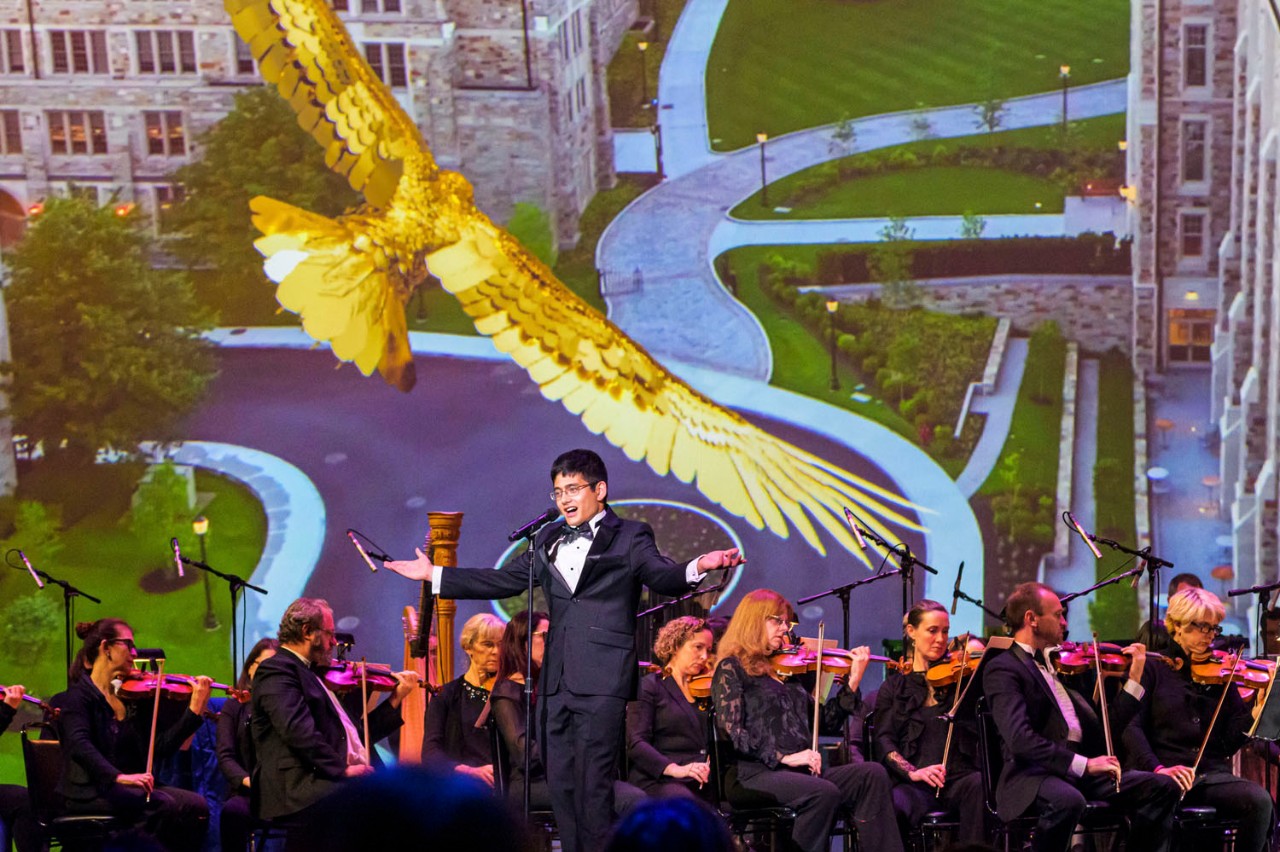 Student soloist Maxwell Korman '23. (Justin Knight)

This year's Pops on the Heights also featured perennial favorites, as conductor Keith Lockhart led the Boston Pops Esplanade Orchestra, which has entertained audiences in Boston and beyond for more than 135 years.
Morrissey College of Arts and Sciences senior Maxwell Korman, this year's Pops student soloist, sang "Corner of the Sky" from the Tony-winning musical Pippin.
The University Chorale of Boston College's rendiiton of "O Fortuna," accompanied by the Boston Pops, was conducted by John Finney, now in his 30th year as chorale director. Finney, who will retire at the end of the academic year, was recognized by a standing ovation.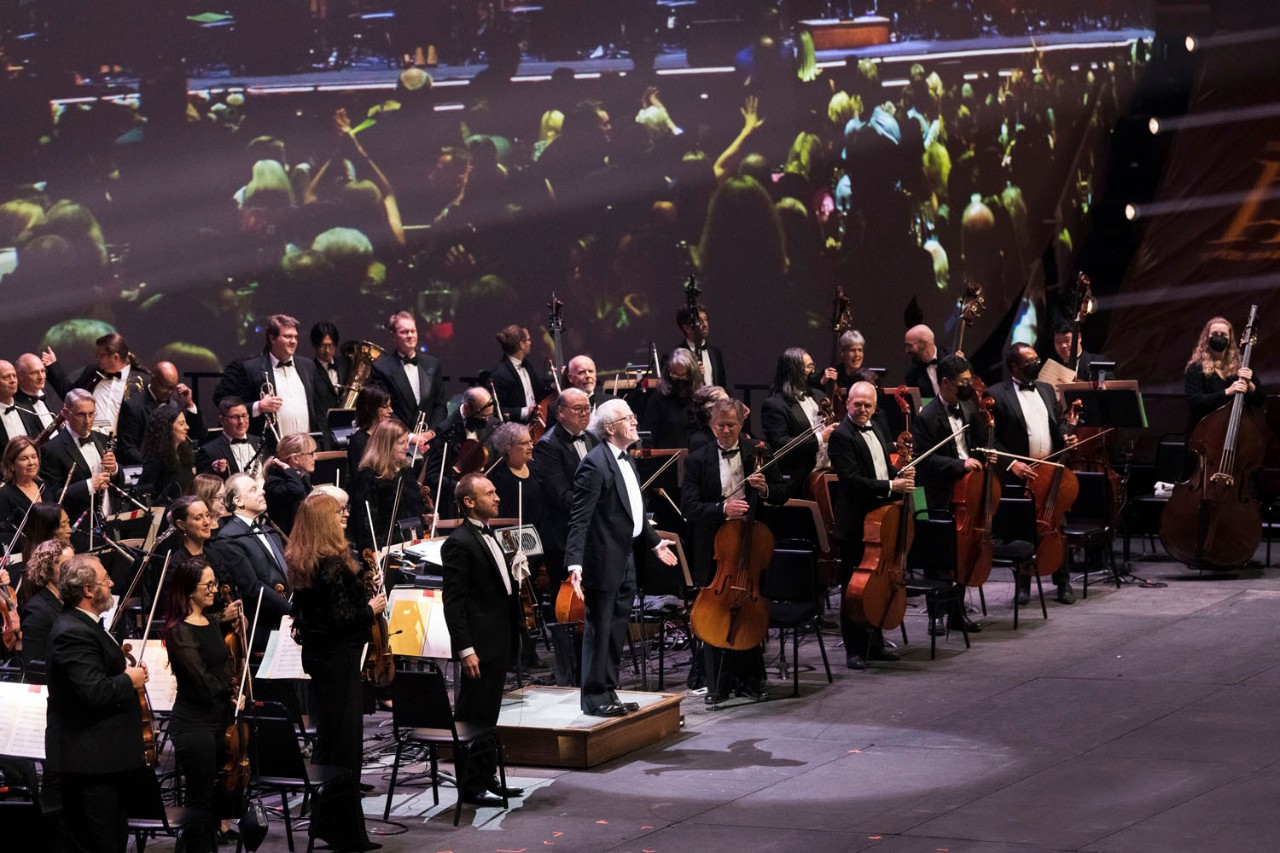 The Boston Pops Esplanade Orchestra joined the audience in a standing ovation for retiring University Chorale director John Finney, who made his final Pops appearance this year. (Justin Knight)

Other BC performers included the Screaming Eagles Marching Band.
Pops on the Heights was founded by the late Barbara and James F. Cleary '50, H'93, a BC trustee. Their children—Kara '84, M.A.'91; Kristin '89, J.D.'93; and James Jr.—continue their legacy as Pops benefactors.
 
Rosanne Pellegrini | University Communications | October 2022