Jehu's Tribute
Jehu's Tribute: What Can Biblical Studies Offer Assyriology?
April 12-13, 2021 | Virtual Conference | Registration Required
Organizers:
Jeffrey L. Cooley, Associate Professor of Hebrew Bible, Boston College
Rannfrid I. Lasine Thelle, Associate Professor of Religion, Wichita State University
Sara Milstein, Associate Professor of Hebrew Bible and Ancient Near Eastern Studies, University of British Columbia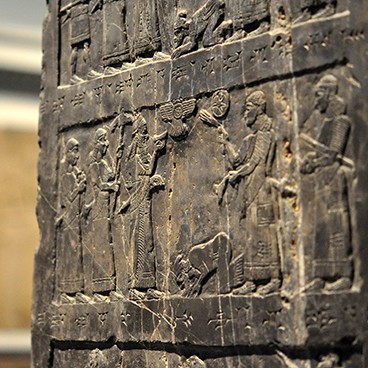 The fundamental problem this gathering intends to address is what, exactly, does the discipline of biblical studies have to offer Assyriology? Speakers will approach it from a variety of disciplinary perspectives, including intellectual history and museology, as well as religious and political history.
While that might seem to be an obvious question for those involved with ancient Near Eastern studies, broadly considered, the fact is it has been largely unexplored primarily due to the history of disciplinary boundaries. The civilizations of ancient Mesopotamia were first being revealed to scientific scholarship in the mid-19th century at the same time that biblical studies was emerging as an academic discipline rather than simply a confessional one. The material and textual remains from ancient Assyria and Babylon that archaeological excavations exposed were tremendous in scale and sophistication. They evinced the hegemonic power that those empires possessed over politically marginal nations such as Judah and Israel. Nonetheless, given the manifest import of the Bible in the modern cultures of Europe and North America, the study of ancient Mesopotamia was, in the late 19th and early 20th centuries at least, understood primarily as illuminating the culture of the people who wrote the Bible, i.e., Israel and Judah.
In the 20th century, significant intellectual turns took place in both Assyriology and biblical studies that in many ways pushed the two disciplines apart, but also signaled the promise of a more fruitful synergy. First, Assyriologists would eventually delineate the boundaries of their own academic enterprise. Notably, Benno Landsberger's landmark 1926 article, "Die Eigenbegrifflichkeit der babylonischen Welt" (Islamica 2 [1926]: 355-372) sought to establish the study of the cultures of ancient Iraq as its own discipline, free of biblical foci and lenses of interpretation.[1] And indeed, the enduring legacies of Assyria and Babylon in the modern world are significant in and of themselves and are worthy of scholarly consideration. Not only were Assyria and Babylonia the most powerful and prosperous civilizations of their day, they also possessed intellectual and cultural achievements that were commensurate with that power and prosperity. Second, beginning most properly in the 1970s-80s, biblical scholars have recognized that ancient Israel and Judah were truly ancient Near Eastern cultures rather than cultural isolates surrounded by peoples against whom they incessantly stood in stark theological contrast and conflict. Consequentially, the employ of Assyriological comparanda by biblical scholars has largely grown more measured.
Nonetheless, despite these healthy disciplinary reorientations, scholarly flow continues to move primarily from Assyriology to biblical studies – as if the latter continued exclusively to merit comparative illumination. But if the literature of ancient Judah and Israel preserved in the Hebrew Bible is truly the product of peoples of the ancient Near East who, over the course of several centuries, had significant contact and interaction with both Assyria and Babylonia, then surely the study of the Hebrew Bible has something to offer Assyriology. But what?
[1] Benno Landsberger, "Die Eigenbegrifflichkeit der babylonischen Welt," Islamica 2 (1926): 355-372. See translation by Thorkild Jacobsen, Benjamin Foster, and Heinrich von Siebenthal, The Conceptual Autonomy of the Babylonian World (MANE 1/4; Malibu: Undena, 1976).
Program Schedule and Registration

Monday, April 12, 2021, 3:00PM-5:30PM EDT | Virtual Event

Theme: The Bible in Assyriology, Past and Present

3:00pm-3:05pm

Jeffrey L. Cooley, Boston College

Welcome and Opening Remarks

3:05pm-3:35 pm

Peter Machinist, Harvard University

"Ashur, Babel, and Bibel: Reflections on the History of Biblical-Mesopotamian Scholarship."

3:35pm-4:05pm

Alice Mandell, The Johns Hopkins University

"Remodeling Albright's House: What Can Biblical Studies in the 21st Century Do for Assyriology?"

4:05pm-4:35pm

Gina Konstantopoulos, University of California Los Angeles

"Biblical Studies and Assyriology in the Galleries: Avenues for Museum and Public Engagement."

4:35pm-4:50pm

Abraham Winitzer, University of Notre Dame

Respondent

4:50pm-5:05pm

Beate Pongratz-Leisten, New York University

Respondent

5:05pm-5:30pm
Discussion
Tuesday, April 13, 2021, 1:00PM-3:30PM EDT | Virtual Event

Theme: Case Studies

1:00pm-1:05pm

Rannfrid I. Lasine Thelle

Wichita State University, Welcome and Opening Remarks

1:05pm-1:35pm

Martti Nissinen, University of Helsinki

"Changing Identities in Mesopotamia: The Case of the Book of Ezekiel."

1:35pm-2:05pm

Eckart Frahm, Yale University

"Assyria Through the Looking-Glass: The Hebrew Bible as Opposition Literature."

2:05pm-2:35pm

Jessie DeGrado, University of Michigan

"More than Resistance Literature: Historical Geography, Cultural Hybridity, and the Aftermath of Sargon's 720 Campaigns."

2:35pm-2:50pm

Julie B. Deluty, Saint Joseph's University

Respondent

2:50pm-3:05pm

Jack Sasson, Vanderbilt University

Respondent

3:05pm-3:30pm
Discussion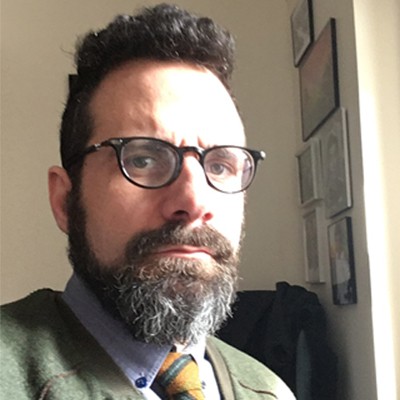 Jeffrey L. Cooley (he/him) is Associate Professor of Hebrew Bible in the Theology Department of Boston College and co-chair of the Assyriology and the Bible section of the Annual Meeting of the Society of Biblical Literature. He received his PhD from the Hebrew Union College – Jewish Institute of Religion in 2006, and previously served as Visiting Assistant Professor of Classics at Xavier University (2006-2009). Jeff is the author of Poetic Astronomy in the Ancient Near East: The Reflexes of Celestial Science in Ancient Mesopotamian, Ugaritic, and Israelite Narrative (Eisenbrauns, 2013). He is currently working on his second monograph project, Names and Knowledge in Ancient Near Eastern Narrative: A Study in Etymology and Epistemology (Cambridge University Press). His research interests center on the intellectual history of the ancient Near East.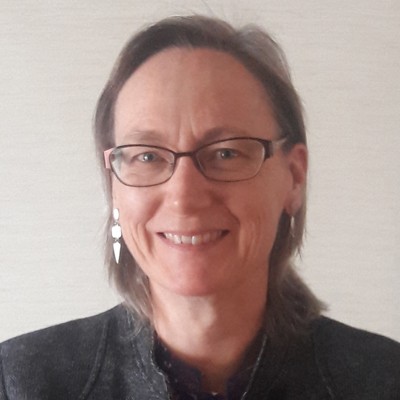 Rannfrid I. Lasine Thelle (she/her) is an Associate Professor of Religion at Wichita State University and co-chair of the Assyriology and the Bible section of the Annual Meeting of the Society of Biblical Literature. She earned her PhD in Old Testament at the University of Oslo, Norway. Her most recent book is Discovering Babylon (Routledge, 2018).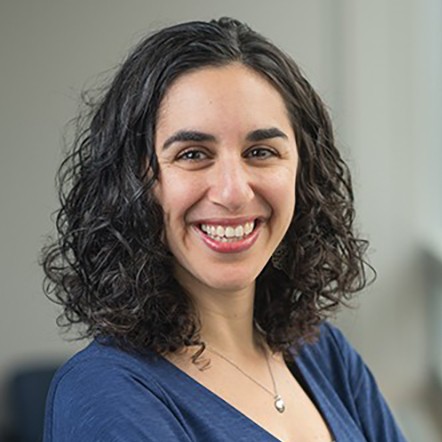 Sara Milstein (she/her) is Associate Professor of Hebrew Bible and Ancient Near Eastern Studies in the Department of Classical, Near Eastern, and Religious Studies. She is the author of Tracking the Master Scribe: Revision through Introduction in Biblical and Mesopotamian Literature (Oxford University Press), which earned the Frank Moore Cross Award from the American Schools of Oriental Research in 2017; and co-author with Daniel Fleming of The Buried Foundation of the Gilgamesh Epic: The Akkadian Huwawa Narrative (Brill). A graduate of Bates College (BA in English), City College of New York (MA in Secondary Education in English) and New York University (MA/PhD in Hebrew and Judaic Studies), she has been the recipient of fellowships from the American Council of Learned Societies (2009-2010, 2010-2011, 2011-2012), the Memorial Foundation for Jewish Culture (2009-2010, 2012-2013), the Killam Foundation (2017), and the Peter Wall Institute for Advanced Studies (2018-2019). In 2016, she was the recipient of the Killam Teaching Prize. Her current book project, Making a Case: The Practical Roots of Biblical Law, is funded by the Social Sciences and Humanities Research Council and is forthcoming from Oxford University Press.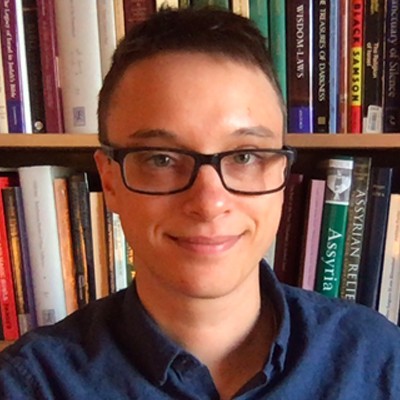 Jessie DeGrado (they/them or he/him) is an assistant Professor of Middle East Studies at the University of Michigan. DeGrado's work explores the relationship between structures of socio-political hegemony and the religious imagination in ancient Mesopotamia and the Levant. They also study how modern history and politics affect our reconstruction of the past, including the legacy of Orientalism in Assyriology and biblical studies. They are currently working on their first book, Authoring Empire: Assyria, Judah, and the Dynamics of Imperial Exchange, which engages postcolonial theory to explore the relationship between the Neo-Assyrian empire and its client states in the Levant, taking Judah as a case study. Recent publications include an analysis of the representations of Levantine foreigners in Assyrian art and two co-authored studies tracing the wanderings of the Mesopotamian baby-killing demon Lamaštu and her nemesis Pazuzu.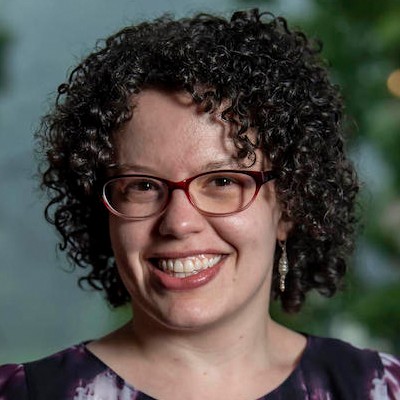 Julie B. Deluty is Assistant Professor of Religious Studies at Saint Joseph's University in Philadelphia, PA. She received her Ph.D. in Hebrew Bible and the Ancient Near East from New York University's Department of Hebrew and Judaic Studies.  Subsequently she served as a Postdoctoral Teaching Fellow in the College Core Curriculum at NYU. Her current book project, Prophet, Intermediary, King: The Dynamics of Mediation in the Biblical World and Old Babylonian Mari, examines the networks of communication among prophets, intermediaries, and kings in second millennium BCE Mesopotamia and in the Hebrew Bible.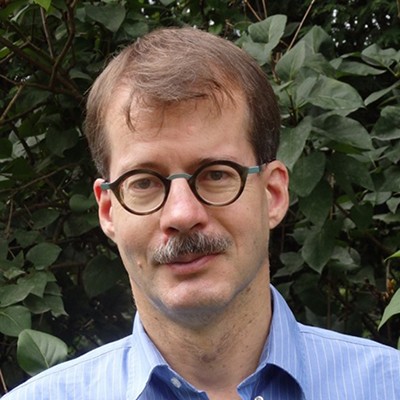 Eckart Frahm (PhD Göttingen 1996, Habilitation Heidelberg 2007) is Professor of Near Eastern Languages and Civilizations at Yale, Faculty Affiliate of the Anthropology Division with Responsibility for Research on Cuneiform Tablets at the Yale Peabody Museum, and founder and co-director of the Cuneiform Commentaries Project. His main research interests, and the focus of five of his six books and many of his articles, are Assyrian and Babylonian history and Mesopotamian historical and scholarly texts of the first millennium BCE. Several of his articles discuss, moreover, in which ways the Bible draws on Mesopotamian history and literature.

Gina Konstantopoulos (PhD, University of Michigan) is Assistant Professor in Assyriology and Cuneiform Studies at the University of California Los Angeles. She has published on religion, magic, and literature in Mesopotamia, focusing on the role of demons and monsters in Sumerian and Akkadian texts; her current research centers on the creation of distant and imagined lands in the ancient Near East. In 2014-2015, she was an Art History Fellow in the Department of Ancient Near Eastern Art at the Metropolitan Museum of Art.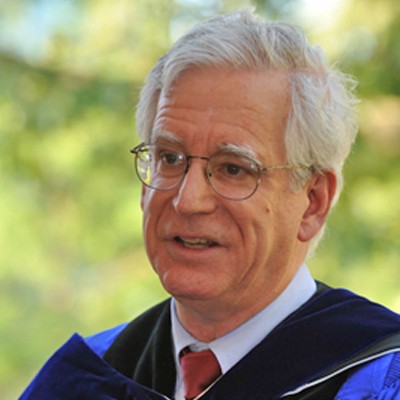 Peter Machinist is the Hancock Research Professor of Hebrew and Other Oriental Languages at Harvard University, serving since 1991 in the Dept. of Near Eastern Languages and Civilizations and the Harvard Divinity School; he retired from full-time teaching in January, 2017. Earlier, he taught at Case Western Reserve University (1971-77), the University of Arizona/ Tucson (1977-85), and the University of Michigan/Ann Arbor (1985-90); he also was visiting lecturer (1981) and then Lady Davis Visiting Professor in Jewish History (2003) at the Hebrew University of Jerusalem, Visiting Professor at the University of Munich (2013-14), and Visiting Professor at the Pontifical Biblical Institute of Rome (2018). He was a Fellow of the Wissenschaftskolleg zu Berlin (1984-85) and the Oxford Centre for Hebrew and Jewish Studies (2008-09). The University of Zurich awarded him an honorary doctorate in 2009, and he received a Festschrift in his honor in 2013. He has given invited lectures throughout North America, Europe, Israel, and East Asia, and served on a number of boards of journals and scholarly organizations in his fields. His work lies in the intellectual and cultural history of the ancient Near East, with a focus on Israel and the Hebrew Bible, and Mesopotamia. Among his publications: Letters from Priests to the Kings Esarhaddon and Assurbanipal (co-edited with Steven Cole; 1998); and more than seventy articles and reviews including "The Voice of the Historian in the Ancient Near Eastern and Mediterranean World" (2003); "How Gods Die, Biblically and Otherwise. A Problem of Cosmic Restructuring" (2011); "Cities and Ideology: The Case of Assur in the Neo-Assyrian Period" (2016); "Royal Inscriptions in the Hebrew Bible and Mesopotamia: Some Reflections on Presence, Function, and Self-Critique" (2018); "Periodization in Biblical Historiography"(2019); "Reflections on the Epic of Gilgamesh" (2020); and "Manasseh of Judah: A Case Study in Biblical Historiography" (2020).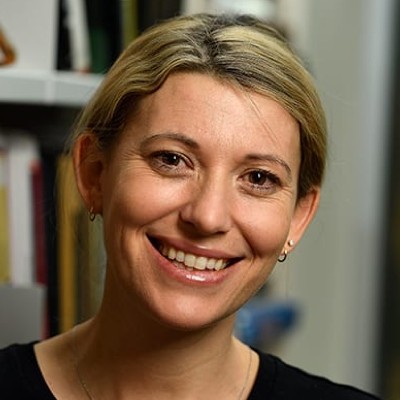 Alice Mandell received her training in Hebrew Bible and Northwest Semitics in UCLA's Department of Near Eastern Languages and Cultures. She is the Albright Chair of Biblical and Ancient Near Eastern Studies at Johns Hopkins University. Her research investigates the origins, spread, and socially-situated uses of writing in the ancient Levant, focusing on the cuneiform and alphabetic scripts in the second and first millennium BCE. Alice is currently completing her first book, Cuneiform Culture and the Ancestors of Hebrew, which focuses on the Canaanite Amarna Letters, a corpus of cuneiform diplomatic letters between the Egyptian royal court and Levantine polities (mid-14th century BCE). In this work, she adopts a social semiotic approach and considers their materiality and design and the linguistic and meta-discursive strategies that Levantine scribes used to communicate to their peers in Egypt.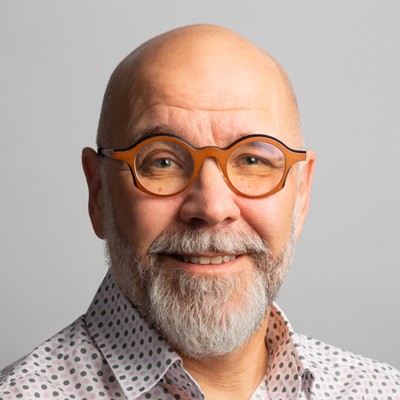 Martti Nissinen is Professor of Old Testament studies at the University of Helsinki, the President of the Foundation for the Finnish Institute in the Middle East. He was the director of the Academy of Finland Centre of Excellence "Changes in Sacred Texts and Traditions" (2014–19). He is an expert of the prophetic phenomenon in the ancient Eastern Mediterranean, and his research interests include also gender issues (love poetry, homoeroticism, masculinity) in the Ancient Eastern Mediterranean. His books include Ancient Prophecy (2017), Prophetic Divination (2019); Prophets and Prophecy in the Ancient Near East (2nd ed. 2019), Homoeroticism in the Biblical World: A Historical Perspective (1998), References to Prophecy in Neo-Assyrian Sources (1998), and Prophetie, Redaktion und Fortschreibung im Hoseabuch (1991).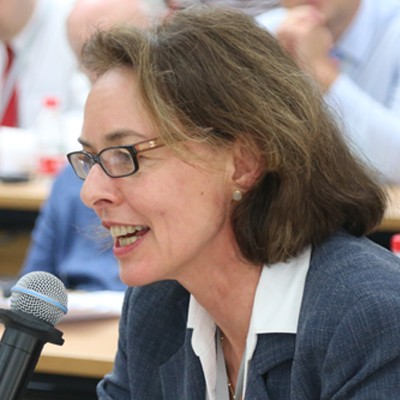 Beate Pongratz-Leisten is Professor of Ancient Near Eastern Studies, Institute for the Study of the Ancient World, New York University. Her academic interests include the political, intellectual and religious history of the ancient Near East, materialities of culture, literature, formation of textual communities, cultural memory, ritual performance and ritual texts, as well as myth as epistemic tool. Her publications include several books on the cultural and religious history of ancient Mesopotamia, among them Die kulttopographische und ideologische Programmatik der akitu-Prozession in Babylonien und Assyrien im 1. Jt. v.Chr, (1994), Herrschaftswissen (1999), Reconsidering the Concept of Revolutionary Monotheism (2011), Religion and Ideology in Assyria (2015), and a volume of collected essays under the title Materiality of Divine Agency (2015) co-edited with Karen Sonik.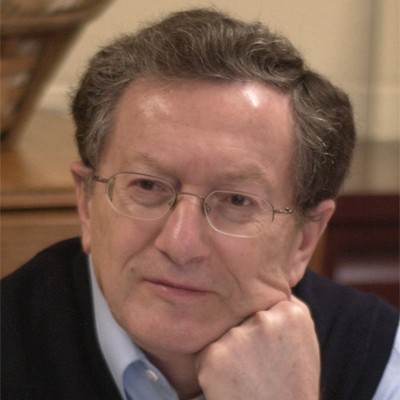 Jack M. Sasson is Kenan Professor of Religious Studies (emeritus 1999, UNC–Chapel Hill) and Werthan Professor of Biblical and Judaic Studies (emeritus 2015, Vanderbilt University). He is a past president of the International Association for Assyriology and of the American Oriental Society. He publishes widely on Biblical and Mesopotamian subjects, is a member of several editorial boards, and has addressed many adult education programs. His webpage is at my.vanderbilt.edu/jacksasson, from where many of his articles can be downloaded.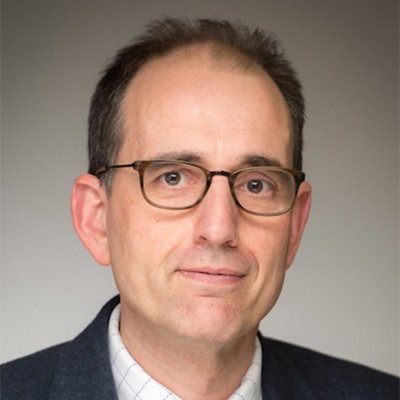 Abraham Winitzer is Jordan H. Kapson Associate Professor of Jewish Studies at the University of Notre Dame, where he teaches ancient Near Eastern Languages. His interests in intellectual history involve Mesopotamian scholarly and literary texts as well as the "afterlife" of Mesopotamian thinking in the Hebrew Bible/Old Testament. His forthcoming book, titled The Worlds of Yesterday: A. Leo Oppenheim and the Study of Ancient Mesopotamia in the Twentieth Century, tracks the fate of intellectual history in the recent study of the ancient Near East and the development and meaning of the discipline of Assyriology.

Day 1
THEME: THE BIBLE IN ASSYRIOLOGY, PAST AND PRESENT
Day 2
THEME: CASE STUDIES