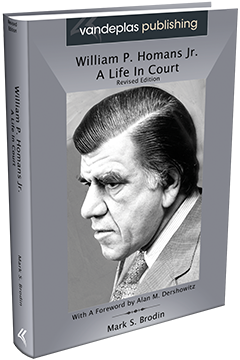 The revised edition of BC Law Professor Mark Brodin's book William P. Homans Jr.: A Life In Court (Vandeplas Press) has been released with a new foreword by Harvard Law Emeritus Professor Alan Dershowitz. The book recounts the remarkable legal career and troubled personal life of the iconic Boston criminal defense and civil liberties lawyer.

"With graceful prose and a steady beat, the author gives us the full measure of a masterful lawyer and the important legal battles he fought," wrote Margaret A Burnham, Professor of Law and Director, Civil Rights & Restorative Justice Project, Northeastern University School of Law. "While Boston is the venue for this fascinating and well-researched account of Bill Homan's life-long defense of civil rights and liberties, the book guides the reader through mid-twentieth century national debates over abortion, sexual rights, capital punishment, and racial justice. Homans (although to the manor born) was there, Brodin takes us back there, and in the process dissects the enduring magic, craft, and art of brilliant courtroom advocacy."
Descendent of a venerable family of surgeons, politicians, corporate lawyers and Harvard professors, the patrician Homans was a fixture on the Boston legal scene for fifty years, and an unlikely guru to the 1960s generation of activist lawyers. A World War II combat veteran of both the British and American navies, he became the first-call lawyer for antiwar protestors during the Vietnam years, and was on the defense team in the pivotal 1968 conspiracy trial of Dr. Benjamin Spock and four other leading opponents of that war. Homans fought a successful decades-long courtroom battle against capital punishment in Massachusetts, persuaded the Supreme Judicial Court to modernize the insanity defense, and represented Dr. Kenneth Edelin in the controversial 1975 manslaughter prosecution arising out of a lawful abortion he performed on young patient at Boston City Hospital. As counsel to the Civil Liberties Union of Massachusetts in the 1950s and 1960s, Homans was center stage in the struggles against book and film censorship, and the over-reaching investigative committees of the McCarthy era.
"With meticulous research and law professor's gift for telling it as it is, Mark Brodin brings Bill Homans to life," writes Michael Meltsner, George J. and Kathleen Waters Matthews Distinguished University Professor of Law and author of Cruel and Unusual: The Supreme Court and Capital Punishment and The Making of a Civil Rights Lawyer. "Homans' legacy speaks vividly to any lawyer or activist willing to battle complacency, scapegoating and bias."
Michael A. Ponsor, U.S. District Judge and author of the New York Times best-selling novel, The Hanging Judge, calls the book "a masterpiece of legal biography...a compellingly readable, and inspirational, portrait of a great attorney. The book presents a dramatic, in-the-trenches picture of our American system of justice as it actually works, from the perspective of one of its finest practitioners."
Mark S. Brodin is Professor of Law, Michael and Helen Lee Distinguished Scholar, and former Associate Dean for Academic Affairs at Boston College Law School. A graduate of Columbia College and Columbia Law School (where he served on the Law Review), Professor Brodin clerked for United States District Judge Joseph L. Tauro from 1972 to 1974. He was Staff Attorney with the Lawyers' Committee for Civil Rights Under Law of the Boston Bar Association from 1974 to 1980, representing plaintiffs in employment, housing, and police misconduct actions. Brodin has published extensively in the areas of employment discrimination, constitutional criminal procedure, civil procedure, evidence, and litigation. He is the author of numerous law review articles and co-author of Handbook of Massachusetts Evidence (with Hon. Paul J. Liacos and Michael Avery), Criminal Procedure: The Constitution and the Police (with Robert M. Bloom), and Civil Procedure: Doctrine, Practice and Context (with Stephen Subrin, Martha Minow, Thom Main & Alexandra Lahav). Brodin is Editorial Consultant to the six-volume Weinstein's Federal Evidence treatise. He has served for brief periods as an appellate attorney with the Massachusetts Defenders Committee (now the Committee for Public Counsel) and as a special assistant district attorney in Norfolk County.
Professor Brodin was named BC Law's 2002-2003 Faculty Member of the Year by the Law Students Association. The Black Law Students Association awarded him the Ruth Arlene Howe Award in both 2005 and 2006, and the Anthony P. Farley Excellence in Training Award in 2008-2009.