Insights: U.S. Legal System Certificate Program
Insights programs are in-depth professional development programs for international and U.S. students, legal educators, and legal professionals.
Join expert Boston College Law School faculty for this popular five-day introduction to the U.S. legal system – now offered online!
Participants will learn about:
The system of justice and legal problem-solving in the U.S.
The facilitative role lawyers play in business transactions
The role of the lawyer in the U.S.
How criminal cases are handled in the U.S.
How lawyers prepare for a trial
How to introduce evidence in a case
Human rights standards and applications to business law
Intellectual property law in the U.S.
Environmental law and lessons for the future
The role of constitutional courts
Each of the five days will offer a two-hour, live synchronous session and a two-hour, recorded asynchronous session. The live sessions offered via Zoom will be interactive; participants may attend recorded sessions at a time that is convenient. Live Q&A sessions with instructors will follow the recorded sessions.
Total program hours: 25
Insights: U.S. Legal System - Online
August 14-18, 2023
Registration Deadline: August 7, 2023
Program Fee: $300 USD
Please note that online participants are required to have a computer with video and audio capability.
Participants must also create a Zoom account in advance according to Boston College security requirements.
This program has a maximum capacity to allow for participant engagement and ensure the best possible experience. Register early to avoid disappointment!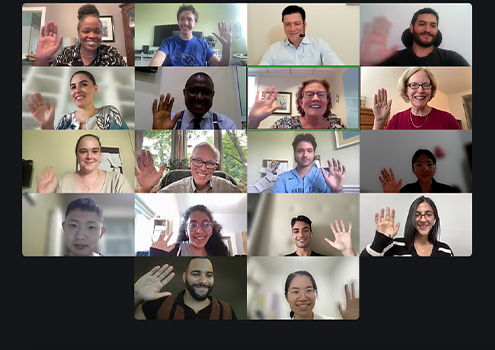 Insights: U.S. Legal System Program Testimonials, 
January 2023 Program:
- "Although the program was online, the teachers were able to bring their enthusiasm and passion. It was really well organized. I would recommend it to anyone."
- "I can confidently say that this programme has truly enriched my legal education and I am very grateful to have had the opportunity to participate."
- "I really enjoyed the diversity amongst participants from all over the world as well, since this led to informative discussions on the different legal jurisdictions and their laws."
Insights: U.S. Legal System Instructors
Insights: U.S. Legal System 
The program fee for
Insights: U.S. Legal System
is $300 USD.
General Information:
You must be at least 18 years old to participate in the Insights U.S. Legal System program. All sales are final; we are not able to offer refunds. Registrations may not be transferred to another person or to another course, workshop, or program.
Online registration is required to participate in the program. Tuition for the week-long program is $300 to be paid by debit or credit card. Registrations will be processed upon receipt of payment. Payment is due in full in order to enroll.
---