The Undergraduate Government of Boston College (UGBC) is a student government created to enrich the lives of students attending Boston College. Its purpose is to serve on behalf of students' interests and to help cultivate an engaged and caring student community. Furthermore, the student government works to actualize the rights and responsibilities of students to the greater community, while promoting growth academically, socially, and spiritually.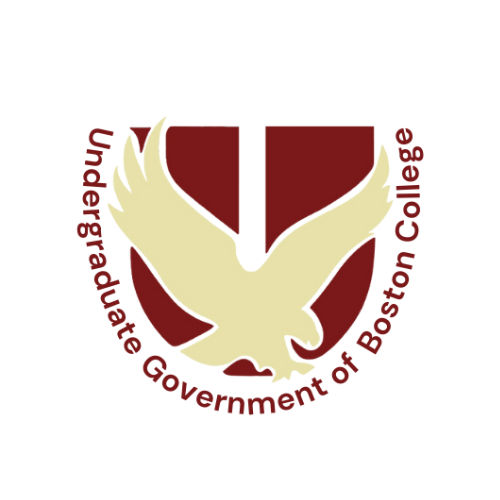 Visit the UGBC office
in Carney 106
E-mail: ugbc@bc.edu
The general student body of Boston College entrusts the Undergraduate Student Government of Boston College (UGBC) to serve as an advocate, a unified voice for students' interests and a representative body to the larger Boston College community, to lead the student body by providing social, cultural, formational and educational programs and activities that expand the scope of the educational experience— by providing the most effective use of student money and effort, by informing students of issues which are their concern and to eliminate confusion about those issues, by representing the General Student Body to the surrounding community, the Board of Trustees, the President, the Administration and any other appropriate body or organization and to give input to those bodies relating to student opinion, by encouraging student participation and input; and to be more worthy of the Motto of Boston College, "Ever to Excel".

Jack Bracher
UGBC President
Jack Bracher will be serving as the President of UGBC for the 2021-2022 year. Originally from Newton, MA, Jack attended Boston College High School and is a lifelong fan of everything Boston College. Majoring in Political Science and Perspectives with a Minor in Ancient Civilizations, Jack has been involved in UGBC in all four years of his time at Boston College. In addition to his involvement with UGBC, he has been a part of Jamaica Magis, the Bowman Advocates, the Ignatian Society, the Senior Legacy Committee, and a TA in Courage to Know. In his free time Jack enjoys reading biographies and cheering for Minnesota sports teams.
Gianna Russi
Executive Vice President
Gianna Russi
Executive Vice President
Gianna Russi will be serving as the Executive Vice President of UGBC and the President of the Student Assembly for the 2021-2022 year. Gianna is a senior, double-majoring in Political Science and History in the Morrissey College of Arts and Sciences. She was born and raised in Miami, Florida and has found a home away from home at Boston College. Having been a part of UGBC since her sophomore year, Gianna admires the fierce passion for advocacy demonstrated by student leaders and advocates across all divisions of the organization. Gianna's BC experience has been molded by serving others through her involvement in the Student Admission Program (SAP) as a tour guide, panelist, and member of the AHANA+ Outreach committee, and through her participation in BC's Alzheimer's Buddies chapter. She has a passion for working with students and improving the student experience at BC through her work as an Orientation Leader for the Class of 2025 and as a TA in Courage to Know. Gianna also enjoys listening to music from all different genres, trying new recipes, spending time on the beach, and bonding with family and friends. 
Conor McCormick
Chief of Staff
Conor McCormick
Chief of Staff
Conor McCormick will be serving as the UGBC Chief of Staff for the 2021-2022 year. He is from West Springfield, MA and loves the Pioneer Valley. As a student in MCAS, Conor has an Honors Major in Theology and a Minor in Biology. He hopes to add a second Major or Minor in Philosophy and aims to attend Law School after graduation. Conor originally joined UGBC as a freshman to make friends and advocate for a more accessible campus. He continued to work within UGBC as the chair of CSD and Director of DI after discovering a passion in advocating for greater inclusion and amplifying marginalized student voices. Conor believes every student should participate in inclusive efforts on campus, within UGBC or otherwise, so BC students can create a culture where everyone feels valued, respected, and heard.
Mitzy Monterroso-Bautista
Director of Diversity & Inclusion
Avery Olsen
Director of Student Initiatives
Emma Searle
Director of Communications Division
Rob Finn
Director of Financial Affairs

Giovanna Eichner
Director of the Environmental and Sustainability Division
Lubens Benjamin
Chair of the AHANA+ Leadership Council
Svea McNally
Chair of the Council for Students with Disabilities
Chris Rizzo
Chair of the GLBTQ+ Leadership Council (GLC)
Jordan Nakash
Student Life Committee Chair
Alexandra (Alex) Katz
Intersectionality Committee Chair
Julia Spagnola
Academic Affairs Committee Chair
Dennis Wieboldt
Community Relations
Committee Chair