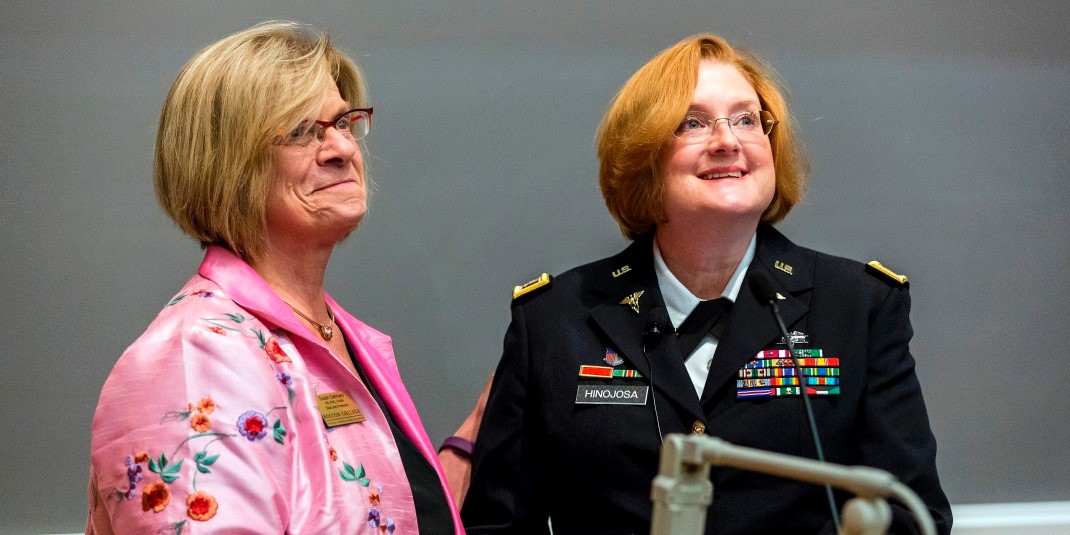 Darlene (MacIsaac) Hinojosa, a nurse practitioner and colonel in the Army Nurse Corps, U.S. Army Reserve, has been honored with the Connell School of Nursing's 2016 Dean Rita P. Kelleher Award.

Named after the school's first faculty member and former dean, the Kelleher Award recognizes a Connell School graduate who is an accomplished nursing leader, an ethically aware scientist, and a skilled and inquisitive clinician. The award was presented to Hinojosa by Dean Susan Gennaro at an event held during reunion weekend.
Hinojosa earned a bachelor of science degree, magna cum laude, from the Connell School in 1986. She is currently assigned to the Army Health Command as Force Health Protection Integrator. She also is a family nurse practitioner at Hunter Holmes McGuire VA Medical Center in Richmond, Virginia.
When she was a BC undergraduate, Hinojosa participated in ROTC out of Northeastern University. After graduation, she served as a critical care nurse in an evacuation hospital in Korea, and then as head nurse for the emergency medical treatment area of a MASH (mobile army surgical hospital) unit in Saudi Arabia and Iraq during Operation Desert Shield/Desert Storm. At the end of her active duty in 1991, Hinojosa continued serving in the U.S. Army Reserves.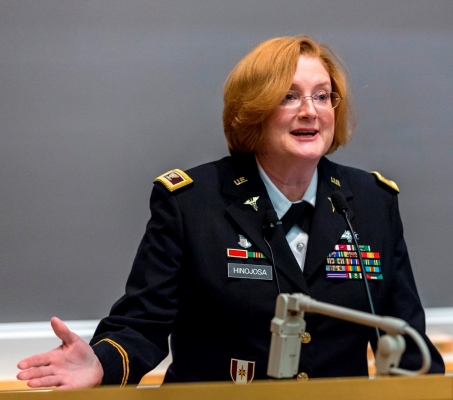 Darlene Hinojosa (Photo by Caitlin Cunningham)
In 2004, she was called up to active duty as nurse practitioner/deputy commander of nursing at Fort Dix for two years. There she supervised a clinical staff of 250 military and civilian personnel and had overall responsibility for the daily operations of four clinical areas. She returned to active duty again in 2010 as a nurse practitioner/primary care manager at the U.S. Army Medical Command Center in Virginia Beach, where she oversaw the care of 300 soldiers returning from combat.
Hinojosa has been awarded the Meritorious Service Medal, Army Commendation Medal, Army Achievement Medal, National Defense Service Medal, Southwest Asia Service Medal, and Global War on Terrorism Service Medal, among many other honors. She also earned a master of science in nursing administration from the University of Maryland at Baltimore and completed a post-master's fellowship at the University of Alabama at Birmingham.
"We are thrilled to call Darlene MacIsaac Hinojosa one of our own and are pleased to present her with the 2016 Dean Rita P. Kelleher Award," said Gennaro. "She—and other military health care workers—are working hard every day to keep our troops as safe and healthy as possible."
The campus event was attended by more than 100 Connell School alumni—many of whom had served in the military. Hinojosa, whose medical unit was first on the scene during Operation Desert Shield/Storm, shared her experiences serving in Saudi Arabia and Iraq, where her team at times worked 12-hour shifts six or seven days a week; she personally logged 10,000 patients in three months. Over a 10-month period, she and a team of doctors, nurses, and medics had to move their MASH six times, once in the dark. In temperatures of well over 100 degrees Fahrenheit, it was an enormous challenge to set up a 60-bed surgical hospital of interconnected tents while still providing uninterrupted medical care, she said. She told the audience that since that battlefield experience, the delivery of health care to soldiers in combat has evolved: MASH units have given way to smaller teams of surgeons, an anesthesiologist, nurses, and medics who work out of one tent; patients are evacuated out of the field more quickly.
Hinojosa also gave the audience a sense of military medicine by showing a brief video of a combat support hospital Medex 12 drill to prepare for mass casualties resulting from a natural disaster. The video illustrated not only the training required to face a number of casualties great enough to potentially overwhelm the hospital's medical capabilities, but also the way in which advances in the delivery of health care in military medicine can translate into enhancements in the delivery of health care to all.
Hinojosa spoke of the challenges of providing health care to active military and veterans, including the large number of those with catastrophic injuries, traumatic brain injuries, PTSD, and other trauma. Another challenge for nurses in the Army Reserves, she said, is that they are required to hit the ground running when called to serve, making the need for ensuring that core competencies are maintained all the more critical. Hinojosa also talked about issues she faced as a woman in the military, including balancing work and family, and the different cultural attitudes toward women held in other parts of the world.
—Kathleen Sullivan | News & Public Affairs