Photos by John Quackenbos
Former Boston College baseball captain Pete Frates '07, whose heroic battle with ALS served as the inspiration for the Ice Bucket Challenge that helped raise more than $220 million for ALS research, died December 9 at his home in Beverly. He was 34.
Mr. Frates was diagnosed with ALS—also known as Lou Gehrig's disease – in 2012 at the age of 27. The grim revelation closed the door on his life as a baseball player, but it opened another, with him and his family becoming a symbol of determination in fighting the ravages of the neurodegenerative disease.
Mr. Frates' story had an unmistakable BC dimension. His parents, John and Nancy, his sister, Jennifer and his wife, Julie, are all alumni. He and Julie, like his parents, met while students at Boston College. Mr. Frates enjoyed an accomplished career as an outfielder for the Eagles, setting a modern BC record with eight RBIs in one game. Head coach Mike Gambino '99 hired Mr. Frates as BC's director of baseball operations in 2012, and he provided advice, support, and inspiration to Eagles players even as the progression of the disease made it impossible for him to travel with the team. He created a special "Mentor Night," when former players speak to current Eagles about life after baseball.
"Pete Frates possessed the characteristics we hold dear as a university—courage, integrity, selflessness, and a commitment to helping others," said Boston College spokesman Jack Dunn. "He accepted his illness and devoted the remaining years of his life to raising awareness of ALS and helping to raise money for a cure. He is a role model for all BC students and a beloved figure on our campus.
"The Pete Frates Center for baseball and softball in the Harrington Athletics Village will stand as a testament to his enduring legacy. We extend our heartfelt condolences to the Frates family, who have been an inspiration in their loving devotion to Pete and the cause of ALS research," Dunn said.
"There is no one that embodied the spirit of Boston College more than Pete Frates," said Martin Jarmond, BC's William V. Campbell Director of Athletics. "Pete's impact not only on our campus but nationally for his efforts in leading to raise awareness for ALS will be remembered forever. He was a special person who led his life to the fullest and I am just glad I had the honor of spending time with him. Our thoughts and prayers are with his family and friends."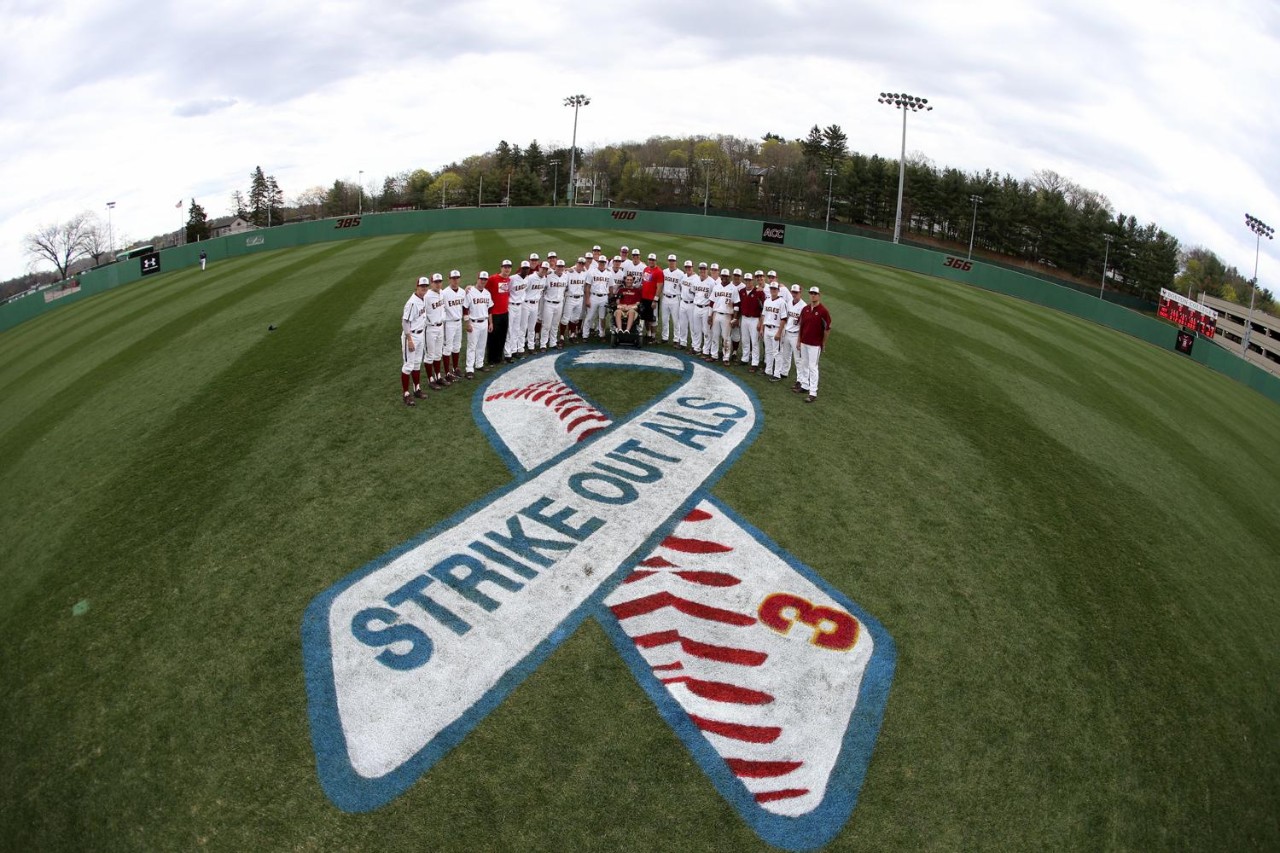 Interviewed by Boston College's student newspaper, The Heights,  almost a year after his ALS diagnosis, Mr. Frates said that his role as an advocate "gives me another reason to get out of bed every day. Being part of something bigger than yourself is one of the best things you can do."
In the summer of 2014, Mr. Frates was at the center of what became a worldwide phenomenon and one of the most celebrated social media campaigns in history—the ALS Ice Bucket Challenge. For several weeks, people around the world posted videos and photos that showed them dumping buckets of ice water on their heads, and challenging friends and relatives to do the same, while urging donations to support ALS research.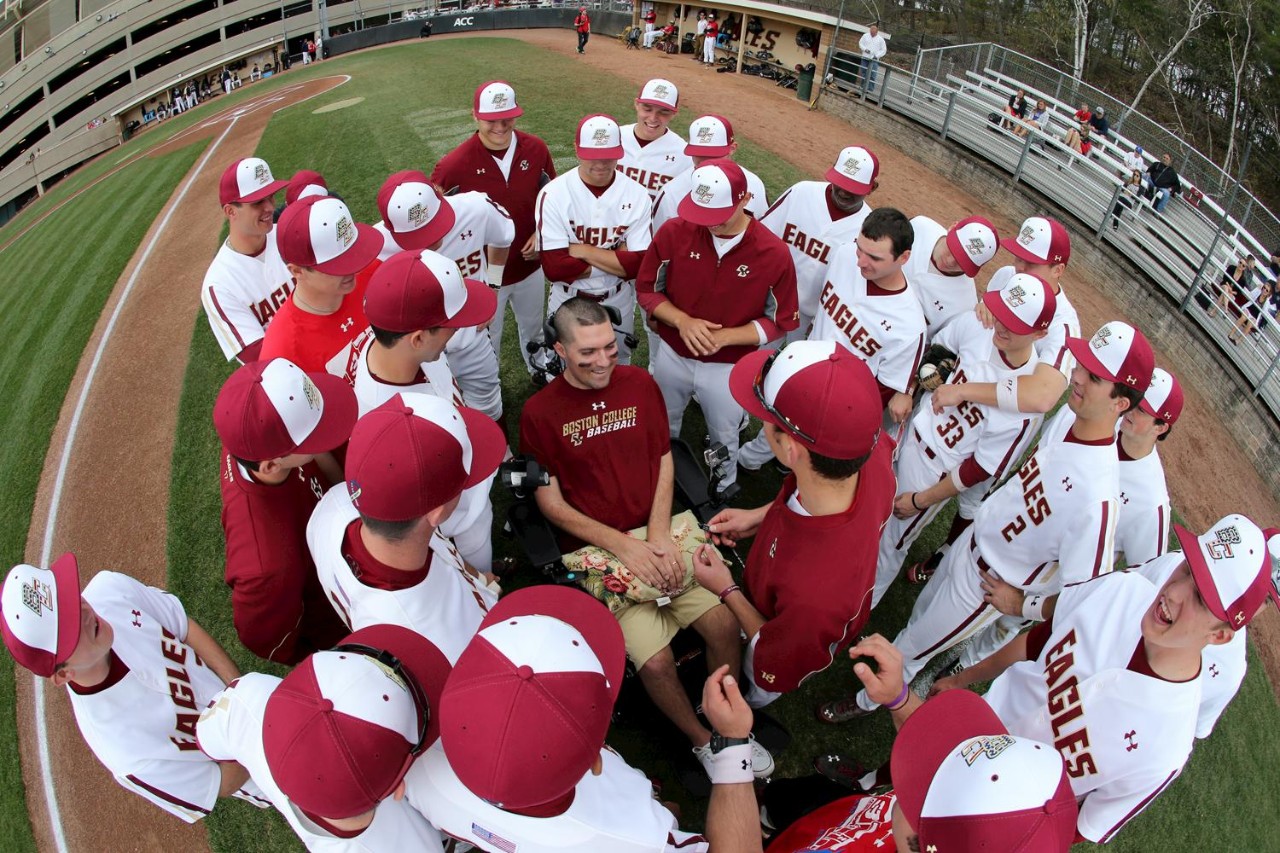 Mr. Frates did not invent the Ice Bucket Challenge: Its origins involved a convergence of several other charitable efforts and longstanding traditions like the Polar Bear Plunge. Mr. Frates, however, became involved in mid-July of that year, inspired by a friend and fellow ALS patient, Pat Quinn. He put the call out through Facebook to family members, friends, and a vast network of acquaintances and well-wishers that included New England Patriots stars Tom Brady and Julian Edelman, Red Sox owner John Henry, and BC alumni husband-wife athletic duo Matt and Sarah Ryan. Other high-profile personalities—ranging from George W. Bush and Bill Gates to Lady Gaga and Kermit the Frog—joined the campaign and the momentum grew. The TV game show "Jeopardy!" even used the Ice Bucket Challenge as one of its answers.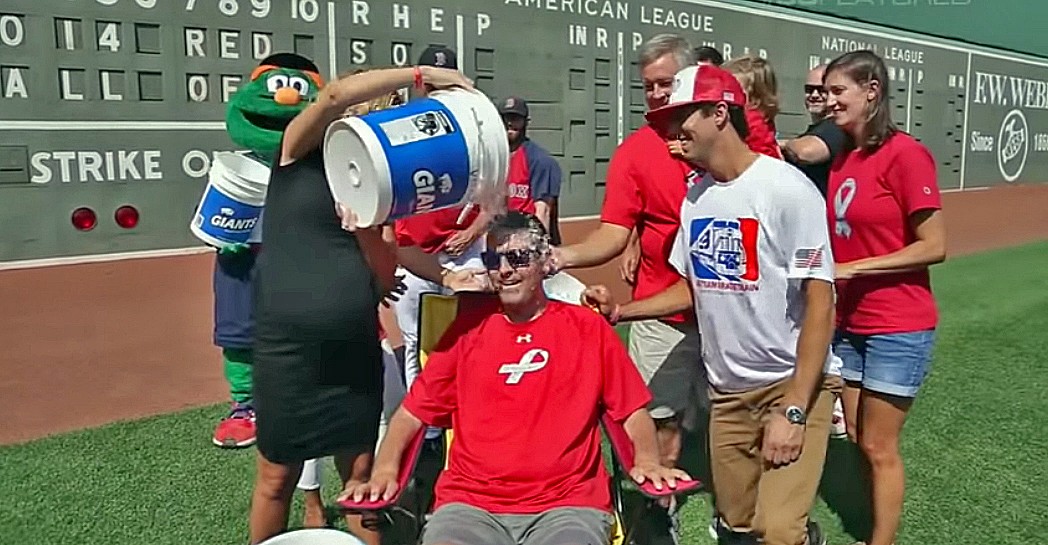 "Something miraculous is happening," his father, John Frates, said as the challenge became a social meme, "and it's happening partly because Pete was willing to put himself out there and willing to share his story. When the face of ALS is a handsome, young, charismatic, former Division I baseball player, the nation and even the world are waking up to the unacceptability of not having a treatment for this debilitating disease."
The ALS Association reported that it had received more than $100 million in donations for one month alone during the height of the Ice Bucket Challenge; altogether, the campaign was credited with raising more than $220 million. Almost three years later, in the spring of 2017, the U.S. Food and Drug Administration announced approval of a drug that slows the effects of ALS.
Sports Illustrated selected Mr. Frates for its 2014 Inspiration of the Year Award, and in 2015 ESPN SportsCenter broadcast a segment about Mr. Frates' first Father's Day as a dad—he and Julie had welcomed their daughter, Lucy, in August of the previous year.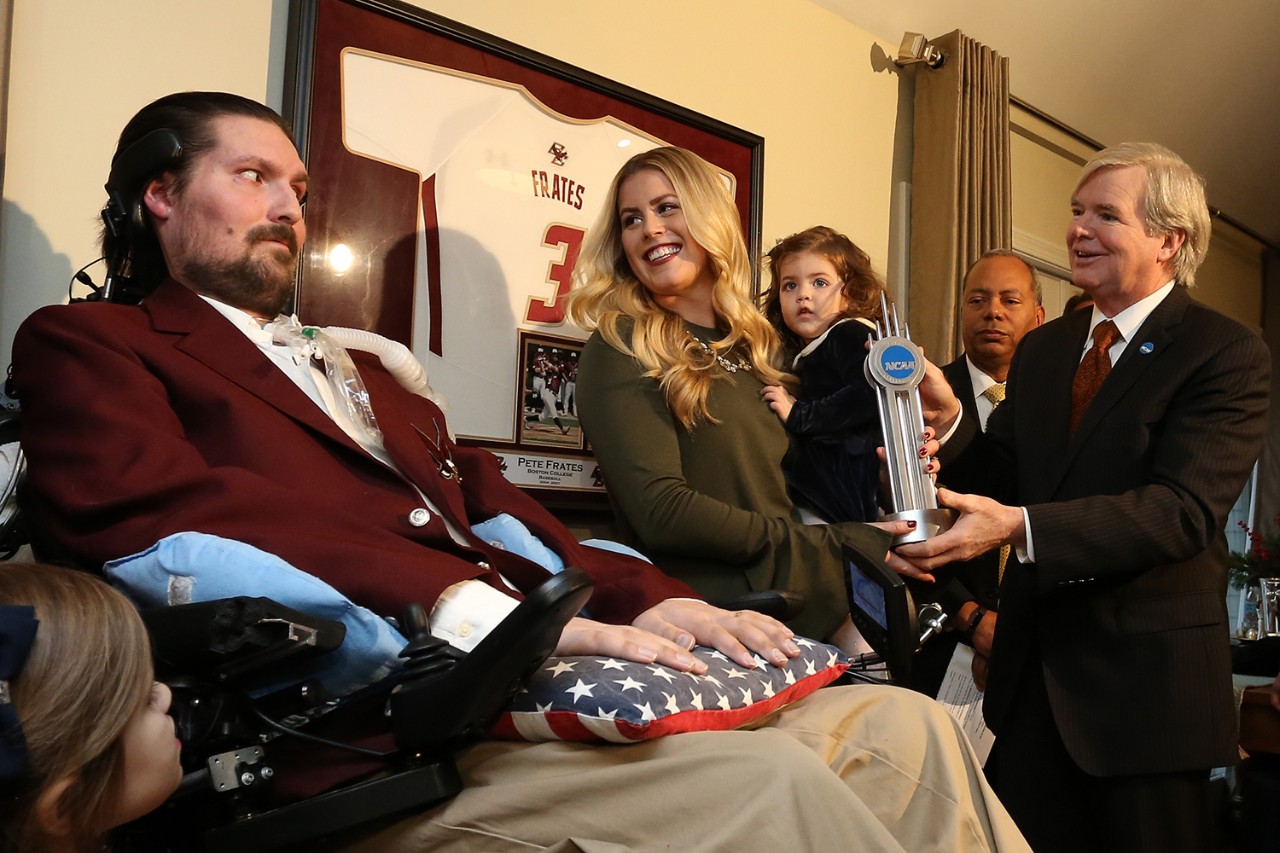 Mr. Frates received the 2017 National Collegiate Athletic Association Inspiration Award from NCAA President Mark Emmert. "What you have been able to do to inspire so many people to support this cause is monumental. It is, in fact, inspirational," said Emmert, presenting the award at the Frates' home in Beverly. He also was chosen as the 2015 Communicator of the Year by PR Week.
In June of 2017, Mr. Frates donated the bucket and sunglasses used for his Ice Bucket Challenge, along with a cap and glove from his BC days, to the National Baseball Hall of Fame's museum collection. Hall of Fame Vice President Jon Shestakofsky praised "the tremendous work that Pete has done in taking this disease, and the bad news and the tough luck of what's happened in his life, and turned it into such a positive."

When the Eagles visited the Hall in the fall of 2017, the Frates family presented one of the few remaining baseballs autographed by Mr. Frates. It would be included in the "ALS and Baseball" exhibit, which opened in April 2018 and features Mr. Frates, Lou Gehrig, and Catfish Hunter.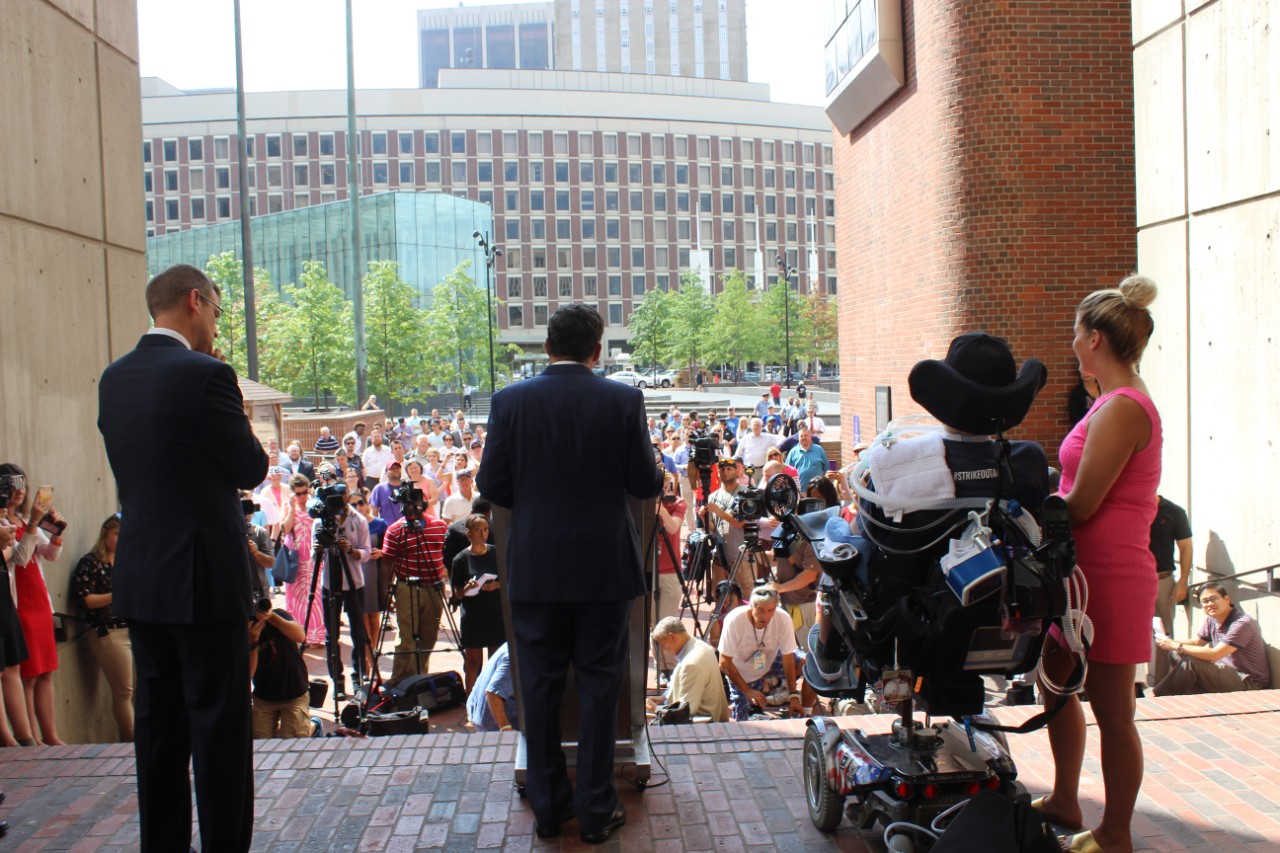 In September, a crowd filled City Hall Plaza as Boston Mayor Marty Walsh WCAS '09 declared September 5 to be "Pete Frates Day."  The event coincided with the release of a book about Frates' life, The Ice Bucket Challenge: Pete Frates and the Fight against ALS, written by Casey Sherman and BC alumnus Dave Wedge. Half of the authors' proceeds from sales of the book go to the Frates family.

BC Baseball organized numerous events to honor Mr. Frates and build on his efforts to promote ALS awareness and research, including annual Ice Bucket Challenges; wearing specially designed jerseys with Frates' last name and number 3 (which he wore as a player) that were later auctioned to benefit his No. 3 Fund; and, since 2012, hosting an annual ALS Awareness Game. Frates' jersey was retired at the 2016 game. In 2017 and 2018, the Eagles played the annual event at Fenway Park, raising funds for ALS through ticket sales.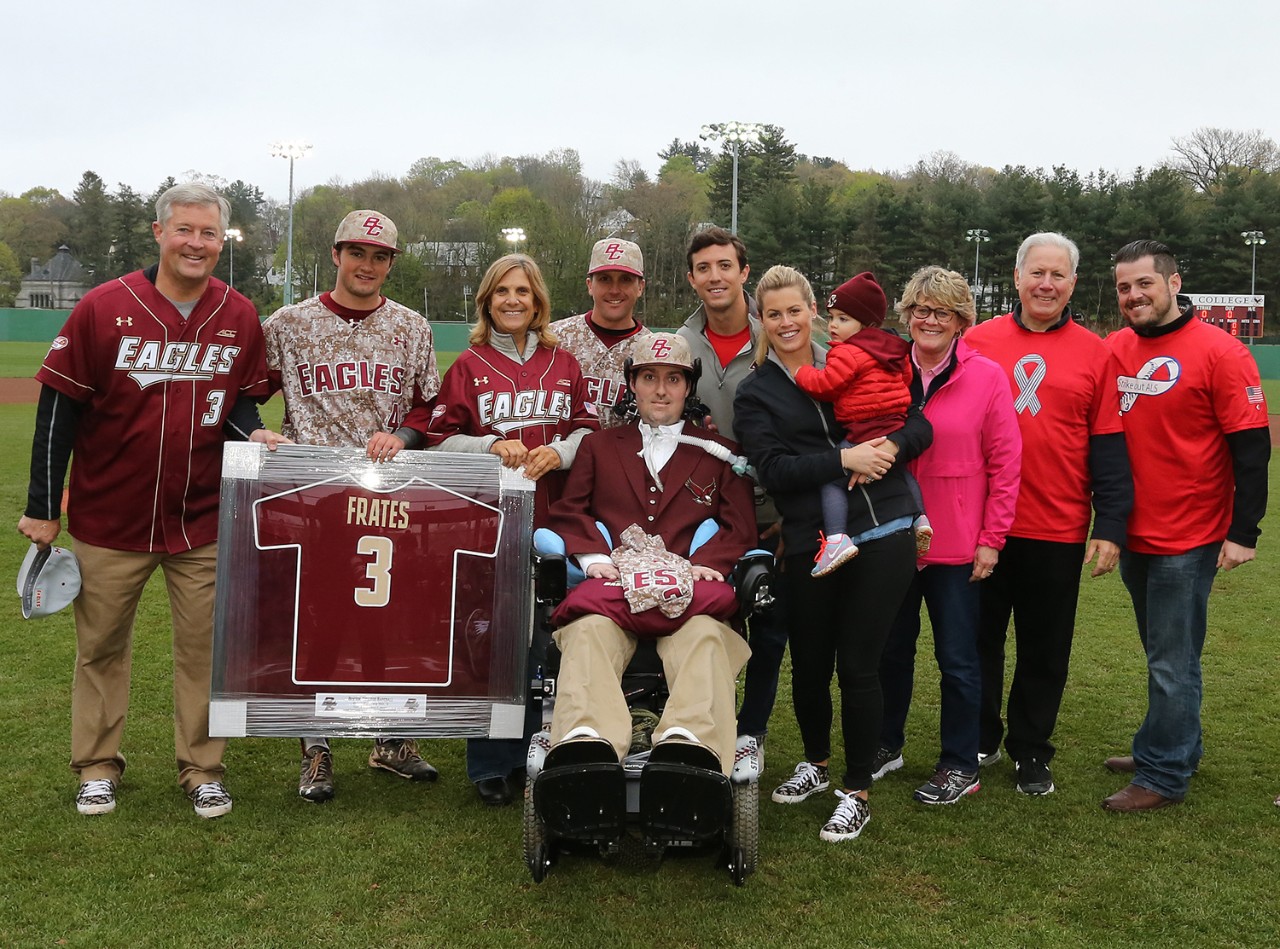 In 2019, Boston College honored Mr. Frates by naming Phase II of the Harrington Athletics Village as the Pete Frates Center. The facility, which will open in the summer of 2020,  will provide  a 31,000-square foot indoor baseball and softball facility featuring locker rooms, hitting tunnels, indoor turf field, strength and conditioning space, and a hospitality area.
Mr. Frates' family has continued to help him spread the word about ALS: His brother Andrew ran in the 2017 Boston Marathon on Pete's behalf, while Nancy and John have made various public appearances, and in recent years spoke in the media about the financial impact ALS has on families. The ALS Association, working with its Massachusetts chapter, established a pilot program in Mr. Frates' name to provide in-home caregiving assistance for people living with ALS.
In announcing his death, the Frates family described Mr. Frates as an inspiration to people around the world who drew strength from his courage and resiliency.

"A natural born leader and the ultimate teammate, Pete was a role model for all, especially young athletes, who looked up to him for his bravery and unwavering positive spirit in the face of adversity. He was a noble fighter who inspired us all to use our talents and strengths in the service of others...We ask that you celebrate Pete and the hope that he has given to so many by following his daily affirmation: Be passionate, be genuine, be hard working, and don't ever be afraid to be great."
A funeral Mass will be held at St. Ignatius Church in Chestnut Hill, Mass. on Friday, December 13, at 11 a.m.

University Communications